April
05 - Brown Bag Group
05 - Tech Group
14 - MacGen Group
17 - Jewish Group
21 - AAGIG
---

Ind. Membership - $35
Household - $40
Life (under 65) - $700
Life (65+) - $500
Organizational - $35
---
Hold the Date
July 13-14 - Summer Institute - J. Mark Lowe - "Finding My Way Home-Methodology, Records and The Old South"
Sep. 12-19 - Salt Lake City Trip
Sep. 29 - Fall Lecture - Craig Scott on Military Records


---
DGS on the Web

---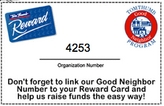 ---
The goal of the Dallas Genealogical Society shall be to educate, by creating, fostering, and maintaining interest in genealogy; to assist and support the genealogy section of the J. Erik Jonsson Central Library in Dallas, Texas, or to its legal successor; and to collect, preserve, copy, and index information relating to Dallas County and its early history.
---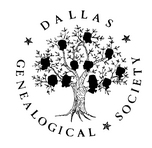 April-Jun
e Newsletter
The April-June Newsletter has been posted to the DGS
website
. There are some very important items that occur early in April so check out the newsletter ASAP.
---
Salt Lake City Trip

Our trip to Salt Lake City will be September 12-19 this year. If you are planning on going or if you think you might be going, please make your hotel reservations at the Plaza Hotel as soon as possible. The hotel would like to take some of our reserved rooms back, so to make sure we have all the rooms we need, please make your reservations early. If you have any questions you can contact Jean Larson at jeans48gen@gmail.com.
---
Only 6 Days Left Before We Get Access to the 1940 Census!
FamilySearch.org and its partners will start publishing the 1940 U.S. Federal Census for free on April 2, 2012, the day the census is released by NARA.
FamilySearch.org will also provide digital images to tens of thousands of volunteers to start transcribing the records so they become searchable.
Complete publication of the index will depend on how many volunteers like you can help. If you have not signed up to work on the indexing, it is not too late to join your fellow genealogists on this great project.
For more information or if you think you might like to be a volunteer for this great project, click on this
link
for further details.
---
Beginner Classes

The Dallas Genealogical Society
Offers
Getting Started With Your Family History
Three Free Sessions
Saturday, April 14 Learn the Basics
Saturday, April 21 Ancestors in the Census Saturday, April 28 Find New Resources
Dallas Public Library System
J. Erik Jonsson Central Library
Hamon Room, 5th Floor
10:30 - Noon
Space is Limited / Register at:
dallasgenealogy.org>Resources>New Genealogist or
link
Questions?
info@dallasgenealogy.org
---
Who Do You Think You Are?
Local broadcast on NBC Channel 5, Fridays at 7 p.m. This Friday's show, March 30th, will feature Rita Wilson. Edie Falco will be the guest on the April 6th episode.
If you missed the stories about
Martin Sheen, Marisa Tomei
,
Blair Underwood, Reba McEntire, Jerome Bettis,
or
Helen Hunt
, the full episodes are available to view at
Who Do You Think You Are - All Videos : Newest - Videos - NBC.com
. This site also contains short clips of deleted scenes.
---
Finding Your Roots
There has been a scheduling change for the new PBS genealogy series
Finding Your Roots
with Henry Louis Gates, Jr. that started Sunday, March 25 at 8 p.m.
KERA TV often changes their schedule around so be sure and check your local TV schedule for times in your area. You can also check out the schedule on their
web
site
.
The 10-part series will explore the genealogy and genetics of famous Americans including
Kevin Bacon, Robert Downey Jr., Branford Marsalis, John Legend, Martha Stewart, Barbara Walters and Rick Warren.
On the show's
website
, you can learn more about the research team (the New England Historic Genealogical Society staff did a lot of work for the series) and share your story.
---
SIG Meeting

Apr. 05 - Brown Bag Group - 5:00 pm - McDermott Room, 8th floor - Liz Kutz, Leader
Apr. 05 - Tech Group - 6:30 pm - 3rd Floor Studio - Barbara Ware, Suzan Younger and Carolyn Davis will provide an overview of
Google+
and
Hangout
J Erik Jonsson Central Library
1515 Young Street
Dallas, Texas

---
DGS General Meeting Programs
Apr. 7th - Brian Collins, Dallas Public Library, "Searching the Dallas Morning News Archives"
May 5th - Lynell Moss, "Proven Research Strategies"
June, July and August - No Meetings, will resume General Meetings in September
All meetings at the J. Erik Jonsson Central Library, 1515 Young Street, Dallas, unless otherwise noted. A hospitality time starts at 10:30 a.m. Business meeting begins at 11 a.m. and the program follows.
---
---