FGS/ISGS 2011 Conference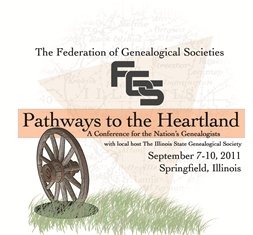 The Federation of Genealogical Societies and the Illinois State Genealogical Society invite you to their 2011 Conference. The conference takes place September 7-10, 2011 in Springfield, Illinois. Check the
FGS/ISGS 2011 Conference Website
for program details and registration.
Want to be up-to-date on the news, special events, lectures, exhibit hall, and people connected to the 2011 FGS/ISGS Conference? It's easy! The conference blog takes care of this. We are continually posting lots of breaking news, more details on the lectures, speakers, vendors, special offers, conference events, places to research, shopping, getting to hotels and the convention center, and about the beautiful area around the conference location. This conference will have some special elements never seen before at a FGS conference.
Bookmark
www.fgsconferenceblog.org
and visit often to view the updates.
---
DGS Salt Lake City Research Trip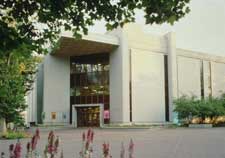 Join your DGS friends in a guided trip to the Family History Center in Salt Lake City October 9-16, 2011
Registration $80 due by September 15th. The trip is open to DGS members only. Participants will obtain their own lodging and transportation. For information about special DGS rates for hotel, see the DGS website to download a brochure.
Brochures will also be available at the 8th floor Volunteer Desk at the J. Erik Jonsson Library.
Pat and Jim Stone will organize the trip and arrange for help with genealogical problems. On Monday evening Oct. 10, 2011 there will be a Genealogy Lecture for all participants at the Plaza Hotel.
Look for additional information on the website.
---
Special Members Only Benefit

If you were not able to attend the recent DGS Summer Institute, you can take advantage of your DGS membership and watch a recording of the session on
Digital Photography for Genealogists
presented by DGS member Tony Hanson. This is available to current DGS members for a limited time.
Note: If you do not remember your DGS User Name and Password click on t
his link
. Enter your email address. Your User Name and Password will be emailed to you.
To view the presentation:
Go to the DGS web site at www.dallasgenealogy.org
Select

Resources

at the top of the page
Log in (by entering your DGS User Name and Password in the lower left corner of the page and pressing the Enter key)
Once you are logged in you will see the

Members Only

choice: Click on it.
---
Special interest Groups

Upcoming Technology SIG Meetings
(all meetings begin at 6:30 pm)
August 4 – Bring your camera to the genealogy section on the 8th floor of the Dallas Public Library and practice taking pictures of genealogical materials
September 1 – Understanding and using scanners
October 6 – Digital Photography: Repair and Retouch by Sandra Crowley
Brown Bag Group
(meets 5:00 - 6:20 p.m. in 8th floor McDermott Room)
Aug 4 - Thayer, Charles W. and Melinde Lutz Sanborn, FASG. "John Bush of Shrewsbury, Massachusetts: Master Horn Carver." NGSQ 95 (June 2007): 85-102. [Separates two RW-era men of same name.] Jean Larson, Leader
All meetings at the J. Erik Jonsson Central Library
---
General Meetings

DGS General Meetings are taking a summer break. Many of the SIGs will continue to meet throughout the summer. Check the
DGS Calendar
for information about the summer SIG meetings. The next general meeting will be September 10th.
All meetings at the J. Erik Jonsson Central Library, 1515 Young Street, Dallas, unless otherwise noted.

---