February General Meeting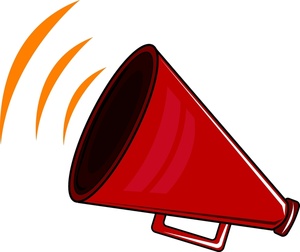 Saturday, Feb 1
Hospitality - 10:30am-11:00am
Meeting - 11:00am-11:30am
Program - 11:30am-12:30pm
Topic: "DNA Testing for Genealogical Purposes". Presented by Michael V. Bassett, member of the Collin County Genealogical Society.
---
Early Bird Registration is Open
$10 Discount Available Until March 9

Laura G. Prescott
Keynote Speaker for Spring Lecture
March 22, 2014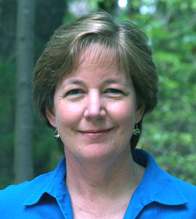 Program
Playing Hide-and-Seek with Ancestors in City Directories
Timelines: Placing Your Heritage in Historical Perspective
Treasures Within the Ivory Tower: Finding Family In Academic Archives
The Rest of the Story: Using Manuscripts to Create a Family History
Laura Prescott is a professional researcher and writer who worked for the New England Historic Genealogical Society before starting her own research business. She is a past president of APG and a consultant for Fold3.

Cost
By Mar 9 After Mar 9
Member $40.00 each $50.00 each
Non‐Member $50.00 each $60.00 each

Links
Details
Register Online
Printable Registration Form

IMPORTANT CHANGE: LUNCH ON YOUR OWN
Due to Library renovations, the lunch break will be 90 minutes. DGS will provide a list of local restaurants.
If you want to bring your lunch, limited space will be available in our Hospitality room on a first-come, first-seated basis.
---
Cash Prizes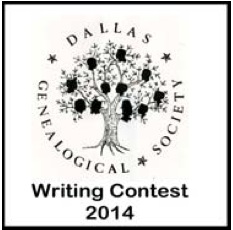 DGS is pleased to announce its 2014 Writing Contest for original material on topics of interest to genealogists and family historians. The contest is open to members and non-members of DGS.
First prize is $500, second prize is $300 and third prize is $150.

Complete Rules and Guidelines
Entry Form
---
Pegasus, Journal of the Dallas Genealogical Society
Volume 1, Issue 2
Records Issue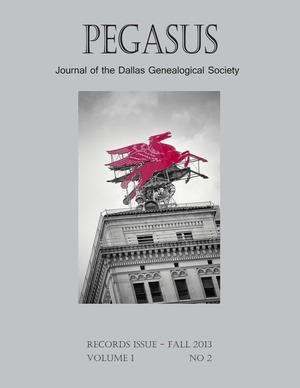 Has Been Mailed to Society Members
"Look Inside" Preview

REMINDER: The Premiere Issue of Pegasus was mailed to all members to announce our new journal, but print copies of all future issues will only be mailed to those who opt in. Members should review their profile in the Account Manager section of the DGS web site; there is now a new box to check to receive print copies of Pegasus, if desired.

PEGASUS ISSUES NOW ON DGS ONLINE STORE. Pegasus Vol.1, Nos. 1 & 2 are available for purchase through the DGS Online Store. The cost is $15, but members get a $5 discount if they log in to their accounts before they enter the store or as they check out. Shipping is added to the total cost of what is purchased.
---
January-March 2014 DGS Newsletter Available

---
In Memory Of

Elizabeth "Pinkie" Feigl
and
Madilyn Louise Coen Crane

Elizabeth "Pinkie" Pinkston Feigl died on January 17, 2014. Her lifelong hobby was genealogy. She was an active member of the Dallas Genealogical Society. She earned certification as a Registered Genealogist and assisted so many ladies in becoming members of various lineage societies. Pinkie gave freely of her time by volunteering numerous hours at the Dallas Public Library in their Genealogical Department. Pinkie was a Life Member of DGS.
Full obituary
Madilyn Louise Coen Crane died Sunday, December 8, at her home in Austin, Texas. She was the VP Journal for the
Dallas Quarterly
1989-1991. Executive VP of Fundraising 1991-1992, Parliamentarian 1993-1994, and VP Publicity 1996-1997. Madilyn was a Life Member of DGS.
Full obituary
---
NGS Issues Call for Papers for the 2015 Family History Conference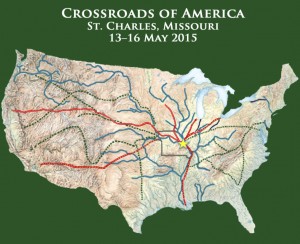 Speakers as well as organizations are invited to submit lecture proposals between 1 January and 1 April 2014 for the NGS 13-16 May 2015 Family History Conference, "Crossroads of America", in St. Charles, MO.
---
SSDI Access Now Limited
Budget Bill Bans Public Access For 3 Years
Read the blog post by Judy G. Russell, The Legal Genealogist, and follow updates from Fred Moss on the Federation of Genealogical Societies' Records Preservation & Access Committee blog.
---