______________________

One evening, across the horizon's length
appeared a tract of land,
all crystalline marble..

-W.G. Sebald
______________________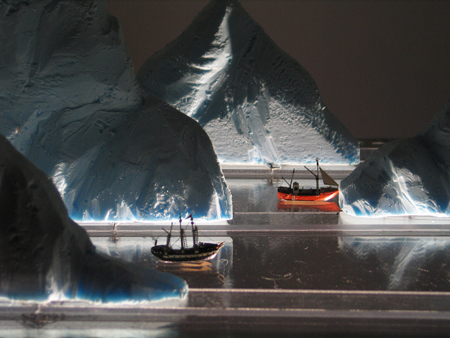 Soil Desire People Dance
______________________

Created & Performed by Mark Sussman and Roberto Rossi of Great Small Works, with Jesse Orr and Max Kelly.
______________________
Friday, November 18
Saturday, November 19
8 PM
Tickets $15
{$12 VPES, Students, Seniors}
Advance tickets available at http://www.brownpapertickets.com/event/208603
at
The Velaslavasay Panorama
1122 West 24th Street
Los Angeles, California 90007
(213)746-2166
______________________
Automata and The Velaslavasay Panorama enthusiastically welcome a presentation this weekend of Soil Desire People Dance and hope that you will join us for an evening of poetic performance and puppetry. Drawing on writings from W.G. Sebald, Soil Desire People Dance is an ongoing serial performance created by Mark Sussman and Roberto Rossi of Great Small Works. This weekend's episode draws inspiration from Sebalds' After Nature and is a unique interpretation of object theatre which is not to be missed.
______________________
GREAT SMALL WORKS was founded in 1995 as a collective of six artists who keep theater at the heart of social life. Drawing on folk, avant-garde, and popular theater traditions to address contemporary issues, the company performs in theaters, clubs, schools, galleries, streets, and community centers. Based in their Brooklyn, NY studio, they produce performances on a wide variety of scales, from outdoor pageants with giant puppets and hundreds of performers to miniature Toy Theater spectacles. The company continues the tradition of Spaghetti Dinner cabarets, variety evenings (founded in the 1970s by Vermont's Bread & Puppet Theater) that include music, live performance, political discourse, and vegetarian spaghetti. In Spring, 2013, the company will produce its 10th International Toy Theater Festival over two decades.


AUTOMATA is a Los Angeles nonprofit organization dedicated to the creation, incubation, and presentation of experimental puppet theater, experimental film, and other contemporary art practices centered on ideas of artifice and performing objects. Founded by artists Janie Geiser and Susan Simpson, Automata has been presenting intimate performances, screenings of contemporary and historical avant-garde film, lectures, workshops, and exhibitions in a variety of spaces since 2004. Automata is dedicated to creating and nurturing work that is engaged in cutting edge performance, media/art practices, and in deep conversation with our contemporary culture of simulation and mimicry while still embracing the aura of the handmade and hand-operated.
Drawing on the illustrious history of the Great Panorama Paintings of the 18th and 19th centuries,
THE VELASLAVASAY PANORAMA
is an exhibition hall, theatre and garden dedicated to the production and presentation of unusual visual experiences, art forms and traditions widely embraced before the invention of cinema. Our Ancillary Salon room currently displays an exhibition created by Tristan Duke - A Series of Small Views from the Interstitial Observatory - and our 360-degree panorama on view is entitled Effulgence of the North. The Velaslavasay Panorama is open weekly to the public from Friday, Saturday and Sunday from 12 noon until 6 pm.
---
---
The Velaslavasay Panorama
1122 West 24th Street
Los Angeles, California 90007
US


Read the VerticalResponse marketing policy.