THE VELASLAVASAY PANORAMA
PRESENTS
LOS ANGELES INTERNATIONAL


N E O N J U B I L E E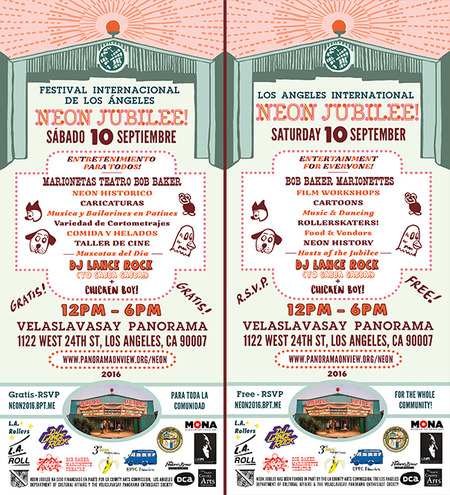 THIS SATURDAY, SEPTEMBER 10TH, 2016
12 P.M. 'TIL 6 P.M.
FREE, RSVP RECOMMENDED
Join the Velaslavasay Panorama and friends as we celebrate the magic of a newly restored, repainted and revived neon marquee for the Union Theatre dating back to the 1920s. The

Los Angeles International Neon Jubilee

will kick off at 12-noon with a dedication featuring city officials and neighborhood representatives who will be giving out free shoes in children's sizes 13-9 for the first few families. Informative booths on earthquake preparedness, the West Adams Heritage Association, Council District 8, and handicraft booths from the

Chiapas Project

at the Velaslavasay Panorama will be there for your perusing pleasure.

=====Neon Jubilee Festivities====
12:00 - Official Dedication
12:15 - Bob Baker Marionettes
12:45 - MUSIC: Turkish Sez
1:30 - Cartoon Program
2:30 - Cartoon Program
3:00 - MUSIC: Frank Fairfield, Tom Marion & Meredith Axelrod
4:00 - Neon History Presentation with Eric Lynxwiler
4:25 - LA Roll Illustrated Presentation
4:45 - LA Rollers Skate with DJ Lance Rock
5:50 - Ribbon Cutting with Chicken Boy
6:05 - Velaslavasay Panorama on the Huell Howser Show

We recommend public transportation for this particular day & evening!
FOLLOWED BY THE
NEON JUBILEE EVENING SPECIAL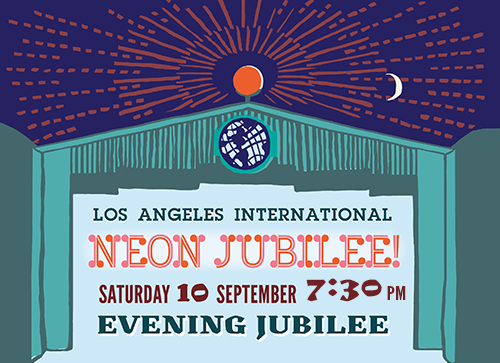 SATURDAY, SEPT. 10TH, 2016 7:30 P.M.
RSVP STRONGLY RECOMMENDED
$20.16 GENERAL $18.19 VPES MEMBERS



For those who wish to donate to the proliferation and restoration of Neon in Los Angeles, consider making a contribution to our Neon Fund, the driving force behind this project, over a year in the making.

Contribute Any Amount to Neon! VELASLAVASAY PANORAMA
1122 W. 24TH ST. LA, CA 90007
WWW.PANORAMAONVIEW.ORG
(213) 746-2166
---
---
The Velaslavasay Panorama
1122 West 24th Street
Los Angeles, California 90007
US


Read the VerticalResponse marketing policy.