Welcome to the Circus:
Bread + Puppet's 50 Years of Political Theater
at
The Velaslavasay Panorama
1122 West 24th St
Los Angeles, CA 90007
______
Friday, December 13, 2013
Doors open at 7 pm, screening begins at 8 pm
Tickets $10 {$8 Current VPES Members}
Available at http://www.brownpapertickets.com/event/527925
________________
Join us for a screening of documentary footage celebrating the 50th anniversary of one of the oldest, nonprofit, self-supporting theatrical companies in the country, Bread and Puppet Theater.

Forthright populist sentiments merge with deceptively simplistic, larger than life puppets handmade from everyday materials; cardboard, cloth, and paint comes alive to not only entertain, but to tell archetypal stories of humanity's most basic challenges. The theater's repertoire has included such performances as Thunderstorm of the Youngest Child, Uprising of the Beast, Birdcatcher in Hell, and Shatterer of Worlds Chapel With Naturalization Services for Applicants Requesting Citizenship in the ShatteredWorld.

Come out for an evening of storytelling and wonder, shop beautiful B+P prints - all proceeds of poster sales benefit the B+P Theater - and help keep Bread + Puppet alive for another fifty years!


____________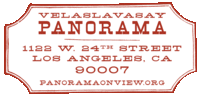 ---
---
The Velaslavasay Panorama
1122 West 24th Street
Los Angeles, California 90007
US


Read the VerticalResponse marketing policy.