Lionfish Removal Shown to Be Effective
in Recovery of Native Fish Populations
A new study, conducted by
REEF
's Lad Akins and others, confirms for the first time that controlling invasive lionfish populations in the western Atlantic Ocean can pave the way for a recovery of native fish. Even if it's one speared fish at a time, data are showing that removals can be effective, and not every lionfish need be removed.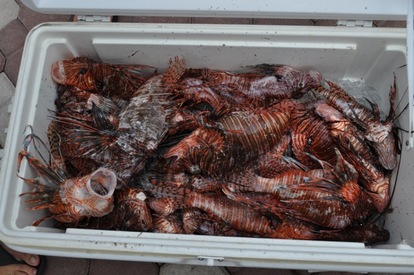 The ground-breaking findings, featured in a paper published in January in the scientific journal
Ecological Applications
, document that reducing lionfish numbers by specified amounts will allow a rapid recovery of native fish biomass. Over an 18-month time period, the biomass of native prey fishes increased an average 50 to 70 percent on reefs where lionfish numbers were suppressed below target levels predicted to cause prey depletion. On reefs where lionfish numbers remained higher than target levels, the biomass of prey fishes decreased by a further 50 percent.
x
While complete eradication of lionfish from the Caribbean is not likely, groups are actively removing them from coastal areas (mostly via spear and net). This study is a first step in showing that strategic local efforts that suppress the invasion to low levels can help protect and recover native fish communities affected by lion fish.
x
---
Everglades Botanic Art Exhibit at Eco-Discovery Center
Botanical Exploration in the Everglades
, an art exhibit by
Tropical Botanic Artists
, is currently at the
Florida Keys Eco-Discovery Center
thru March 2014. This special exhibition features original portraits of plants discovered by botanists in the 19th and 20th centuries in the South Florida tropical wetlands now known as the Everglades. The plants were given common and scientific names that reflect the identities of those intrepid explorers.
x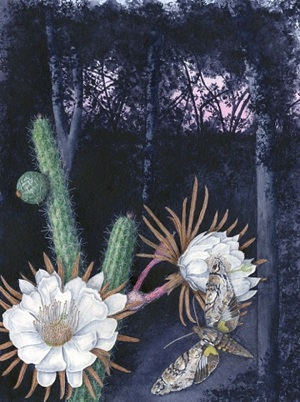 Early botanists braved biting insects, large reptiles and poisonous plants that made this unique ecosystem one of the country's last frontiers of botanical exploration in order to document these species and discover how plants were used by the wetland's native peoples.
x
Tropical Botanic Artists is a collective of local watercolorists established in Miami in 2006 to pursue the beauty of tropical plants through art. Its members come from all walks of life and each brings a unique viewpoint to the botanical subjects they portray.
x
The Florida Keys Eco-Discovery Center is open Tuesday through Saturday from 9 am to 4 pm. Admission is free to the Center and art exhibit.
For more information, please visit
www.tropicalbotanicartists.com
.
---
Legacies of Those Who Love the Water Live On
In 2006,
Sanctuary Friends
started the
Matthew W. Beard Memorial Fund
in memory of a young man who loved the water and was a developing coral researcher. In 2007, $3,500 was raised and put toward continuing his research.
x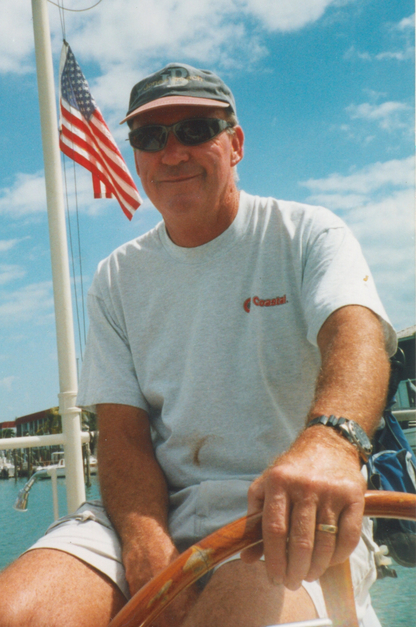 This year, a Sanctuary Friends Memorial Fund has been set up in memory of Marathon Captain Lawrence 'Larry' Battaglia, the primary captain for the past 10 years for
A Deep Blue Dive Center
in Key Colony Beach. He was always extremely active in the Marathon dive community, working and sharing his knowledge of boats and the water with all who sought his advice. He had been a PADI Instructor for 36 years and A USCG 100-ton Master Captain for 34 years. After going through cancer treatments for the past five months, he decided to spend his last days on the water at his home in the Florida Keys. Since he relied daily on NOAA's Weather Station at Sombrero Light House, it is appropriate that his Memorial Fund will be used to help supplement maintenance at the weather station.
"In loving memory of Larry Battaglia. You will forever be a wise and legendary captain and instructor who taught us things we will never forget. You put the meaning to the word mentor, a father figure to all. You taught us many of life's lessons, particularly how to live life well. You will be remembered continuously in everyone's hearts and lives. We all will honor you forever and miss you dearly."
---
NewsMakers
---
Upcoming "Fishinar" Schedule
REEF
's 2014 Fishinars are off to a great start, with lots of exciting, fun and educational topics in store this year! Not sure what a
Fishinar
is? These popular online REEF webinar training sessions provide fishie fun in the comfort of your own home. You don't even need a microphone or a webcam to participate, just a web browser! Current and archived Fishinars are free to
REEF members
(membership is FREE, just
signup online
!)
and are a great way for new fish surveyors to learn and for experienced fish surveyors to brush up on their ID skills. The next Fishinars are Feb. 25 & 26, and the
schedule
runs through June. You must register to participate. Explore the
Fishinar webpage
for detailed information and a schedule.
---
Our Mission
Sanctuary Friends Foundation of the Florida Keys supports the Florida Keys and the Florida Keys National Marine Sanctuary (FKNMS) in the preservation, restoration, and sustainable use of our coral reef ecosystem, from the uplands to the deep sea. We focus on development of community support and advancement of public awareness, education, outreach and scientific research.
---
---
Sanctuary Friends Foundation of the Florida Keys
is a non-profit, 501(c)(3), tax-exempt organization
(Tax ID# 59-2443959).
We take your privacy seriously. Your email address will never be sold, rented or given away. All our emails include an easy opt-out feature. If you have activated spam filters in your email application, please add the following email to your address book:
Sanctuary_Friends_Foundation_of_@mail.vresp.com