"Christ of the Deep" Celebrates 50 Years
Bronze Statue is Icon of Pennekamp State Park
This month marks 50 years since the iconic 9-foot, bronze "Christ of the Deep" statue was installed in
FKNMS
. It is a replica of the Italian original, "Il Christo Degli Abissi" or "Christ of the Abyss." The statue, with arms uplifted in a gesture of invitation, is considered a symbol of peace and understanding among mankind. It has also become the icon of
John Pennekamp Coral Reef State Park
, America's first underwater preserve, created in 1960. Visitors from around the world come to snorkel, dive or ride glass-bottom boats to view and photograph the iconic statue that rests in less than 25 feet of water about 5 miles off Key Largo at a site called Key Largo Dry Rocks, a box canyon that rises around beautiful coral formations.
x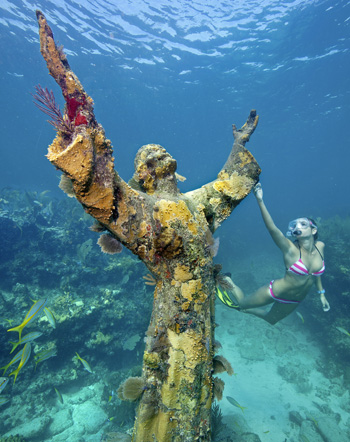 Created by artist Guido Galletti, the original was placed in the shallow San Fruttuoso Bay near Portofino, Italy, in 1954. Galletti also crafted the mold for a Christ statue that was cast for Egidi Cressi, a well-known diving equipment manufacturer, who donated it to the Underwater Society of America in 1961. "Christ of the Deep" traveled 6,000 miles from Italy to Chicago, where it was placed in storage. Although state dive councils in Illinois, Michigan and the Northeast petitioned for the statue, it was decided the clear waters of Pennekamp Park were to be its final resting place.
x
In late 1963, the statue was transported to Orlando, where it was placed on display and later exhibited at St. Petersburg and Palm Beach before arriving at Pennekamp Park, where it was originally stored outdoors. Finally, executed with the aid of local dive operators and park officials, a small budget and donations of concrete for the statue's 20-ton base, the statue was lowered beneath the surface and secured to the seabed on Aug. 25, 1965.
---
Lionfish Resort to Cannibalism
Efforts to tame Florida's invasive lionfish haven't worked. Now these venomous fish are eating each other. Cannibalism may seem like nature's way of coping with Florida's growing lionfish invasion, but it is unlikely to offer a cure.
x
Cannibalism does occur in some species of reef fish, but it is rare.
DNA evidence has confirmed that lionfish in Caribbean waters are engaging in cannibalism, and researchers are trying to determine if it's because the fish is depleting its existing foods. A study of stomach contents discovered cannibalism in four of 130 lionfish collected in the Bahamas, with similar results from a study of 157 in Mexico. Due to a lack of research, it's unclear if lionfish cannibalism is holding steady or increasing.
x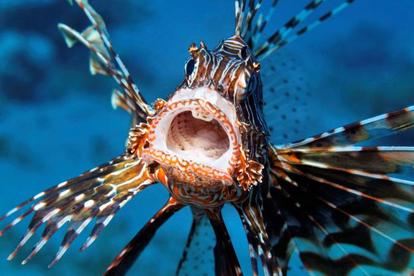 Florida's lionfish threat began off the Atlantic coast in the late 1980s,
probably when someone released aquarium lionfish into the wild. Ocean currents and hurricanes helped them spread from Florida's Atlantic coast to the Bahamas, throughout the Caribbean Sea and into the Gulf of Mexico.
Lionfish don't throw marine ecosystems out of balance in their native Indo-Pacific region. But in the Atlantic, research shows the rapid increase in lionfish coincided with a 65-percent native fish decline during a two-year period.
Visually stunning with their maroon and white stripes and long, fanlike fins, lionfish are considered the most destructive exotic species in marine waters off Florida and the Caribbean. They have voracious appetites and consume dozens of organisms in one feeding, altering delicate reef ecosystems. In the northern Gulf of Mexico, lionfish feast regularly on more than 40 varieties of reef fish like wrasses, gobies, and commercially valuable vermilion snapper and flounder. They compete for food with snapper. In addition, lionfish can lay up to 30,000 eggs every four days, and their venomous spines leave them with no known predators in Florida waters.
The threat has prompted efforts to recruit the public to help fight the invasion. REEF Environmental Education Foundation published a lionfish cookbook and teaches divers how to spear lionfish. Florida lifted catch limits and size restrictions for anyone hunting them. The state agency also held its first Lionfish Removal and Awareness Day in the spring and launched the Reef Rangers program, which encourages divers to remove lionfish from reefs at least twice a year.
Lionfish haven't been known to pursue humans, but getting poked by a lionfish spine can cause pain and occasionally nausea or respiratory trouble.
Despite such efforts, spread of the species hasn't slowed. Lionfish populations are still growing in areas like the Gulf of Mexico and densities in parts of the Atlantic are five times greater than in the Indo-Pacific. It raises concern that lionfish could spread to the world's few unaffected areas, such as the Panama Canal and the Mediterranean.
One thing about lionfish is clear: They provide a lesson about how destructive invasive species can be in Florida.
---
Spines & Spinys Tourney Nets $5,300 for Sanctuary Friends
342 Invasive Lionfish Removed from Keys Waters!
The annual
Spines and Spinys
lobster and lionfish tournament hosted by
Tilden's Scuba Center
netted $5,300 for
Sanctuary Friends Foundation
during the two-day event held over Lobster Mini Season. Ninety participants weighed in lobsters and brought in 342 invasive lionfish!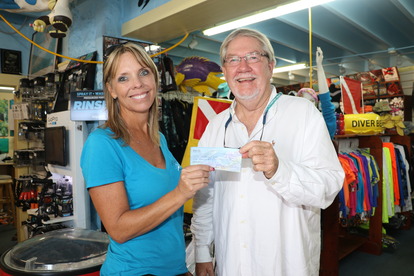 The largest lionfish was two pounds, eight ounces and the smallest was .03 ounces.
FWC Fish and Wildlife Research Institute
took 133 stomach samples of the invasive fish! Donated lionfish were given to
Lazy Days South
in Marathon, a local restaurant helping control the lionfish population by serving the tasty invasive fish …because a dead lionfish is a good lionfish!
---
NewsMakers
Free Fishing Photo Contest
Sanctuary Classic
is a free fishing and photo contest celebrating recreational fishing in America's
national marine sanctuaries
and promoting conservation-focused fishing practices. The fourth annual Sanctuary Classic launched June 28 at
Islander Resort, a Guy Harvey Outpost
in Islamorada. Deadline to submit photos is Labor Day, Sept. 7.
x
Each week, one photo will be selected by judges at
The Sportfishing Conservancy
to win a pair of Costa sunglasses valued at $250! At the end of the contest, Guy Harvey Ocean Foundation scholarships of $1,000 will be awarded based on eight categories (up to one per Sanctuary): Biggest (looking) Fish, Smallest (looking) Fish, Best Conservation Message, Guy Harvey Spirit, Best Display of Responsible Fishing Values, Most Family Oriented Photo, Most Unique Looking Fish and Largest Fish Compared to Angler. In addition, Guy Harvey Ocean Foundation will give away up to six autographed Guy Harvey T-shirts to those
submitting a photo of the most lionfish caught during the contest
.
Ninety-eight percent of
National Marine Sanctuary
waters are open to recreational fishing and provide an incredible outdoors experience.
NOAA Fisheries
and NOAA Sanctuaries support sustainable recreational fishing. The "Classic" caters to a broad spectrum of recreational fishing enthusiasts and provides conservation and ethical angling guidelines for the casual angler.
---
We want your input!
If you have stories of note or just want to comment on our newsletter,
please email: