Happy Holidays from Friends!
We'd like to take this time to thank all our readers and members for your support all year long. We wish you peace and success in the new year.
Renew or become a member
today at $30+ and receive the book "Tropical Connections: South Florida's Marine Environment." (Offer expires January 31, 2015.)


Big Pine Winn-Dixie Partners with "Got Your Bags?" Program
Winn-Dixie
is the first major chain to adopt the
"Got Your Bags? Florida Keys" (GYB)
program, which started as a local citizen's initiative in Big Pine Key in 2012. The program is part of
Green Living and Energy Education's (GLEE)
nonprofit pro-environmental mission and also involves numerous small retailers in Big Pine and throughout the Keys.
x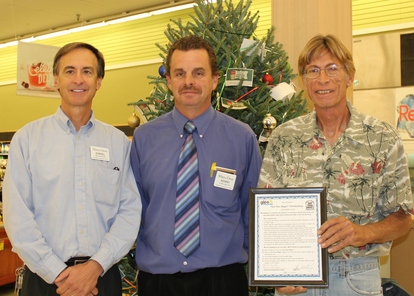 Kenny Lowe, Big Pine Key Winn-Dixie Store Director, and Dan Jensen, Area Service Manager, are thrilled to support the Keys environment with this project. Plastic bags are costly to provide, and that impacts shoppers' costs, as well. But the biggest cost is to the precious Florida Keys environment. Lowe and Jensen calculate that shoppers have taken almost 2.5 million plastic shopping bags from this single store in the first 11 months of 2014. Most of them will return to the environment in landfills, in the atmosphere via incineration, or will litter roadways and shorelines threatening birds, sea turtles and other animals.
x
As part
of the ongoing campaign, the store will post signs and banners to remind shoppers to bring reusable bags. Additionally, the store will train cashiers to ask shoppers about reusable bags at checkout or encourage them to load items directly into their vehicles without using bags at all. All employees will be issued "Got Your Bags?" buttons to wear.
x
A reusable bag giveaway and sale event will be held on Saturday, Dec. 20 from 10 a.m. to 2 p.m. at the Big Pine Key Winn-Dixie store. Free reusable shopping bag will be provided to anyone who signs a pledge to do their best to avoid using plastic bags when shopping. The reusable bags have been donated by local businesses and individuals who support the GYB program. Winn-Dixie will also contribute to the event by making its store brand reusable bags available at a special savings for shoppers who want additional bags.
x
---
Google Maps Florida Keys Reefs
Imagine viewing images of endangered elkhorn coral, bleached fields of dead coral and coral nurseries suspended like hanging plants in sharp focus in the blue waters of the Keys all from your home computer. It would be like scuba diving from your computer and it's possible right now thanks to recent
Google Street View mapping
of our Keys reefs.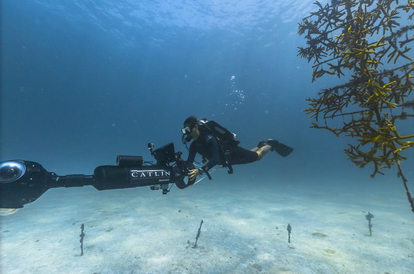 U.S. government scientists are using specialized fisheye lenses underwater in the Florida Keys to apply "Street View" mapping to research and management plans in marine sanctuaries nationwide. Some of the rotating and panoramic images are available online, including
a selection on Google Maps
, giving the public a window into ecosystems still difficult and costly to explore for long stretches of time.
x
About 400,000 images
of reefs off Australia and in the Caribbean
have been produced so far, but this is the first time the technology has been used in U.S. waters. The new images will add scale and details to data that has already been collected, and illustrate the successes and failures of coral restoration. They will also help scientists study the effects of warming ocean temperatures, pollution and hurricanes on reefs, officials said.
The basketball-shaped, triple-lens SVII cameras use the same technology used to produce Google Street View images of neighborhoods on land. Instead of being placed on top of a car, the 143-pound riggings are tethered to scuba divers and powered through the water by small motors. In an hour-long dive, each camera can capture images over an area up to 20-times larger than what's available with traditional underwater photography equipment. The technology also records GPS data and quickly stitches the images together into panoramic- or 360-degree views. Smaller versions mounted on tripods are also being tested in the Keys. While the main survey continues worldwide, the smaller cameras will be available for targeted projects within FKNMS and other sanctuaries.
x
---
Sinking World Exhibition at Eco-Discovery Center
This winter at the Florida Keys Eco-Discovery Center, visitors will be treated to topside viewing of the sunken, silent testaments to life interrupted we call shipwrecks.
The Sinking World
exhibition will be on display until March 24, 2015.
x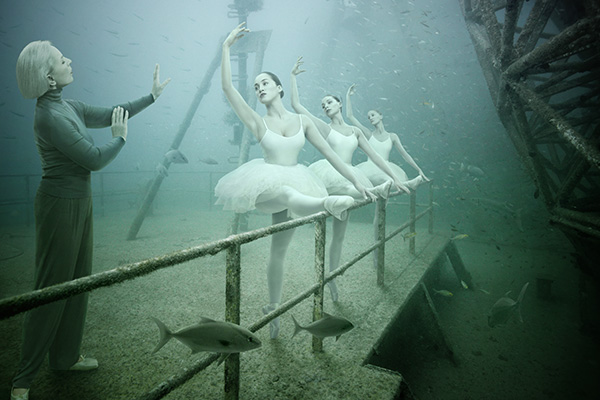 This FREE exhibit features surreal montages by artist Andreas Franke that draw the viewer into the world of shipwrecks found in Florida's waters by seamlessly interposing real underwater shots of the ships with people enacting both elegant and everyday moments from bygone eras. Each piece was further enhanced by nature's 'patina,' as algae, barnacles and other sea creatures were allowed to settle on the artwork while it was on display -- underwater -- on the very ships featured in the scenes!
x
This is the first time the Mohawk project, illustrating scenes from the ship
USS Mohawk
off Sanibel Island, will be shown in the Florida Keys. The exhibition will also include artwork from the
USNS General Hoyt S. Vandenberg
, a shipwreck located within the
FKNMS
.
x
The projects touch on two themes that are also central to the Sanctuary: natural resources and maritime heritage. For example, the Mohawk project focuses on World War II era maritime history, showing scenes of sailors tussling, locked in an arm wrestling match, getting tattooed, and dancing with a dame. The Vandenberg works have the unique distinction of being covered with patina that originated right here in our sanctuary.
x
For more information about this exhibition or the artwork of Andreas Franke, visit
TheSinkingWorld.com
.
---
NewsMakers
---
Support Sanctuary Friends When You Shop Amazon.com
As you probably know, the AmazonSmile Foundation donates 0.5% of the purchase price of eligible AmazonSmile items to qualified charities. And
Sanctuary Friends
is one of those charities! Every time you shop for items you were going to purchase anyway,
Sanctuary Friends
can be the recipient of this donation with no extra cost to you. And there's no cap on how much AmazonSmile will donate.
x
---
Sanctuary Friends Foundation of the Florida Keys
is a non-profit, 501(c)(3), tax-exempt organization
(Tax ID# 59-2443959).
We take your privacy seriously. Your email address will never be sold, rented or given away. All our emails include an easy opt-out feature. If you have activated spam filters in your email application, please add the following email to your address book:
Sanctuary_Friends_Foundation_of_@mail.vresp.com
In This Issue:
Big Pine Winn-Dixie Partners with "Got Your Bags?"
Google Maps FKNMS
The Sinking World Exhibition
---
---
Please add your upcoming events to our online Florida Keys Environmental Calendar. This community-wide resource allows any organization or group to set up an account and post environmentally-related events.
xxxxxxxxxxxxxxxxxxxxxxxxxxxxxxxxxxx
Friends in Focus Movie: "Disruption"
TODAY! Dec. 16, 7 pm, Sail & Power Squadron Education Building, 12 Loggerhead Lane, Marathon
This film takes a look at the devastating consequences of our inaction when it comes to Climate Change.
Watch the trailer here.
Social begins at 6:30 pm.
Got Your Bags? Florida Keys Reusable Bag Giveaway
Dec. 20, 10 am-2 pm, Big Pine Key Winn-Dixie, 251 Key Deer Blvd., Big Pine Key
GLEE
volunteers will provide a FREE reusable shopping bag to anyone who signs a pledge to do their best to avoid using plastic bags when they shop. The reusable bags have been donated by local businesses and individuals who support the GYB program.
More information.
Friends in Focus Movie: "Vegucated"
Jan. 6, 7 pm, Sail & Power Squadron Education Building, 12 Loggerhead Lane, Marathon
This documentary follows three meat- and cheese-loving New Yorkers who agree to adopt a vegan diet for six weeks and learn what it's all about.
Official website and trailer.
Social begins at 6:30 pm.
---
Welcome! Thank you for your support!
New & Returning Members ($30-$199)
Nancy Gold
In honor of Mike Descoteaux
In honor of Al Descoteaux
Sybil P. Veeder
David & Lynne Brooks
Peter Frezza
Benefactors
($200+)
Mike Klayman
John & Arlene Mirabella
Holly Raschein
Greg Frey
Tom Davidson
Anonymous
Rachel Bowman
---
SPONSORS
Please support the companies that support the FKNMS and Sanctuary Friends.
Platinum:
Waste Management
Marathon Garbage Service
Keys Sanitary
Sunbelt Rentals
Cressi International
Gold:
Marathon Jet Center
Centennial Bank
First State Bank
Little Palm Island Resort
The Weekly Newspapers
Conch Color
Papa's Pilar Rum
Ocean Reef Club
Diver's Direct
Silver:
Marathon Boat Yard
Grader Mike Construction
Marathon Chamber of Commerce
A Deep Blue Dive Center
Paver Dave
Keys Contracting Services
Florida Keys Contractor's Association
Bee Brothers
Key West Butterfly & Nature Conservatory
Hard Rock Cafe
Hyatt Key West Resort & Spa
SHOR Restaurant
Westin's Bistro 245
Key West Express
FURY Water Adventures
Dunkin' Donuts
JSA Promotions
Budweiser
---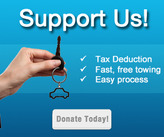 ---
Our Mission
Sanctuary Friends Foundation of the Florida Keys supports the Florida Keys and the Florida Keys National Marine Sanctuary (FKNMS) in the preservation, restoration, and sustainable use of our coral reef ecosystem, from the uplands to the deep sea. We focus on development of community support and advancement of public awareness, education, outreach and scientific research.
---
We want your input!
If you have stories of note or just want to comment on our newsletter, please email:
If you enjoyed this newsletter,
If you are not already on our mailing list,