Sign up to Win!
"Like" Sanctuary Friends
Facebook Page
and/or "follow" us on
Twitter
by Tuesday, October 2
and earn two chances to win a cotton lionfish print t-shirt from
Pterois Tees
. Each shirt ($20 value) is unique and made using real invasive lionfish from our
FKNMS
waters.
Sign up now for your chance to win!

Diadema: Caretakers of the Reef
In the spring of 1983, coral reefs of the Florida Keys were quite different than they are today. Although they faced the pressures of high visitation, pollution and extensive fishing, absolute coral cover was stable at around 25 percent. This was down from the 50 percent of the early '70s, but live stony corals were still the dominant living structures of Keys reefs. On each coral head and in every rubble patch, there lived at least a few purple-black sea urchins with long, pointed spines known for skewering wetsuits and unwary hands. Then, over the course of a single week, the urchins were all dead or dying.
Diadema antillarum
were suddenly only a memory.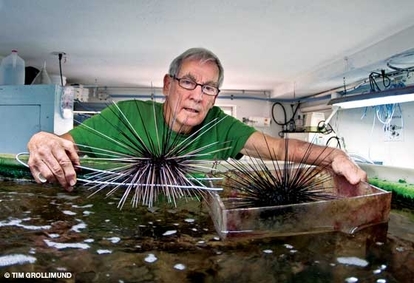 Beginning in January 1983, the Diadema plague extended from the southern Caribbean north to Bermuda. As currents spread the pathogen, 92 to 99 percent of all the billions of Diadema sea urchins in this vast 1.4-million-square-mile oceanic habitat died within 13 months. It was the most extensive mass mortality of any marine animal ever reported, and the species was suddenly very near extinction.
x
Diadema are the keystone herbivores of tropical western Atlantic reefs. They consume macro algae that overgrow reefs, and their feeding activity cleans and scrapes limestone substrates, stimulating settlement of coral and other invertebrate larvae. Without herbivores like Diadema, algae rapidly overgrows corals, greatly reducing sunlight, trapping sediments and even waging chemical warfare on coral tissues. Now, almost 30 years after the massive die-off, a limited return of the Diadema populations has occurred elsewhere in the Caribbean, but not in the Florida Keys.
x
In the fall of 2001,
Ken Nedimyer
and
Martin Moe
began work on a Diadema restoration project that transferred at-risk juvenile urchins from rubble zones to deeper reefs to see if they could survive relocation and, if they did survive in adequate numbers, whether they could change the ecology of the reefs. Four small, 25-foot-deep patch reefs near Key Largo were selected: introducing urchins to two of them and using two as control reefs.
x
The
ecological effects
of the relocated urchins in the space of a year were remarkable. The study empirically and emphatically demonstrated it is possible to restore Diadema to a Florida Keys coral reef, and that restoration can reverse the decline of coral and decrease macro algae that shroud reefs.
x
Surely this is not an impossible task, and justifiable if it can result in restoration and protection of the Keys' coral reef ecosystem, a true national treasure. You can support Diadema restoration by
volunteering
, purchasing the specialty
license plate
(Florida residents) or
making a donation
.
x
Will Keys reefs ever return to the 50 percent coral cover seen in the 1970s? That might be a stretch in our lifetimes, but with coral restoration efforts by Ken Nedimyer's team and water-quality improvements from sewer installations replacing septic tanks, scientists are fighting the good fight. But ecological recovery of the Keys' coral reefs is simply not possible without the return of Diadema.
---
Grouper Moon Project:
Protecting a Caribbean Icon
In the Winter of 2002,
REEF
launched a groundbreaking expedition to the Cayman Islands: the
Grouper Moon Project
. The Project's objectives were to observe the
Nassau grouper
spawning aggregation off the western tip of Little Cayman and to develop a protocol for monitoring their numbers and activity at the site.
x
For two weeks, a team of divers from REEF and the Cayman Islands Department of Environment visited the aggregation site and nearby reefs. Since that first year, REEF has coordinated annual efforts to monitor and study the Little Cayman Nassau grouper (Epinephelus striatus), a social and ecological corner stone of Caribbean's coral reefs. The project has grown in scope to include an ambitious acoustic tagging research project, juvenile habitat and genetics studies.
x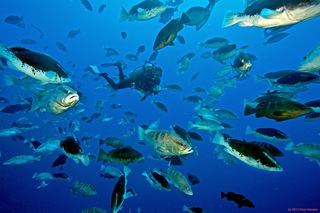 x
Nassau grouper are normally solitary and territorial, but during the winter full moons they travel – sometimes over great distances – and "group" together to spawn. About fifty of these spawning aggregations sites have been recorded in different places throughout the Caribbean. Historically, once discovered, grouper aggregation sites have become synonymous with fisherman aggregation sites. Due to the timing and site fidelity of the spawning aggregations and the ease with which these relative loners can be caught while congregating by the hundreds and thousands to spawn, one-third to one-half of the known Caribbean aggregation sites are now inactive. The Cayman Islands used to be home to five Nassau grouper spawning sites. Today, four are dormant or depleted. But one site, on the west end of Little Cayman Island, is home to one of the last great reproductive populations of this endangered species.
x
For more information about Nassau Grouper and the Grouper Moon Project, including yearly project summaries and published results, visit
www. reef.org/groupermoonproject
.
---
Dive Against Debris 2012
International Coastal Cleanup in Marathon
In celebration of Ocean Conservancy's annual
International Coastal Cleanup
and Project Aware's
Dive Against Debris
, local divers participated in the 9th annual Underwater Cleanup for Trash-Free Seas sponsored by
A Deep Blue Dive Center
in Key Colony Beach on Saturday, Sept. 15.
x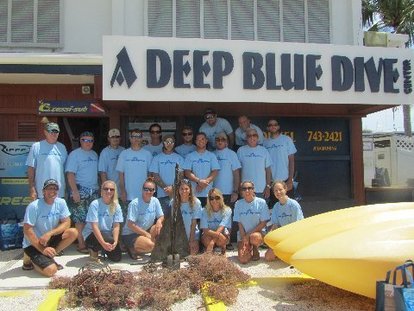 This year's cleanup included 24 volunteers from five nearby dive centers and from
Sanctuary Friends Foundation of the Florida Keys
. A representative of
Ocean Conservancy
was there to film the event. Due to the extreme amount of debris found on the wreck, two cleanup dives were made on the Thunderbolt, a 188-foot vessel sunk off Marathon in 1986. The wreck lies in 120 feet of water and serves as a haven for marine life and some very large fish. Since it's a prime fishing destination, lots of line, leaders, hooks, and other fishing gear end up on the wreck, making it hazardous for divers, who can become entangled in fishing line or have their regulators ripped out of their mouths.
x
The divers collected 75 pounds of monofilament line, lead sinkers, hooks, steel leaders, rope and lures. The prize of the trip was a 65-pound anchor that John Wile from Dynasty Marine hauled up with a lift bag. It was an intensive and successful day! Other participating dive shops were: Looe Key Dive Center, Little Palm Island Divers and Abyss Dive Center.
x
Let's keep the ocean clean not only in celebration of Ocean Conservancy's one-day event, but every day we enter the water. It's up to all of us!
x
Pictured:
Top (L to R): Daron Erznoznik, Caleb Bucci, Chase Grimes, Jeff Neidlinger. Middle: Larry Battaglia, Mark Weeter, Bob Eichholtz, Todd Gibbins, Ryan Carter, John (Bucky) Wile, John Tomlinson, Joe Hamrick, Kelan Joshua. Bottom: Larry Maier, Anke Bieler, Melissa Gibbins, Brittany Schnell, Allison Heyl, Ariel Tobin, Hilary Gridley.
---
NewsMakers
---
Keys Kids Named Sanctuary Classic Winners
Two of four winners in the inaugural
Sanctuary Classic
are from the Florida Keys. Each took home a $1,000 college scholarship for the best photo during this national catch-and-release fishing tournament that highlighted a family-friendly way to enjoy national marine sanctuaries. The winning Florida Keys
photos
are of Anthony and Michael Gonzales and Wesley Farrer.
x
Throughout the summer, participants of all ages fished in national marine sanctuaries. But unlike traditional tournaments that culminate in measuring and mounting a fish, participants in the Sanctuary Classic vie for the best photo. Hundreds of people submitted photos of their sanctuary adventure and competed for online votes in weekly prized contests. All photos submitted were considered in the judging for the four scholarships. The judges were world-renowned artist Guy Harvey, Jim Toomey of the nationally syndicated cartoon strip Sherman's Lagoon, and IMAX film guru Barbara MacGillivray.
x
While participation was encouraged in every sanctuary, the tournament this year focused on four –
Florida Keys
, Channel Islands, Gray's Reef and Monterey Bay.
Video highlights
from each of these sanctuaries are available. The Classic plans to highlight other national marine sanctuaries in 2013.
---
Our Mission


Sanctuary Friends Foundation of the Florida Keys supports the Florida Keys and the Florida Keys National Marine Sanctuary (FKNMS) in the preservation, restoration, and sustainable use of our coral reef ecosystem, from the uplands to the deep sea. We focus on development of community support and advancement of public awareness, education, outreach and scientific research.
---
Sanctuary Friends Foundation of the Florida Keys
is a non-profit, 501(c)(3), tax-exempt organization
(Tax ID# 59-2443959).
We take your privacy seriously. Your email address will never be sold, rented or given away. All our emails include an easy opt-out feature. If you have activated spam filters in your email application, please add the following email to your address book:
Sanctuary_Friends_Foundation_of_@mail.vresp.com
In This Issue:

---
---
More Than Meets the Eye
It's close to sunset, and as you drive along the Overseas Highway glancing out over the water, the sea sparkles with orange gold reflections and the sky is turning red and coral with bands of blue and green between burgundy clouds. "Wow," you think, "What a wonderful place are the Florida Keys!" The next day, as your boat cuts through clear waters on the way to the reef, the same thought enters your mind.
x
I wish I could stop right here, but I can't. There is more to the story. Our paradise, the life that creates our coral reefs and inshore waters is threatened by what we cannot see, and the first step to repair and control is to be aware of the problems. Some pollution is obvious: oil spills, plastic debris and the obvious effluent of our affluent society. But chemical pollution, in particular endocrine disruptors, is not so obvious.
x
Endocrine disruptors are a class of chemicals that actively interfere with hormonal activity of plants and animals in extremely low concentrations (parts per billion and trillion). They have the potential to prevent reproduction of marine animals and destroy or prevent normal development of larval forms of fish and invertebrates. They come from pesticides, herbicides, plastic decomposition, sunscreen, pharmaceuticals, petroleum spills and products, paints, antifouling products, road runoff, sewage and many other sources. They are undoubtedly in the waters of the Florida Keys, but we have little knowledge of what is present, their effects and where and when they occur.
x
The first step to control a problem, like with a cancer, is to know about it. We must start with that. So, my message this month is a bit of a downer. But what we know today can bring a better tomorrow.
Won't you join us as a Sanctuary Friend?
x
---
---
Please add your upcoming events to our online Florida Keys Environmental Calendar. This community-wide resource allows any organization or group to set up an account and post environmentally-related events.
xxxxxxxxxxxxxxxxxxxxxxxxxxxxxxxxxxx
Florida Keys Birding & Wildlife Festival
Starts today!
Sept. 25-30, throughout the Keys
Event details and registration form:
www.keysbirdingfest.org
. Several activities have participant limits and sell out fast!
Birding Festival Keynote Speech: "Perils and Pitfalls of Birding"
Sept. 27, 7-9 pm, Nelson Government Center, MM102, Key Largo
Keynote speaker Bill Thompson III, editor of Bird Watcher's Digest and author of several birding guides, including the "The Young Birder's Guide to Birds of Eastern North America." $10/person,
pre-registration
preferred, pay at door accepted.
Birding Festival Keynote Speech:
"No Child Left Inside – Birds as a Doorway to Nature"
Sept. 28, 6-9 pm, Marathon Garden Club, MM 49.9, Marathon
Official Opening of the
14th Annual Florida Keys Birding and Wildlife Festival
. Meet Keynote Speaker Bill Thompson III, chat with friends and fellow birders and outdoor enthusiasts. Children welcome; this talk is all about getting kids connected with nature! $20/person, includes hors d'oeuvres, refreshments and book signing. Under 22 are $10, under 6 are free. Seating limited to 100.
Birding Festival Environmental Fair and Family Day
Sept. 29, 10 am-3 pm Curry Hammock State Park, Marathon
Free, fun-filled day featuring a scavenger hunt, kids' activities, guided beach walk, self-guided kayak tours and dozens of booths by local resource management agencies, non-profits, artists and more. Free lunch at noon while supplies last.
www.keysbirdingfest.org
E-Waste Recycling & HHW Disposal
Saturdays, 9 am-1 pm
Oct. 6, Cudjoe Transfer Station, Blimp Road at MM 21.5
Oct. 13, County Public Works Yard, Marathon
Oct. 20, Key Largo Recycling Center
Electronics and Hazardous Household Waste Disposal. FREE for Unincorporated Monroe County, Key West, Marathon, Key Colony Beach, Layton and Key Largo Residents. Call 305-289-6037 for information about acceptable items.
---
Welcome! Thank you for your support!
New & Returning Members ($30-$199)
Benefactors ($200+)
Long Key Ladies Club
---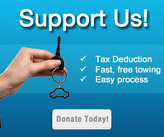 ---
We want your input!
If you have stories of note or just want to comment on our newsletter, please email:
If you enjoyed this newsletter,
If you are not already on our mailing list,