Our dedicated Board of Directors, members and allies are committed to guaranteeing the future of our economically-precious treasures that are in critical danger here in the Keys. Please
join us as a member
, renew your membership or
volunteer
with us.

Boater's Guide to Living with Manatees
The largest cause of human-related manatee mortality in Florida is watercraft collision.
Manatee
deaths from watercraft are caused by propeller cuts, impact or both. These injuries, however, are not always lethal. Many manatees have scars on their backs or tails from surviving collisions with boats.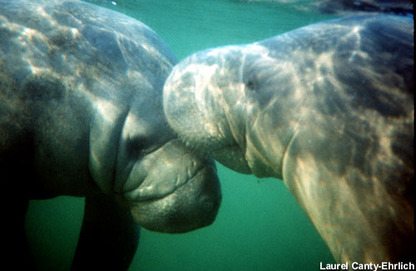 Manatees may not always detect approaching boats and also may not be able to successfully evade or avoid a boat that is detected. Some circumstances, such as mothers with calves or having cold stress syndrome, can increase the chances of a manatee-boat collision.
x
Have someone on your boat look out for manatees while underway and give them plenty of room. Even if you only see one animal, it is likely traveling with others (possibly even a calf) that you may not see.

Look for a "manatee footprints" -- circular wave patterns left on the surface of the water by the manatee's tail as it swims underwater.

Try not to pass directly over manatees or separate mothers and calves.

Wear polarized sunglasses to reduce glare and help you see manatees under water.

Be aware that manatees in shallow areas will frequently move into the channels when they hear boats approach. Although this behavior provides deeper water for manatees, it may put them in the path of traveling boats.

Do not provide food and water to manatees, as doing so teaches them to seek out human interaction and brings them into close contact with boats.

Keep unwanted plastics, monofilament line, rope and other fishing gear out of the water by discarding them properly. These items frequently injure, entangle and kill manatees.
If you see an entangled or distressed manatee, do not try rescuing it yourself. Report collisions with manatees, because early rescue efforts may save the animal's life. Call the Wildlife Alert Hotline at 1-888-404-FWCC and stay with the manatee until help arrives.
---
Protecting Our Water
Water Quality Protection Program Celebrates 30 Years
Good water quality is critical to the health of coral reefs and all the habitats of the
FKNMS
. Changes in water quality, including increases in levels of specific nutrients, can have serious negative effects on marine life.
x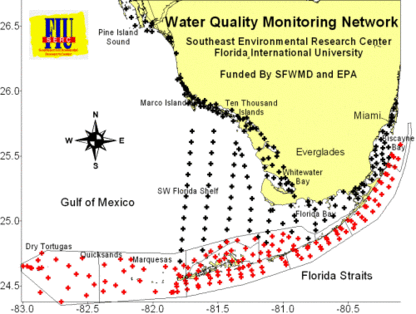 To better understand how humans impact water quality and affect sanctuary habitats, the
Water Quality Protection Program (WQPP)
was created by the
U.S. EPA
and
Florida DEP
in 1994. The program is designed to make recommendations about how to maintain and restore the ideal water quality needed for healthy native plant and animal populations to thrive in sanctuary waters. The program also includes
coral reef monitoring
and
seagrass monitoring
, as well as special studies such as groundwater seepage, the effects of mosquito-control measures on non-target animals, human pathogens in canals, and the effects of pharmaceutical drugs on marine life.
x
Water quality is based on many factors, including the levels of specific nutrients — nitrogen and phosphate — that are often found in high concentrations in wastewater and stormwater. If the levels of these nutrients get too high, it put stress on marine organisms, making them more prone to disease and death. Scientists from
Florida International University
have been collecting water quality samples at 154 sites throughout the Florida Keys since 1995.
x
Information from these long-term monitoring programs provides insight into the complex balance of the marine ecosystem in the Florida Keys. This information also allows researchers and managers to detect any changes in the sanctuary from upstream influences and how sanctuary waters are influenced by activities outside the Florida Keys. Florida International University operates a
network of 340 fixed sampling sites distributed throughout the estuarine and coastal ecosystems of south Florida
to address concerns in regional water quality that cross and overlap political boundaries.
---
Thank You, Volunteers!
Sanctuary Friends would like to thank Boy Scout Troop 265 of Flower Mound, Texas, for their volunteer service this summer. The troop worked on landscaping the
Florida Keys Eco-Discovery Center
as part of their community service requirements. This is the Troop's second visit to help out, and we hope to see them again next year!
x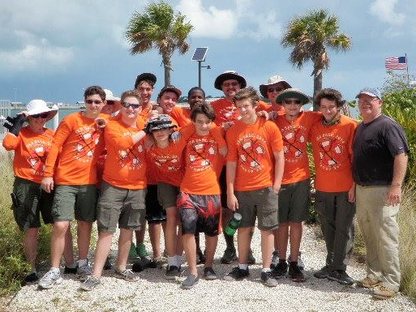 If your group or club (or you as an individual) would like to volunteer to help preserve and restore the coral reef ecosystem that surrounds the Florida Keys, we have many opportunities available. One of the most popular ways to help out is to participate in a beach cleanup, either by foot or by kayak. We support
Team OCEAN
, a volunteer program through the
FKNMS
that frequently schedules beach cleanups to collect marine debris from Sanctuary waters. As a Team OCEAN volunteer, you will provide on-the-water education and information aimed at protecting sanctuary resources while enriching the experiences of visitors to Sanctuary and make a difference in the health of the ecosystem.
x
Additionally,
Sanctuary Friends needs volunteers
to help with the management of buoy banks, updating the Florida Keys Environmental Calendar, putting up posters to advertise events and helping out at our "Friends in Focus" environmental movie nights.
x
If one of these opportunities interests you or If you have a special talent you would like to share, contact us through our
online form
or call 305-289-2288. All volunteers are asked to keep track of their hours and let SFFFK know how much time they have donated. These hours will help us in applying for grants, so any amount of time you give has even more impact than you may ever know!
---
NewsMakers
---
Dolphin & Whale 911
Introducing the new
Dolphin & Whale 911 app
to enhance accurate and timely reporting of stranded marine mammals in the Southeastern U.S.!
x
One of the main challenges in providing protection, conservation, and management of marine mammals is the lack of public awareness about how to report them when stranded. When the public is unaware how to contact their local Stranding Network, response can be delayed, compromising the animals' chances of survival and/or limiting the amount of valuable data collected from dead animals. The new
Dolphin & Whale 911 app
provides this valuable information on smartphones, including a colorful species identification guide, so the public will know who to call and what to do when they find a sick, injured or dead marine mammal, thus contributing to marine mammal conservation.
---
We want your input!
If you have stories of note or just want to comment on our newsletter, please email:
In This Issue:
Protecting Manatees
Water Quality Protection Program
---
---
Please add your upcoming events to our online Florida Keys Environmental Calendar. This community-wide resource allows any organization or group to set up an account and post environmentally-related events.
xxxxxxxxxxxxxxxxxxxxxxxxxxxxxxxxxxx
REEF, Fish & Friends Seminar
TODAY! Aug. 12, 7 pm,
REEF
Headquarters, MM 98.3, Key Largo
Free lecture on the second Tuesday of every month. This month, Aileen Soto, Education and Outreach Coordinator for
Aquarius Reef Base
, will discuss "Life Aquarius." Social begins at 6:30 p.m.
Water Quality Protection Program Steering Committee Meeting
August 14, 9 am-4 pm, Marathon Government Center,
 2798 Overseas Highway, MM50,
 Marathon
The Committee makes recommendations on how to maintain and restore the ideal water quality needed for healthy native plant and animal populations to thrive in sanctuary waters. Meetings are held twice a year and are open to the public.
FKNMS Sanctuary Advisory Council (SAC) Meeting
August 19, 9 am-4:45 pm, Hilton Key Largo Resort, 97000 Overseas Highway, Key Largo
The
SAC
provides advice regarding management of the
FKNMS
. All meetings are open to the public and include morning and afternoon public comment periods. This month's agenda focuses on ecosystem protection and developing an environmental impact statement.
Download the draft agenda.
---
Welcome! Thank you for your support!
New & Returning Members ($30-$199)
Nancy Gold
Benefactors
($200+)
Tom Davidson
Anonymous
Rachel Bowman
Richard Worthington
Joseph DiFilippo
---
SPONSORS
Please support the companies that support the FKNMS and Sanctuary Friends.
Platinum:
Waste Management
Marathon Garbage Service
Keys Sanitary
Sunbelt Rentals
Cressi International
Gold:
Marathon Jet Center
Centennial Bank
First State Bank
Little Palm Island Resort
The Weekly Newspapers
Conch Color
Papa's Pilar Rum
Ocean Reef Club
Diver's Direct
Silver:
Marathon Boat Yard
Grader Mike Construction
Marathon Chamber of Commerce
A Deep Blue Dive Center
Paver Dave
Keys Contracting Services
Florida Keys Contractor's Association
Bee Brothers
Key West Butterfly & Nature Conservatory
Hard Rock Cafe
Hyatt Key West Resort & Spa
SHOR Restaurant
Westin's Bistro 245
Key West Express
FURY Water Adventures
Dunkin' Donuts
JSA Promotions
Budweiser
---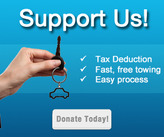 ---
Our Mission
Sanctuary Friends Foundation of the Florida Keys supports the Florida Keys and the Florida Keys National Marine Sanctuary (FKNMS) in the preservation, restoration, and sustainable use of our coral reef ecosystem, from the uplands to the deep sea. We focus on development of community support and advancement of public awareness, education, outreach and scientific research.
---
Sanctuary Friends Foundation of the Florida Keys
is a non-profit, 501(c)(3), tax-exempt organization
We take your privacy seriously. Your email address will never be sold, rented or given away. All our emails include an easy opt-out feature. If you have activated spam filters in your email application, please add the following email to your address book:
Sanctuary_Friends_Foundation_of_@mail.vresp.com