Our dedicated Board of Directors, members and allies are committed to guaranteeing the future of our economically-precious treasures that are in critical danger here in the Keys. Please
join us as a member
, renew your membership or
volunteer
with us.

20 Corals Listed as Threatened
NOAA
recently listed 20 new varieties of coral as "threatened" under the
Endangered Species Act
, including five that are found in Florida Keys waters: Mountain star, pillar, boulder star, cactus and star. Florida-native
staghorn
and
elkhorn
corals have been on the list since 2006.
x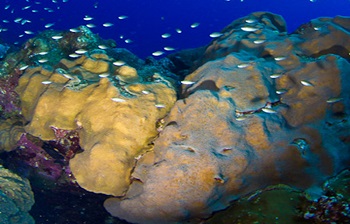 The final decision is a significant change from the proposed rule in November 2012, which listed 66 species as either threatened or endangered. Staghorn and elkhorn corals were to have been reclassified as endangered, but were not. The listing of these corals is a result of the most extensive rule making ever undertaken by
NOAA
, according to the agency. The amount of scientific information sought, obtained and analyzed was unprecedented. This information included general reef-building coral biology, habitat characteristics and threats, as well as species-specific spatial, demographic and other information for the individual coral species.
x
The listing of the five new species found in the Keys will have an impact on the
FKNMS
's ongoing plan to update its rules and regulations, according to sanctuary superintendent Sean Morton. Sanctuary managers expected the listing of the corals and have already made it part of the review of its management plan.
There are currently no prohibitions relating to individual uses.
x
Corals face threats from local sources such as pollution, run off and fishing and diving impacts, to larger global threats, such as ocean acidification and global temperature change.
---
Study Shows Reefs Grow by Crawling Along the Sea Floor
A new
study
shows reefs don't maintain themselves at sea level by growing vertically, as previously thought, but walk along the sea floor.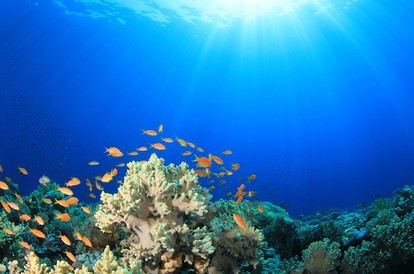 Here's how it works: as sea level rises, reefs follow the shorelines, growing along the seafloor itself as it rises toward an island. The increase in sediment that results from the upslope movement prevents a type of fast-growing corals called acroporids from dominating the reef, being replaced by other slower-growing corals. Sometimes, as the reef creeps toward the shoreline, it encounters a flat, horizontal surface, which is the top of a skeleton of an ancient fringing reef. When the older reef was alive, sea level was relatively stable, allowing the reef to form a horizontal flat surface just beneath the water's surface. Then sea level dropped as ice formed at the poles, and the ancient reef died. Thousands of years later, as sea level began to rise again, a new reef could once again march up the seafloor toward the island. On that march, it eventually found itself atop the old reef.
x
Deprived of its ability to crawl further along the slope, the reef created a lagoon that trapped the island's sediment, preventing it from washing out to sea. The reduction in sediment flow suddenly allowed the fast-growing acroporids to recolonize the reef and grow more swiftly, rising vertically in lockstep with the rising seas. Suddenly, a fringing reef became a barrier reef.
x
This new research, published in Nature Scientific by Paul Blanchon
, mostly debunks Charles Darwin's theory that coral reefs grow vertically to maintain their position at sea level. While Darwin was right that fringing reefs transition into barrier reefs, his explanation for the transformation was wrong. He was also right about how barrier reefs become atolls: that happens when the island sinks below sea level, leaving behind a shallow sediment-filled lagoon.
x
"Reefs are not the static features we take for granted, but are dynamic and change form dramatically over time," says Blanchon.
x
Some 20,000 years ago, in fact, barrier reefs and atolls didn't even exist. In other words, there were times in the past when reefs as we know them hardly existed. That leaves open an important question as we ponder the future of our oceans: could reef structures change dramatically again, due to future sea level rise? If climate change drives sea level rise so rapidly that the reefs are unable to keep up, will we lose them entirely? That's a big question, and one we don't have the answer to at present, according to Blanchon.
---
"BleachWatch" Program Monitors Coral Bleaching
Warm ocean temperatures typical in August and September in the Keys can cause corals to lose the symbiotic algae (or zooxanthellae) that give them their distinctive colors. This results in
"coral bleaching,"
so called because the coral turns completely white. Bleaching is a natural summer event that occurs annually in the
FKNMS
, but frequent or extended bleaching can damage or kill corals. While bleached corals are not dead, they are under greater stress and are less resistant to other threats such as disease. If a coral is severely bleached, disease and partial mortality become likely, and the entire colony may die.
x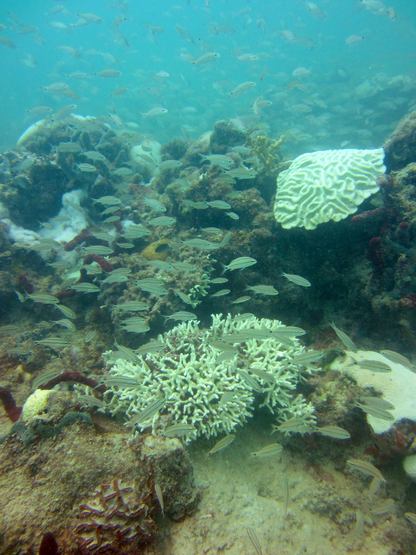 Records show that coral bleaching has been occurring for many years in the Florida Keys and also indicate that the frequency and severity of these events has steadily increased since the 1980s. Large-scale mass coral bleaching events are driven by unusually warm sea temperatures. The effects of these mass events are potentially devastating to ecosystems and the people who depend on them.
x
To monitor the extent of coral bleaching,
Mote Marine Laboratory
created the Florida Keys Coral Bleaching Early Warning Network, or
"BleachWatch,"
modeled on the
Great Barrier Reef Marine Park Authority
's program. Through this network, specially-trained volunteers known as
"BleachWatch" observers
collect field observations to monitor for signs of coral bleaching. Existing NOAA monitoring stations and satellite imagery analysis are also monitored to track changes in environmental conditions within the Florida Keys region. All of this data combined is used to provide FKNMS with a comprehensive overview of
"current conditions"
in a report throughout the summer months, when bleaching is most likely to occur.
x
---
NewsMakers
---
Become A Sanctuary Advisory Council (SAC) Member
REEF Announces 2015 Field Survey Trip Schedule
REEF
field survey trips are a great introduction to fish identification for novice fishwatchers, and a fun way for experienced surveyors to build their life list while interacting with fellow fishwatchers. REEF coordinates Field Surveys to locations throughout their project regions each year. These projects are led by REEF staff and instructors and feature daily classroom seminars and a full diving schedule. 2015 destinations include: Hawaii, Grand Cayman, Fiji, Roatan, Grand Turk, the Bahamas, Curacao, Bonaire, the Catalina Islands and Cozumel! Dates, destinations, and trip leader information, prices and complete details can be found
www.REEF.org/trips
. Go on a dive vacation that counts!
---
We want your input!
If you have stories of note or just want to comment on our newsletter, please email:
In This Issue:
20 Corals Listed as Threatened
Reefs Grow Horizontally
---
---
Please add your upcoming events to our online Florida Keys Environmental Calendar. This community-wide resource allows any organization or group to set up an account and post environmentally-related events.
xxxxxxxxxxxxxxxxxxxxxxxxxxxxxxxxxxx
International Coastal Cleanup
Sept. 20
Ocean trash is a serious pollution problem that affects the health of people, wildlife and local economies. Join the world's largest volunteer effort for our ocean and waterways by participating in the
International Coastal Cleanup
sponsored by Ocean Conservancy.
x
Florida Keys Birding & Wildlife Festival
Sept. 23-28
Join more than a dozen
birding and wildlife experts
for a tour of one of Florida's most precious ecosystems during the six-day
festival
that spans the 120-mile-long chain of islands. Signature
events
include a Sunday excursion to Dry Tortugas National Park, guided birding and butterfly walks and talks, a photography workshop, a free, family-friendly all-day wildlife fair, citizen science with
Florida Keys Hawkwatch
and several backcountry excursions. Advanced
registration
is requested, as many trips have participant limits.
---
Welcome! Thank you for your support!
New & Returning Members ($30-$199)
Nancy Gold
Benefactors
($200+)
Holly Raschein
Greg Frey
Tom Davidson
Anonymous
Rachel Bowman
Richard Worthington
Joseph DiFilippo
---
SPONSORS
Please support the companies that support the FKNMS and Sanctuary Friends.
Platinum:
Waste Management
Marathon Garbage Service
Keys Sanitary
Sunbelt Rentals
Cressi International
Gold:
Marathon Jet Center
Centennial Bank
First State Bank
Little Palm Island Resort
The Weekly Newspapers
Conch Color
Papa's Pilar Rum
Ocean Reef Club
Diver's Direct
Silver:
Marathon Boat Yard
Grader Mike Construction
Marathon Chamber of Commerce
A Deep Blue Dive Center
Paver Dave
Keys Contracting Services
Florida Keys Contractor's Association
Bee Brothers
Key West Butterfly & Nature Conservatory
Hard Rock Cafe
Hyatt Key West Resort & Spa
SHOR Restaurant
Westin's Bistro 245
Key West Express
FURY Water Adventures
Dunkin' Donuts
JSA Promotions
Budweiser
---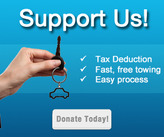 ---
Our Mission
Sanctuary Friends Foundation of the Florida Keys supports the Florida Keys and the Florida Keys National Marine Sanctuary (FKNMS) in the preservation, restoration, and sustainable use of our coral reef ecosystem, from the uplands to the deep sea. We focus on development of community support and advancement of public awareness, education, outreach and scientific research.
---
Sanctuary Friends Foundation of the Florida Keys
is a non-profit, 501(c)(3), tax-exempt organization
We take your privacy seriously. Your email address will never be sold, rented or given away. All our emails include an easy opt-out feature. If you have activated spam filters in your email application, please add the following email to your address book:
Sanctuary_Friends_Foundation_of_@mail.vresp.com