State Rules Coral Nurseries Eligible for Tourist Funding
Sanctuary Friends is thrilled to announce the news that the state attorney general recently ruled that
coral nurseries
and restoration work can receive
Monroe County Tourist Development Council (TDC)
funding. George Neugent, County Commissioner and our own
Sanctuary Friends President
asked for the opinion after one coral nursery operator twice applied for TDC funding but was denied.
x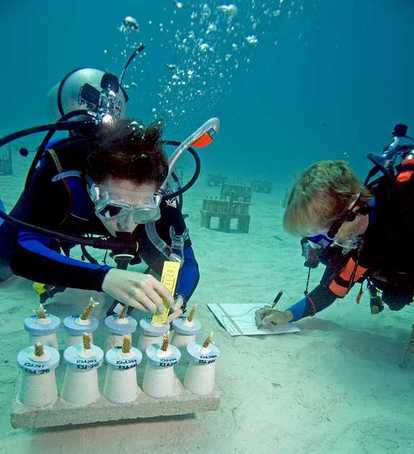 Neugent wanted the county to classify coral nurseries, restoration sites and coral planting activities as underwater "zoological parks," which would make them available for TDC funding. State Attorney General Pam Bondi agreed with Neugent. "In sum, it's my opinion that local option tourist development taxes can be used to fund a coral outplanting project to repair and improve a naturally occurring reef under the language contained in section 125.014(5)(b) Florida statutes, if the county make the appropriate findings," Bondi wrote in a letter to the county.
x
Neugent has argued that coral nurseries attract visitors and play a major role in the Keys ecotourism industry, which in turn should make them eligible for funding. "People want to come down and participate in this," Neugent said. "People recognize the value of coral and will come down and pay to be involved in restoring it."
x
Amy Slate's Amoray Dive Resort
in Key Largo regularly offers dive trips to Nedimyer's nurseries and restoration sites off the Upper Keys.
Mote Marine Laboratory
also regularly takes visiting divers and scientists to its coral nursery and transplant site off Big Pine Key.
x
The Florida Keys have seen more than a 36 percent decline in coral cover since 1996, and the world has seen a 25 percent loss of all corals in the past 30 years, according to reports. This bleak outlook for coral motivated Nedimyer, Mote and other groups to grow coral in underwater nurseries across the Keys.
Read the full article in the Key West Citizen.
---
New Airboat Regulations Proposed in Everglades
Everglades National Park
's proposed
General Management Plan (GMP)
for the next 15 to 20 years calls for an end to all private airboating in the East Everglades once the "grandfathers" who operate there now have died, affecting 1,000 to 2,000 airboaters. As for longtime commercial airboat tour operators along the Trail – Coopertown, Everglades Safari Park, and Gator Park – the park proposes to buy their properties, turn them into concessionaires and confine their operations to a "front country zone" of about 10,000 to 11,000 acres just south of Tamiami Trail.
x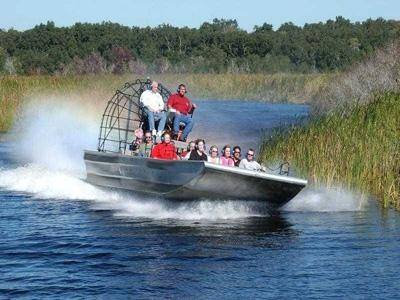 If the park's preferred plan is adopted sometime next year, the rest of the East Everglades – more than 80,000 acres – would be designated as wilderness with no mechanical propulsion (even bicycles) allowed. The aim is to strike a balance between the desires of airboaters and other visitors such as paddlers and hikers.
x
All three commercial airboat tour operators along Tamiami Trail acknowledge the National Park Service has approached them over the past month with offers to buy their properties, but no deals have been closed yet, and the business owners are wary of becoming concessionaires, paying rent to the park service with little say in how their day-to-day operations will be conducted.
x
---
Become A Sanctuary Friend
With your help,
Sanctuary Friends Foundation of the Florida Keys (SFFFK)
can help save the
Florida Keys National Marine Sanctuary (FKNMS)
. We excel in creating important change on the ground – and under the sea. Our team knows how to blend the best science with a commitment to working with local communities and industries to preserve crucial ecosystems and seascapes.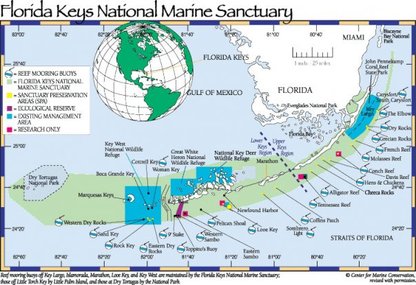 Your gift will have a real impact today. It is an investment in the future of our National Treasure, which holds the distinction of having the only living coral reef in the United States. SFFFK is a making a real difference using these techniques:
Cutting-Edge Science:
 We support scientists within the FKNMS who are analyzing the impacts of climate changes on our coral reef and figuring out where and how the ocean surrounding the FKNMS is changing. Working with policy-makers, we are charting a more effective path to conserving the Sanctuary.
Conservation Solutions:
 Education and outreach are major tools for managing the marine resources of the Sanctuary, as well as reaching people who impact those resources. The Florida Keys are home to 130,000 residents in the winter, as well as 3 million annual visitors, many of which enjoy our sanctuary by snorkeling, scuba diving, fishing or relaxing in our tropical environment. Some of our educational tools are: Coral Reef Classroom Project, Team OCEAN, Florida Keys Ecotourism Initiative (FKEI), supporting coral restoration and mitigation projects, and supporting mooring buoy maintenance and installation.
With your help, We will continue our mission to support the FKNMS in the preservation, restoration and sustainable use of our coral reef and marine ecosystems. We focus on development of community support and advancement of public scientific research. Please consider making a contribution to Sanctuary Friends and associating yourself with some of the coolest people on the planet. In return, we will welcome you into our organization as a member with all the benefits of that level of funding. We promise you that generations to come will be deeply grateful for the efforts we make now to protect what we perceive as one of the most precious environments on earth.
---
NewsMakers
---
One Ocean Student Film Festival Contest
Monitor National Marine Sanctuary
's Youth Working Group is hosting the 2nd annual
One Ocean Student Film Festival
for videographers in 6th through 12th grade. Submission deadline is March 15, and the winners will be announced at an event during Earth Fair OBX on April 26 at UNC Coastal Studies Institute in Wanchese, N.C. Topics may include, but are not limited to indigenous maritime cultures, shipwrecks as reefs, war along our coasts, seafaring traditions and land-based maritime heritage. Categories are 1-5 minute microshorts or 5-12 minute short films.
Voyage to Discovery Essay Contest
---
Sanctuary Friends Foundation of the Florida Keys
is a non-profit, 501(c)(3), tax-exempt organization
(Tax ID# 59-2443959).
We take your privacy seriously. Your email address will never be sold, rented or given away. All our emails include an easy opt-out feature. If you have activated spam filters in your email application, please add the following email to your address book:
Sanctuary_Friends_Foundation_of_@mail.vresp.com