Oil Spill Update
Oil Flow Stopped
Currently
Deepwater Horizon
is not discharging any oil into the Gulf of Mexico after a cap was attached to the well and closed on July 16. BP continues to conduct well integrity tests, which are being closely monitored by the federal government, but only minor leaks have been detected. Impending Tropical Storm Bonnie last week forced officials to temporarily scale back efforts to search beneath the surface for leaking oil. Barring another setback, crude oil should never again gush from the infamous well, but it still must eventually be permanently plugged using mud and cement.
Effects on the Florida Keys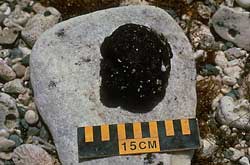 There have been no confirmed observations of oil from the Deepwater Horizon near South Florida. Monitoring presently consists of daily overflights by trained observers to check for oil near the Loop Current, and vessels searching for
tarballs
approaching the Florida Keys. If a significant amount of surface oil were to enter the Loop Current and begin to move toward the Florida Straits, responders would be able to see it, predict its movement, notify states and coastal communities, and help guide preparedness, response and cleanup efforts.
Because South Florida is about 600 miles from the wellhead, any oil reaching the area will have traveled hundreds of miles from the wellhead. During its passage through the dynamic currents of the Gulf, oil will have weathered and degraded. It's unlikely that large, cohesive oil slicks will reach Florida waters. Instead, expect to see floating tarballs and/or scattered patches of weathered oil, perhaps mixed with algae or other floating material.
When will this be over?
Officials don't know for sure. The outcome and timing depend upon when the leak can be permanently plugged and how effective mitigation efforts are at containing oil already in the northern Gulf of Mexico. Since the April 20 explosion, the broken well has spewed 94- to 184-million gallons of oil into the Gulf.
Source:
NOAA Florida Update
---
Hot Weather Puts Corals at Risk
by Timothy O'Hara, Key West Citizen (reprinted with permission)

Corals and other marine life off the Florida Keys have dealt with extremes in sea temperatures this year, going from the low 50s this winter to nearly 90 degrees so far this summer. With several more months of the summer doldrums to go, the FKNMS and Mote Marine Laboratory are reminding divers and dive boat operators to be on the lookout for corals that are bleaching or beginning to look pale. Their
Bleach Watch
program recruits such experts to watch for the signs.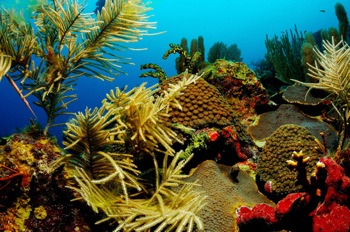 Extreme temperature changes wreak havoc on coral colonies and cause them to bleach, which stresses them and can cause them to lose their symbiotic algae, zooxanthella, which makes them more susceptible to disease. Such prolonged stress can kill them in extreme cases.
Bleaching is most frequently associated with elevated water temperatures, usually 88 degrees or higher for prolonged periods. It also can occur when water temperatures dip below the preferred 60-degree threshold, as was the case this winter when temperatures dipped into the low 50s for more than a week. This winter's cold snap caused severe bleaching on nearshore reefs.
From April to June, sea temperatures rose quickly, and by the end of June, water temperatures had reached nearly 90 degrees. Mote and the FKNMS went into full-alert, monitoring bleaching and issuing advisories. The two science agencies aggressively monitor weather data, but rely on divers to give them firsthand accounts of where corals are bleaching. The reports guide the sanctuary and Mote where to focus its research efforts and show scientists which corals deal better with bleaching and stress than others.
Recently, sea temperatures have dropped to the low 80s. Before the drop, Bleach Watch received reports of some "isolated paling and bleaching." Mote continues to offer classes for divers and dive operators interested in becoming part of the
Bleach Watch
program.
Become a Bleach Watch Observer
or
submit a report
.
---
Volunteers Take to the Water:
Goal is to educate boaters

When you think of
Team OCEAN
, you probably think of beach and kayak cleanup efforts, but that's only one aspect of the FKNMS volunteer group. The organization was formed as an on-the-water education and information service to protect Sanctuary resources while enriching the experience of visitors to the Florida Keys.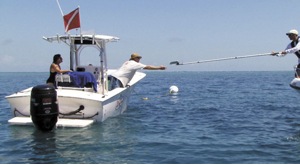 In that vein, Team OCEAN volunteers take to the water during peak recreational boating times to educate boaters about the unique nature of the coral reef habitat, share their knowledge of the best approach to certain areas, demonstrate the use of a mooring buoys, and give out various safety information. They are stationed at heavily-visited reef sites throughout the Keys offering informational packets that include charts, sanctuary information and other helpful navigation tips. Their job is to not act as law enforcement agents, but to answer questions and guide people in the right direction.
Even before hitting the water, volunteers provided packets on safe boating and sanctuary regulations to more than 300 dive shops in the area. Team OCEAN staff also distributes more than 100,000 pieces of sanctuary outreach material each year, including charts, brochures, lobster regulations and
FWC fishing regulations
.
Many boaters are mainland tourists who do not realize they are boating in a national marine sanctuary and that certain areas are restricted to diving and snorkeling only. Boat groundings on the Keys' fragile coral reefs or on seagrass flats frequently occur because boaters are unfamiliar with the waters. Team OCEAN volunteers are helping prevent these missteps before they happen by being on the water with their educational and informational campaigns.
---
NewsMakers
---
Pledge to reduce oil
More than 400 demonstrators showed up at Key West's Smathers Beach to show unity in the stand against off shore oil drilling and to support clean alternative energy. Join the Florida Keys green movement to manifest clean renewable energy solutions for the Keys while pledging to reduce your consumption of fossil fuels and products made from petrochemicals.
Take the pledge to reduce your use of oil and all fossil fuels by 10%, starting today.
c
Helping make a wish come true: Mission Blue
Dr. Sylvia Earle made a wish: "I wish you would use all means at your disposal — films! expeditions! the web! more! — to ignite public support for a global network of marine protected areas, hope spots large enough to save and restore the ocean, the blue heart of the planet."
c
From that wish came
Mission Blue
, an organization whose purpose is to explore and care for the ocean. Mission Blue is committed to inspiring a sea change in public awareness, access and support for marine protected areas worldwide. Under Dr. Earle's leadership, the Mission Blue team has
embarked on a series of expeditions
to further her vision and shed light on these ocean Hope Spots.
c
Sanctuary Friends Foundation
is one of the many organizations helping Dr. Earle's wish come true!
c
FishPhone now available for iPhone
Blue Ocean Institute
's Guide to Ocean Friendly Seafood has gone Mobile in the form of an iPhone App:
FishPhone
! This free app will provide users with sustainable seafood choices, wine pairings and recipes.
 Available for download at iTunes. You'll be grilling, sipping and making educated choices faster than you can say "sockeye salmon."
---
blue
&
green
occasions
Celebrating the event ... Honoring the earth and sea
SERVING THE FLORIDA KEYS AND KEY WEST
We invite you to hold your special celebrations, business meetings and other occasions in a meaningful way at the Florida Keys Eco-Discovery Center. Our staff will help you celebrate in a green way, and your donations will help to give back to the "Sanctuary." Call today to reserve your date and share your celebration with the earth and sea! Call 847-612-4712 or email.
---
Our Mission


Sanctuary Friends Foundation of the Florida Keys supports the Florida Keys National Marine Sanctuary (FKNMS) in the preservation, restoration, and sustainable use of our coral reef and marine ecosystems. We focus on development of community support and advancement of public awareness, education, outreach and scientific research.
---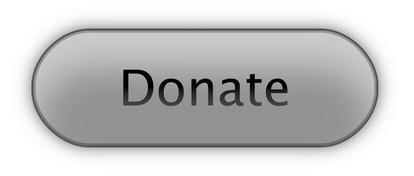 ---
Sanctuary Friends Foundation of the Florida Keys is a non-profit, 501(c)(3), tax-exempt organization (Tax ID# 59-2443959).
We take your privacy seriously. Your email address will never be sold, rented or given away. All our emails include an easy opt-out feature.
If you have activated spam filters in your email application, please add the following email to your address book: Sanctuary_Friends_Foundation_of_@mail.vresp.com.