Charter boat and recreational fishermen will have only 11 days beginning June 1 to reel in red snapper from federal waters in the Gulf of Mexico this year, down from 42 last year. The
Gulf of Mexico Fishery Management Council
approved the emergency change on April 10 in Baton Rouge.
x
Charter fishermen said the change would damage their business, but council members said it was needed to ensure the future of red snapper in the Gulf of Mexico. Charter captains contend they are going to have to target redfish, amberjack, shark and other species to make up the difference.
x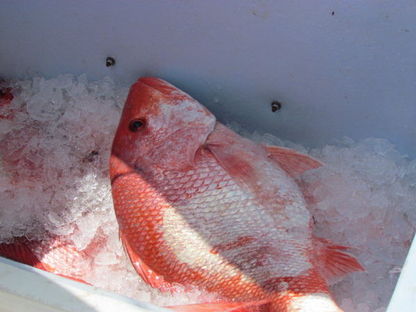 The reduction in federal season length from the expected 40 days was reluctantly endorsed by council members as a way to comply with a judge's ruling that said the
National Marine Fisheries Service (NMFS)
violated national fishery management policy when it allowed the recreational sector to exceed its quota consistently without implementing additional accountability measures to prevent it.
x
Just hours after the short season was approved, Louisiana officials announced that their state waters were opening to the year-round harvest of the popular gamefish. Previously the season had been open Fridays, Saturdays and Sundays only. The bag and possession limit remains two fish per person at a 16-inch-minimum length. Any additional Louisiana red snapper poundage landed above what federal fisheries managers used to estimate the 2014 season length would most likely reduce the federal season even further.
x
Texas has never complied with federal regulations, maintaining a year-round fishery for red snapper in its 9-mile state waters. The daily bag limit is four fish at a 15-inch minimum size limit.
x
With a very small percentage of red snapper caught off Texas and Louisiana, however, season-length impacts from state seasons there do not compare to that of Florida. On April 16,
FWC
set the Florida red snapper season for May 24 through July 14, or 52 days. Last year, Florida waters opened for 44 days beginning June 1. For 28 of those days, the state season ran concurrently with the federal season. The daily bag limit will remain two per person.
x
The increase in Florida's state season could have drastic impacts on the federal season. NMFS estimated that red snapper landings from Florida state water totaled 1.2 million pounds in 2013. That is the vast majority of the 1.8 million pounds total the service estimated was landed from all non-compliant state waters. Florida state waters in the Gulf are from shore to 9 nautical miles. Federal waters extend from where state waters end, out to about 200 nautical miles.
x
Mississippi and Alabama both fully comply with federal red snapper seasons in their territorial waters.
x
The limited federal season must next be approved by the Secretary of Commerce, but is subject to change depending on projections by NOAA Fisheries for when the recreational red snapper quota may be caught. Because of the increase in season lengths from some states, there is a distinct possibility no federal season this year or in future years. The economic impact of the short season could negatively impact fishing communities across the Gulf due to loss of charter trips, and less business at bait-and-tackle stores, condominiums and restaurants.
Most of us are aware that Keys branching corals have been in severe decline for the past 20 to 30 years. On
Carysfort Reef
near Key Largo, for example, living coral have declined 92 percent from 1975 to 2000. But thanks to the
Coral Restoration Foundation (CRF)
and
Ocean Reef Conservation Association
, Carysfort will be the next target for coral restoration.
x
Coral-growing pioneer Ken Nedimyer has become internationally known for his methods of growing elkhorn and staghorn coral in offshore nurseries and planting them on the reef, where they can grow and reproduce in the wild. Members of the nonprofit foundation began installing PVC pipe trees near Carysfort in December. Coral fragments are attached to the trees that, over time, grow to the point where they can be planted on the reef.
x
Nedimyer said several factors have contributed to the reef's decline. They include cold snaps in 1977 and 2010, overfishing and sewage pollution. The latter happened because, until recently, most Keys properties used septic tanks and cesspits that leaked through porous limestone and into the ocean, bay and Gulf. Nedimyer is optimistic this will be resolved by the state mandate that all properties in the Keys connect to centralized wastewater systems by December 2015.
x
Help
Sanctuary Friends
by signing up for
iGive
and using it when you shop online. A percentage of your purchases will automatically be donated to our non-profit foundation! The site includes 350,000 shoppers helping 35,000 causes by shopping at 1,400 retailers such as amazon.com The Home Depot, Best Buy, Toys "R", Us, Walgreens, Expedia, PetCo, Staples and more.
Join now
and start helping your favorite non-profits without even trying!
The National Marine Sanctuary Foundation (NMSF)
recently announced seven awardees of grants for this year under the
Ernest F. Hollings Ocean Awareness Trust Fund
. Forty organizations across the country submitted proposals for projects that will engage the public in ocean conservation and bring attention to the value of national marine sanctuaries. This year, NMSF was able to supplement the funding, in part with support from
NOAA's National Marine Fisheries Service
. The seven recipients won a combined total of approximately $166,000.
x
REEF Environmental Education Foundation
of Key Largo, won a $25,000 grant for its "Invasive Lionfish in the Flower Garden Banks National Marine Sanctuary" 
program. REEF will address the invasive lionfish crisis by involving the volunteer dive community in a study of effective lionfish removals. A four-day removal event will focus the effort to control the population and provide data that could lead to more effective control mechanisms for invasive fish species. By engaging stakeholders, the project will increase public awareness and build connections in the local community, and serve as a model for similar activities in Florida Keys and Gray's Reef national marine sanctuaries. Congratulations REEF!