How do you control a harmful invasive species before it damages reef ecosystems?
NOAA
and its partners have developed and released designs for new
lionfish
traps that could provide the first realistic means of controlling invasive deep-water lionfish populations and support the development of a lionfish fishery.
x
Fish traps are currently prohibited in Gulf of Mexico and South Atlantic federal waters and other areas without appropriate permits. The two new trap designs, if approved, could give fishermen a better way to capture lionfish in deep water. "This is a double win as it helps protect ecologically, recreationally or commercially important native species while promoting a potential fishery," says principle designer Steve Gittings, Ph.D., chief scientist for NOAA's
Office of National Marine Sanctuaries
.
x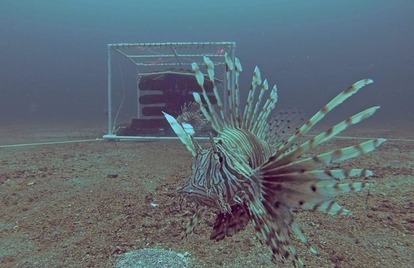 In an effort to control lionfish populations, Gittings has been working with the nonprofit organizations Coast Watch Alliance and Lionfish University and the University of Georgia to develop and test various designs for lionfish traps and produce a construction guide. The goal was to come up with a design that minimizes bycatch, meaning it only catches lionfish, and to avoid "ghost fishing," when lost traps continue to harm or catch fish. They also are constructed for easy deployment and retrieval, and for easy transport on fishing boats.
x
The basic concept behind the new traps is that lionfish tend to congregate around structures on the ocean floor. Instead of bait, structures in the center of the traps called fish aggregation devices (FAD) lure the fish in. The first prototype trap used net curtains that closed around a cube-shaped PVC frame, trapping the fish inside; the frame of the second-generation trap, called a dome trap, lies flat on the seafloor and closes over the FAD.
x
Both designs only capture the fish present around the FAD at the time of retrieval. If lost, the trap will simply lie open, and thus avoid ghost fishing. Because other fish species don't tend to remain as close to home structures as lionfish, these kinds of traps catch virtually nothing but invasive lionfish.
x
During testing off Pensacola, the traps were placed 30 to 130 feet away from existing artificial reefs in about 110 feet of water. Lionfish typically venture away from the reefs to hunt and feed. When they do, they encounter the traps. After two days underwater, the trap designs attracted 35 percent of lionfish from the nearby reefs. Within 18 days, nearly 80 percent of those fish were within the frame of the traps and could be captured. Those findings were encouraging, and point to traps as a promising solution to at least part of the invasive lionfish problem.
x
Trap designs are now ready for the fishing community in the United States and Caribbean to build and test, particularly for use in waters beyond scuba depths. Potential users must consult with federal and local authorities to obtain the necessary authorizations before testing the devices.
Download the lionfish trap construction guide.
REEF
scientists and volunteers spent time in the Cayman Islands last month for another season of the
Grouper Moon Project
, a collaborative research effort with the
Cayman Islands Department of Environment (CIDOE)
. In its 16th year, this project focuses on one of the largest (and one of just a few) known spawning aggregations of
Nassau Grouper
, an endangered Caribbean reef fish. More than 4,000 grouper amass in one location for 7 to 10 days following the full moon.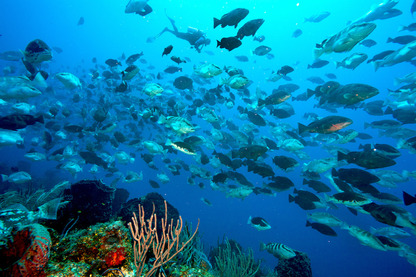 REEF, CIDOE,
Scripps Institution of Oceanography
, and
Oregon State University
have used a variety of research techniques -- from diver surveys to state-of-the-art technology -- to study this natural phenomenon. The research has yielded ground-breaking results that have led to improved conservation for Nassau Grouper in the Cayman Islands.
In 2016, the Cayman Islands government enacted a comprehensive set of regulations aimed at recovering Nassau Grouper. The new rules are based on more than a decade of collaborative fisheries research carried out by the Grouper Moon Project.
x
In 2011, with funding from the Disney Conservation Fund, REEF launched an education program to engage students in the Grouper Moon Project, bringing the Nassau Grouper into elementary and high school classrooms through lesson plans and live-feed videos that connect classrooms with scientists in the field. To learn more, you can view this year's live-feed webcasts on the REEF Grouper Moon Project YouTube channel or watch the PBS documentary.
The
Florida Keys National Wildlife Refuges
and its friends group,
FAVOR
, is hosting the second annual
"Outdoor Fest,"
going on now through Saturday, culminating with a family-friendly Wildlife and Outdoor Fair. Enjoy guided birding and nature walks, a historical bike ride, art and photography workshops, kids programs, a behind the scenes kayak excursion, and so much more to let you see the refuges up close and personal!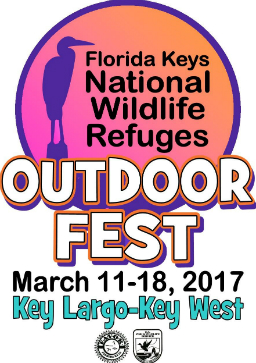 Activities today through Saturday are focused the refuges of the Lower Keys centered on Big Pine Key, and spaces are still available for some events. Almost everything is free, but space is limited.
See the schedule and register here.
Saturday's events at the Big Pine Community Park begin with the third annual Run with Deer 5K run/walk starting at 8 a.m. The official Saturday Wildlife and Outdoor Fair runs from 9 a.m. - 2 p.m. with food vendors, music, nature artists and more.
The Florida Keys NWR manages the
National Key Deer Refuge
,
Great White Heron
and
Key West NWR
s (the "Backcountry") and
Crocodile Lake NWR
. This is a great opportunity to engage kids, families, community members and visitors alike; to get them excited about protecting and appreciating our natural resources, getting outdoors and exploring nature, and promoting environmental stewardship.
By now we hope you've heard of
fishinars
– short, free, webinars especially for divers, snorkelers and even landlubbers … anyone wanting to know more about ocean life is welcome to join in! You can learn the finer points of identifying fish and invertebrates or a variety of other ocean topics by guest speakers.
x
But did you know that many of the 120 fishinars that have been presented by
REEF Environmental Education Foundation
over the past six years are also available for later viewing as a benefit of
REEF membership
? Membership is free, so joing today! The typical fishinar lasts about an hour. Check out the
archives
and you might find something want to know more about!