Non-Native Onespot Rabbitfish Removed from Florida Waters
REEF
's Rapid Response Team recently removed a non-native Onespot Rabbitfish from Florida waters within 24 hours of its reporting. The rabbitfish is the 36th non-native marine fish documented in Florida waters through REEF's
Exotic Species Sightings Program
, and its removal is the 5th successful rapid response effort led by REEF. The Onespot Rabbitfish was seen and reported by a REEF member while diving offshore of Dania Beach.
x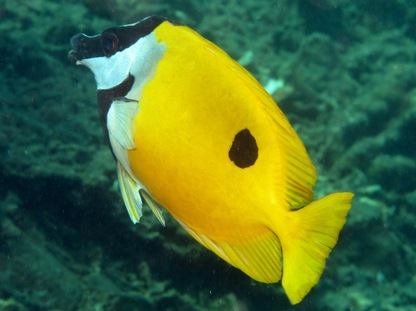 Like lionfish, rabbitfish are venomous with voracious appetites. Rabbitfish eat marine vegetation such as seaweeds, algae and seagrasses and could impact native fish habitat. They are native to the Asian Pacific region. It is probable that, like the lionfish, the Onespot Rabbitfish was introduced to the South Florida reef via an aquarium release.
x
The fish was placed at the new
Philip and Patricia Frost Museum of Science
in Miami and will be displayed as part of an educational exhibit on the dangers of non-native species. Over the past several years,
USGS
and
REEF
have coordinated the removal of the rabbitfish and four other non-native marine fish species from Florida waters. All four species were captured alive, and three of the four are currently on display at educational institutions. If you are a diver in Florida, please keep your eyes open for this species. If you see one, fill out an
exotic species reporting form
.
---
Ten Simple Choices for a Healthier Planet
Start the new year with these resolutions!
On the lookout for some great New Year's resolutions? Here are ten simple ways to help conserve our oceans.
Reduce, reuse and recycle. Cut down on what you throw away. Follow the three "R's" to conserve natural resources and landfill space.
Volunteer. Volunteer for cleanups in your community. You can get involved in protecting your watershed, too.
Educate. When you further your own education, you can help others understand the importance and value of our natural resources.
Conserve water. The less water you use, the less runoff and wastewater that eventually end up in the ocean.
Choose sustainable. Learn how to make smart seafood choices at FishWatch.gov.
Shop wisely. Buy less plastic and bring a reusable shopping bag.
Use long-lasting light bulbs. Energy efficient light bulbs reduce greenhouse gas emissions. Also flip the light switch off when you leave the room!
Plant a tree. Trees provide food and oxygen. They help save energy, clean the air, and help combat climate change.
Don't send chemicals into our waterways. Choose non-toxic chemicals in the home and office.
Bike more. Drive less.
---
Key Largo Lionfish Derby Scheduled for Feb. 11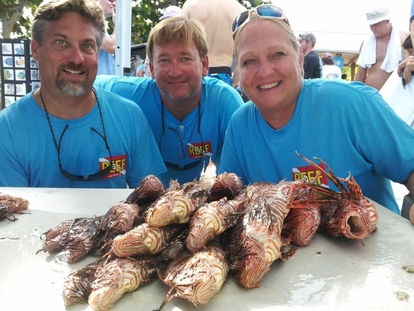 REEF
is continuing to lead the charge on combating
invasive lionfish
! The
2017 Winter Lionfish Derby
is just around the corner and it's going to be bigger than ever. For those who are not familiar with a lionfish derby, it is a competition where divers and snorkelers compete to bring in the most lionfish in a single day. There are cash prizes for teams who land the most lionfish, as well as the largest and smallest.
x
REEF hosted the first Lionfish Derby in 2009, making this the 9th year of derbies. Last year more 2,400 lionfish were brought in as part of the series, and more than 18,000 lionfish have been removed by participants since the first derby! The next derby will be held on Feb. 11 at
Sharkey's Pub & Galley
in Key Largo.
Find out more and register online.
---
NewsMakers
Recreational & Charter Fishing Working Group Meetings Announced
The
Sanctuary Advisory Council (SAC)
of the
FKNMS
is working to develop a voluntary education and recognition program for charter fishing operators. The aim of the program is to recognize charter fishing operators who meet set criteria to educate their customers to conserve the special ecosystem of the Florida Keys, increase awareness and stewardship of the
FKNMS
within the resident and visiting angling community, increase communication and partnership between
FKNMS
and the recreational and charter fishing community and promote
FKNMS
as a multiple use recreational area. Scoping meetings and initial workshops begin this month in several Keys locations. For more information, contact
Nicole Uibel
at 305-809-4711.
Meeting times and locations can be found here.
---
---
Sanctuary Friends Foundation of the Florida Keys
is a non-profit, 501(c)(3), tax-exempt organization
(Tax ID# 59-2443959).
We take your privacy seriously. Your email address will never be sold, rented or given away. All our emails include an easy opt-out feature. If you have activated spam filters in your email application, please add the following email to your address book:
Sanctuary_Friends_Foundation_of_@mail.vresp.com