Impacts of Ghost Traps on Corals & Fisheries
What typically comes to mind when you think of the Florida Keys? Beautiful blue waters, coral reefs, fish, and other amazing marine life … but there's something else lurking below: marine debris! In addition to metal cans, glass bottles and monofilament fishing line, lobster traps are the Florida Keys' prominent type of marine debris.
x
Lobster trap debris included wood slats, rope and cement weights used to sink traps. The scientists counted "ghost" fishing traps, which are lost but still able to catch and kill lobsters and other animals, as well as non-fishing traps that were found in various stages of breakdown. They estimated more than 85,000 ghost traps and more than 1 million pieces of traps and fishing gear junk is present on the sea floor in Florida Keys waters. To put these numbers into perspective, about 483,000 lobster traps are actively fished annually.
x
The
study
, which took place between 2007 and 2013, showed that each ghost trap in the
FKNMS
results in the deaths of ten spiny lobsters a year. Additionally, once traps stop ghost fishing, they may remain intact before degrading. In the Keys, spiny lobster traps are made out of wood and severely degrade within a year, as opposed to plastic or metal traps used in other areas. These intact derelict traps can move along the seabed and negatively impact sensitive habitats. Trap debris was found in a variety of environments such as seagrass, algae and sand, but the highest density of trap debris was observed in coral habitats, the most sensitive habitat in the Keys.
x
The accumulation of lobster trap debris in coral habitats -- a rarely targeted lobster fishing area -- suggests that wind and severe weather events play a role in moving traps, which ultimately harms corals, sponges or sea fans. Other research has indicated that many traps move continuously until finally becoming lodged in the shallow water areas where corals reside.
x
Trap loss is both an economic issue for fishermen and a source of damage to the environment.
Causes of trap loss include boat propeller cut offs, hurricanes and theft.
Harvest losses due to lobster mortality in ghost traps and missing gear are substantial sources of lost income for fishermen. Florida lobster fishermen already participate in a trap clean-up program that removes between 3,000 and 6,000 traps a year. Additionally, state and federal fishery managers have imposed an aggressive trap-reduction program starting in 1993 that has reduced the numbers by 100,000 traps since its inception. Still, debris removal efforts are expensive and cannot remove the debris as fast it accumulates.
x
---
Pink Shrimp Rebound in Ecological Reserve
The Tortugas region, located approximately 70 miles west of Key West in the Gulf of Mexico, has long supported a trawl fishery for pink shrimp. In 2001,
FKNMS
implemented the
Tortugas Ecological Reserve (TER)
, which closed the area to fishing -- including shrimping -- allowing scientists to study the effects of zone protection on shrimp and other marine life.
x
To track shrimp populations, scientists compared pink shrimp biomass (or the amount of living matter) in trawl samples from inside Tortugas North (along the boundary of the reserve) and from the adjacent shelf area open to commercial trawling. Tortugas North includes extensive soft-bottom areas on the shelf surrounding Tortugas Bank.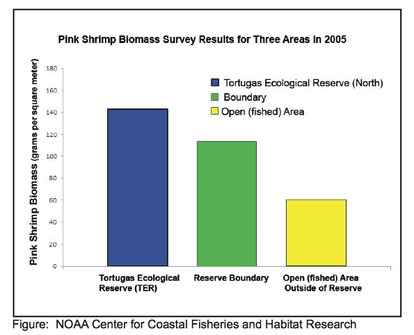 Shrimp and other invertebrates living in the deep sediments of soft-bottom habitats are primary sources of food for a variety of reef fish that occupy the bank. Habitat structure and sediment characteristics of soft-bottom areas are thought to be affected by regular trawling for shrimp.
Research Results: Tortugas North appears to act as a refuge for the pink shrimp targeted by the shrimp fishery. In 2005, after four years of TER implementation, shrimp biomass was greater in the reserve than in the open fishing area. The boundary sampling area had intermediate shrimp biomass, demonstrating an expected gradient between full protection of the reserve and the fished area (see graph).
Since data collection did not begin until after reserve establishment, it is not certain if this gradient is due to spillover or migration from the reserve, or whether this gradient already existed. However, these data support the notion that soft-bottom communities appear to respond relatively quickly to the reduction of trawling pressure and that the abundance of pink shrimp (an important prey for fish) is relatively large within the reserve.
---
Free Fish ID Classes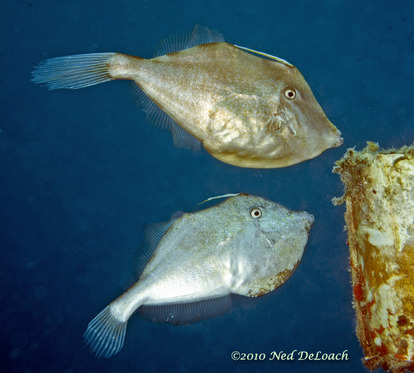 Ever want to learn how to identify fish found in the Florida Keys? Join Allison & Carlos Estape at
REEF
Headquarters (MM 98.3) for interactive fish behavior & ID classes. Become a citizen-scientist by participating in REEF's
Volunteer Fish Survey Project
where divers & snorkelers add their Fish ID Surveys to REEF's
database
, which is used by scientists around the world.
x
Classes start at 7 p.m. Upcoming classes are Sea Basses on March 26 and Filefish on April 16. Visit
www.100fishid.com
or contact Allison at 305-794-5081 to learn more.
---
NewsMakers
RETRACTED ARTICLE: First Observation of Spawning of Goliath Grouper
In last month's newsletter, we reported that goliath grouper spawning had been observed for the first time (Jan. 20, 2015, Coral Reefs - Journal of the International Society for Reef Studies). Since then, that article has been
retracted by its authors
. Upon carrying out further analyses, the authors concluded that their images did not depict spawning.
Weather in Focus Photo Contest
Have a cool photo of this year's weather? Enter NOAA's
"Weather in Focus" photo contest
for a chance to be featured in a new
Gateway to NOAA
exhibit! This free photo contest recognizing photographers who have captured images of weather or the science used to forecast weather, water and climate. Anyone can enter, whether you're a professional photographer or snapped an awesome shot on your phone.
Learn more
and submit your photos by March 31!
---
Sanctuary Friends Foundation of the Florida Keys
is a non-profit, 501(c)(3), tax-exempt organization
(Tax ID# 59-2443959).
We take your privacy seriously. Your email address will never be sold, rented or given away. All our emails include an easy opt-out feature. If you have activated spam filters in your email application, please add the following email to your address book:
Sanctuary_Friends_Foundation_of_@mail.vresp.com