Our dedicated Board of Directors, members and allies are committed to guaranteeing the future of our economically-precious treasures that are in critical danger here in the Keys. Please
join us as a member
,
renew your membership
or consider
volunteering
with us.

River of Grass Flows Into Everglades Again
Eighty-five years ago, work crews built a dam across the Everglades and called it the Tamiami Trail. The two-lane highway, completed in 1928, blocked most of the flow of the River of Grass just as it began trickling into what would become
Everglades National Park
. Last month, construction crews broke the dam, letting the shallow water flow into the park the way it did eight decades before. It's an important milestone in
Everglades restoration
, but federal officials acknowledge that it's not enough.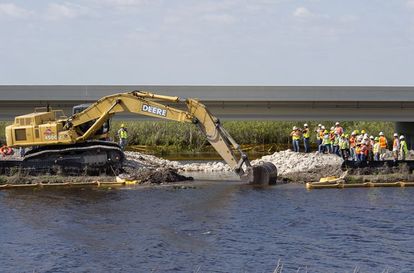 For centuries the River of Grass flowed smoothly southward from Lake Okeechobee, sweeping across a 70-mile wide swath of saw grass marsh down toward Florida Bay. Then, in the 1920s, work crews showed up with a dredge that scooped muck from the marsh and piled it up to become a roadbed. The ditch that resulted became a roadside canal to aid in keeping the highway dry.
x
Although state road crews eventually added 19 culverts under the Tamiami Trail, the flow through them could not match the original flow. Before the road, the peak flow was 4,000 cubic feet of water per second meandering across a 10-mile wide stretch. The culverts allowed less than half that much, and it zoomed through them as if being sprayed out of a garden hose.
x
The loss of so much fresh water flow has wreaked havoc on the Everglades. Plants that depended on that steady fresh water flow died, and saltwater crept farther and farther north. Meanwhile, the population of wading birds decreased between 70 and 90 percent.
x
The solution: Raise the highway so the water could flow again. But raising a single mile of the 275-mile highway took 24 years, thanks to bureaucratic and congressional delays, and ultimately cost $95 million. Two years ago the Interior Department unveiled plans for raising another 5.5 miles. The plan called for using four different bridges, ranging in length from a third of a mile to 2.6 miles, to be built over four years at an estimated cost of $324 million to $350 million. The new bridging would create an opportunity to restore up to 100 percent of the historic volume and distribution of water that used to flow southward into Northeast Shark River Slough before the Trail was constructed. If completed, the additional bridging would eliminate the hydrologic constraints throughout much of the southern Everglades, including the Water Conservation Areas and Everglades National Park. The White House has put $130 million into its proposed budget for 2013-2014 to get started on raising the longest segment, the 2.6-mile one.
x
The
Tamiami Trail
bridge is part of a larger effort to "de-compartmentalize" the Everglades to restore the natural flow of the River of Grass. While the Everglades will never be restored to its once pristine state, projects such as the Tamiami Trail bridge are part of a solution to allow the Everglades to benefit from free-flowing water, which could revitalize plant and animal populations and sustain the water supply for South Florida's human inhabitants.
---
Keys Corals Found Across the Country
Zoos and Aquariums Showcase Rescued Corals
Though nothing could ever replace the wonder of seeing the Florida Keys coral reef in person, technically you don't have to visit the Florida Keys to see Keys' corals. If you've ever been to the Florida Aquarium, Georgia Aquarium, SeaWorld Texas, Discovery World, or one of a dozen specially-permitted zoos and aquariums across the country, chances are you've seen Florida Keys corals.
x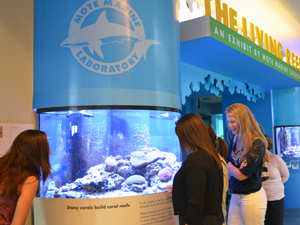 In the
FKNMS
, coral is protected from harm or harvest. Even repairs to docks, seawalls and piers must have Sanctuary approval so that they have minimal impact to coral animals. Prior to such projects, trained Sanctuary and partner science divers will "rescue" corals from harm's way. While some rescued corals are transplanted back to the original site or used in habitat restoration, others are given a second life educating the public. To foster greater appreciation for the marine environment and coral reef conservation, the Sanctuary issues special permits to organizations, zoos and aquariums allowing them to showcase Florida Keys corals for educational purposes.
x
Sanctuary corals are on display educating the masses as far away as Milwaukee, WI, where they're featured in the Atlantic reef exhibit of Discovery World and in special tanks reserved for behind the scenes tours. Close to home, you can view rescued corals on display in Mote Marine Laboratory's "Living Reef" exhibit at the
Florida Keys Eco-Discovery Center
.
x
FKNMS corals are also on display at the following permitted educational facilities: Aquarium of the Smokies, Columbus Zoo, John G. Shedd Aquarium, Mote Marine Laboratory, Museum of the Earth, Omaha's Henry Doorly Zoo, Pittsburgh Zoo and PPG Aquarium, Reef Relief, Smithsonian Marine Station at Fort Pierce, and the Steinhart Aquarium.
---
Sanctuary Golf Tournament June 22
The Sanctuary 27-Hole Golf Tournament and Barbeque is 10 days away! Taking place at Florida Keys Country Club (formerly Sombrero Country Club), this event will become a major fundraiser for
Sanctuary Friends Foundation
.
x
The tournament is a three-nine event, with a best ball, scramble and play-it-forward. There is still time to sign a team up if you are interested in playing. $600 per team of four. For more information,
email Kristen
.
x
We would like to thank our very generous sponsors: Waste Management, Little Palm Island, Marathon Garbage Service, Keys Sanitary, Rudy Krause Construction, Hawks Cay Resort, Marathon Jet Center, Keys Acoustics, The Weekly Newspapers, Centennial Bank, Meacham Electric Grader Mike Construction, Bonefish & Tarpon Trust, Tranquility Bay Resort, Publix, Stephen Frink Photography, Marathon Boat Yard, Marathon Chamber of Commerce, A Deep Blue Dive, First State Bank, Alo Jewelry and Christina's Boutique, Paver Dave, Keys Contracting Services, Florida Keys Contracting Association, CSA Coral Restoration, Bee Brothers and The UPS Store.
---
NewsMakers
---
National Marine Sanctuary "Classic" Photo Contest
The Classic
is a free summer-long fishing and photo contest featuring all of the National Marine Sanctuaries across the United States, including Hawaii. Ten $100 prizes are given out each week to the people submitting the photographs that get the most 'votes.' At the end of the summer, $1,000 in scholarships will be awarded to the four photos judged to best demonstrate certain criteria: Kids Fishing, Kids and Family Values, Kids in the Outdoors, Kids in the Sanctuaries and Kids' Conservation.
x
Most (98 percent) of
National Marine Sanctuary
waters are open to recreational fishing and provide an incredible outdoors experience. NOAA Fisheries and NOAA Sanctuaries support sustainable recreational fishing. The "Classic" caters to a broad spectrum of recreational fishing enthusiasts and provides conservation and ethical angling guidelines for the casual angler.
Download Facebook Cover Photos
Facebook users, you can download cover photos from the FKNMS. These photos are sized for Facebook's Timeline Cover Photos. Simply select "download" from the "Options" menu on each photo, and save the image to your computer. Next go to your Facebook profile and click "Change Cover," then "Upload Photo" and find the photo on your computer. Ta dah! Check out the photos here.
---
Our Mission


Sanctuary Friends Foundation of the Florida Keys supports the Florida Keys and the Florida Keys National Marine Sanctuary (FKNMS) in the preservation, restoration, and sustainable use of our coral reef ecosystem, from the uplands to the deep sea. We focus on development of community support and advancement of public awareness, education, outreach and scientific research.
In This Issue:
River of Grass Flows Again
Rescued Keys Corals Get New Life
Sanctuary Golf Tournament
---
---
Dear Friends:
x
x
x
x
It was a very busy and successful Capitol Hill Ocean Week!
x
Sanctuary Friends Foundation
---
---
Please add your upcoming events to our online Florida Keys Environmental Calendar. This community-wide resource allows any organization or group to set up an account and post environmentally-related events.
xxxxxxxxxxxxxxxxxxxxxxxxxxxxxxxxxxx
Hazardous Waste Operations and Emergency Response (HAZWOPER) Training
June 15, 9 a.m.-5 p.m.,
Harvey Government Center,
1200 Truman Ave.,
Key West
Want to become a Monroe County volunteer trained to assist emergency responders during major pollution incidents? Then sign up for this day-long training class sponsored by the U.S. Coast Guard, Coast Guard Auxiliary and Monroe County Emergency Management. A certificate of completion will be awarded at the end of the course. To register or for more information,
email
or 888-470-5566, ext. 4.
Sanctuary Golf Tournament & Barbecue
June 22, 9:30 a.m., Florida Keys Country Club, Marathon
Players will receive 27 holes of golf, cart rental, BBQ and a day of fun for $150 per player, $600 per team. For more information, contact
Kristen
at 305-289-2288.
REEF Lionfish Safe Collecting & Handling Workshop
July 10, 6:30 p.m.,
REEF
Headquarters, 98300 Overseas Highway, 
Key Largo
Training workshops
are free and cover the history of the lionfish invasion, ecological impacts, and recommended collection, handling and filleting techniques. Completion of a sanctuary-endorsed training is a required to apply for a permit to remove lionfish from
Sanctuary Preservation Areas
with handnets.
Register online
for a training workshop.
---
Welcome! Thank you for your support!
---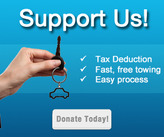 ---
We want your input!
If you have stories of note or just want to comment on our newsletter, please email:
If you enjoyed this newsletter,
If you are not already on our mailing list,
---
Sanctuary Friends Foundation of the Florida Keys
is a non-profit, 501(c)(3), tax-exempt organization
We take your privacy seriously. Your email address will never be sold, rented or given away. All our emails include an easy opt-out feature. If you have activated spam filters in your email application, please add the following email to your address book:
Sanctuary_Friends_Foundation_of_@mail.vresp.com