Membership Drive Starts Today!
Renew or become a member today at $50+ and receive a highly sought after "Tropical Connections: South Florida's Marine Environment" book by William Kruczynshi and Pamela Fletcher! (Offer expires December 31, 2012.)


2,694 Lionfish Removed in 2012 REEF Derbies
The final derby of the
2012 REEF Lionfish Derby Series
was held in Key Largo on Sept. 8. The event was a huge success with eleven teams hauling in a whopping 461 lionfish! The removed lionfish would have eaten an estimated 600,000 to 2.2 million prey fish off the reefs in the next year if they had remained in the water.
x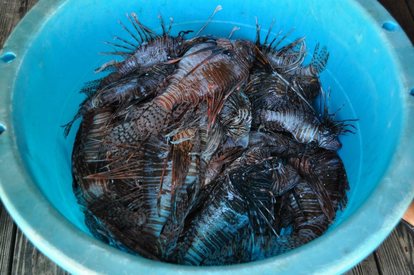 This was REEF's fourth year hosting the lionfish derbies. The 2012 Series included four derbies in Florida (Miami, Fort Lauderdale, West Palm Beach, and Key Largo) and one in Green Turtle Key, Bahamas. In total, the event series had 219 participants on 60 teams brining in a total of 2,694 lionfish!
x
Lionfish
are invasive predators capable of consuming prey in excess of half their body size and have become a hazard to Caribbean reefs by consuming commercially, recreationally and ecologically important fish and crustaceans. Though eradication of lionfish is unlikely, sustained removals can make a big difference by reducing local lionfish populations and their negative impacts.
Lionfish derbies
serve as a way to engage the public and media, enhance awareness, encourage removals and provide samples for researchers. During each derby, more than $3,500 in cash prizes sponsored by Divers Direct were awarded to first, second, and third place winners in three categories: Most, Largest, and Smallest.
x
REEF
and Simon Fraser University partnered throughout the 2012 Derby Series to conduct research on the effectiveness of derbies in controlling local populations. Preliminary data analysis from the 2012 Green Turtle Key, Bahamas, derby shows that lionfish derbies are effective at removing 65 percent of lionfish off of local reefs.
---
National Marine Sanctuaries Celebrate 40 Years
Do you remember 1972? Nixon was president, the Watergate scandal was about to hit, and it cost 8 cents to mail a letter. But more importantly, the
National Marine Sanctuaries Act
was signed, along with the Clean Water Act, Ocean Dumping Act, Coastal Zone Management Act and Marine Mammal Protection Act. Together, these acts provided the foundation for ocean protections we enjoy today.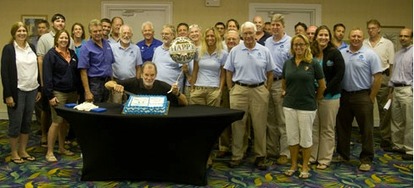 x
The National Marine Sanctuaries Act initiated ocean protection and conservation at a scope and scale never seen before. Today, fourteen magnificent protected areas and two generations later, NOAA's
National Marine Sanctuary System
celebrates its 40th anniversary.
x
Times have certainly changed in 40 years, but what has not changed is the very relevant ocean conservation that is vital for our economy and ecology, culture and community right now. Your national marine sanctuaries are hard at work every day, on the water and in the community, protecting and studying, educating and sharing, just as they have been for forty years and will be for generations to come.
x
---
Donate Your Old Vehicle
Your old, tired wheels can become much-needed funds for
Sanctuary Friends Foundation of the Florida Keys
. Vehicle donation is a hassle free and easy way to give, and your contribution is tax-deductible. We accept donations of cars, trucks, RVs, boats, motorcycles or other vehicles.
Proceeds directly benefit Sanctuary Friends' mission of supporting the
FKNMS
in the preservation, restoration and sustainable use of our coral reef and marine ecosystems. We focus on development of community support and advancement of public scientific research.
x
To donate your vehicle, call CARS at 877-537-5277 or
fill out the online form
. Your donation can help us inspire people to preserve, protect and promote our treasured Florida Keys reefs.
---
NewsMakers
---
Vote for Marathon BioDiesel to Win $25,000 Grant
Marathon BioDiesel
of Marathon is competing to win one of six small business grants from FedEx, including the $25,000 grand prize. The company has developed a process for converting waste vegetable oil from restaurants, resorts, etc., into a clean-burning, eco-friendly, biodegradable diesel fuel alternative.
Sanctuary Friends
has partnered with
Marathon Biodiesel
in an effort to reduce diesel use and greenhouse gas emissions in our fragile bay and ocean.
VOTE NOW.
Our World-Underwater Scholarships
For more than 35 years, the
Our World-Underwater Scholarship Society
and Rolex have fostered the development of future leaders of the underwater environment and are now calling out for new applicants to be considered for the 2013 Scholarships. There are three
Rolex Scholarships
: North America, Europe and Australasia. During their scholarship year, three deserving recipients have the opportunity to travel internationally and learn from the world's leading experts in conservation, underwater photography, maritime archaeology, marine engineering and other related fields.
x
If you or somebody you know are between the ages of 21 and 26, have high academic standing and achieved Rescue Diver or equivalent certification, continue reading to learn how being the next Rolex Scholar can be a life-changing experience. Deadline for 2013 North American and European Scholarships is December 31, 2012. The organization also offers numerous
internships
, and application deadline is January 31, 2013.
Apply for the Scholarship.
National Public Lands Day Cleanup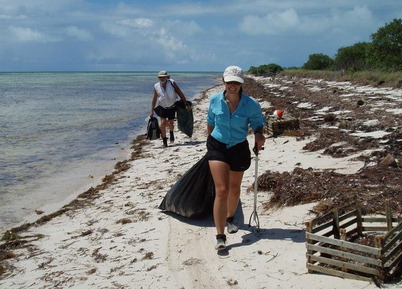 In recognition of
National Public Lands Day
, eight volunteers and two Sanctuary staff members removed a whopping 775 pounds of marine debris from the sensitive shoreline of Woman Key on Sept. 22. Woman Key provides important habitat for many native and migratory birds, as well as an excellent nesting beach for endangered sea turtles.
x
In This Issue:
Marine Sanctuaries Turn 40
---
---
Dear Friends:
Forty years ago, Congress established the
National Marine Sanctuaries System
. Today, this system provides protection and management to more than 150,000 square miles of ocean and coastal habitats from the coral reefs of the Florida Keys to the deep-sea canyons of Monterey Bay, Calif., and the shipwrecks of Lake Huron, Mich.
x
Our
FKNMS
was established in 1990, and we have proven that these protected areas have increased our tourism and fishing industries. Research in the
Tortugas Ecological Reserve
has shown that reserves do increase number and sizes of commercially- and recreationally-important species of fish and other marine life.
x
Sanctuaries support thousands of jobs and generate millions in revenue to local economies. Oceans generate more than $70 billion annually in tourism and recreation spending. More than 33,000 jobs in the Florida Keys are supported by ocean recreation and tourism, accounting for 58 percent of the local economy and $2.3 billion in annual sales. Across all National Marine Sanctuaries, about $4 billion annually is generated in local economies from commercial fishing and recreation-tourist activities, which supports approximately 50,000 jobs.
x
x
George Neugent, Chair
---
---
Please add your upcoming events to our online Florida Keys Environmental Calendar. This community-wide resource allows any organization or group to set up an account and post environmentally-related events.
xxxxxxxxxxxxxxxxxxxxxxxxxxxxxxxxxxx
Pirate Day
Nov. 10, 10 am-4 pm, Pigeon Key
One day of pillage, plunder and piratical fun on historic
Pigeon Key
! Food, drinks, piratical role-play, prizes, kids activities, mock battles. Ferry shuttle leaves from gift shop at Knights Key. Sponsored by Aargh Maintenance & Service. FREE admission; $5 suggested donation.
ABC About Boating
Nov. 17, 8 am, Squadron Building, 5205 College Rd., Stock Island
This 8-hour course covers everything you need to know about boating. $55.00. For questions or registration, contact Tim Bergin at (305)304-7247 or
tsbergin@aol.com
.
Discovery Saturday: Magical Mangroves
November 17, 10-11 am, Eco-Discovery Center, Key West
Kids in kindergarten through fifth grade are invited to play games and make crafts while learning about the importance of mangrove habitats. More information: 305-809-4750.
---
Welcome! Thank you for your support!
Benefactors ($200+)
Long Key Ladies Club
---


---
We want your input!
If you have stories of note or just want to comment on our newsletter, please email:
If you enjoyed this newsletter,
If you are not already on our mailing list,
---
Our Mission


Sanctuary Friends Foundation of the Florida Keys supports the Florida Keys and the Florida Keys National Marine Sanctuary (FKNMS) in the preservation, restoration, and sustainable use of our coral reef ecosystem, from the uplands to the deep sea. We focus on development of community support and advancement of public awareness, education, outreach and scientific research.
---
Sanctuary Friends Foundation of the Florida Keys
is a non-profit, 501(c)(3), tax-exempt organization
We take your privacy seriously. Your email address will never be sold, rented or given away. All our emails include an easy opt-out feature. If you have activated spam filters in your email application, please add the following email to your address book:
Sanctuary_Friends_Foundation_of_@mail.vresp.com