NOAA Announces Expansion
of National Marine Sanctuaries
Two Northern California Sanctuaries Nearly Double in Size
FKNMS
is one of 14 marine protected areas encompassing more than 170,000 square miles of marine and Great Lakes waters from Washington state to the Florida Keys, and from Lake Huron to American Samoa.
FKNMS
, designated in 1990 as part of the
National Marine Sanctuary System
, protects 2,900 square nautical miles of waters surrounding the Florida Keys.
x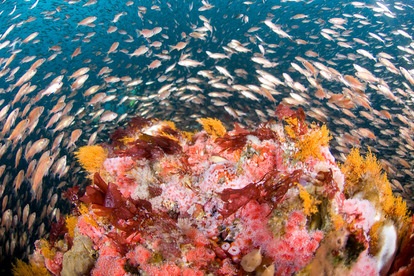 x
x
x
x
These expansions are based on years of public comment and research by NOAA and its scientific partners. NOAA received comments from the public in 2001 expressing interest in expanding the boundaries north and west. In response, the revised management plans published in 2008 included a public process to ensure that sanctuary boundaries were inclusive of the surrounding area's natural resources and ecological qualities. From December 2012 through June 2014, NOAA conducted a public engagement process to allow citizens to weigh in on the proposed expansion. The agency received more than 1,300 comments, most in support of the proposed expansion.
x
---
BP Spill Money Allocated for Keys Coral Farms and Canals
Coral-restoration efforts will get half of Monroe County's $1.1 million in the first water-pollution fines from the 2010 Deepwater Horizon oil spill. Islamorada was awarded a $100,000 slice for canal restoration work. Monroe County commissioners approved the spending plan for the first installment of
RESTORE Act
funding for the Keys in February.
x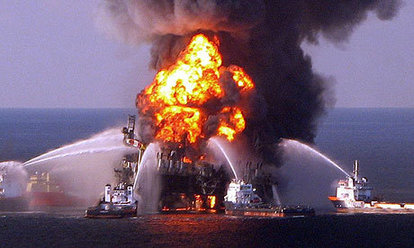 Islamorada's $100,000 share comes out of $550,000 proposed for the county's own canal-restoration pilot projects.
The Nature Conservancy
will administer the $550,000 coral-restoration grant for new reef plantings by the
Coral Restoration Foundation
in the Upper Keys,
Mote Marine Laboratory
in the Lower Keys and the state
Fish and Wildlife Research Institute
in the Middle Keys. In addition to staghorn coral, Mote will expand a project to revive boulder corals with replantings. Money for coral restoration primarily will go to costs for staff and boat transportation to transplant nursery-grown staghorn at damaged reef sites.
x
The money comes from a settlement reached between the federal government and Transocean Deepwater Inc., owner of the rig that exploded and burned in the Gulf of Mexico in 2010. Additional RESTORE Act funds are expected when a final decision on BP's pollution liability is confirmed. The RESTORE Act was passed by Congress to ensure that pollution fines from the Deepwater Horizon spill go toward environmental or economic restoration.
x
No oil reached the Keys, but the threat of it was enough to keep tourists away, spelling economic problems for local businesses.
---
Board Member Focus: Stephen Frink
While underwater photos have become prolific, great underwater photographers who capture iconic images that seer into your memory for a lifetime are rare. Key Largo is fortunate to be the home base of
Stephen Frink
, one of the most frequently published underwater photographers in the world. He also happens to be a member of
Sanctuary Friends Foundation's Board of Directors
.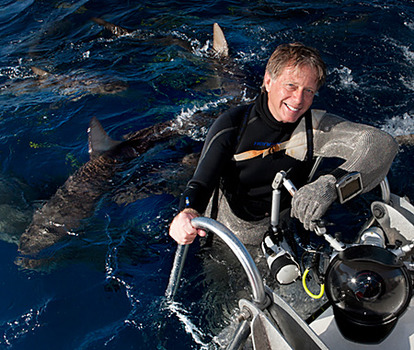 With a career spanning more than three decades, Frink's photos have appeared in a wide variety of dive journals and magazines worldwide -- including the cover of
Newsweek
-- and he has provided stunning imagery for hundreds of promotional campaigns. He is also the publisher of
Alert Diver
, the quarterly magazine for
Divers Alert Network
. Frink has authored a coffee table book titled "Wonders of the REEF" and teaches master's level courses in underwater photography. Clients for assignment photography over the past three decades have included Canon, Nikon, Victoria's Secret, Mercury Marine, American Express, Club Med and many others. Rolex Watch Company has engaged Frink for both endorsement and product photography.
x
Frink's work has taken him around the globe giving him an intimate knowledge of marine wildlife and the adverse effects that climate change, overfishing and pollution have on the world's oceans.
---
NewsMakers
Spotlight on: Dolphin SMART
Dolphin SMART
is a program designed to reduce the disruption of wild dolphins by encouraging
responsible viewing
of these marine mammals. The program recognizes commercial wild dolphin tour operators who have made a commitment to educate their customers about the importance of minimizing wild dolphin harassment. Florida Keys National Marine Sanctuary encourages you to book with Dolphin SMART operators, to help protect dolphins in the Keys.
x
The acronym "SMART" is a reminder of the basic principles of dolphin-viewing etiquette:
Stay at least 50 yards from dolphins
Move away slowly if the dolphins show signs of disturbance
Always put your vessel engine in neutral when dolphins are near
Refrain from feeding, touching or swimming with wild dolphins
Teach others to be Dolphin SMART
Upon acceptance into the voluntary program, Dolphin SMART charters receive flags and stickers and permission to use the Dolphin SMART logo in their advertising. By looking for the current year on flags and logos, visiting the Dolphin SMART website, and checking the updated participant list, you can experience the thrill of seeing dolphins in the wild in a responsible, environmentally friendly way.