Our dedicated Board of Directors, members and allies are committed to guaranteeing the future of our economically-precious treasures that are in critical danger here in the Keys. Please
join us as a member
, renew your membership or
volunteer
with us.

Study Provides Coral Bleaching Projections for Next 100 Years
In a
study
published April 1, 2015, in
Global Change Biology
, NOAA scientists and colleagues have developed a new method to produce high-resolution projections of the range and onset of severe annual coral bleaching for reefs in the Gulf of Mexico and Caribbean. The scientists calculated when increasingly warmer waters would cause severe bleaching on an annual basis. The resulting local-scale projections of bleaching conditions, at a resolution of about 6 miles, will help managers include climate change as a consideration in planning and conservation decisions.
x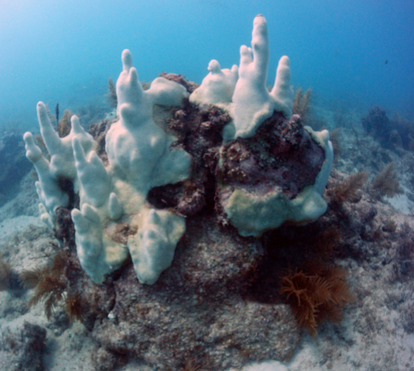 A main conclusion of the
study
is that almost all coral reef locations in the Gulf of Mexico and Caribbean are projected to experience bleaching conditions
every year
by mid-century. The new high-resolution projections show there is great within-country variation in the projected timing of extreme conditions. There are locations within many countries where some reefs are projected to experience annual bleaching conditions 15 or more years later than other locations. Reefs projected to experience bleaching conditions later are conservation priorities. These locations are a type of refuge and are among the locations most likely to persist as the climate changes.
x
Coastal and environmental managers and conservation staff can now use the projections to identify local conservation priorities. Managers may decide to preferentially protect these locations within marine protected area networks or may target a range of other actions to these relative refuges to reduce stress caused by human activities.
x
Coral bleaching is a major threat to coral ecosystems and primarily occurs when ocean temperatures are warmer than has been normal in the past. Temperature stress disrupts the relationship between corals and the algae that live within their tissues – a relationship that usually benefits both parties. The algae are expelled as they cannot photosynthesize under the extreme conditions. The white limestone coral skeleton becomes visible through tissue that is now transparent since the expelled algae give corals their vibrant colors. Extensive coral bleaching events, called 'mass bleaching', have increased in frequency and severity over the past two decades and have contributed to overall reef loss globally.
The loss of coral reefs results in significant ecological, social and economic loss. Coral reefs provide rich habitat for valuable fisheries that people depend on for food. They also serve as protective buffers to coastlines by absorbing wave energy from storms, and they boost local economies by attracting tourists who fish, dive and explore these underwater treasures.
---
Electric Car Charging Station Installed in Key West
FKNMS
's latest move to encourage environment-friendly travel is a new electric car charging station at the
Eco-Discovery Center
. The charging station is part of
Tesla Motors
' "destination charging" program to make travelling in an electric car more convenient. Owners can charge their plug-in electric vehicles while they tour the Eco-Discovery Center and other local attractions. The center is particularly relevant for electric car owners, as one of the facility's many environmental exhibits explains the link between fossil fuels, rising sea surface temperatures, and changing ocean chemistry.
x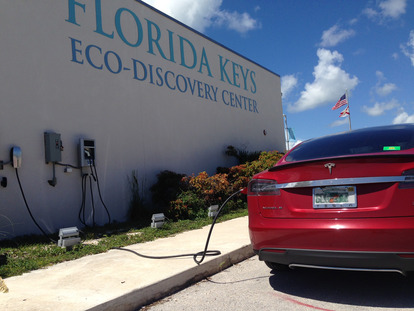 x
The charging station is mounted on the side of the Eco-Discovery Center building at 35 East Quay Road on Key West's Truman Waterfront. Its dual plug-in design features one side with a free Tesla HPWC plug-in, which fits all Tesla models. The other side is a more universal Eaton Level 2 plug-in that allows owners of other plug-in electric vehicles to pay 50 cents per hour with a debit or credit card and charge for up to eight hours.
x
The availability of charging stations for electric cars has been limited in Key West compared to the rest of Florida. Currently there are 26 destination charging stations in Florida, including one at
Silver Palms Inn
in Key West. A Tesla car with a depleted battery takes about four hours to recharge sufficiently for a 175-mile trip. Another "supercharger" has been installed at the Marathon airport and will be underwritten by Tesla Motors. The supercharger can juice a car in just 30 minutes. It's the only one of its kind in the Keys. Drivers are notified by cell phone messages when the charging is complete.
---
Sanctuary Friends Supports Blue Star Program
Blue Star
is a voluntary program established by
FKNMS
to recognize tour operators that are committed to promoting responsible and sustainable diving and snorkeling practices that reduce the impact of these activities on coral reefs in the Florida Keys. Blue Star operators take the extra step to educate you to be better environmental stewards and to interact responsibly with coral reefs in the Keys.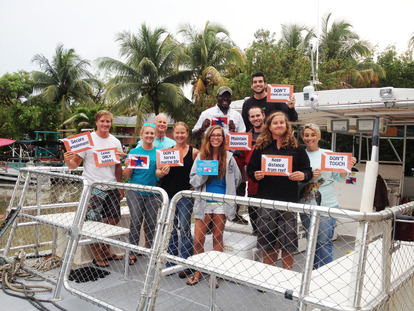 FKNMS
welcomes
Looe Key Reef Resort & Dive Center
of Ramrod Key as the newest participant in the Sanctuary's Blue Star education and conservation program. The Blue Star program has grown to include 17 operators since it was first initiated in 2009. Operators become Blue Star certified by attending annual training on issues affecting coral reefs, sanctuary regulations and coral reef etiquette. In turn, Blue Star operators educate their customers by incorporating the information into certification classes and dive briefings. They also must offer conservation-related dive courses and participate in activities such as fish counts and reef clean-ups. Operators are re-evaluated on an annual basis.
x
Threats to Florida's coral reefs are cumulative and originate at local, regional, and global levels. In theory, non-consumptive diving and snorkeling would have no impact on coral reefs. In practice, divers and snorkelers make contact with the coral reef or cause stress to marine life as a result of inexperience, careless dive or snorkel practices, poor training or lack of awareness. While diver and snorkeler impacts are not a major contributor to reef decline on the larger scale, they can be a significant source of decline on heavily visited reef sites due to repeated, cumulative impacts. Unlike some of the major causes of reef decline, divers and snorkeler impacts represent a source of stress that is entirely preventable through local action. Through practicing responsible diving and snorkeling, you can help to lessen local stress on the reef while still partaking of its beauty.
x
---
NewsMakers
Track a Turtle
Seaturtle.org
allows visitors to track the movement of tagged sea turtles from Australia to the Florida Keys and everywhere in between. Currently, nearly 100 sea turtles have been captured, tagged and re-released since 2008 as part of the
Dry Tortugas National Park
tracking program. The purpose of the project is to characterize the population of sea turtles in the Park and to quantify the proportion of time individuals of each species spend in the Research Natural Area (RNA) compared to other areas.
x
Teachers can sign up to access all tracking data in the classroom. The Satellite Tracking and Analysis System (STAT) provides a unique opportunity to engage students in a fun and exciting way. Satellite tracking can be used to develop lesson plans covering a number of subject areas, including biology, math, geography and even politics.
Click here for a list of suggested exercises divided by subject area.
x
Free Fish ID Classes: Learn How to Identify Fish in the Florida Keys
Join Allison & Carlos Estape at 7 p.m. at
REEF
Headquarters (MM 98.3 in Key Largo) for fish behavior & ID classes. Upcoming classes include:
JUNE 18: Angelfish and Butterflyfish

JULY 2: Cardinalfish and Squirreflish

JULY 16: Rays and Fish in the "Others" Category
Become a citizen-scientist by participating in REEF's Volunteer Fish Survey Project where divers and snorkelers add their Fish ID Surveys to REEF's database, which is used by scientists around the world. Find out more.
In This Issue:
Coral Bleaching Projections
New Electric Car Charging Station
---
---
Please add your upcoming events to our online Florida Keys Environmental Calendar. This community-wide resource allows any organization or group to set up an account and post environmentally-related events.
xxxxxxxxxxxxxxxxxxxxxxxxxxxxxxxxxxx
Sea Turtle Stranding and Salvage Workshop
TODAY! June 17, 6-7:30pm, Eco-Discovery Center, Key West
Workshop will provide training for volunteers who would like to be involved with
FWC
's
sea turtle stranding and salvage program
. Training includes species identification and proper data recording procedures. Once trained, volunteers may be called upon to respond to stranded or injured sea turtles. The class is open to anyone over 18 years old who is interested in volunteering. Advanced registration is recommended:
Discovery Saturday: Weather, Wind & Water
June 20, 10-11 am,
 Eco-Discovery Center, Key West
Kids in kindergarten through fifth grade are invited to join this free, fun-filled event where they will learn about the environment of the Florida Keys and the marine life that live here while playing games and making craft projects. Every third Saturday of the month. Call 305-809-4750 for more information.
Spines & Spinys Tournament
July 29-30, Tilden's Scuba Center, 4650 Overseas Hwy., Marathon
The annual tournament has been spiced up this year! Instead of just brining in your bugs to be weighed, you must bring in at least one lionfish! Cost is only $30 to enter and all participants receive a cool hat ($20+ value) and an entry in the raffle. More than $7,000 in prizes! Last tournament entry taken at Tilden's at 9 a.m. on July 29 and final weigh-in at 6 p.m. on July 30.
Half of all entry fees and all proceeds from the raffle will go directly to Sanctuary Friends!
To enter, call 305-743-7255,
email
or stop by
Tilden's
.
---
Welcome! Thank you for your support!
Benefactors
($200+)
Susan Horvat
Webster Walker
William Johnson
Richard Worthington
Bruce Frerer
Russell & Christina Fisher
Shirley Shumway
Lisa Carstarphen
---
SPONSORS
Please support the companies that support the FKNMS and Sanctuary Friends.
Platinum:
Waste Management
Marathon Garbage Service
Keys Sanitary
Sunbelt Rentals
Cressi International
Gold:
Marathon Jet Center
Centennial Bank
First State Bank
Little Palm Island Resort
The Weekly Newspapers
Conch Color
Papa's Pilar Rum
Ocean Reef Club
Ocean Reef Community Foundation
Diver's Direct
Silver:
Marathon Boat Yard
Grader Mike Construction
Marathon Chamber of Commerce
A Deep Blue Dive Center
Paver Dave
Keys Contracting Services
Florida Keys Contractor's Association
Bee Brothers
Key West Butterfly & Nature Conservatory
Hard Rock Cafe
Hyatt Key West Resort & Spa
SHOR Restaurant
Westin's Bistro 245
Key West Express
FURY Water Adventures
Dunkin' Donuts
JSA Promotions
Budweiser
---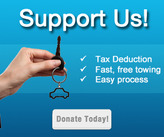 ---
Our Mission
Sanctuary Friends Foundation of the Florida Keys supports the Florida Keys and the Florida Keys National Marine Sanctuary (FKNMS) in the preservation, restoration, and sustainable use of our coral reef ecosystem, from the uplands to the deep sea. We focus on development of community support and advancement of public awareness, education, outreach and scientific research.
---
We want your input!
If you have stories of note or just want to comment on our newsletter,
please email:
If you enjoyed this newsletter,
If you are not already on our mailing list,
---
Sanctuary Friends Foundation of the Florida Keys
is a non-profit, 501(c)(3), tax-exempt organization
We take your privacy seriously. Your email address will never be sold, rented or given away. All our emails include an easy opt-out feature. If you have activated spam filters in your email application, please add the following email to your address book:
Sanctuary_Friends_Foundation_of_@mail.vresp.com