Spiny Lobster Sport Season Begins Wednesday
Tips for safe diving

Lobster Mini-Season is a great time to be in the Florida Keys. Each July, divers from all over the U.S. travel to the region to take part in the two-day lobster hunt that precedes the regular August season.
Unfortunately, one of the traditions of the lobster hunt has become diver injuries and fatalities. Between 2005-2008, fourteen fatalities were recorded during the lobster mini-season. While the exact causes of death are being determined for some, diver error is clearly responsible for others.
x

Many divers don't realize how much more strenuous a hunt dive is compared to a regular recreational dive. There's a lot more swimming involved, divers are doing frequent ascents and repetitive dives, and even the sheer adrenaline can be a significant physiological factor. The excitement of the hunt can be a distraction, but it's important to remember that the hunt dives require as much preparation and attention as any other dive.
x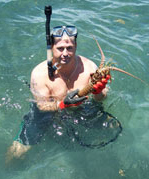 Safety tips from Divers Alert Network (DAN):
If you do not exercise vigorously and frequently on land, do not dive if you are not fit for it. Remember that an underwater hunt strains your body much more than a typical recreational dive.
Do not lobster hunt on your first dive. If you did not have a chance to make some dives before the mini-season, remember that full lobster season starts in August and lasts through March. Use the preseason time to refresh your skills and improve your fitness. By doing this, you will be ready for many safe lobster hunts during the regular season.
Lobster hunting is a serious dive operation, even at a depth of 10 ft (3m). Ensure that the diver in you maintains control over the hunter in you.
Watch the 2009 Florida Lobster Mini-Season Public Service Announcement from DAN.
---
Announcing the 2011 Ocean Heroes:
You Can Be One, Too!

More than 500 ocean activists were nominated, 12 were selected as finalists, and more than 12,000 of you voted. The results? This year's adult
Ocean Hero
is Peter Wallerstein and the Junior Ocean Hero is Sophi Bromenshenkel!
x
Peter Wallerstein is the program director at Marine Animal Rescue, a project of Friends of Animals, where he has spent the last 25 years rescuing marine mammal in Los Angeles County. He has personally rescued 3,000 marine mammals throughout his career, and also established a team of professional responders that humanely rescues hundreds of animals a year, including whales, dolphins, sea lions and seabirds.
x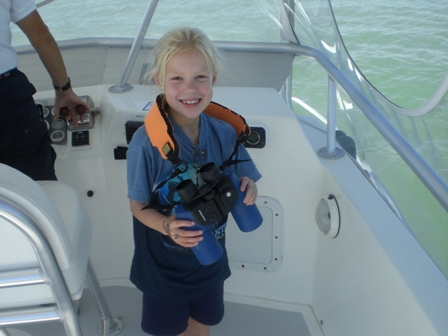 This year's junior hero is 8-year-old Sophi Bromenshenkel of Richfield, Minnesota, who has raised more than $3,500 for shark conservation by selling lemonade and hot chocolate, shark cookies and wristbands, and through email campaigns and local fliers. She has partnered with the University of Miami's R.J. Dunlap Marine Conservation Program, where her funds pay for satellite tags on sharks.
x
Inspired by Sophi and Peter? Get involved in ocean conservation this summer by
pledging to be an ocean hero
. You can choose between three options: recycle,
participate in a beach clean-up
or eat sustainable seafood.
---
What is the Sanctuary Advisory Council?

Are you interested in the future of the Sanctuary? One of the best ways you can become involved in the decision-making is to become a member of the
Sanctuary Advisory Council (SAC)
. Applications are now being accepted through August 5.
x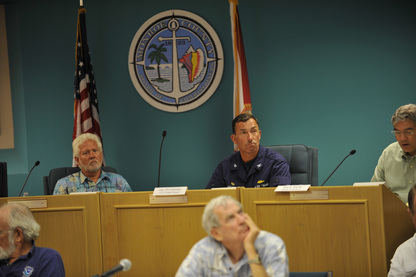 x

Background, Overview & Purpose of the SAC
The
Florida Keys National Marine Sanctuary
Advisory Council was established to advise and make recommendations to the Sanctuary Superintendent regarding development, designation and management of the Sanctuary. The Council has four responsibilities that provide a framework for their activities:
Identify and evaluate critical issues involving Sanctuary use or resources and serve as liaisons to local communities and Sanctuary Managers;
Assist in increasing awareness and understanding of the purpose and value of National Marine Sanctuaries;

Advise Sanctuary Managers on the development of the Sanctuary's annual action plan;

Evaluate and advise on the success of action plans and activities.
SAC consists of members appointed by NOAA who represent commercial and recreational user groups (i.e. fishermen, dive industry and boating industry); conservation and other public interest organizations; scientific and educational organizations; and members of the public. For more information on the seats available,
click here for the application package
.
---
NewsMakers
---
August Coral Spawning Presentation & Dives
Each summer, coral reefs explode in an orgy of reproduction. Most invertebrates spawn together on a single night in mass-spawning events. Exact cues triggering the annual phenomenon remain unclear, but are believed to be linked to water temperatures and lunar, tidal and 24-hour light cycles. A night dive or snorkel is the best way to view this rare exchange of reproductive cells.
x
Lauri MacLaughlin, Resource manager for the
FKNMS
, will present coral spawning ID training and instruction on Wednesday, August 17 and Friday, August 19. The presentations will precede a night dive from 6 pm - midnight at
Amoray Dive Resort
in Key Largo. For more information about the presentation and dives, please call (305)451-3595 or
email
.
Ocean Views Photo Awards: Call for Entries

The editors of
Nature's Best Photography
and
Divers Alert Network (DAN)
invite all photographers to enter. Through sharing your passion for the ocean, we hope to inspire a global audience to learn about and protect this fragile realm. The winning images will be published in an upcoming edition of Nature's Best Photography magazine and also in Alert Diver magazine. Check the guidelines for suggested photo subjects above and below the ocean.
UPLOAD YOUR PHOTOS.
Adventurers and Scientists for Conservation
Are you an adventurer, diver, hiker, paddler, cyclist or explorer? Does your hobby take you through areas of great need? Do you want to do more for the areas you travel in but simply have not acquired the skills to do so? Then you should consider joining
Adventurers and Scientists for Conservation (ACS)
. The organization is dedicated to improving the accessibility of scientific knowledge through partnerships between adventure athletes and scientists.
x
While countless other organizations have worked to gather scientific data, none have specifically utilized the unique skills of climbers, mountaineers, divers, paddlers and others to get this data. There are thousands of people in remote areas everyday ready, willing and able to help protect our planet's most vital resources, they simply need the tools to do so. Check out current projects, find a mentor or submit a proposal at
www.adventureandscience.org
.
---
blue
&
green
occasions
Celebrating the event ... Honoring the earth and sea
SERVING THE FLORIDA KEYS AND KEY WEST
We invite you to hold your special celebrations, business meetings and other occasions in a meaningful way at the Florida Keys Eco-Discovery Center. We will help you celebrate in a green way, and your donations will help to give back to the "Sanctuary." Call today to reserve your date and share your celebration with the earth and sea! More information.
---
---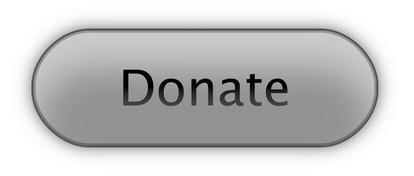 ---
Our Mission


Sanctuary Friends Foundation of the Florida Keys supports the Florida Keys and the Florida Keys National Marine Sanctuary (FKNMS) in the preservation, restoration, and sustainable use of our coral reef ecosystem, from the uplands to the deep sea. We focus on development of community support and advancement of public awareness, education, outreach and scientific research.
---
Sanctuary Friends Foundation of the Florida Keys is a non-profit, 501(c)(3), tax-exempt organization (Tax ID# 59-2443959).
We take your privacy seriously. Your email address will never be sold, rented or given away. All our emails include an easy opt-out feature. If you have activated spam filters in your email application, please add the following email to your address book: Sanctuary_Friends_Foundation_of_@mail.vresp.com