Our dedicated Board of Directors, members and allies are committed to guaranteeing the future of our economically-precious treasures that are in critical danger here in the Keys. Please
join us as a member
,
renew your membership
or consider
volunteering
with us.

Governor Scott Says Everglades Restoration Working
In case you missed it, here's an excerpt of Florida Governor Rick Scott's editorial in the
Sun Sentinel
last Sunday about the success of
Everglades
restoration and the need for more support to continue it:
x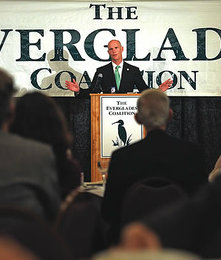 "With Florida's booming tourism industry, our natural treasures play a critical role in efforts in making Florida the best place to find a job. Florida's natural systems protect our wildlife, provide families with recreational opportunities and supply our growing population with a secure source of clean water and air. As Florida's economy continues to grow, it is essential that we work to protect and restore our Everglades.
x
Just over two years ago, our economy was wrecked, efforts to provide a clean supply of water to the Everglades were mired in litigation and projects were stalled. In addition, the Comprehensive Everglades Restoration Plan (CERP), meant to restore the natural timing and quantity of the flow of water in the Everglades, was suffering from lack of direction and increasing costs.
x
That's why I directed the DEP and the SFWMD to come up with a plan to ensure, once and for all, the water flowing into the Everglades is clean; a simple but evasive goal. I am proud to say that, after a year of work between my agencies, our federal partners and local stakeholders, a solution was reached.
x
Last fall, the federal government approved Florida's landmark water quality projects that, once constructed, all parties agree will provide the clean water the Everglades need. It should also be a point of pride for our state that not only have we turned the page on years of disagreement over restoring the Everglades, but that we were able to do so at nearly half the cost of the federal alternative; without increasing taxes on families.
x
In March, the Florida House of Representatives unanimously voted to enhance the Everglades Forever Act to support water quality projects and provide a dedicated source of funding, which ensures the implementation of this restoration effort is not delayed due to lack of funds or the lack of clear law.
x
Now we must work to have the same success with the CERP. This series of projects to restore the historic timing and quantity of water flowing into the Everglades and estuaries has faced high price tags and delays. The good news is that the partnership between the state, the federal government, industry and environmental groups is working.
x
Over the last year and a half, our administration partnered with the federal government and local stakeholders on a planning effort called the Central Everglades Planning Project (CEPP). Like we did with Florida's water quality plan, we will continue to work in a bipartisan manner to ensure that we have the same success with the CEPP.
x
We are continuing our work to restore America's Everglades, to better support our ecosystem and our state's economy. And it's working."
---
Coast Guard Auxiliary Partnership Increases Boater Education
Boater education is getting a boost in the upper Florida Keys thanks to a new partnership between the
FKNMS
and
U.S. Coast Guard Auxiliary
. Since February, the Upper Keys and Ocean Reef Coast Guard Auxiliary flotillas have been patrolling 11
Sanctuary Preservation Areas
and two
Research Only Areas
between Tennessee and Carysfort reefs in an effort to educate boaters and protect the coral reef environment. The program is anticipated to expand Keys-wide in the coming months.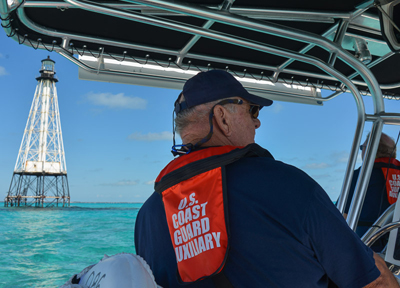 Auxiliary members in marked vessels conduct weekly patrols to inform boaters about FKNMS's special zones and rules and to promote boating safety. The additional on-the-water outreach will help maintain the integrity of sanctuary "no-take" areas and avert both accidental and intentional violations. Auxiliarists will distribute educational packets containing charts and conservation information to boaters unfamiliar with sanctuary rules and have the ability to contact FWC and U.S. Coast Guard enforcement teams if necessary.
x
More than 350 individuals in the Florida Keys donate their time to the Coast Guard Auxiliary, whose mission is to contribute to the safety and security of the nation's citizens, ports and waterways. These patrols will complement similar boater education programs conducted by
Team OCEAN
volunteers who use FKNMS vessels to engage boaters at heavily visited reef sites during summer weekends and busy holidays.
---
Sigsbee Charter School Thanks Friends for Donation
Sanctuary Friends
recently received a thank you note from Erica Baugh, Science Teacher at
Sigsbee Charter School
, for our donation to their marine science program last year. She highlighted the two projects that benefitted specifically from the funding.
Transportation for third graders on a field trip to Boca Chica last May where students planted seedlings on site as part of the base's 100-acre mangrove mitigation project. The students worked with biologists at the base to raise red mangrove propagules in the classroom as part of their Study of the Sea. Watch the video of the student's mangrove project and field trip.
Coupled with the mangrove planting, students were invited to join science teachers in a mangrove kayak tour at the Boca Chica Marina. Students practiced their skills from the kayak lesson as they tested out single and double kayaks.

Video of Kayak Tour
Lab supplies for Sigsbee's new outdoor classroom, which include nets, buckets and dissection trays. Sigsbee students enjoy the luxury of spending learning time outdoors during wading trips, wildlife surveys, schoolyard ecology surveys, dissections and field trips.
Sanctuary Friends thanks our
members
for making these donations possible so students can continue to thrive and learn outdoors in a meaningful real world outdoor classroom.
---
NewsMakers
---
Premier of Stories from the Overseas Highway
The fabulous Florida Keys are the topic of a new documentary that premiered on PBS in February.
Stories from the Overseas Highway
takes viewers on a rollicking ride along Florida's only All-American Road. Experience the stunning beauty of the Florida Keys and meet a colorful cast of off-beat characters in this half-hour documentary about an unforgettable road trip on "the highway that goes to sea." Filmmaker
Tim Long
(
Bohemia in the Tropics
,
Escape to Dreamland
) heads off the mainland down US1 from Key Largo to Key West in search of the people who personify the Florida Keys' unique, funky, laid-back island culture. Check your local listings for the rebroadcast of this close-to-home documentary.
Watch the trailer.
Recreation.Gov Spotlights FKNMS
Recreation.gov
recently spotlighted the
FKNMS
in an article on it's website. The
article
highlighted our coral barrier reef system, the Eco-Discovery Center, Key Deer National Wildlife Refuge and Dry Tortugas National Park. Additionally, it mentioned the
Blue Star Program
, which recognizes operators committed to coral reef education and reducing the impact of divers and snorkelers on the coral reef ecosystem. Recreation.gov is a partnership among 12 federal agencies, including the Army Corps of Engineers, Forest Service, National Park Service, Bureau of Land Management, Bureau of Reclamation, Fish and Wildlife Service and the National Archives serving 2,500 federal areas for over 60,000 facilities and activities. Recreation.gov helps you discover and book trips to all of America's public places.
---
Our Mission


Sanctuary Friends Foundation of the Florida Keys supports the Florida Keys and the Florida Keys National Marine Sanctuary (FKNMS) in the preservation, restoration, and sustainable use of our coral reef ecosystem, from the uplands to the deep sea. We focus on development of community support and advancement of public awareness, education, outreach and scientific research.
---
We want your input!
If you have stories of note or just want to comment on our newsletter,
---
Sanctuary Friends Foundation of the Florida Keys
is a non-profit, 501(c)(3), tax-exempt organization
(Tax ID# 59-2443959).
We take your privacy seriously. Your email address will never be sold, rented or given away. All our emails include an easy opt-out feature. If you have activated spam filters in your email application, please add the following email to your address book:
Sanctuary_Friends_Foundation_of_@mail.vresp.com
In This Issue:
Everglades Restoration Working
Coast Guard Auxiliary Partnership
Sigsbee Charter School Donation
---
---
Dear Sanctuary Friends:
x
I come from a long-line of boating enthusiasts as a born and raised Conch. Starting at 8 years old, my family of fishers would spend 2-3 weeks in Dry Tortugas each summer on our boat. I've seen firsthand the changes in the unique island chain 70 miles off Key West. For example, how two islands have become one due to shifting tides and natural occurrences and, most importantly, how the "no-take" ecological reserve has actually benefited the fishing community.
x
As I child, I remember the rampant signs dotted along US1 with "Say No to NOAA" scribbled across them, and I think about how the mindset of the
FKNMS
has changed from those days. With the creation of the Sanctuary, better fishing and water quality has reaped over to outside its boundaries of no-take zones: case in point, Dry Tortugas.
x
According to
NOAA
, since the establishment in 2001 of the
Tortugas Ecological Reserve
, it's been verified that species such as black and red grouper, yellowtail and mutton snapper have increased in presence, abundance and size inside the reserve and throughout the region. It also shows annual gatherings of spawning mutton snapper began to reform inside the Reserve. Commercial catches of reef fish in the region increased and continue to do so. And, most importantly, no financial losses were experienced by regional commercial or recreational fishermen.
x
Now more than ever, I have people coming up to me at various events, especially fishermen and avid boaters, telling me how their "Say No to NOAA" mindsets have also changed. We are finally at a place where "Say Yes to NOAA" sounds better. We sure have come a long way.
x
Kristen Livengood, Office Administrator
---
---
Please add your upcoming events to our online Florida Keys Environmental Calendar. This community-wide resource allows any organization or group to set up an account and post environmentally-related events.
xxxxxxxxxxxxxxxxxxxxxxxxxxxxxxxxxxx
Lionfish Food and Wine Night
April 16, 6:30-9 pm, Fish House Encore, Key Largo
Join
REEF
for a four-course, tapas-style dinner with paired wines, lionfish education, filleting demonstration and cooking instruction by Fish House Encore's Chef Peter. 65$ per person (includes copy of
REEF's Lionfish Cookbook
). Space is limited. RSVP: 305-451-0650.
More information.
Ocean Life Series: Participatory Ecoart: The Reclamation Project
April 19, 7 pm, Nelson Government Center, MM102, Key Largo
FIU Artist in Residence Xavier Cortada will discuss the importance of ecoart in education and in engaging South Floridians in an effort to reforest coastal and urban areas. Meet & Greet begins at 6 pm. More information.
18th Annual Earth Day Celebration
April 20, 9 am-2 pm, Bahia Honda State Park, MM 36.8, Big Pine Key
Come celebrate Earth Day by the beach! Live music, picnic lunch for purchase, face painting, puppet show, sand sculpture contest, fish printing and more. Also, environmental exhibits and booths, marine life touch tank and children's activities and telescopes set up to view the sun. Got Your Bags of the Florida Keys will give away reusable bags to those who pledge to reduce the use of plastic bags. Park admission fees apply.
More information
: 305-872-9807.
Coral Restoration Foundation Premier Gala
April 20, 6:30 pm, Florida Keys Conference Center at the Islander Resort, Islamorada
Fundraiser dinner honoring CRF's president and founder, Ken Nedimyer, who was named a 2012 CNN Hero for his pioneering work in saving and restoring our coral reefs. Honorary Chair Wyland, renowned marine life artist, will feature some of his work in a live and silent auction. All proceeds benefit coral restoration efforts and will help CRF achieve its goal of outplanting 10,000 new corals this year. Individual ticket $150. Reservations required.
More information
: 305-453-7030
---
Welcome! Thank you for your support!
New & Returning Members ($30-$199)
George Purring
Julie Cheon
Billy and Laura Causey
Harvey and Elsie Pastan
Nellie Appleby
Joseph Uricchio
Benefactors ($200+)
---