Keys Water Quality: The Buck Stops Here
Free Forums Scheduled for April 16 & 22
Everyone acknowledges that the interaction between water quality and coral reefs, seagrasses and marine creatures in the Florida Keys is a complicated issue. Climate-change, land-based sources of pollution, habitat loss and destruction, and overfishing all contribute to the health of local waters.
x
Recognizing the importance of water quality,
Last Stand
and
Everglades Law Center
will hold two free forums in April, bringing together a panel of water quality, hydrology and coral reef experts to examine the science behind what is occurring and what is being planned to improve water quality in the Keys.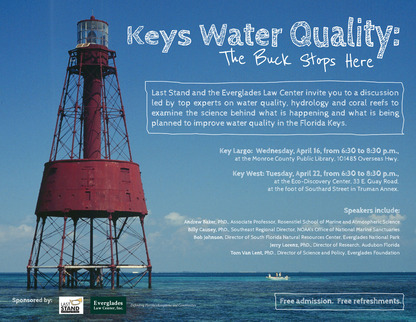 The forum features the director of South Florida Natural Resources Center for Everglades National Park,
Bob Johnson
, and the director of science and policy for the
Everglades Foundation
, Tom Van Lent, Ph.D. Also on the program are
Andrew Baker, Ph.D.
, associate professor at the Rosenstiel School of Marine and Atmospheric Science at the University of Miami, Jerry Lorenz, director of research for
Audubon Florida,
and
Billy Causey, Ph.D.
, Southeast Regional Director for NOAA's Office of National Marine Sanctuaries.
x
"We know how critically important water quality is to the Keys," said Last Stand president Naja Girard. "That's why we're having two sessions. The people we've invited to speak are all renowned experts on the issue of Everglades' water flow and near- and off-shore water quality."
x
The Upper Keys Forum will be held at the Key Largo Public Library, 101485 Overseas Hwy., on April 16. The Key West forum takes place on Tuesday, April 22, at the Eco-Discovery Center, 33 E. Quay Road, at the foot of Southard Street in Truman Annex. Both forums run from 6:30 to 8:30 p.m. and are free and open to the public. Refreshments will be served. For more information, contact Julie Dick at 312-399-4057.
---
Water Quality FAQ's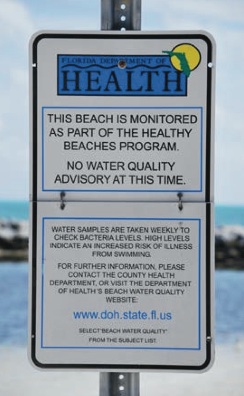 What is water quality?
A term used to describe the condition of water, including its chemical, physical and biological characteristics, usually with respect to its suitability for a particular purpose (i.e., drinking, swimming or fishing).
What factors determine water quality in the Florida Keys? Concentration of dissolved oxygen (DO); levels of fecal coliform bacteria from human and animal wastes; concentrations of plant nutrients nitrogen and phosphorus; amount of particulate matter suspended in the water (turbidity); and amount of salt (salinity). In many bodies of water, the concentration of chlorophyll-a (a green pigment found in microscopic algae) is also measured to determine the amount of microalgae living in the water column. Quantities of pesticides, herbicides, heavy metals and other contaminants may also be measured.
Why is good water quality important to people? Untreated or poorly treated stormwater and sewage can pose a health risk for humans and, at times, has resulted in beach closures. When present in certain levels, fecal coliform bacteria are indicators of untreated or minimally treated sewage. Fecal coliform bacteria are not usually harmful, but are easily detected and may indicate the presence of other disease-causing organisms carried in the human intestine such as cholera, diphtheria, E. coli and streptococcal diseases.
Why is good water quality important to marine life? Tropical marine hard bottom, seagrass and coral reef communities thrive in clean water that is relatively low in nutrients. Wastewater or stormwater containing high nitrogen and phosphorus concentrations promote growth of plants and animals that thrive in nutrient-rich conditions, and over time this can have a negative impact on marine life. A coral reef or seagrass meadow exposed to an overabundance of nitrogen may become covered with seaweed and other macroalgae, which can out-compete the living coral and seagrass for space and sunlight.
Why do our actions have such an immediate and direct impact on water quality? In the Florida Keys, groundwater and nearshore surface waters are closely connected. Wastewater from septic systems can seep into surrounding porous limestone and pollute groundwater. This fairly rapid exchange between ground and surface waters is driven by the pumping action created by the ebb and flow of the daily tidal cycle.
What is negatively impacting water quality in the Keys? Stormwater is a major source of pollutants in the Keys. Hard, non-porous surfaces like roads, bridges and most parking lots are contributors, but significant runoff also occurs from yards and other landscaped areas. Dead-end or poorly-flushed canals also contribute to poor nearshore water quality in the Keys.
What can my family and I do to help protect and improve water quality? Support and participate in advanced wastewater treatment programs that remove unwanted nutrients and harmful bacteria. For your vessel's sewage, use "pump-out" stations and always observe the No Discharge Zone. Around the home and office, use as many "green" products as possible, such as phosphate-free soaps and detergents. Dispose of your household chemicals and hazardous wastes according to label instructions. On your property, reduce or eliminate the use of fertilizers, construct vegetation berms to reduce runoff of fertilizers or yard wastes and landscape with native plants. Do not throw fish carcasses or other organic waste into canals where they can reduce water quality and contribute to low oxygen conditions.
---
Shop to Support Sanctuary Friends
Merchandise Now Available in Our Online Store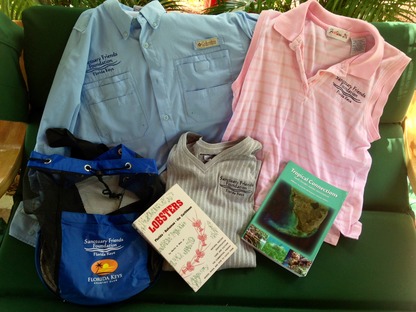 We know that you can't always catch up with
Sanctuary Friends Foundation
at the numerous events taking place around the Keys, but no need to worry. You can now find your favorite hats, shirts, books and bags on our newly launched
online store
. And, the best part is: we offer free shipping, so the price you see is the price you get!
Click here to check out some of the items for sale
, and if you see something you like for yourself or a friend, we can get it in the mail to you right away. Surprise your loved ones with a gift from Sanctuary Friends! Remember, delivery is free in the United States, and we can even add a note to the recipient for you. Thank you for supporting Sanctuary Friends!
---
NewsMakers
---
New Farmers Market in Big Pine Key
GLEE
is happy to announce a new weekly Farmers Market in Big Pine Key. The event will occur every Thursday from 5 to 8 p.m. at the
Good Food Conspiracy
, MM 30.2. Buy fresh, local, organically-grown produce supporting your own health and local sustainable farming. All produce sold at the market is organically grown in Homestead or the Keys and picked fresh literally hours or just a day or two earlier. Hosted and Sponsored by
Growing Hope Initiative
and supported by
Help Yourself
.
If you grow organic produce and would like to set up a table
at the market, contact
charlie@helpyourselffoods.com
. Come out and support this community event for all!
---
Sanctuary Friends Foundation of the Florida Keys
is a non-profit, 501(c)(3), tax-exempt organization
(Tax ID# 59-2443959).
We take your privacy seriously. Your email address will never be sold, rented or given away. All our emails include an easy opt-out feature. If you have activated spam filters in your email application, please add the following email to your address book:
Sanctuary_Friends_Foundation_of_@mail.vresp.com