Our dedicated Board of Directors, members and allies are committed to guaranteeing the future of our economically-precious treasures that are in critical danger here in the Keys. Please
join us as a member
,
renew your membership
or consider
volunteering
with us in 2012.

Ken Nedimyer Named CNN Hero
Ken Nedimyer, founder and president of the Key Largo-based
Coral Restoration Foundation (CRF)
, has been named a
CNN Hero
for his pioneering efforts to develop techniques to preserve coral reefs and motivate public assistance for the cause.
x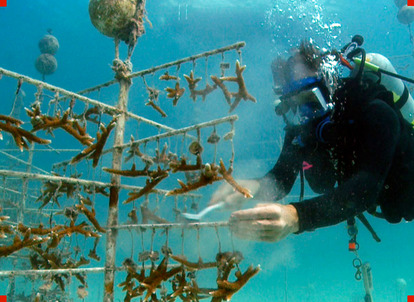 Nedimyer, 56, began coral restoration research efforts approximately 10 years ago after being involved in tropical fish collecting and aquaculture careers. The goal of Nedimyer and his small, yet impassioned, staff of marine scientists is to restore, cultivate and plant staghorn and elkhorn corals, and hopefully reverse their endangered status. CRF's one-acre coral nursery in the
FKNMS
off Key Largo is possibly the world's largest, with nearly 23,000 clippings that range from the length of a knuckle up to 15 inches. The clippings are eventually transplanted to nearby reefs to grow and become independent structures serving as habitat for a variety of tropical fish and to subsequently reproduce to add further reef growth on the ocean floor.
x
"Ours is a message of hope," said Nedimyer, who has leveraged common-sense techniques with scores of volunteers to succeed in an effort that some scientists thought was impossible. "I'm convinced this is the solution that can work."
x
Beyond scientific aspects, Nedimyer has been successful in developing community and visitor volunteer involvement programs to create a workforce for coral restoration. Several times a year, coral restoration workshops attract visitors who learn about coral reefs and participate in working dives to assist at the nursery.
x
CNN Heroes
are everyday people changing the world, dedicating their lives to giving back to communities, defending the planet by protecting the environment, helping others overcome obstacles or solving problems in a unique way. More than 10,000 nominations are made each year from about 100 countries around the world. Approximately 30 heroes are profiled, and the top 10 are chosen by CNN's editorial board to appear in a special CNN presentation with each finalist receiving a $50,000 grant. One of the honorees, to be voted by fans across the globe in the fall, will be named CNN Hero of the Year, and will garner an additional $250,000 grant.
---
Elkhorn Coral: Science of Recovery
FKNMS Science Summary
Elkhorn coral was once the most abundant stony coral on shallow reef crests and fore-reefs of the Caribbean and Florida reef tract. In the Florida Keys, this fast-growing coral with its thick antler-like branches formed extensive habitat for fish and marine invertebrates. By the early 1990s, elkhorn coral had experienced widespread losses throughout its range. A similar trend was seen in a close relative, staghorn coral. Multiple factors are thought to have contributed to coral declines, including impacts from hurricanes, coral disease, mass coral bleaching, climate change, coastal pollution, overfishing and damage from boaters and divers.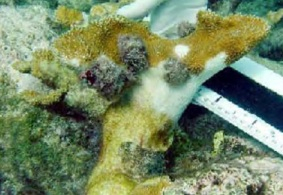 In 2006, the two species were listed as threatened under the Endangered Species Act (ESA). The recovery strategy, developed by NOAA Fisheries, included designating critical habitats in Florida, Puerto Rico and the U.S. Virgin Islands and called for further investigations into the factors that prevent natural recovery of the species. ESA protection is aimed at reducing threats and stressors to the species in order to encourage its natural recovery.
x
In 2004, scientists from NOAA's Southeast Fisheries Science Center (Miami) began a long-term monitoring program in FKNMS to determine the current population status of elkhorn coral and to better understand the primary threats and stressors affecting its recovery. According to this study, the top three reasons for elkhorn tissue loss have been fragmentation or breakage of coral branches, "white" disease and predation by the coral-eating snail. However, the proportion of loss due to fragmentation was skewed somewhat because of the large degree of physical damage done by hurricanes in 2005. Sixty-three percent of coral tissue loss that year was due to breakage. Since then, colonies within the study plots have only shown modest signs of recovery and most hurricane-generated fragments did not survive.
x
While the issues facing elkhorn and staghorn coral recovery are complex, the capacity for these species to asexually reproduce through fragmentation and their fast growth rates make them good candidates for coral restoration. Coral restoration has been underway in the Florida Keys since local marine life expert Ken Nedimyer started the first offshore coral nursery in 2000. Since 2003, more than 1,700 staghorn coral fragments grown at the
Coral Restoration Foundation
nursery have been transplanted to 20 restoration sites where they have shown high survival and growth rates. The foundation has also been growing elkhorn coral for future restoration projects.
x
Scientists from NOAA and partner agencies are continuing to evaluate potential actions to enhance coral recovery, carefully monitor coral population dynamics and investigate the causes of coral disease. For more information,
download the full text of the Science Summary
.
---
John Halas Retires After 31 Years
John Halas
is retiring this month after 31 years as a biologist/manager for
FKNMS
, a job that has taken him around the world in his tireless quest to protect coral reefs from harm.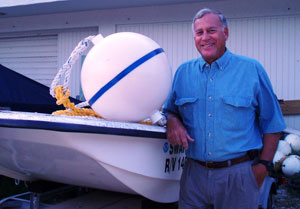 Diving had always been a passion of John's, but what began as a hobby blossomed into a full-blown obsession when he left his job at an aquaculture firm and applied for a science diver training course offered through Florida's State University System Institute of Oceanography. The demanding program, which involved daily dives, night dives, rigorous physical conditioning, training with U.S. Navy equipment, and saturation in the Hydrolab underwater habitat (now located at NOAA headquarters in Silver Spring), had opened up a world of new career opportunities.
x
In fall 1980, after several years working in the dive industry, John took a job as a biologist (and the first employee) at what was then Key Largo National Marine Sanctuary. Shortly after joining the sanctuary, he began working on a project that would change his life in ways he couldn't have imagined. In an effort to protect the fragile reefs of the Florida Keys from damage by boat anchors, John devised a
reef mooring buoy system
that provided a simple, cost-effective solution to the problem. Before long, he had installed 10 buoys in the Florida Keys region, then 40, then 80. Managers of other marine protected areas around the world began seeking his help, and he traveled to far-flung places like the Cayman Islands and Malaysia to demonstrate the technology.
x
So, after a long and fruitful career of relentless work in marine conservation and maritime heritage, what does retirement hold? John's got plenty of projects awaiting him once he bids farewell to the sanctuary office. His wife,
Judy Halas (Sanctuary Friends Board Member)
, has started a business supplying international customers with everything they need to install mooring buoys and needs his help. One NOAA coworker wants to use John and his buoy anchor system technology to help establish a system of coral reef early warning system buoys around the Caribbean. Another colleague has promised to enlist John in an effort to establish a coral repository by cryogenically freezing healthy samples of every coral species in the wider Caribbean and eventually worldwide. The list goes on.
x
Just don't think for a moment that something as trifling as retirement will keep John Halas away from the national marine sanctuaries for long. "I live five miles up the road from the office, in the home that I planned for retirement, so I'll still be around," John says. "It's not goodbye forever."
---
NewsMakers
---
Let Your Online Purchases Support Us!
Here's a simple way you can help support Sanctuary Friends AT NO COST TO YOU! Just
download the GoodSearch toolbar
and we'll earn money every time you shop and search online.
GoodSearch.com
is a Yahoo-powered search engine that donates half its advertising revenue, about a penny per search, to the charities its users designate - in this case, us!
x
GoodShop.com
donates up to 30 percent of each purchase to your favorite cause. Thousands of great stores including Amazon, Target, Gap, Best Buy, eBay, Macy's and Barnes & Noble. The toolbar will automatically credit your designated charity or school for virtually all your purchases at participating stores. You can also "shop for a cause" by going directly to
www.GoodShop.com
and find thousands of money-saving coupons.
x
GoodSearch and GoodShop have been featured in the New York Times, The Wall Street Journal, CNN, The Oprah Magazine, Good Morning America and more. Please spread the word to all your friends and family to start their shopping at GoodShop!
Team OCEAN Cleanup
On Saturday, February 18, FKNMS's
Team OCEAN
volunteers held a kayak cleanup of the
Western Sambo Ecological Reserve
. The 16 kayakers collected more than 750 pounds of marine debris -- mostly plastics -- from the reserve's sensitive shoreline.
x
Several times a year Team OCEAN Volunteers also clean shorelines in the Lower Keys National Wildlife Refuges. In the past five years, these volunteers have collected more than 34,000 pounds of debris. For volunteer opportunities, visit the
website
or contact
Robert Keeley
.
---
We want your input!
If you have stories of note or just want to comment on our newsletter,
---
---
Hi Friends:
x
I was born and raised in the Keys, went to Marathon High School and graduated from University of South Florida with a Mass Communications degree in Journalism. I am an avid reef, bridge and wreck diver and blog about my experiences.
x
x
x
I look forward to being an important part of this organization. Please let me know your ideas for the future of Sanctuary Friends!
x
Kristen Grimes, Administrative Aide
---
---
Please add your upcoming events to our online Florida Keys Environmental Calendar. This community-wide resource allows any organization or group to set up an account and post environmentally-related events.
xxxxxxxxxxxxxxxxxxxxxxxxxxxxxxxxxxx
The Delicate Balance of Nature Lecture Series:

Bleach Watch

Cory Walter, Staff Biologist for Mote Marine Laboratory, will explain the biology of coral bleaching, as well as how to report it. Park gate opens at 7 pm. Free admission; seating is limited. More information: 305-451-9570
Friends in Focus Lecture: Ecology of the Florida Keys
April 5, 7:00 pm, Sail & Power Squadron Education Building, 12 Loggerhead Lane, Marathon. Social begins at 6:30 pm.
Larry Benvenuti, a 31-year resident of the Florida Keys, will speak and show photos about preserving and conserving the natural environment. See the Keys through his eyes from the air, land and under the sea.
REEF, Fish & Friends Seminar
April 10, 7 pm, REEF Headquarters, MM 98.3, Key Largo. Social begins at 6:30 pm.
Free lectures about fish on the second Tuesday of the month sponsored by
REEF
and
Sanctuary Friends
. Topic TBA.
Friends in Focus Film:
"Living Waters: Aquatic Preserves of Florida"
April 12, 7 pm, Sail & Power Squadron Education Building, 12 Loggerhead Lane, Marathon. Social begins at 6:30 pm.
Through film and photographs, take a magical journey into the living waters of Florida's aquatic preserves. This film showcases a dozen of the State's 41 aquatic preserves, highlighting their natural and cultural significance, emphasizing the more than five million acres of diverse water landscape and coastal areas that are critical to Florida's future. Part of a monthly film series sponsored by
Sanctuary Friends
and the
Marathon Sail & Power Squadron
.
17th Annual Earth Day Celebration
April 14, 9 am-2 pm, Bahia Honda State Park Live music, food, children's activities, marine life touch tanks and environmental exhibits and booths. The Florida Keys Astronomy Club will set up telescopes with special lens for viewing the sun. More information: 305- 872-9807
Ocean Life Lecture Series: The Sea Turtle Lost Years
April 20, 7 pm, Nelson Government Center, Key Largo, MM102
Dr. Kate Mansfield will discuss the life history of the sea turtle and the challenges of studying these long-lived, highly migratory animals. Her research includes developing methods for satellite tracking oceanic-stage juvenile sea turtles. 6 pm Meet and Greet with the speaker. More information:
fklcc.org
---
Welcome! Thank you for your support!
Benefactors ($200+)
Richard S. Worthington
Robert Quill
Bruce Frerer
Matthew Forelli
Mr. and Mrs. Frank Shumway
Charles Causey
Michael Fimiani

---

---
Our Mission


Sanctuary Friends Foundation of the Florida Keys supports the Florida Keys and the Florida Keys National Marine Sanctuary (FKNMS) in the preservation, restoration, and sustainable use of our coral reef ecosystem, from the uplands to the deep sea. We focus on development of community support and advancement of public awareness, education, outreach and scientific research.
---
Sanctuary Friends Foundation of the Florida Keys
is a non-profit, 501(c)(3), tax-exempt organization
We take your privacy seriously. Your email address will never be sold, rented or given away. All our emails include an easy opt-out feature. If you have activated spam filters in your email application, please add the following email to your address book:
Sanctuary_Friends_Foundation_of_@mail.vresp.com