Regal Damselfish: New Non-Native Species in Gulf of Mexico
A recent study documents that a new non-native fish species, the
Regal Demoiselle
(Neopomacentrus cyanamos), could become established and spread in the western Atlantic. The fish has been documented in the southwestern Gulf of Mexico and the Yucatan region of Mexico. The quantities found in the Gulf of Mexico suggest that the fish has already established a self-sustaining population in this new ecosystem.
x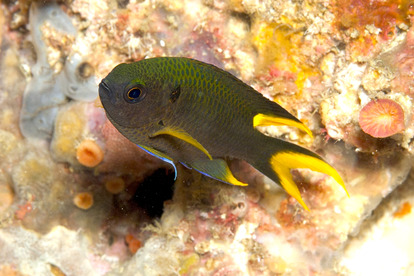 The study incorporated a computer model to evaluate the non-native species' potential to impact native populations. The model incorporated oceanic water flow in the region, tolerances of the fish to the ocean environment, and its reproductive strategy in order to supply a temporal and spatial forecast of its spread. From this study, targeted early detection and removal of the fish can be directed if the fish is deemed a threat to native fauna.
x
On the basis of the study, it is foreseeable that the reefs presently harboring Regal Damselfish, as the fish is commonly known, will likely see increased abundance of this fish. Immediate attempts to eliminate it, therefore, should be focused in nearshore shallow waters spanning Veracruz to Frontera, Mexico. Since water flows in the southern Gulf of Mexico are not widely conducive to long-distance transport of marine organisms with pelagic larvae, it is unlikely that it will permeate the greater Gulf of Mexico in the next five years.
x
Regal Damselfish is native to the Indo-Pacific and Red Sea. Similar in appearance to the native Brown Chromis, it is distinguishable by a yellow or white spot at the rear base of the dorsal fin, a dark spot behind the gill and yellow rear margins of the fins and tail. In contrast, the native Brown Chromis is identified by dark margins on the tail and a dark spot at the base of the pectoral fin.
x
The study was posted last month in the journal
Marine Biology
and was co-authored by Lad Akins,
REEF
Director of Special Projects.
---
Importance of Mangrove and Seagrass Habitats
Mangrove trees
and
seagrass
play an important role in our fragile ecosystems in the
FKNMS
. Mangroves and seagrass both filter pollutants, absorb excess nutrients from runoff and trap sediments, helping to increase the clarity and quality of waters.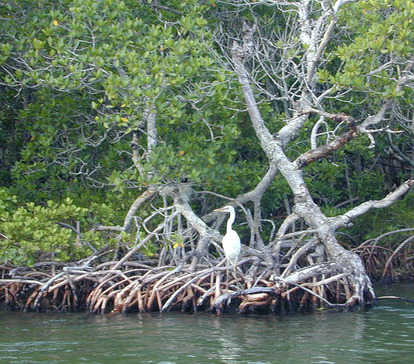 Both mangroves and seagrass also play an important role in preventing erosion of the sea bottom. The roots of mangroves help absorb the action from waves and help prevent shoreline erosion. When these trees and shrubs are removed, additional support structures such as seawalls are needed. Seagrass stabilizes sediments on the seafloor. Without seagrass, these areas would be a seascape of shifting sand and mud.
x
Almost all fish and shellfish caught by commercial and recreational anglers spend some part of their life cycles in or near mangroves. Many animals such as Key deer and great white herons call the mangrove habitat home. Seagrass communities, in turn, are home to a wide range of critters such as pink shrimp, lobster, red fish and stone crab during some part of their life cycles. By providing food and shelter to a range of fish, seagrass beds supported an estimated $13.9 million in stone crab, spiny lobster, shrimp, yellowtail snapper, gray snapper and blue crab harvests for Monroe County in 2010.
x
---
New Sanctuary Advisory Council (SAC) Members Appointed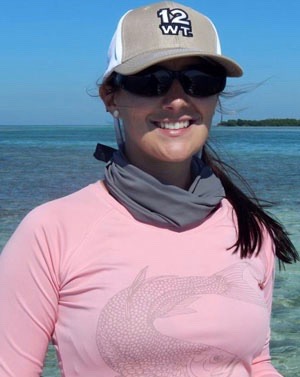 Two new members were appointed to the
FKNMS
Sanctuary Advisory Council during the December meeting. Additionally, two appointments were modified and seven existing council members were renewed. Council members play an important role by representing the community's perspective on management issues and providing local expertise and advice.
x
The new appointees are Kasey Fey (Education and Outreach Alternate) and Lisa Mongelia (Tourism, Upper Keys Alternate). Within the Fishing Commercial Shell/Scale category, Justin Bruland's appointment was revised to the primary seat, while Jeff Cramer became the alternate. The following members were reappointed to the same seat for another term: Chris Bergh (Conservation and Environment), Martin Moe (Education and Outreach), George Neugent (Elected County Official), Heather Carruthers (Elected County Official Alternate), Corey Malcom (Submerged Cultural Resources), Diane Silvia (Submerged Cultural Resources Alternate), and Andy Newman (Tourism Upper Keys).
x
---
NewsMakers
Teacher at Sea Opportunity
Cordell Bank
and
Gulf of the Farallones
National Marine Sanctuaries and
Point Blue
are recruiting for one teacher to join the science team and learn about how marine ecologists are monitoring distribution and abundance of marine wildlife as it relates to oceanographic conditions. The teacher will stay with the team onboard the research vessel
R/V Bell M. Shimada
. The cruise will be hosted out of San Francisco from May 13-22, 2016 (subject to change slightly). Travel and food stipend is included in this opportunity. Application deadline is March 11.
x
Teachers at Sea are expected to contribute to the daily working operations, write/share a daily
blog
with the
NOAA Teacher at Sea Program
, and produce and share a lesson plan based on the experience and new knowledge. The science project being carried out during this mission is called
ACCESS
(Applied California Current Ecosystem Studies).
More information.
---
Our Mission
Sanctuary Friends Foundation of the Florida Keys supports the Florida Keys and the Florida Keys National Marine Sanctuary (FKNMS) in the preservation, restoration, and sustainable use of our coral reef ecosystem, from the uplands to the deep sea. We focus on development of community support and advancement of public awareness, education, outreach and scientific research.