Our dedicated Board of Directors, members and allies are committed to guaranteeing the future of our economically-precious treasures that are in critical danger here in the Keys. Please
join us as a member
,
renew your membership
or consider
volunteering
with us.

The Science Behind Lionfish Derbies
Since 2010,
lionfish derbies
in the Florida Keys have removed more than 2,100 lionfish from sanctuary waters. Co-organized by
FKNMS
and
REEF
, these one-day removal events are more than just fun and prizes. Lionfish derbies have proven an effective way to raise local awareness of lionfish while helping researchers determine reproductive status, feeding habits, genetics, growth and habitat preferences. Scientists are concerned about the impacts of lionfish in South Atlantic, Caribbean and Gulf of Mexico waters, and their lack of a natural predator in the Atlantic.
x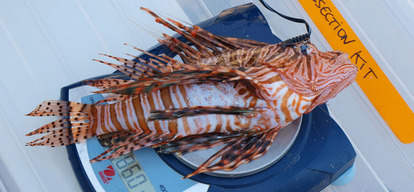 When derby teams submit their haul of collected lionfish, event organizers gather information about where the lionfish were captured to aid in determining whether lionfish may prefer one type of habitat over another. In the Atlantic, lionfish have been found everywhere from the mangrove shallows to depths of 1,000 feet. Learning more about their preferred habitats could help sanctuary and reef managers focus their control strategies and research.
x
Once lionfish are measured for the derby competition, scientists weigh and measure the fish and take their stomachs and ear bones (otoliths). Studies of lionfish stomach contents in the Bahamas have shown they eat both commercially- and ecologically-important native species – including snapper, grouper, parrotfish and shrimp – and could disrupt the balance of the coral reef ecosystem, which supports tourism and fishing industries in the Keys.
x
Each tournament also includes a detailed awareness and training briefing and lionfish tasting. NOAA has developed an
"Eat Lionfish"
campaign that brings together fishing communities, wholesalers and chefs in an effort to broaden U.S. consumers' awareness of this delicious invader. In 2010, REEF published
"The Lionfish Cookbook"
which includes 45 recipes and instructions on how to collect and prepare the fish.
x
While divers in the sanctuary are enjoying a day on the water clearing the reefs of lionfish during the derby, sanctuary mangers and scientists are simultaneously learning more about this marine invader and bringing additional awareness to the issue of an invasive species. All of this information can be applied to future lionfish management strategies.
---
Reef Etiquette:

Just in time for summer diving season
If you are in the Florida Keys to dive or snorkel, you're not alone. Every year more than 700,000 divers and snorkelers take to the water to discover the wonder and beauty of our coral reef. But did you know that all of these visitors can take a toll on the reef and the critters that call the reef home?
x
Knowing how to interact with ocean wildlife can help you make the right decisions when encountering them. If you don't pay attention, you run the risk of putting endangered, protected or thousands of other species' lives at risk. On the bright side, every visitor is also a potential steward of our sanctuary resources. Check out the tips below and keep them in mind when in the water.
Learn before you go. Read about the wildlife, viewing sites and local regulations to get the most from your wildlife viewing experience.
Look, but don't touch. Even a minor brush with hands or fins can damage delicate corals and could even hurt you, as some corals can sting or cut. Stray fins cans stir up sand that could smother corals.
Don't stand or rest on coral. If you need to rest or adjust equipment, lie on your back, rest in a seated position or return to the boat.
Maintain buoyancy. Divers should practice and use appropriate weights, as well as use proper dive posture, with feet slightly elevated above the head. Snorkelers can use a snorkel vest to stay afloat.
Secure all equipment. Make sure that your gear doesn't come in contact with the reef and avoid using gloves or kneepads in coral environments.
Keep your distance. Maintain a comfortable distance from the reef and avoid shallow areas. Carefully select entry and exit points to avoid corals.
Leave marine life alone. Do not touch, handle, feed or ride marine life. Interaction with animals can stress them, disrupt feeding and mating or provoke aggressive behavior.
Keep the reef at the reef. Don't collect "souvenirs" from the reef. Everything has its place – from plants and animals to even dead coral and rocks. Removing items could disrupt the balance of the ecosystem.
Lend a hand with trash removal. Human garbage is one of the greatest threats to marine life. Carry a trash bag with you and pick up litter found along the shore and in the water. Plastic bags, floating debris and monofilament line pose the greatest risk to fish and wildlife.
Help others to become responsible wildlife watchers. Speak up if you notice other viewers or tour operators behaving in a way that disturbs wildlife or impacts sensitive habitats. When operating a boat, lead by example and reduce your speed in areas frequented by marine wildlife, anchor properly and encourage others to do the same. Violations of the law should be reported to local authorities.
It's up to you! Carry a few copies of these guidelines on your travels and share them with others. When choosing a commercial tour operator, ask if they follow these guiding principles and patronize those that do. After all, protecting and conserving marine wildlife and habitats is everyone's responsibility.
Learn more about the National Marine Sanctuaries'
Ocean Etiquette program
, including more specific guidelines and regulations.
---
Marathon Lionfish Tournament & Tasting: July 21-22
After hearing REEF's Martha Klitzkie lecture at our Friends in Focus lionfish tasting a few months ago, Sanctuary Friends decided we should do our part to help relieve the reef and surrounding waters of these invasive predators that are sucking the life out of the fragile ecosystem.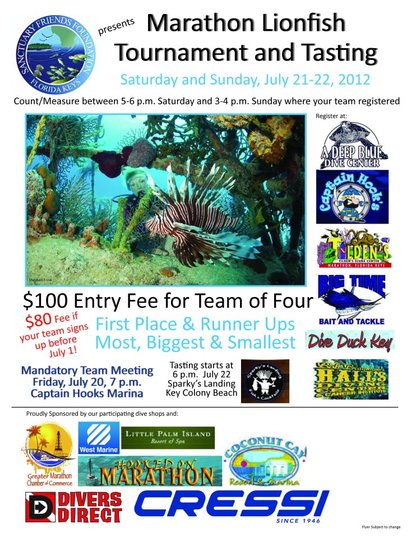 Since none of the local dive shops were ready to host a tournament themselves, Sanctuary Friends decided to take on the challenge of putting on a two-day lionfish tournament July 21-22, the weekend before the lobster mini-season. We hope to register about 20 teams of local divers and out-of-town guests intent on scouting out their spots for catching lobster.
x
The fee for a four-person team is just $80 if you register by July 1. After that, the price is $100 per team. Registration can take place at any participating dive shop: A Deep Blue Dive, Captain Hook's, Tilden's Scuba Center, Big Time Bait and Tackle, Dive Duck Key and Hall's Diving Center.
x
There will be cash prizes for most, biggest and smallest lionfish, as well as runners up. We have also received numerous donations from local businesses: four spearguns, posters, dive gloves and shirts from Cressi; two two-night stays at Coconut Cay; four certificates for Sunday brunch at Little Palm Island; $250 gift card from Divers Direct; two free dive trips from Captain Hook's; and coolers and bags for all teams from West Marine.
x
The captain and team meeting will be Friday, July 20, at Captain Hook's. Following the conclusion of the event on Sunday, a lionfish tasting and awards banquet will be held at Sparky's Landing on Key Colony Beach. Registration fee includes four tickets to the banquet, and guests can join us for $10 per person.
x
If you have any questions or would like to be involved, please contact Kristen Livengood, Sanctuary Friends Administrative Aide.
---
NewsMakers
---
Volunteer Opportunities
Interested in getting out and becoming actively involved with
FKNMS
or
Sanctuary Friends
? We can find just the right activity for you!
x
FKNMS volunteer programs are designed to help sanctuary staff accomplish management objectives and to build a stewardship ethic in the community. By becoming a volunteer, you will not only be learning about the sanctuary but also helping others learn. In this way, you are helping build awareness and enhance stewardship of sanctuary resources. Examples include volunteering for
Team Ocean
,
Eco-Discovery Center
,
BleachWatch
,
Adopt-A-Reef
,
Coral Restoration Foundation
or
Reef Environmental Education Foundation
. For information about current volunteer opportunities, to inquire about which programs are most in need or to request an application, contact sanctuary volunteer coordinator
Lilli Ferguson
.
x
Examples of volunteer projects for Sanctuary Friends include: participating in
beach cleanups
, helping with management of
buoy banks
, updating the
environmental calendar
, putting up posters to advertise events or helping with environmental movie night. If you have questions or would like to volunteer for Sanctuary Friends, call 305-289-2288.
---
Our Mission


Sanctuary Friends Foundation of the Florida Keys supports the Florida Keys and the Florida Keys National Marine Sanctuary (FKNMS) in the preservation, restoration, and sustainable use of our coral reef ecosystem, from the uplands to the deep sea. We focus on development of community support and advancement of public awareness, education, outreach and scientific research.
In This Issue:
Science of Lionfish Derbies
Marathon Lionfish Tournament
---
---
Dear Friends:
Wow, this year is flying by! We at Sanctuary Friends cannot believe it's almost July. We have been keeping busy this year and have successfully closed out another season of our "Friends in Focus" Film and Lecture Series.
x
We are thankful to FKNMS's Robert Keeley for tirelessly showing the great films this past season. We are also thankful to our speakers, including Night Diver Donna Blazscak, Sanctuary Friends board member and author Martin Moe, local photographer Larry Benvenuti, REEF's Martha Klitzkie and Dry Tortugas Park Ranger Chris Ziegler for coming out this season and enlightening us in their particular fields. A big thank you also goes out to the Marathon Power Squadron for allowing us to use their great space. Our Friends in Focus series will pick back up again in December.
x
Upcoming, we are looking forward to hosting a Lionfish Tournament in Marathon on July 21-22. Please see the article to the right and consider putting together a four-person team to share in the fun with us while also helping alleviate some of the stress in our local waters from this invasive species.
x
We look forward to the second half of 2012 with you as we continue pursuing our mission of inspiring people to preserve, promote and protect our treasure, the Florida Keys National Marine Sanctuary.
x
Sincerely,
George Neugent, Chair
---
---
Please add your upcoming events to our online Florida Keys Environmental Calendar. This community-wide resource allows any organization or group to set up an account and post environmentally-related events.
xxxxxxxxxxxxxxxxxxxxxxxxxxxxxxxxxxx
Environmental Film Series – World Population Day!
July 6, 7 pm, Eco-Discovery Center, Key West
demonstrates, in a series of remarkable visuals, what makes up an average human life today and how everything we do has impact on the world around us. Movie Line: 305-809-4755
Doors open at 6 pm.
28th Annual Underwater Music Festival
July 14, 10 am-2 pm, Looe Key Reef
The unique event, which draws several hundred divers and snorkelers to enjoy an underwater concert, carries a serious message of reef preservation.
More information.
The Great Annual Fish Count
Every July
This annual event, coordinated by
REEF
, takes place the month of July to introduce divers and snorkelers to the hobby of fishwatching and to educate the public about marine resources.
More about GAFC.
Upcoming Keys Events:
Ocean Life Lecture Series: Striking a Balance: Coral Reefs and Human Systems
July 20, 7 pm, Nelson Government Center, Key Largo, MM102
Dr. Deron Burkepile will discuss his research on how the widespread changes in human systems endanger the integrity of ecosystems worldwide, particularly coral reefs. He will talk about the current status of coral reefs, as well as how we can modify our own behavior to protect and preserve these unique ecosystems.
Lionfish Tournament Mandatory Team Meeting
July 20, 7 pm, Captain Hook's Marina, Marathon
Marathon Lionfish Tournament & Tasting
July 21-22, Marathon
Sanctuary Friends is hosting its first Lionfish Tournament! Get the details in the article in the next column.
Lionfish Tournament Tasting
July 22, 6 pm, Sparky's Landing, Key Colony Beach
---
Welcome! Thank you for your support!
Benefactors ($200+)
Long Key Ladies Club
Richard S. Worthington
Robert Quill
Bruce Frerer
Matthew Forelli
Mr. and Mrs. Frank Shumway
Charles Causey
Michael Fimiani

---

---
---
We want your input!
If you have stories of note or just want to comment on our newsletter, please email:
If you enjoyed this newsletter,
If you are not already on our mailing list,
---
Sanctuary Friends Foundation of the Florida Keys
is a non-profit, 501(c)(3), tax-exempt organization
We take your privacy seriously. Your email address will never be sold, rented or given away. All our emails include an easy opt-out feature. If you have activated spam filters in your email application, please add the following email to your address book:
Sanctuary_Friends_Foundation_of_@mail.vresp.com