Happy New Year from Friends!
We'd like to take this time to thank our readers and members for your support all year long. We wish you peace and success in the new year.


Sanctuary Developing "Blue Angler" Program
for Charter Fishing Operators
The
FKNMS
is working with charter fishing operators to develop a voluntary education and recognition program called
Blue Angler
, which may be modeled after the current
Blue Star
program for charter dive and snorkel operators. The
Sanctuary Advisory Council (SAC)
has created a community working group to help develop the program. Following a series of meetings, the working group will provide recommendations to the
SAC
in April and the program could begin as early as 2018.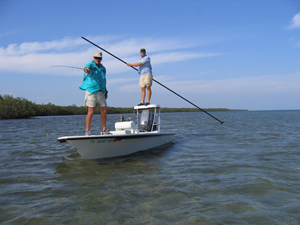 The final workshop will be held on Wednesday, Feb. 22 from 9:30 a.m. to 3:30 p.m. at the City of Marathon Council Chambers in Marathon.
---
Be a Part of Creating the First New Sanctuaries in 15 Years!
NOAA
released draft plans to designate two new sanctuaries at
Mallows Bay-Potomac River
and
Wisconsin-Lake Michigan
. The creation of these two sanctuaries would be the first new additions to
America's National Marine Sanctuary System
in more than 15 years!
x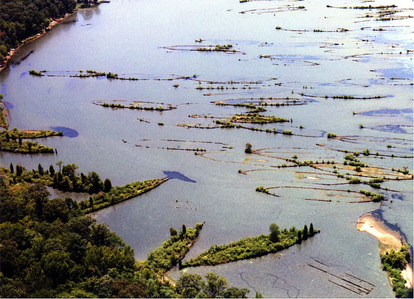 Mallows Bay-Potomac River
in Maryland intertwines our Nation's maritime and natural history. An offshoot of the Chesapeake Bay, the site is a gateway to our past, preserving nearly 200 known shipwrecks dating back to the Revolutionary War. Over time, these abandoned ships became the foundation for a rich habitat for bald eagles, herons, osprey, river otters, beaver, and numerous fish species that make the site a popular spot for canoeing, kayaking, fishing, and birdwatching.
x
Wisconsin-Lake Michigan in the Great Lakes
will preserve and celebrate nationally significant shipwrecks, help conserve the largest freshwater system in the world and provide exploration, research and education partnerships. These shipwrecks and cultural artifacts are important pieces of American history for exploring, diving, fishing and heritage tourism. They contribute revenue to the local economy and advance education and partnerships to promote opportunities for the next generation.
x
Widespread and enthusiastic support makes these sanctuary designations possible. For a limited time,
NOAA
is accepting comments on these plans. Passionate citizens like you have the opportunity to speak up supporting each of these sanctuaries during this critical time. How can you help?
Sign the letters of support
that will be forwarded to
NOAA
telling them to designate these two new sanctuaries.
---
Lionfish Collecting & Handling Workshops
Attend a free workshop followed by a practice dive
REEF
will be conducting a series of completely FREE Lionfish Collection and Handling Workshops followed by collection dives! At the workshop, you will learn how to safely collect and handle lionfish, then go out as a class to practice your skills on a lionfish removal dive.
x
The workshops will also include background of the invasion, biology/ecology of lionfish, impacts, current research findings and how to obtain collection permits for the FKNMS SPAs. The purpose of this initiative is to give local divers sufficient training to feel comfortable removing lionfish on their own recreational dives. You will practice alongside professionals so you can help control the lionfish invasion every time you dive! Both experienced and novice lionfish collectors are encouraged to attend.
x
Upcoming dives are: Feb. 18, Middle Keys; March 25, Upper Keys; April 15, Middle Keys; April 22 & May 13, Lower Keys; June 3, Upper Keys. Both the workshop and the dive are FREE, but workshop attendance is required to participate in the dive. Registration is required. For more information and to register, click here.
---
NewsMakers
Boating Skills & Seamanship Course Offered
The
US Coast Guard Auxiliary, Flotilla 13-03, Big Pine Key
, is offering its boating skills and seamanship course February 28 thru March 16, Tuesdays and Thursdays, from 7 to 9:30 p.m. at the Big Pine Key United Methodist Church (Fellowship Hall), 280 Key Deer Blvd., Big Pine Key. The cost of the program is $55 per person (materials included) or $80 for two people with shared materials. Topics include: which boat is for you, required boat equipment, operator responsibilities, rules of the road, handling your boat, highway signs, orientation to nautical charts, weather, a look at the Coast Guard Auxiliary, navigational tools and techniques, navigation exercise, trailering, boating safety, your boat's radio, Florida law, hands on knot tying and a guest speaker from the
FKNMS
. For more information, visit the
website
and select "Boating Safety Classes." To sign up, contact
Diane Adam
at 305-872-4071.
---
Our Mission
Sanctuary Friends Foundation of the Florida Keys supports the Florida Keys and the Florida Keys National Marine Sanctuary (FKNMS) in the preservation, restoration, and sustainable use of our coral reef ecosystem, from the uplands to the deep sea. We focus on development of community support and advancement of public awareness, education, outreach and scientific research.
---
In This Issue:
Lionfish Workshops Offered
---
---
Please add your upcoming events to our online Florida Keys Environmental Calendar. This community-wide resource allows any organization or group to set up an account and post environmentally-related events.
xxxxxxxxxxxxxxxxxxxxxxxxxxxxxxxxxxx
Sanctuary Advisory Council (SAC) Meeting
Feb. 21, 9 am-3:45 pm, City of Marathon Council Chambers, 9805 Overseas Hwy., Marathon
SAC
meetings are held on the third Tuesday of every other month and are open to the public. This month's public comment period is at 2:45 pm for items not on the agenda and before any advisory council decision or action.
Download the draft agenda here.
Bonefish & Tarpon Trust 6th Annual NYC Dinner
March 14, 5:30 pm, Union League Club, New York, NY
Join great entertainers, musicians and other friends of the
Bonefish & Tarpon Trust (BTT)
in a special celebration of the organization's accomplishments and ongoing efforts. This year BTT is happy to welcome back musician Huey Lewis, as well as other distinguished guests. The evening also will feature both live and silent auctions for lodge trips, guide trips, fishing gear, unique experiences and more. Limited number of seats remain!
Reserve today.
---
January / February 2017
Welcome! Thank you for your support!
New & Returning Members
($30-$199)
Nancy Gold
John Jarnagin
Martha Loizeaux
Robert Gerzoff
Robert A. Eichholtz
Benefactors
($200+)
Chenille Rivera
Shirley Shumway
Russell & Christina Fisher
---
SPONSORS
Platinum:
Waste Management
Marathon Garbage Service
Keys Sanitary
Sunbelt Rentals
Cressi International
Gold:
Island Home Builders
Marathon Jet Center
Centennial Bank
First State Bank
Little Palm Island Resort
The Weekly Newspapers
Conch Color
Papa's Pilar Rum
Ocean Reef Club
Ocean Reef Community Foundation
Diver's Direct
Silver:
Marathon Boat Yard
Grader Mike Construction
Marathon Chamber of Commerce
A Deep Blue Dive Center
Paver Dave
Keys Contracting Services
Florida Keys Contractor's Association
Key West Butterfly & Nature Conservatory
Hard Rock Cafe
Hyatt Key West Resort & Spa
SHOR Restaurant
Westin's Bistro 245
Key West Express
FURY Water Adventures
Dunkin' Donuts
JSA Promotions
Budweiser
---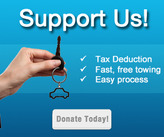 ---
Sanctuary Friends Foundation of the Florida Keys
is a non-profit, 501(c)(3), tax-exempt organization
We take your privacy seriously. Your email address will never be sold, rented or given away. All our emails include an easy opt-out feature. If you have activated spam filters in your email application, please add the following email to your address book:
Sanctuary_Friends_Foundation_of_@mail.vresp.com