Membership Drive Continues
Renew or become a member today at $50+ and receive the highly sought-after "Tropical Connections: South Florida''s Marine Environment" book by William Kruczynshi and Pamela Fletcher! (Offer expires December 31, 2012.)


There''s No Better Time to Be A Friend!
If you''ve been receiving our newsletter, by now we hope you know a little bit about Sanctuary Friends and the programs and projects we support. But there may be a few things you still don't know.
x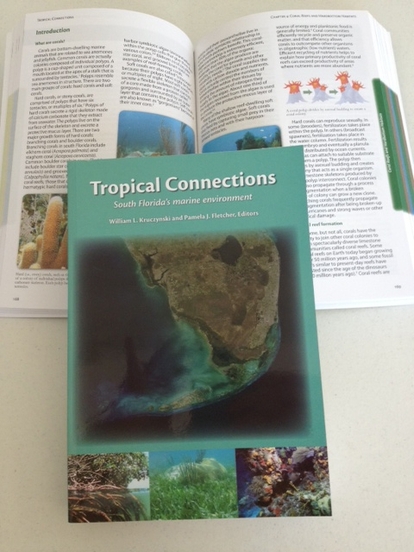 Sanctuary Friends Foundation of the Florida Keys
is the non-profit partner of the
Florida Keys National Marine Sanctuary (FKNMS)
. Our organization was created to inspire people to preserve, protect, restore and promote the sustainable use of the Sanctuary. Through public- and private-sector partnerships, we create conservation-based research, as well as education and outreach programs designed to connect the public with ocean and coastal resources. We hope to develop an ocean-minded public able to make informed and responsible decisions regarding our Sanctuary and the world's oceans.
x
Sanctuary Friends assists the FKNMS in protecting coral reefs through grassroots, community-based efforts focused on projects such as coral reef restoration, surveys, monitoring and research. We also sponsor environmental education for children, tourists and businesses.
x
Our supported programs are outlined on our
website
and we feature updated information in our newsletter each month. Some specific projects we support are:
Florida Keys Eco-Discovery Center
,
Blue Star
,
Coral Restoration and Nursery
,
Team OCEAN
,
Mooring Buoys
and many more. Our "Friends in Focus" Movie and Lecture series will be starting back up in January in Marathon, and we continue to support the REEF, Fish & Friends Lecture Series in Key Largo. We successfully held a Lionfish Tournament in July collecting more than 400 lionfish off our sensitive reefs, and next month we will debut
www.keysenvironmentalcalendar.org
, a collaborative effort to have all the "green" events in the Keys in one, easy-to-find spot.
x
We need your help to continue our
mission
. If you've been thinking about
joining Sanctuary Friends as a member
, there is no better time than now. In collaboration with local authors, we will send you "Tropical Connections," a book dedicated to South Florida's marine environment, as a gift for your contribution of $50 or more. We promise to use your donation to fulfill our mission to protect and restore the coral reef and marine ecosystem.
Please join us today as a Sanctuary Friend!
---
Got Your Bags?
New Initiative Aims to Reduce Single-Use Plastic Bags
The grassroots group
"Got Your Bags? – Florida Keys"
has launched a campaign to encourage retail stores in the Keys to commit to the reduction and voluntary elimination of single-use plastic bags. The hope is to reduce litter on and around the area's fragile eco-system – especially in the
National Key Deer Refuge
and
FKNMS
.
x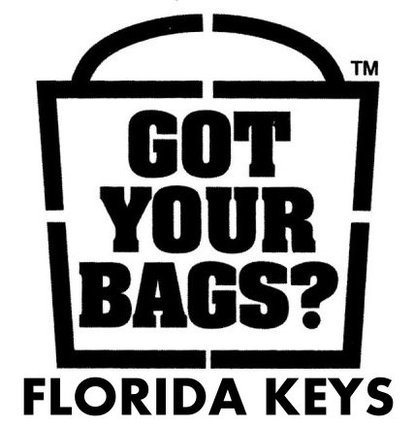 Partnering with
Florida Keys GLEE
, as well as local government, residents, businesses and non-profit organizations, the group is soliciting pledges from retail stores and individuals starting in Big Pine Key and eventually going Keyswide. By
signing the pledge
, you agree to do your part to decrease plastic bag marine debris and litter. Business owners and managers are being asked to display "Got Your Bags?" stickers on doors, to ask customers if they've "Got your bags?" and to encourage shoppers to use reusable bags.
Tips for retailers to promote this community initiative.
x
Individuals can sign the pledge and receive a free reusable bag and "Got Your Bags?" window decal at
upcoming events
throughout the Keys.
x
Every year in the United States, each person uses about 500 single-use plastic bags. They harm the environment by taking hundreds of years to disintegrate, killing fish, birds, turtles and other marine life in the process, and contaminating the water. Not only do we live in a refuge for many protected species, but we all benefit from an economy that relies on the waters surrounding our island community. It is a unique and fragile environment that deserves the little additional effort that it takes to sustain its viability.
x
Many individuals and organizations are aware of this problem and have started using and promoting reusable shopping bags to reduce the litter created by plastic bags. But the problem seems to persist, largely because of human forgetfulness, laziness or being uninformed. It is a global problem. This local campaign is adapted from a successful model used in California and Maine to unite the personal efforts of residents and local business people to work together in an effort to overcome these obstacles.
x
It takes every individual in a strong, united community to be effective. Your part is easy. If you are a retailer, don''t dispense plastic bags; if you are a resident, don''t use them! Once you make the transition, it will take no extra time from your busy day, and the results will be a cleaner and safer environment and a more sustainable lifestyle. We hope the Big Pine Key "Got Your Bags?" campaign will eventually serve as a model for all of the communities in the Florida Keys and the state of Florida.
---
Where Are Reef-Building Corals Found?
Have you ever wondered why our coral reef formed in the Florida Keys and why it survives here? Reef-building corals are unique organisms with a very restrictive set of requirements to survive. For instance, they cannot tolerate water temperatures below 65 degrees F., but some can grow in temperatures as high as 104 degrees F. for short periods of time. Optimal temperature seems to be between 73 and 84 degrees F. Sound familiar?
x
Most also require very salty water ranging from 32 to 42 parts per thousand, which must also be clear so that a maximum amount of light penetrates it. The corals' requirement for high light also explains why most reef-building species are restricted to the region in the ocean where light penetrates to a depth of approximately 230 feet. The number of species of corals on a reef declines rapidly in deeper water. Corals are also generally absent in turbid, or murky waters, because high levels of suspended sediments smother them, clogging their mouths, impairing feeding and decreasing the depth to which light can penetrate.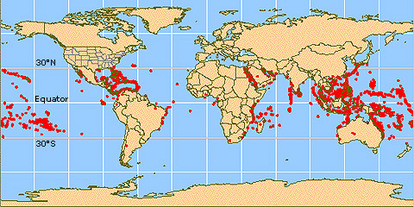 With such stringent environmental requirements, reefs generally are confined to tropical and semitropical waters. The number of species of stony corals decreases in higher latitudes up to about 30 degrees north and south. Reef corals are not usually found beyond these latitudinal boundaries. Bermuda, at 32 degrees north latitude, is an exception because it lies directly in the path of the Gulf Stream's warming waters.
x
Not only are reef-building corals confined by a specific range of environmental conditions, but as adults, almost all of them are sessile. This means that for their entire lives, they remain on the same spot on the sea floor. Reef-building corals have developed reproductive, feeding and social behaviors that allow them to deal favorably with this situation.
x
Florida''s coral reefs came into existence 5,000 to 7,000 years ago when sea levels rose following the last Ice Age. Reef growth is relatively slow; an individual colony may grow one-half inch to 7 inches a year, depending on the species. With all that it took to form these reefs and allow them to grow, shouldn't we make it a priority to help them continue to survive?
---
NewsMakers
---
New Environmental Calendar Website
Looking for a place to find out what''s going on all in one place? Look no further than the new
Florida Keys Environmental Calendar
. It''s a place where all environmentally-minded organizations can have a central place to upload information on upcoming events, lectures, movies, etc. to help promote preservation, restoration and sustainable use of the Florida Keys fragile ecosystem to develop community support, advancement of public awareness, education and outreach. Check it out today!
---
Our Mission


Sanctuary Friends Foundation of the Florida Keys supports the Florida Keys and the Florida Keys National Marine Sanctuary (FKNMS) in the preservation, restoration, and sustainable use of our coral reef ecosystem, from the uplands to the deep sea. We focus on development of community support and advancement of public awareness, education, outreach and scientific research.
---
We want your input!
If you have stories of note or just want to comment on our newsletter,
---
Dear Friends:
I had a rather odd photo opportunity recently while in the Philippines. Off the village of Oslob, the local fishermen had noticed whale sharks coming up to their outrigger boats to feed on detritus as they cleaned their daily catch. This evolved into a very unusual encounter where whale sharks – sometimes as many as nine at a time – lined up to be hand fed little bits of shrimp! Tourists from local dive shops and live-aboards likewise lined up to take photos of this bizarre phenomenon.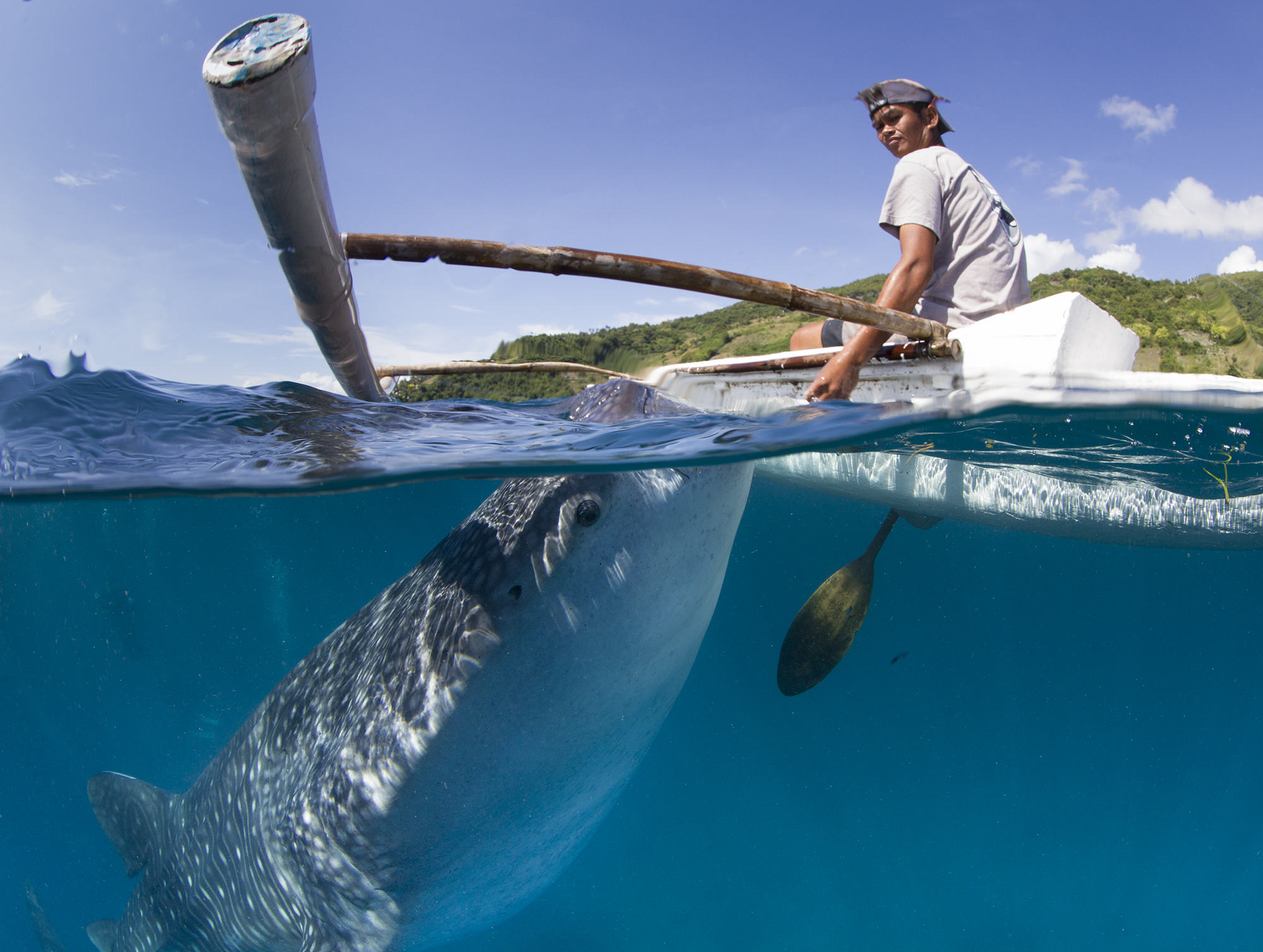 It was very productive photographically, but when I posted a photo on Facebook, a concerned reader pointed out another side to this. On one hand, these whale sharks aren't being killed for their fins because they now have value to the tourist economy. But on the other hand, the sharks now associate people and boats with free food, and at least one has been hit by a propeller. There is also speculation that they might be diverted from normal migration patterns, perhaps even affecting mating opportunities. I don't know about all that, and I doubt that a whale shark would miss a good mating opportunity for a handful of shrimp, but the whole scenario points out how any time we initiate change in the behavior of marine life, we can't predict the outcome.
x
Today, throughout the Caribbean, divemasters are spearing lionfish and feeding them to sharks and moray eels. All good sport and a seemingly good way to eradicate the invasive and destructive lionfish on the reef, but the sharks and the eels are now associating divers with food and approach more aggressively than previously. An unintended consequence.
x
Within the
FKNMS
, the intention is to avoid undue influence by mankind on our natural resources. That's why there are zones of protection for our marine life. Within our Marine Protected Areas, the fish have long learned that it is safe to be around divers. This is also why is essential that we enforce our laws against spearfishing and hook-and-line angling in such an area. We have taught the marine life to trust us, with the unintended consequence that they are vulnerable to poaching. Our good intentions require good enforcement in order to prevail.
x
---
---
Please add your upcoming events to our online Florida Keys Environmental Calendar. This community-wide resource allows any organization or group to set up an account and post environmentally-related events.
xxxxxxxxxxxxxxxxxxxxxxxxxxxxxxxxxxx
Environmental Film Series Returns!
Dec. 2,
 Eco-Discovery Center,
Key West
Enjoy free environmentally-themed documentary films on Sundays at the Eco-Discovery Center from December through March. Doors open at 1 pm.
 First Movie at 2 pm: "My Father the Captain: Jacques-Yves Cousteau;"
 Second Showing at 4 pm: "Plastic Shores." More information and future movie schedule: 305-809-4755
Sanctuary Advisory Council Meeting
Dec. 11, 9:00 am,
 Doubletree Grand Key Resort, Key West
The Council provides advice regarding management of the
FKNMS
. All meetings are open to the public and include morning and afternoon public comment periods.
More information and agenda.
REEF Holiday Open House
Dec. 11, 6-9 pm, REEF Headquarters, MM98.3, Key Largo
Celebrate the holidays with REEF and Sanctuary Friends at our annual holiday open house social. Paul Humann, REEF co-founder, author and renowned underwater photographer, will meet guests and sign books. Silent auction, raffle giveaways, complimentary hors d'oeuvres and drinks and REEF merchandise available for holiday gift purchases. Stop by for some holiday shopping and socializing.
The Art of Diving:
Artists making art inspired by diving
Dec. 19, 7 pm, History of Diving Museum, 82990 Overseas Hwy, Islamorada
---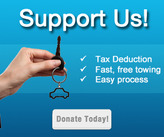 ---
Sanctuary Friends Foundation of the Florida Keys
is a non-profit, 501(c)(3), tax-exempt organization
We take your privacy seriously. Your email address will never be sold, rented or given away. All our emails include an easy opt-out feature. If you have activated spam filters in your email application, please add the following email to your address book:
Sanctuary_Friends_Foundation_of_@mail.vresp.com