Our dedicated
Board of Directors
, members and allies are committed to guaranteeing the future of our economically-precious treasures that are in critical danger here in the Keys. Please
join us as a member
, renew your membership or
volunteer
with us.

Lionfish Now Available at Whole Foods in Florida
Starting this month, all
26 Whole Foods Markets in Florida
will carry
lionfish
. They are the first national retailer to carry this invasive fish, as prized for its rich flavor as it is reviled for how quickly this one-time aquarium novelty has overtaken Florida's coasts.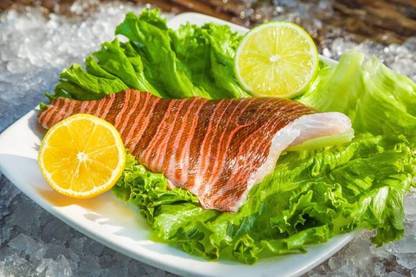 Thanks to a series of venomous spines along its back, lionfish has no natural predators in our waters. It devours any and all kinds of native sea life. And it is often spit up by everything from giant grouper to nurse sharks. Those spines not only ward off potential enemies, they've also deterred diners and home cooks. Until now. Only the spines contain the venom, not the meat, a common misconception the
FWC
has been working to dispel.
x
Because lionfish eats the tastiest fish — hogfish, snapper, yellowtail, grouper — it becomes the tastiest fish. With the spines cut off, lionfish fillets just like another other fish, or it can be baked whole to take advantage of the extra meat.
x
The
FWC
is doing everything it can to create open season on lionfish. They've co-sponsored spearfishing tournaments (lionfish can only be speared or caught in hand-held nets, not line-caught). And only those who plan to sell it need a license. The
FWC
even has a
rewards program
: Those who remove at least 50 lionfish and bring them to an FWC checkpoint between May and September are entered into a raffle to win prizes. Those who spear 50 before the July 27-28 lobster mini-season are entered into a drawing to take an extra spiny lobster each day. Whoever catches the most will be crowned Lionfish King (or Queen).
x
---
REEF's 2016 Lionfish Derby Series
by Emily Stokes, REEF Lionfish Program Assistant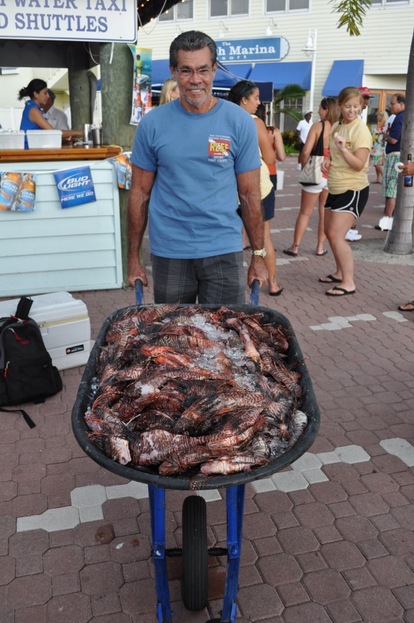 REEF
is continuing to lead the charge on combating invasive
lionfish
! The
2016 Lionfish Derby Series
is just around the corner and it's going to be bigger than ever. For those who are not familiar with a lionfish derby, it is a competition where divers and snorkelers compete to bring in the most lionfish in a single day. There are cash prizes for teams who land the most lionfish, as well as the largest and smallest.
x
REEF
hosted the first Lionfish Derby in 2009, making this the 8th year of derbies. Last year more 1,000 lionfish were brought in as part of the series, and more than 16,000 lionfish have been removed by participants since the first derby! The annual derbies are planned in Ft. Lauderdale, Palm Beach and Key Largo. This year, a fourth derby will be added in
Sarasota
, partnering with
Mote Marine Laboratory & Aquarium
and
ZooKeeper LLC
.
x
Interested in starting your own derby? REEF has a Sanctioned Lionfish Derby program to help others organize and conduct safe and effective derbies by providing tools, templates and promotion.
---
"BleachWatch" Program Monitors Coral Bleaching
Warm ocean temperatures typical in August and September in the Keys can cause corals to lose the symbiotic algae (or zooxanthellae) that give them their distinctive colors. This results in
"coral bleaching,"
so called because the coral turns completely white. Bleaching is a natural summer event that occurs annually in the FKNMS, but frequent or extended bleaching can damage or kill corals. While bleached corals are not dead, they are under greater stress and are less resistant to other threats such as disease. If a coral is severely bleached, disease and partial mortality become likely, and the entire colony may die.
x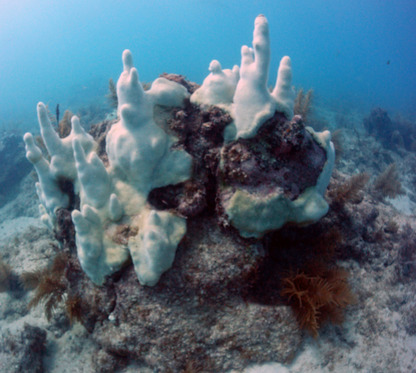 Records show that coral bleaching has been occurring for many years in the Florida Keys and also indicate that the frequency and severity of these events has steadily increased since the 1980s. Large-scale mass coral bleaching events are driven by unusually warm sea temperatures and calm seas. The effects of these mass events are potentially devastating to ecosystems and the people who depend on them. The initial onset of mass coral bleaching can vary among different species, geographic locations, types of reef zones and a fluctuation of severity, which makes it very difficult to predict where or when it will occur.
x
To monitor the extent of coral bleaching,
Mote Marine Laboratory
created the Florida Keys Coral Bleaching Early Warning Network, or
"BleachWatch,"
modeled on the
Great Barrier Reef Marine Park Authority
's program. Through this network, specially-trained volunteers known as "BleachWatch" observers collect field observations to monitor for signs of coral bleaching. Existing
NOAA
monitoring stations and satellite imagery analysis are also monitored to track changes in environmental conditions within the region. All of this data combined is used to provide
FKNMS
with a comprehensive overview of "current conditions" in a report throughout the summer months, when bleaching is most likely to occur.
x
Volunteer divers in the Keys can report incidents of bleaching by submitting an
online form
.
---
NewsMakers
Get Into Your Sanctuary!
As a travel destination, few places on the planet can compete with the diversity of the
National Marine Sanctuary System
, which protects America's most iconic natural and cultural marine resources. The majority of national marine sanctuaries' waters are open to compatible recreational activities which also allows for considerable benefits to local economies.
x
x
From June 1 to July 15, send in your best photos of the National Marine Sanctuary System to help celebrate the beauty and importance of these special places. Remember to practice good ocean etiquette when taking your photos!
Photo Contest Information.
---
We want your input!
If you have stories of note or just want to comment on our newsletter,
---
Sanctuary Friends Foundation of the Florida Keys
is a non-profit, 501(c)(3), tax-exempt organization
(Tax ID# 59-2443959).
We take your privacy seriously. Your email address will never be sold, rented or given away. All our emails include an easy opt-out feature. If you have activated spam filters in your email application, please add the following email to your address book:
Sanctuary_Friends_Foundation_of_@mail.vresp.com
In This Issue:
Summer Lionfish Derby Series
---
---
Please add your upcoming events to our online Florida Keys Environmental Calendar. This community-wide resource allows any organization or group to set up an account and post environmentally-related events.
xxxxxxxxxxxxxxxxxxxxxxxxxxxxxxxxxxx
Florida Keys BleachWatch Training
June 18, 10-11 am, Mote Marine Laboratory, MM 24, Summerland Key
June 21, 6:30-7:30 pm, Islamorada Library, MM 81.8, Islamorada
Florida Keys BleachWatch Program
is a team of trained recreational, commercial and scientific divers who help monitor and report on conditions at the reefs. After each visit to the reef, the divers complete a data form, either printed or online, and send it to the BleachWatch coordinator. Divers and snorkelers will learn about types of coral found along the Keys reef, and how to identify the stages of bleaching. RSVP to
Cory Walter
, 305-395-8730.
Keys-wide Underwater Clean-Up
June 25-26
---
May / June 2016
Welcome! Thank you for your support!
New & Returning Members ($30-$199)
Nancy Gold
Benefactors
($200+)
Shirley Shumway
Ocean Reef Foundation
Charles Woldenberg
Anonymous
Robert Eichholtz, Jr.
---
SPONSORS
Please support the companies that support the FKNMS and Sanctuary Friends.
Platinum:
Waste Management
Marathon Garbage Service
Keys Sanitary
Sunbelt Rentals
Cressi International
Gold:
Island Home Builders
Marathon Jet Center
Centennial Bank
First State Bank
Little Palm Island Resort
The Weekly Newspapers
Conch Color
Papa's Pilar Rum
Ocean Reef Club
Ocean Reef Community Foundation
Diver's Direct
Silver:
Marathon Boat Yard
Grader Mike Construction
Marathon Chamber of Commerce
A Deep Blue Dive Center
Paver Dave
Keys Contracting Services
Florida Keys Contractor's Association
Key West Butterfly & Nature Conservatory
Hard Rock Cafe
Hyatt Key West Resort & Spa
SHOR Restaurant
Westin's Bistro 245
Key West Express
FURY Water Adventures
Dunkin' Donuts
JSA Promotions
Budweiser
---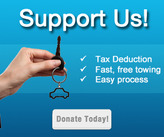 ---
Our Mission
Sanctuary Friends Foundation of the Florida Keys supports the Florida Keys and the Florida Keys National Marine Sanctuary (FKNMS) in the preservation, restoration, and sustainable use of our coral reef ecosystem, from the uplands to the deep sea. We focus on development of community support and advancement of public awareness, education, outreach and scientific research.