DC's Ban the Bag - One Year Later

It's been a year since Washington, D.C. implemented its 5-cent tax on grocery bags and
the tallies are in
. Shoppers spent approximately $2 million on paper and plastic bags from retailers in the past year, one nickel at a time. The revenue will be used to clean up the city's Anacostia River.
x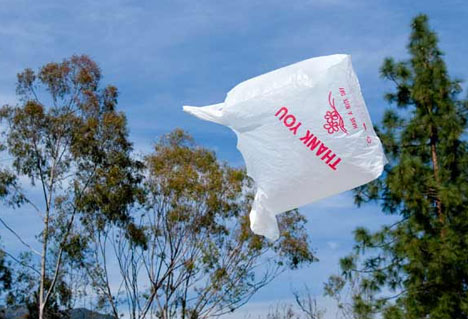 This total is much less than the $3.5 million that city officials predicted last year, indicating consumers have changed their shopping habits to using reusable bags to carry their goods. In the first month of the ban, the D.C. Office of Tax and Revenue estimated plastic bag usage was
reduced from 22.5 million to only 3 million per month
. Despite a myriad of controversy, the tax seems to be meeting its goals of changing consumer behavior and limiting pollution in the Chesapeake Bay watershed.
x
Washington, D.C. was not the first to phase out petroleum-based plastic bags, which are hard to recycle, occupy much-needed landfill space and easily blow into trees and waterways, where they are blamed for killing marine life. In 2008, San Francisco banned the use of plastic bags in the city and ordered them to be replaced with more eco-friendly materials. The following year, China imposed a new bag tax and made regulations to ban the worst types of bags, in terms of pollution.
---
Our Oceans' Top Pollution Predators
If allowed to sit for an extended period of time in the ocean, one pound of plastic will slowly but surely be transformed into 100,000 small pieces of plastic due to a combination of wave activity and ultraviolet light. Scientists believe that 100 million sea creatures – including seabirds, mammals and sea turtles – die annually from this toxic diet.
x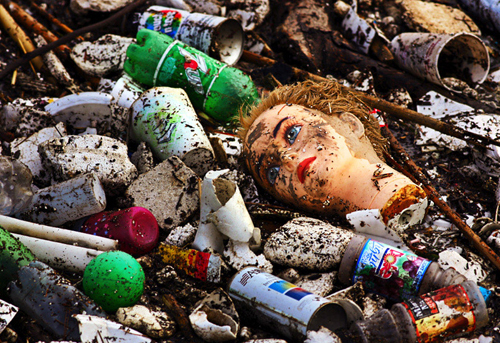 But plastics aren't the only items causing havoc in our oceans. Take a look at this list of the ocean's top 25 deadliest pollution predators, listed alphabetically. For more specific information on any of the items,
read the full article
.
x
* aluminum foil & cans * balloons * batteries * beverage bottles * bottle caps * cargo ship castaways * cigarette butts * condoms * dental floss * discarded oil * disposable plastic lighters * drinking straws * feminine products * fishing nets * food wrappers * mesh plastic fruit & vegetable bags * medical waste * nurdles/"Mermaid Tears" (raw plastic resin pellets) * paper bags * plastic bags * plastic beverage rings * plastic toys * polystyrene containers * produce bags & trash can liners * toothbrushes *
---
Get "Dolphin SMART"

An area of the
FKNMS
is home to a resident group of
bottlenose dolphins
. Viewing wild dolphins in their natural habitat can be a thrilling experience; however, this heightened amount of human activity has the potential to cause unnecessary stress to the local population by disrupting their natural behaviors. When we approach wild dolphins too closely, move too quickly or make too much noise, we increase the risk of disturbing migration, breathing, nursing, breeding, feeding and/or sheltering.
x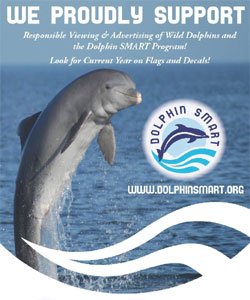 Dolphin SMART
is an educational program that encourages responsible viewing of wild dolphins and minimizes risks of disrupting their natural behaviors.
Dolphin SMART participants
serve as stewards for dolphin conservation and provide educational information to their guests.
x
All Dolphin SMART participants voluntarily adhere to program criteria including legal requirements, policies, guidelines and best viewing and advertising practices to prevent harassment of wild dolphins. Each business must be initially evaluated to establish participation and receive program recognition. Participation in an initial training workshop and yearly online refresher training and annual evaluations to ensure active compliance with the program criteria and determine the program's effectiveness are required. Participating in the Dolphin SMART program provides operators with the tools to help ensure they do not disturb dolphins' natural behaviors, which is a form of harassment under the
Marine Mammal Protection Act (MMPA)
.
x
Sanctuary Friends is a
Proud Supporter
of Dolphin SMART.
Find out which tour operators are Dolphin Smart.
If you have a specific question about wild dolphins or Dolphin SMART, please email:
contact@dolphinsmart.org
.
---
NewsMakers
---
New NOAA Deepwater Horizon Library
NOAA recently unveiled a web archive of maps, wildlife reports, scientific reports and other previously released public information used by emergency responders, fishermen, mariners and local officials during the Deepwater Horizon oil spill. The NOAA Deepwater Horizon Library can be accessed via
http://www.noaa.gov/deepwaterhorizon
.
x
The website contains: nearshore, offshore and cumulative oil trajectory forecasts; fishery closure areas and fishery re-opening maps; wildlife reports for animals including sea turtles and marine mammals; nautical chart updates; Gulf loop current location maps; and "spot" weather forecasts requested by responders. The archive also contains image and video galleries, fact sheets and publications, press releases and transcripts, educational resources and mission logs by NOAA crew.
x
NOAA will continue to update the website with information products in the weeks and months ahead.
Spotlight on ... HEPCA, Caring for the Red Sea

We thought you might be interested in learning about another organization across the globe with similar philosophies to Sanctuary Friends.
HEPCA
is our counterpart in Egypt. Founded in 1992 by 12 members, HEPCA's mandate is the protection and conservation of the land and marine ecology in the Red Sea area. The organization's goal is ensuring that both the marine and terrestrial ecosystems retain their natural beauty, and their resources are utilized in a sustainable manner in order to allow future generations to enjoy the wonders of nature.
x
Since its foundation, HEPCA has been responsible for developing, installing and maintaining a
boat mooring system
to protect the fragile coral reefs of the Red Sea. Assistance and expertise for these
mooring buoy
projects initially came from FKNMS' John Halas and SFFFK Board Member Judy Halas, who continue to serve on
HEPCA's Advisory Board
. HEPCA currently has the largest mooring ball system in the world with 1,260 mooring buoys in the Red Sea!
New Sewage Discharge Rule
A
new NOAA rule
will prohibit boaters from discharging or depositing sewage into all waters of the
FKNMS
. The rule, which took effect on December 27, also requires that vessel marine sanitation devices are secured to prevent discharges within sanctuary boundaries.
x
Vessel sewage discharge has been prohibited in state waters of the sanctuary since its designation as a No Discharge Zone by the U.S. EPA in 2002. Under the new rule, both state and federal sanctuary waters are now protected from potentially harmful vessel sewage discharge. Current marine sanitation treatment devices do not kill all viruses found in wastewater, nor do they remove nutrients such as phosphorous and nitrogen. This new rule will help prevent these pollutants from entering the sanctuary. Excessive amounts of nutrients can harm coral reef ecosystems by degrading water quality and stimulating the rapid growth of aquatic plants and algae that, in turn, smother and kill live coral.
x
NOAA's Office of National Marine Sanctuaries
received more than 1,400 written comments during a 90-day comment period for the proposed rule, which was published in the Federal Register in November 2009.
---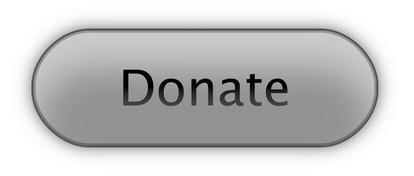 ---