Key West Considers Dredging Channel
Concerns raised over environmental impacts

Cruise ships have been controversial in Key West since the first one arrived in 1969. Supporters say they are a vital economic engine. Opponents say they harm the environment and degrade the quality of life for residents, overnight guests and snowbirds. Key West now schedules visits for about 350 cruise ships carrying roughly 800,000 passengers a year, which generates $2.5 million in landing fee revenues that go into the city's general fund.
x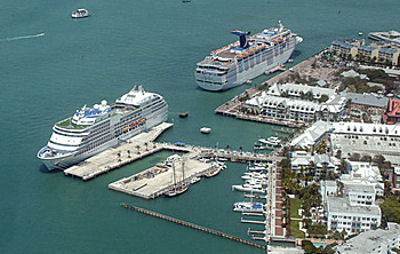 Currently, the City Commission has a big decision to make about the future of cruise ships in the Southernmost City. Should the city pursue widening the main 34-foot deep shipping channel into Key West Harbor — which runs through the federally protected
FKNMS
— to accommodate the cruise industry's transition to bigger ships?
x
The U.S. Army Corps of Engineers completed a reconnaissance study last November that deemed the project economically viable, setting a price tag at about $35 million. But before the decade-long regulatory process could begin on widening Key West's shipping channel from 300 to 450 feet, proponents face changing federal law that prohibits the dredging. The process resulting in regulatory changes would require review under the National Environmental Policy Act and could take two to three years at a minimum.
x
The other option would be to get a permit, which are typically issued for research, educational, archeological or other projects that increase the scientific understanding or natural resource value of the Sanctuary and its resources. "We currently do not have a permit category that we could find that would be possible to use for permitting this activity," said Billy Causey, Key West-based Southeast Regional Director for the
National Marine Sanctuary Program
.
x
Meanwhile,
Port of Miami
has all but final go-ahead from the Department of Environmental Protection to conduct 600 days of blasting to widen and deepen its port to accommodate supersize freighters. The actual dredging is expected to begin next year.
x
About seven acres of coral is expected to be directly affected by the blasts, and the Army Corps of Engineers will be required to transplant much of it to a trough between two reefs. All stony coral larger than 4 inches and soft coral greater than 10 inches will be chiseled out and moved to the trough.
Elkhorn and staghorn coral
, which are categorized as threatened under the Endangered Species Act, may be sent to a
coral nurser
y such as the one in the Florida Keys. At the same time, nearly eight acres of sea grass will be damaged during the expansion. To make up for that, the Corps will seed 25 acres in a large underwater hole a bit farther north.
x
For environmentalists, the concern with the Corps' mitigation plans is that some coral will be missed, the transplanted coral and sea grass may not survive and muddied waters from the dredging and hundreds of blasts will do long-term damage to the bay.
x
As for Key West, our fate has not yet been decided. There is still time to oppose the expansion of the harbor and protect the resources of the Sanctuary.
Source:
The Miami Herald
,
Sun Sentinel
---
Everglades Restoration
Protecting the South Florida ecosystem

Sanctuary Friends support the efforts of the
Everglades restoration program
because of the significant connectivity the Everglades ecosystem has with all commingled elements of the
FKNMS
.
x
In recognizing that a healthy ecosystem is fundamental to a healthy economy, numerous initiatives and construction projects are now underway to revitalize and protect the expansive south Florida ecosystem. A major component of the restoration is implementation of the
Comprehensive Everglades Restoration Plan (CERP)
, a framework for large-scale restoration. Virtually all features of CERP will benefit the environment by improving the quality, quantity, timing and distribution of water flows to the ecosystem. The goal of CERP is to capture fresh water that now flows unused to the ocean and Gulf and redirect it to areas that need it most.
x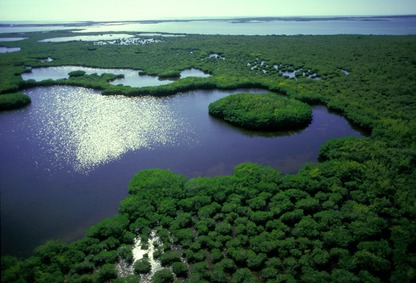 Returning a more historic flow of water to the River of Grass will not only revive the native habitat for 68 federally listed threatened and endangered species, it will also naturally replenish the underground aquifers that supply drinking water to the population of south Florida. The storage features of the Plan serve multiple objectives because of the interconnection between water in the natural, agricultural and urban areas.
x
Major components of CERP include above ground and underground water storage, water preserve areas, management of Lake Okeechobee as an ecological resource, improved water deliveries to the St. Lucie and Caloosahatchee estuaries, treatment wetlands, improved water deliveries to the Everglades, removal of barriers to the natural sheetflow of water, reuse of wastewater and improved water conservation.
x
Working across political boundaries and in collaboration with partners and many stakeholders at the local, state and federal level, restoration of the historic Everglades ecosystem is one of the largest and most complex environmental restoration efforts in North America. It covers 16 counties over an 18,000-square-mile area. It includes more than 60 elements, will take more than 30 years to construct and the current estimate in Oct 2007 dollars is $9.5 billion for projects.
---
26th Annual Ocean Conservancy International Coastal Cleanup
Sanctuary Friends helped support
Team OCEAN
's contribution to this year's
International Coastal Cleanup (ICC)
. Hundreds of thousands of volunteers from more than 100 countries participated in shoreline, beach and underwater cleanups in conjunction with the ICC – with events happening all along Keys' shores.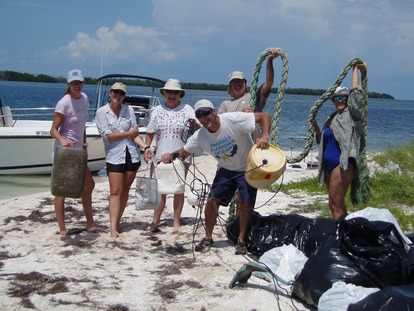 Six Team OCEAN volunteers joined coordinators Todd Hitchins and Robert Keeley cleaning the beaches of the
Marquesas Keys
in the Key West National Wildlife Refuge. This isolated ring of mangrove islands includes valuable turtle nesting and wildlife habitat; therefore, reducing entanglement and ingestion hazards posed by marine debris is critical. The team collected more than 725 pounds of materials, including bottles and various containers (75% plastic, 25% glass), cans and other random debris. They found a large amount of clothing, shoes, toiletries, canned food, bags, backpacks and even unused medical supplies (syringes, medicine vials, IV fluid and surgical sponges) next to a couple burned and abandoned boat hulls. Also removed were 10 gallons of diesel fuel and smaller containers of fuel/oil – fortunately all sealed. Proper disposal prevented the contamination of shoreline and ocean.
x
Pictured (L to R): April Patterson, Jessica Joyner, Barbara Blackmore, Peter Moorcroft & Dolly Garlo. Front: Team OCEAN Coordinator Todd Hitchins
---
NewsMakers
---
New Coral Observing Station Installed in Pacific Region
FKNMS
' John Halas helped supervise the installation of a new coral observing station in
Laolao Bay, Saipan
. The new station is a first-of-its-kind for the Pacific region and joins a network of other monitoring stations in Caribbean and Atlantic tropical waters that assists officials to conserve, protect and manage reef ecosystems. Coral reef managers in the Northern Mariana Islands will now receive early warning of dangerous environmental conditions that can weaken and kill high value coral reefs such as warm water conditions that could trigger a coral bleaching event.
x
This station will collect and transmit a variety of data, including air temperature, wind speed and gusts, wind direction, barometric pressure, precipitation, light (above and below water), sea temperature, salinity, and state of tide. Data will also be used by researchers and managers to understand the complex physical, chemical and biological processes influencing the health of coral reef ecosystems. The data is sent to
NOAA's National Data Buoy Center
and is included in the World Meteorological Organization's Global Telecommunications System, making it available for use by weather services all over the word.
x
Jim Hendee, Ph.D., a coral expert with NOAA's Atlantic Oceanographic and Meteorological Laboratory in Miami, led the team that built and deployed the station for
NOAA's Coral Reef Conservation Program
. The station joins a network of three existing
Coral Reef Early Warning System
, or CREWS, stations in the U.S. Virgin Islands, Puerto Rico, and Cayman Islands. The team hopes to be able to install one in the Florida Keys in the future.
Access CREWS data worldwide.
---
Sanctuary Friends Foundation of the Florida Keys is a non-profit, 501(c)(3), tax-exempt organization (Tax ID# 59-2443959).
We take your privacy seriously. Your email address will never be sold, rented or given away. All our emails include an easy opt-out feature. If you have activated spam filters in your email application, please add the following email to your address book: Sanctuary_Friends_Foundation_of_@mail.vresp.com