Our dedicated Board of Directors, members and allies are committed to guaranteeing the future of our economically-precious treasures that are in critical danger here in the Keys. Please
join us as a member
, renew your membership or
volunteer
with us.

Cousteau's Mission 31 Underway in FKNMS' Aquarius Lab
On June 1, a team of six
aquanauts
splashed down 63 feet beneath the ocean surface to spend the next 31 days in
Aquarius Reef Base
, the only underwater marine habitat and lab in the world, located 9 miles off the coast of Key Largo, and operated by Florida International University. They won't resurface until July 2.
x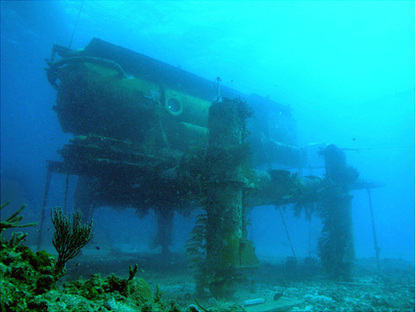 Fabien Cousteau's Mission 31
will break new ground in ocean exploration and honor the 50th anniversary of the monumental legacy left by Fabien's grandfather Jacques-Yves Cousteau, who is credited with creating the first ocean floor habitats for humans and leading a team of ocean explorers on the first attempt to live and work underwater. Jacques Cousteau's ambitious 30-day living experiment in the Red Sea succeeded as the first effort in saturation diving, proving that it could be done without suffering any ill effects.
x
Fabien's Mission 31 will broaden the original Cousteau experiment by one full day, 30 more feet of saturation and will broadcast each moment on multiple channels exposing the world to the adventure, risk and mystique of what lies beneath. This will be the first time a mission of this length has taken place in Aquarius.
x
Located 63 feet below the surface near deep coral reef in the
FKNMS
, Aquarius measures 43 by 20 by 16.5 feet and weighs approximately 81 tons. The habitat is able to withstand pressures up to 120 feet deep and has six bunk beds; hot water; a mini kitchen with microwave and refrigerator; air conditioning; computers; and wireless telemetry that connects to the Aquarius base on shore.
x
The typical Aquarius mission lasts up to 10 days and, through saturation diving, scientists can spend up to nine hours a day in the water — opposed to the typical one hour dive — without having to worry about getting the bends each day. Because of the length of dives and the fact that Aquarius is kept at the same pressure inside as the surrounding water, scientists must decompress within the habitat before surfacing at the completion of each mission.
x
---
Study Shows Corals Can Adapt to Warmer Waters
Hope for Their Survival Due to Climate Change
Reef corals are highly sensitive to heat, but how well can they adapt to temperature extremes?
New research led by Stanford scientist Steve Palumbi
says better than anticipated. According to the study,
published April 24 in Science
, corals from reef pools with wide temperature fluctuations resist stress better than corals from pools with fewer temperature fluctuations, and even corals transplanted into the hotter and more variable conditions soon acquired thermal tolerance. This ability is likely to slow predictions of demise for coral reef ecosystems due to climate change.
x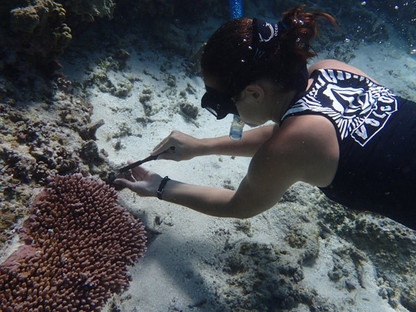 The study found that tougher specimens produced more of certain proteins that protected them from the effects of heat. Ramping up heat shock and transport proteins yielded heat tolerance 50 times faster than they would adapt through evolutionary change alone! These findings open a new realm of possibility for understanding and conserving corals.
x
Coral reefs are crucial sources of fisheries, aquaculture and storm protection. Overfishing and pollution, along with heat and increased acidity brought on by climate change, have wiped out half of the world's reef-building corals during the past 20 years. Even a temporary rise in temperature of a few degrees can kill corals across miles of reef.
x
To find out how certain native corals survive extreme heat of up to 95 degrees in American Samoa, researchers transplanted colonies from a warm pool to a nearby cool pool and vice versa. The researchers found that, over time, cool-pool corals transplanted to the hot pool became more heat-tolerant. Although these corals were only about half as heat-tolerant as corals that had been living in the hot pool all along, they quickly achieved the same heat tolerance that could be expected from evolution over many generations. Corals, like people, have adaptive genes that can be turned on or off when external conditions change. The corals studied adjusted themselves by switching on or off certain genes, depending on the local temperature.
x
These findings make clear that some corals can stave off the effects of ocean warming through a double-decker combination of adaptation based on genetic makeup and physiological adjustment to local conditions. Palumbi cautioned that corals' heat-adaptive characteristics do not provide a magic bullet to combat climate change. They cannot respond to indefinite temperature increases, and they could still be compromised by stressors such as acidification and pollution. Still, if it holds true for most corals, this adaptive ability could provide a "cushion" for survival and might give coral reefs a few extra decades of fighting back the harsh effects of climate change.
---
Sanctuary Scramble Golf Tournament June 22
The Second Annual Sanctuary Scramble is right around the corner and there is still time to sign up a team for this fantastic fundraising event taking place Sunday, June 22 at Key West Golf Club!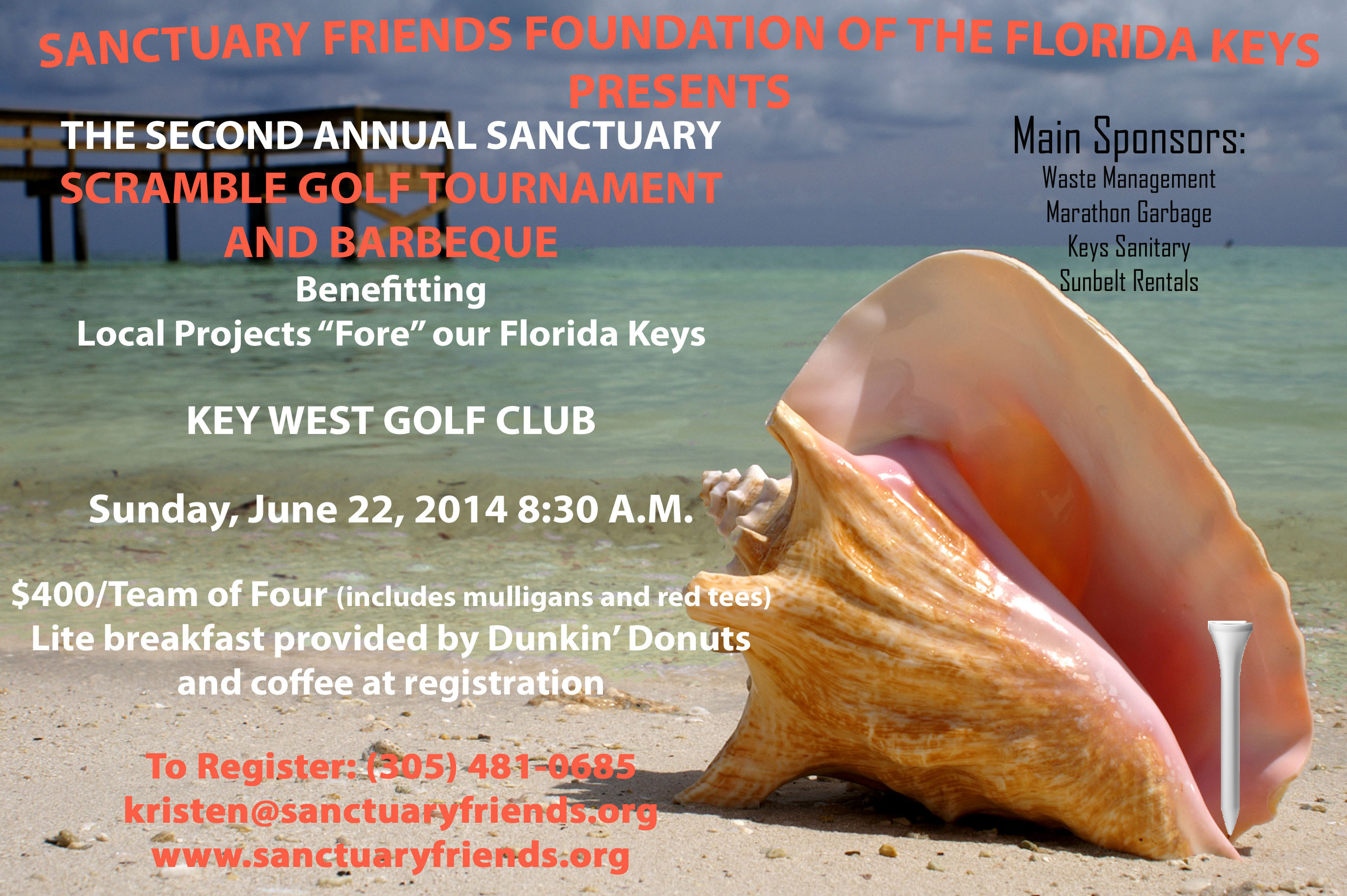 Tee off is at 8:30 a.m. with
Dunkin' Donuts
providing donuts and coffee to the players.
Papa's Pilar Rum
will have a tasting on the golf course and
Centennial Bank
's Weenie Wagon will be on hand to offer up hot dogs and burgers until the awards and BBQ luncheon at the club.
x
x
---
NewsMakers
---
Sign the Petition to Stop Trolling at Alligator Reef
Sanctuary Preservation Areas (SPAs)
were created to "separate users engaged in different kinds of activities." Diving, snorkeling and boating are allowed within these zones, but fishing by any means is prohibited. Yet
Alligator Reef
is one of four SPAs in the
FKNMS
where catch and release trolling is still permitted! Alligator Reef is visited by more than 30,000 divers/snorkelers every year and Alligator Ledge is a top destination site for the diving/snorkeling community in Islamorada. Trolling creates a SAFETY ISSUE for divers and snorkelers who run the risk of being injured by moving boat hulls, spinning props, fishing lines and hooks.
x
---
Sanctuary Friends Foundation of the Florida Keys
is a non-profit, 501(c)(3), tax-exempt organization
(Tax ID# 59-2443959).
We take your privacy seriously. Your email address will never be sold, rented or given away. All our emails include an easy opt-out feature. If you have activated spam filters in your email application, please add the following email to your address book:
Sanctuary_Friends_Foundation_of_@mail.vresp.com
In This Issue:
Cousteau's Mission 31 in FKNMS
Study Shows Corals May Survive Climate Change
---
---
Please add your upcoming events to our online Florida Keys Environmental Calendar. This community-wide resource allows any organization or group to set up an account and post environmentally-related events.
xxxxxxxxxxxxxxxxxxxxxxxxxxxxxxxxxxx
FKNMS Sanctuary Advisory Council (SAC) Meeting

June 17, 9 am-4:45 pm, Hawks Cay Florida Keys Resort, Duck Key
The Council provides advice regarding management of the
FKNMS
. All meetings are open to the public and include morning and afternoon public comment periods. This month's agenda focuses on the process and progress of the Advisory Council Working Groups and on providing recommendations.
Download the draft agenda.
Discovery Saturday: Stormy Weather
June 21, 10-11 am,
 Eco-Discovery Center, Key West
Kids in kindergarten through fifth grade are invited to join this free, fun-filled event where they will learn about the environment of the Florida Keys and the marine life that live here while playing games and making craft projects. Every third Saturday of the month. Call 305-809-4750 for more information.
Sanctuary Scramble Golf Tournament
June 22, 8:30 am, Key West Golf Club, Key West
---
Welcome! Thank you for your support!
---
SPONSORS
Please support the companies that support the FKNMS and Sanctuary Friends.
Platinum:
Waste Management
Marathon Garbage Service
Keys Sanitary
Sunbelt Rentals
Little Palm Island Resort
Cressi International
Centennial Bank
Gold:
The Weekly Newspapers
Hawks Cay Resort
Marathon Jet Center
Keys Acoustics Insulation
Tranquility Bay Resort
Silver:
Meacham Electric
Marathon Boat Yard
Grader Mike Construction
First State Bank
Marathon Chamber of Commerce
A Deep Blue Dive Center
Paver Dave
Keys Contracting Services
Florida Keys Contractor's Association
Bee Brothers
Key West Butterfly & Nature Conservatory
Hard Rock Cafe
Hyatt Key West Resort & Spa
---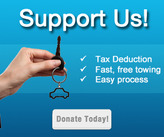 ---
Our Mission
Sanctuary Friends Foundation of the Florida Keys supports the Florida Keys and the Florida Keys National Marine Sanctuary (FKNMS) in the preservation, restoration, and sustainable use of our coral reef ecosystem, from the uplands to the deep sea. We focus on development of community support and advancement of public awareness, education, outreach and scientific research.
---
We want your input!
If you have stories of note or just want to comment on our newsletter, please email:
If you enjoyed this newsletter,
If you are not already on our mailing list,