Capitol Hill Ocean Week 2011
American Prosperity & Global Security: Ocean Solutions for the 21st Century

Capitol Hill Ocean Week (CHOW)
is the premier ocean-focused conference held annually in Washington, DC. This year's event, on June 7-9, brought together Members of Congress and Congressional staff; federal, state, and local government institutions; and experts from industry, academia, and the nonprofit community in an effort to shape marine policy discussions and incite lively conversation about current ocean and coastal issues.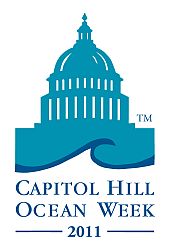 x
Held in conjunction with
World Oceans Day
and anchored by the
NMSF
annual
Leadership Awards Dinner
, CHOW provides ocean policy professionals with unique opportunities to advance marine policy goals and interact with peers in the nation's capital.
Sanctuary Friends
was fortunate to have two representatives from our
Board of Directors
, George Neugent & David Rice, in attendance this year.
x
The conference reinforced two main points: 1.)Our nation's economy and way of life are inextricably linked to the health of the global ocean; and 2.)The security, stability and prosperity of our nation have always been dependent on our ocean. In addition, the following key national and global ocean policy issues were explored: Securing ports and reliable sea lanes for defense, commerce, and communication; Guaranteeing access to affordable energy supplies; Sustaining productive stocks of healthy seafood in capture and aquaculture fisheries; Ensuring sustainable opportunities for coastal access and marine recreation; and Preserving America's maritime history and ocean traditions. Attendees had the opportunity to hear diverse perspectives from a range of government, academic, industry and non-governmental experts on each topic.
---
Angler Action Program
Historically, fisheries management happened at a distance. The typical interaction between anglers and fisheries managers was when new regulations were imposed. That process was problematic and left anglers feeling "left out" of the decision making process.
x
Now, anglers can be part of the procedure of collecting data for responsible conservation and management. Bonefish & Tarpon Trust's (BTT) tagging and fin clip sampling programs are two great examples. Thanks to the efforts of the
Snook Foundation
,
FWC
and
BTT
, a new program to increase angler participation in data collection has been launched.
The
Angler Action
program is an online fishing log reporting system that provides data that FWC can apply to fisheries management plants. This is especially important for gamefish like tarpon, bonefish and permit that are totally or primarily catch and release. The entire process takes less than 5 minutes and includes the county you fished in; the number of reds, trout and snook you caught; the sizes of those fish; and whether they were released or harvested. One of the most important questions is total amount of time spent fishing for each species. You can see the
video introducing the new program
here and
fill out or print out a trip record here
.
---
Board Profile: Judy Halas
Judy Halas,
board member and secretary of Sanctuary Friends
, has lived a life of transitions! From oceanography student and anthropology graduate to itinerant folksinger in the 1960's ... from living in Alaska to settling in the Florida Keys … from a fear of flying to logging enough hours in the air to circle the globe four or five times or more … from shipwreck salvor to environmentalist … it has been a great adventure!
x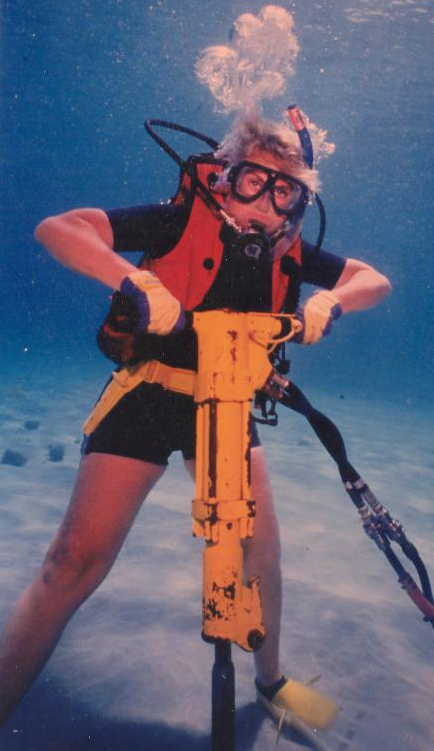 Arriving in the Florida Keys in early 1968 for a weeklong visit with a friend from Alaska, Judy knew right away this was "the place" and has lived here ever since. The next year she met
John Halas
, and they were married in 1972. Judy began teaching high school English and John eventually began running dive trips off Key Largo.
x
Daily trips out to the reef revealed damage to corals from careless anchoring. It was a problem Judy and John decided to try to solve. Boat moorings were the answer, but heavy weights, blocks and chains caused more problems than they fixed. Finally, John realized hardened cement could secure a stainless steel eyebolt in the bottom and anchor a mooring system.
x
In 1981, John was hired as Sanctuary Biologist for the Key Largo National Marine Sanctuary, the first employee of the federal sanctuary program in the Keys. His first goal was to develop a
mooring buoy anchoring system
that has proved extremely effective in preventing anchor damage to coral reefs. Increasing demand for installation equipment and mooring materials encouraged the formation of a business,
Environmental Moorings International, Inc.
, which Judy managed while still teaching fulltime. Eventually, after 22 years of teaching English, science and social studies, Judy resigned to run the business. Judy and John have since traveled around the globe helping many countries install
mooring systems to help protect coral reefs in marine protected areas
.
x
Judy has also participated in marine archaeological recoveries and researched shipwrecks in the Florida Keys. She was a columnist for the Miami Herald, writing a series of articles about diving and the Florida Keys marine environment. Judy co-authored
"Pisces: Diving And Snorkeling Guide To The Florida Keys"
with her husband John and Don Kincaid. Judy is an SSI Platinum Pro diver and is listed in "Who's Who in Scuba Diving" published by the Academy of Marine Sciences and Undersea Research. She is a long time member of the
Board of Directors of Sanctuary Friends Foundation
.
---
NewsMakers
---
"Ocean in Focus" Conservation Photo Contest
Marine Photobank
is calling on photographers to help raise ocean awareness with their photos illustrating the many human impacts on marine life and marine ecosystems, as well as ways people are working to turn the tide on ocean degradation. You may enter up to 10 images and compete for the Grand Prize, a cabin for two aboard the National Geographic Endeavour for a 10-day trip to the Galapagos Islands. Submission deadline is September 30.
Submit your photos.
Seeking Sustainability, One Shrimp at a Time
It is widely publicized that fish farming is problematic. For example,
Seafood Watch
suggests avoiding any imported shrimp because of their use of open farm systems. But, as you will find out in the new documentary
"Linda Thornton: Seeking Sustainability, One Shrimp at a Time,"
not all fish farming is harmful or detrimental to our health and to the environment.
x
In the 17-minute film, a team of
Pace University student filmmakers
explores the life of a resilient, pioneering aquaculture entrepreneur as she pushes the frontiers of sustainable shrimp farming in Belize. This is an engaging and exquisitely executed project by entrepreneur Linda Thorton and Tim Smith, a biologist working for the World Wildlife Fund. Together they refined methods for controlling feed and water that dramatically cuts pollution.
Watch the documentary here.
---
blue
&
green
occasions
Celebrating the event ... Honoring the earth and sea
SERVING THE FLORIDA KEYS AND KEY WEST
We invite you to hold your special celebrations, business meetings and other occasions in a meaningful way at the Florida Keys Eco-Discovery Center. We will help you celebrate in a green way, and your donations will help to give back to the "Sanctuary." Call today to reserve your date and share your celebration with the earth and sea! More information.
---
---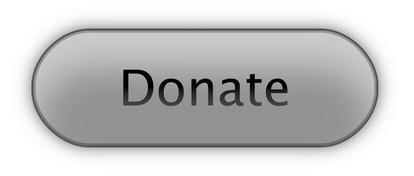 ---
Our Mission


Sanctuary Friends Foundation of the Florida Keys supports the Florida Keys and the Florida Keys National Marine Sanctuary (FKNMS) in the preservation, restoration, and sustainable use of our coral reef ecosystem, from the uplands to the deep sea. We focus on development of community support and advancement of public awareness, education, outreach and scientific research.
---
Sanctuary Friends Foundation of the Florida Keys is a non-profit, 501(c)(3), tax-exempt organization (Tax ID# 59-2443959).
We take your privacy seriously. Your email address will never be sold, rented or given away. All our emails include an easy opt-out feature. If you have activated spam filters in your email application, please add the following email to your address book: Sanctuary_Friends_Foundation_of_@mail.vresp.com