Our dedicated Board of Directors, members and allies are committed to guaranteeing the future of our economically-precious treasures that are in critical danger here in the Keys. Please
join us as a member
,
renew your membership
or consider
volunteering
with us.

Upcoming Public Input Meetings for
Ecosystem Protection Working Group
Draft maps released by the
Ecosystem Protection working group
have caused a stir among some commercial and charter fishermen and dive guides who think that enough areas are already closed off to fishing. The
Sanctuary Advisory Council (SAC)
group made recommendations to expand some sanctuary special protection areas where fishing is either limited or banned.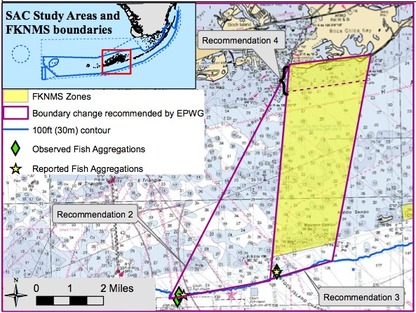 SAC members stress that the maps are only ideas put forth by the Ecosystem Protection working group, not formal SAC recommendations. The sanctuary will conduct an environmental impact study of all recommended changes -- including potential economic effects of new rules and closed zones -- before any changes will be made. Any final rule changes will not be made until 2015.
x
At its Aug. 20 meeting, SAC passed a motion to hold four regional public meetings to get more input. Those meetings are as follows:
Sept. 23, Key Colony Beach City Hall,
 600 W. Ocean Dr., Key Colony Beach
Sept. 24, 
Hilton Key Largo Resort,
 97000 Overseas Hwy., Key Largo
Sept. 25, 
Doubletree Grand Key Resort,
 3990 S. Roosevelt Blvd., Key West
Sept. 26, 
Doubletree Grand Key Resort,
 3990 S. Roosevelt Blvd., 
Key West (topic: Marquesas Keys and Dry Tortugas)
Sept. 30, 
Marathon Garden Club,
 5270 Overseas Hwy., Marathon
x
---
Marine Debris in Reef Habitats
Marine debris is one of the most widespread and persistent forms of pollution affecting the world's ocean and coastal waters. Plastics, lost fishing gear, derelict vessels and other marine debris can find its way into even the most remote ocean waters where it can harm marine life.
x
Lost or abandoned fishing gear and other trash entangles and harms stony corals, sea fans, sponges, sea turtles, manatees and other marine life. It also degrades seagrass, hard-bottom, coral reef and mangrove habitats and detracts from the natural beauty of the islands. For these and other reasons, citizens and
FKNMS
resource managers are concerned about the environmental impacts of all marine debris.
x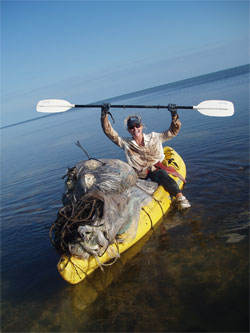 Coral researchers from
Nova Southeastern University (NSU) Oceanographic Center
began conducting Keys-wide surveys of marine debris in 2000. Since then, debris data have been recorded in 2008, 2010-11, and 2012. This long-term study has documented the widespread and damaging impacts of marine debris in sanctuary waters. In 2012, more than 1,000 debris items were recorded at survey sites whose area totaled about nine acres. Marine debris was present at 64% of the 600 study sites. Debris recovered from the seafloor weighed 1,000 pounds and included 2,027 feet of fishing line and 6,561 feet of lobster and crab trap line.
x
Similar to previous survey years, in 2012 hook-and-line angling gear was the most frequent type of debris recorded, making up 45% of the total number of items. Angling gear consisted of monofilament line, hooks, wire leaders and lead sinkers. This type of gear was found in all habitats surveyed and in nearly all of the sanctuary protected zones where fishing is prohibited.
x
Lost lobster and crab trap fishing gear made up 42% of the total number of items found in the 2012 survey, making it the second most abundant type of debris. Glass bottles, plastics, metals, as well as anchors and other trash made up the third and least common category of debris. Items in this "other" category were found at 17% of sites.
x
Over the years, volunteers with the sanctuary's
Team OCEAN
program and other groups have organized many coastal and underwater clean-up events to collect marine debris from the waters and shorelines of the Keys. Between 2007 and 2012, Team OCEAN volunteers have recovered more than 36,000 pounds of marine debris from the waters of the sanctuary. While clean-ups have been successful in removing large volumes of trash, debris still accumulates where it can harm marine life. Discharging trash or other items into sanctuary waters is against regulations and can be avoided if people properly dispose of (and recycle) their trash.
---
Florida Keys Birding & Wildlife Festival Begins Sept. 29
Sanctuary Friends
will once again have a booth at the
Florida Keys Birding & Wildlife Festival
, which runs from Tuesday, Sept. 24, through Sunday, Sept. 29.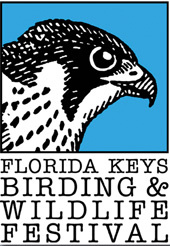 x
Now in its 15th year, the festival offers a variety of programs, field trips, workshops and speakers guaranteed to enthrall nature lovers of all ages.
Festival activities
span the length of the island chain, from Everglades National Park to the Dry Tortugas, and give participants a unique perspective on the terrestrial and marine habitats of this subtropical paradise. Activities include guided walks and happy hour talks covering the flora and fauna of this one-of-a-kind island chain. Think of it as a backstage pass to the natural wonders of the Florida Keys.
Advanced registration
is requested, as many trips have participant limits.
x
While the festival explores many of the islands' public lands during its run,
Curry Hammock State Park
, MM56.2, is a home base of sorts for the week. This park in the heart of the Keys was awarded third place in the 2012 America's Favorite Park contest sponsored by Coca-Cola and is home to the annual
Florida Keys Hawkwatch
, a citizen science effort that monitors the fall migration of raptors over the islands. Hawkwatch coordinator
Rafael Galvez
is this year's keynote speaker and a nature walk guide. The park is also the Peregrine Falcon Migration Capital of the World because Hawkwatch tallied a record one-day count of 3,242 of the birds on Oct. 16, 2012.
x
There's a full day of activities appropriate for the entire family at the Wildlife Fair on Saturday, Sept. 28 from 10 am to 3 pm at Curry Hammock State Park. The fair is held on the beach, so bring your lawn chairs and beach towels and spend the day. There will be more than 20 booths to explore; come learn more about your Florida Keys community! Other activities include a scavenger hunt, Home Depot kids projects, music by Florida folk singer Grant Livingston (2-4 pm), a free Shorebird ID workshop with Rafael Galvez (2 pm), self-guided kayak expeditions and beach hikes and a free evening astronomy program with Elizabeth Moore, NASA Solar System educator. Admission to the festival and state park is free thanks to the Friends of Islamorada Area State Parks.
x
---
NewsMakers
---
Become a Sanctuary Advisory Council (SAC) Member
REEF Announces 2014 Field Survey Trip Schedule
REEF
Field Surveys trips are a great introduction to fish identification for novice fishwatchers, and a fun way for experienced surveyors to build their life list while interacting with fellow fishwatchers. REEF coordinates Field Surveys to locations throughout their project regions each year. These projects are led by REEF staff and other REEF instructors and feature daily classroom seminars and a full diving schedule. 2014 destinations include: Dominica, Belize, the Bahamas, Honduras, Key Largo, Curacao, Hornby Island (British Columbia), the Cayman Islands, Nevis and Cozumel! Dates, destinations, and trip leader information, prices and complete details can be found
www.REEF.org/trips
. Go on a dive vacation that counts!
In This Issue:
Upcoming Public Input Meetings
Marine Debris
Birding & Wildlife Festival
---
---
Please add your upcoming events to our online Florida Keys Environmental Calendar. This community-wide resource allows any organization or group to set up an account and post environmentally-related events.
xxxxxxxxxxxxxxxxxxxxxxxxxxxxxxxxxxx
Lionfish Derby
September 14, John Pennekamp Coral Reef State Park, Key Largo
REEF hosts the fourth annual Florida Keys lionfish derby with cash and prizes for largest, smallest and most lionfish caught. Mandatory captains meeting at 6:30 pm on the evening before the derby.
Rules, registration and more information.
International Coastal Cleanup
Sept. 21
Ocean trash is a serious pollution problem that affects the health of people, wildlife and local economies. Join the world's largest volunteer effort for our ocean and waterways by participating in the
International Coastal Cleanup
sponsored by Ocean Conservancy.
Find a cleanup near you!
Wildlife Fair
Sept. 28, 10 am-3 pm, Curry Hammock State Park, MM56.2, Marathon
Part of the
Florida Keys Birding & Wildlife Festival
, this family-friendly event includes free programs all day! Dozens of booths showcasing the spectacular Florida Keys environment and wildlife; hands-on activities include guided hikes and self-guided kayak tours. Free admission to the state park sponsored by Friends of Islamorada Area State Parks.
---
Welcome! Thank you for your support!
---
SPONSORS
Please support the companies that support the FKNMS and Sanctuary Friends.
Platinum:
Waste Management
Marathon Garbage Service
Keys Sanitary
Sunbelt Rentals
Little Palm Island Resort
Cressi International
Centennial Bank
Gold:
The Weekly Newspapers
Hawks Cay Resort
Marathon Jet Center
Keys Acoustics Insulation
Tranquility Bay Resort
Silver:
Meacham Electric
Marathon Boat Yard
Grader Mike Construction
First State Bank
Stephen Frink Photography
Marathon Chamber of Commerce
A Deep Blue Dive Center
Christina's Boutique
Paver Dave
Keys Contracting Services
Florida Keys Contractor's Association
CSA Coral Restoration
Bee Brothers
---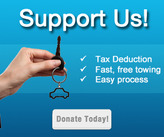 ---
Our Mission


Sanctuary Friends Foundation of the Florida Keys supports the Florida Keys and the Florida Keys National Marine Sanctuary (FKNMS) in the preservation, restoration, and sustainable use of our coral reef ecosystem, from the uplands to the deep sea. We focus on development of community support and advancement of public awareness, education, outreach and scientific research.
---
We want your input!
If you have stories of note or just want to comment on our newsletter, please email:
If you enjoyed this newsletter,
If you are not already on our mailing list,
---
Sanctuary Friends Foundation of the Florida Keys
is a non-profit, 501(c)(3), tax-exempt organization
We take your privacy seriously. Your email address will never be sold, rented or given away. All our emails include an easy opt-out feature. If you have activated spam filters in your email application, please add the following email to your address book:
Sanctuary_Friends_Foundation_of_@mail.vresp.com