The National Marine Sanctuaries Act: A Love Affair
by Billy Causey (excerpt from
Solutions

)

Some people may question how a love affair with a piece of federal legislation is possible, but that's what it has been for me. Our courtship has not been easy, but I'm hooked.
x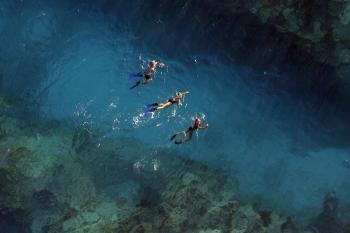 In 1975, the first national marine sanctuaries were designated under the
Marine Protection, Research, and Sanctuaries Act of 1972
. One of those was 103-square nautical miles of coral reef habitat, the Key Largo National Marine Sanctuary. However, exploitation of and damage to the reef was increasing at an alarming rate because of nearby overfishing and pollution. In order to change the situation, an active management program—with education, research and enforcement capacity—was needed.
x
After I scrutinized the marine-sanctuary legislation, I realized that, if implemented properly, the law mandated protection and conservation while allowing for continued use. And the more I got to know it, the more I loved it. The act called for conserving and using marine resources wisely, increasing public appreciation of the marine environment, and maintaining habitats and their ecological services. The legislation described a marine-protected-area program that, when fully implemented, could protect the resources of a sanctuary for future generations. I was smitten.
x
Now, 27 years later, my affair continues, but it has not been without challenges. In 20 years we've implemented management programs that address direct impacts to the sanctuary resources. We instituted a no-go zone for ships larger than 50 meters in length, resulting in eliminating large-ship groundings since February 1997 (compared to a major grounding almost every year before that). The installation of over 50 mooring buoys has eliminated anchor damage on shallow reefs. The prohibition of spearfishing and wire fish traps in the Looe Key Reef resulted in an immediate increase in the number of reef fish. An extensive education and outreach program explains the significance of Looe Key Reef as a classical spur and grove reef, teeming with marine life. And comprehensive research into the sanctuary's resources is ongoing.
x
Read the full article here.
---
Sustainable Seas Require an All-In Approach
by Martin A. Moe, Jr.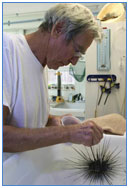 Martin Moe
, Sanctuary Friends Board Member, resident scientist and creative writer extraordinaire, recently published the first in a series of stories of public interest concerning our marine environment. His guest column, "Sustainable Seas Require an All-In Approach" published in
The Keynoter
on Feb. 19, begins:
x
"Fishing and diving, commercial and recreational, are the lifeblood of the Florida Keys. Our offshore waters, the coral reefs, the nearshore waters and the vast expanses of Florida Bay are home to one of the most diverse, beautiful, and productive marine ecosystems on earth. This ecosystem is the basis of our economy, our culture and our future. Few would dispute this. And to whom do these incredible riches belong? Why to all of us of course."
x
Click here to read more.
---
"Bag It" Screenings in Key West & Marathon
Americans use 60,000 plastic bags every five minutes, disposable bags that they throw away without much thought. But where is "away?" Where do the bags and other plastics end up, and at what cost to the environment, marine life and human health?
x
Sanctuary Friends
will sponsor two screenings of the award-winning documentary "
Bag It
," a film that examines our society's use and abuse of plastic.
Bag It
follows "everyman" Jeb Berrier (who has the presence of Michael Moore, but with a Harpo Marx fringe of wild hair), as he sets out to trace plastic's origins and how so much of it ends up in the ocean (and landfills) and ultimately in the bodies of birds, fish … and man.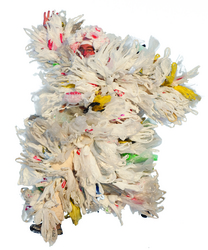 x
Jeb is not a radical environmentalist, but an average American who decides to take a closer look at our cultural love affair with plastics. Jeb's journey in this documentary film starts with simple questions: Are plastic bags really necessary? What are plastic bags made from? What happens to plastic bags after they are discarded? What he learns quickly grows far beyond plastic bags.
x
Building on facts such as: "The average American uses about 500 PLASTIC BAGS EACH YEAR, for an average of 12 MINUTES before they are discarded," the film is a fun, provocative reminder of why we should all remove plastic from our lives — and the sooner the better.
x
Screenings:
March 26, 3 pm & 5:30 pm:
Florida Keys Ocean Festival
, Eco-Discovery Center, Key West
April 14, 7 pm:
Sail & Power Squadron Education Building, Marathon
---
NewsMakers
---
Turtle Nesting Season - Volunteer Trainings Scheduled

Turtle nesting season runs from April 15 to October 31, but actually begins 15 days earlier here in the southernmost island chain.
Save-A-Turtle
is looking for volunteers to monitor beaches for turtle nesting activity. Staff from the Florida Fish and Wildlife Conservation Commission (FWC) and Fish and Wildlife Research Institute (FWRI) will be conducting this year's training for new volunteers.
See the training schedule here.

x
It is paramount that the community gets involved by following some simple guidelines during this critical time of the year. • Make sure lighting and reflective surfaces are not directly visible from the beach. • Replace any bulbs that cannot be removed with yellow bug lights. • Cover windows so that interior lighting is not visible from the beach. • Keep pets away from the beach. Dogs, cats and even ferrets can disrupt turtle nests. • If you walk, jog or bike along the beach, bring along a flashlight for your own safety.
Biodegradable Sunscreen Endorsed by Cousteau

Jean-Michel Cousteau's Ocean Futures Society
has joined forces with
Reef Safe SunCare
to protect both humans and the ocean world. Reef Safe will donate a portion of every bottle sold to support Ocean Futures' worldwide efforts of preserving the ocean for future generations.
x
Reef Safe SunCare has been proven through a series of independent laboratory tests to biodegrade in oceans, lakes and rivers. While protecting fragile ecosystems, it also shields skin from harmful rays. Reef Safe's non-toxic to sea-life formula and biodegradable claim is scientifically substantiated, a testimonial that no other sun care products on the market can make.
Official press release.
Lloyd Bridges Scholarship for Educators

Attention teachers: you may be eligible for the
Lloyd Bridges Scholarship
! This year's recipient will join REEF's Field Survey of the Roatan Marine Park and have the opportunity to collect data, participate in daily talks and interact with REEF members, staff and local partner organizations. To be eligible, applicants must be a certified scuba diver, a teacher (elementary or secondary level), or actively engaged in an education program at an institution or environmental organization, such as aquarium, science center or relevant non-profit organization.
Applications
are due May 1.
Stop A Dolphinarium on St. Maarten

---
---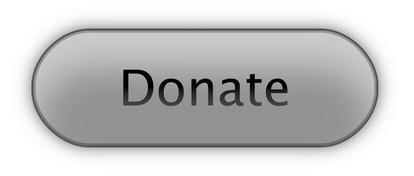 ---
---
Sanctuary Friends Foundation of the Florida Keys is a non-profit, 501(c)(3), tax-exempt organization (Tax ID# 59-2443959).
We take your privacy seriously. Your email address will never be sold, rented or given away. All our emails include an easy opt-out feature. If you have activated spam filters in your email application, please add the following email to your address book: Sanctuary_Friends_Foundation_of_@mail.vresp.com