Elkhorn and Staghorn Corals Will Get Recovery Plan
Status updated from Threatened to Endangered
The
National Marine Fisheries Service
settled a suit in Florida federal court recently that requires them to create a recovery plan for elkhorn and staghorn corals, as required by the
Endangered Species Act
.
x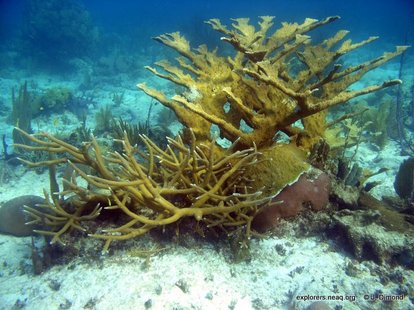 Under the terms of the settlement, the National Marine Fisheries Service committed to drafting a recovery plan for the coral species by 2014.
Elkhorn and staghorn corals were added to the Endangered Species List in 2006.
The agency's policy is to come up with a plan for a species within 2 ½ years of a final listing. In addition, the agency agreed to reclassify the corals as endangered, one step up from their current threatened status.
x
The
Center for Biological Diversity
submitted the 2004 petition that led to the elkhorn and staghorn corals gaining protection as threatened species. The corals, which received a priority ranking of 3 on a scale of 1 to 18 (high threat and potential recovery to low risk and chance for recovery), were once the most abundant and important reef building corals in the waters of Florida and the Caribbean. They have diminished by 80 to 98 percent during the past 30 years due to bleaching because of higher water temperatures. Increased ocean acidity levels, caused by carbon dioxide, have also hindered their growth. They face additional threats from pollution, sedimentation, disease, boating and other human contact.
x
Recovery plans have had high success rates, according to a 2012 study finding that 90 percent of sampled species have recovered at rates in line with the goals in their respective recovery plans. "A recovery plan and quick action to reduce carbon dioxide pollution are the two missing pieces necessary to save these beautiful corals from extinction," said Jaclyn Lopez, an attorney for the Center for Biological Diversity, which filed the suit in January.
---
Protected Sea Turtles in Keys Refuge Waters
Due to low population numbers and threats to survival, loggerhead, green and hawksbill sea turtles are protected under the
Endangered Species Act
. All three species have been observed in the backcountry waters of the
Key West National Wildlife Refuge
. Refuge beaches have long been known as turtle nesting sites for green and loggerhead turtles, but in recent years, the value of open waters to marine turtles has also been recognized and documented.
x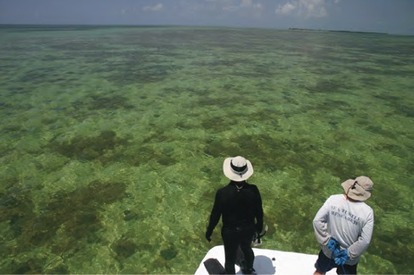 In 2007, scientists began systematically documenting marine turtles in open waters of the refuge. Their method was to observe turtles from a tower on a small boat while traveling along random survey lines called transects. During these timed trips, turtles were identified and counted and their GPS positions were recorded. This survey method, which reported the number of turtles per kilometer of transect, allowed scientists to compare the abundance of turtles in one location to another.
Some turtles were captured by scientists and brought aboard the boat, where they were identified, weighed, measured, photographed and flipper tagged. Before releasing a turtle, blood was drawn for genetic studies.
x
x
Protections are Important to the survival of marine turtles in the Sanctuary. Backcountry open waters with expanses of seagrass and mixed hard-bottom habitats are important foraging grounds for various life stages of loggerhead, green and hawksbill turtles. Survival of these endangered and threatened species depends upon healthy young and sub-adult turtles surviving into adulthood. Even the smallest disruption by people or vessels approaching too closely can interfere with foraging. Changes in habitats, sea-level rise on nesting beaches, impacts from fishing gear and pollution are also threats to the survival of sea turtle populations. Prohibitions on operating personal watercraft, airboats and hovercraft in the refuge and no-entry and buffer zones help shield turtles from human disturbance. Such restrictions also protect critical shallow water seagrass meadows from impacts that degrade habitat quality and affect sea turtle foraging and survival success.
---
Sanctuary Friends Launches New Website
Sanctuary Friends has a new
website
! Have you seen it yet? After several months of reconstruction, we are ready to share it with you. Some highlights include: ALL our monthly newsletters
archived online
, easy
signup
form for our newsletter, safe and secure
online donation form
and
volunteer opportunities
.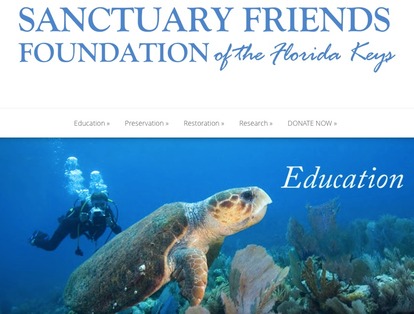 Please take a few minutes to peruse our new website and let us know what you think!
---
NewsMakers
---
Look Before You Book!
Launched in 2009,
Blue Star
salutes charter companies that help protect the Florida Keys coral reef ecosystem by promoting responsible snorkeling and diving practices, and educating their patrons on the role humans play in reef health. Unlike some of the more global causes of reef decline — such as climate change — damage to reefs from snorkeling and diving is considered easily preventable through education and experience.
x
Blue Star operators
are required to attend training annually on issues affecting coral reefs, sanctuary regulations and coral reef etiquette. In turn, Blue Star operators educate their customers by incorporating the information into certification classes and dive briefings. They also must offer conservation-related dive courses and participate in activities such as fish counts and reef clean-ups. Operators are re-evaluated every year.
x
---
Sanctuary Friends Foundation of the Florida Keys
is a non-profit, 501(c)(3), tax-exempt organization
(Tax ID# 59-2443959).
We take your privacy seriously. Your email address will never be sold, rented or given away. All our emails include an easy opt-out feature. If you have activated spam filters in your email application, please add the following email to your address book:
Sanctuary_Friends_Foundation_of_@mail.vresp.com