Lionfish Harvesting and Safe Handling
FWC
encourages divers and anglers to remove
lionfish
, which can help Florida's native marine fish and habitats. Lionfish are classified as an invasive species that are non-native to Florida waters. They can be speared, caught in hand-held nets or caught on hook and line.
x
x
x
x
x
---
Damaged Coral Reef Makes Recovery

Corals
damaged in 2002 when a boat ran aground in the
FKNMS
are now thriving following a restoration and near decade-long monitoring effort, according to a new
NOAA report
released last month. Hundreds of groundings happen in the sanctuary each year, and conservationists are hoping that this reef-restoration and monitoring effort will help inform future endeavors.
x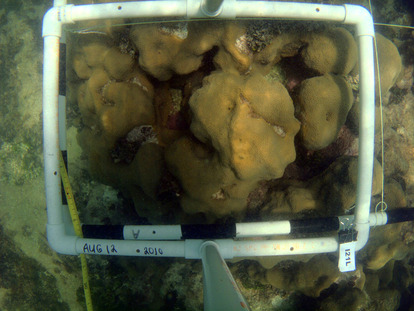 In August 2002, the 36-foot long boat
Lagniappe II
ran aground on a shallow coral reef near Key West, damaging approximately 376 square-feet of living coral in the sanctuary. After sanctuary staff assessed the damage to the reef, restoration biologists used special cement that hardens under water to reattach 473 corals and coral fragments that had been toppled or dislodged during the grounding. The main coral species damaged was
boulder star coral
, a primary reef-building coral in the Florida Keys.
x
Researchers monitored the progress of the restoration by using digital photos and highly-specialized computer software to count the types and number of coral species in the damaged areas, as well as a nearby undamaged site that served as a point of comparison. Biologists could then compare the restoration area with the reference area and note changes over time.
x
The sanctuary tracked the coral recovery for eight years. By 2009, the reattached coral fragments were undistinguishable from the adjacent uninjured coral colonies. A year later, the amount of coral at the restoration site was higher than at the reference site.
x
Most vessel groundings are preventable through preparation, patience and experience. A boat hitting the reef can topple coral heads or grind coral colonies into tiny fragments, damaging and killing coral that may have taken centuries to build. The owner of Lagniappe II paid more than $56,000 in a negotiated settlement. Those funds were used to pay for response, damage assessment, monitoring and some restoration costs.
---
Partnership with Marathon Bio-Diesel
Sanctuary Friends
has partnered with
Marathon Bio-Diesel
in an effort to reduce diesel use and greenhouse gas emissions in our fragile Florida Bay and Atlantic Ocean environment. The use of diesel in vehicles and vessels is a major contributor of carbon dioxide in the atmosphere, which scientists are convinced is a major element contributing to climate change and ocean acidification.
x
Marathon Bio-Diesel owner Jeff Lillie is a former commercial fisherman and has invested his life savings into this environmentally-friendly business. He has the only ASTM Certified waste vegetable oil (WVO) cleaning machine in South Florida.
x
WVO produced as a byproduct of frying food is cleaned locally by Marathon Bio-Diesel to produce clean burning biodiesel fuel. Tens of thousands of gallons of cooking oil is shipped into the Keys annually for cooking and then hauled out of the Keys by diesel-burning trucks to be shipped overseas. There is demand in the Keys for biodiesel for use in local vehicles, commercial fishing boats and charter boats. This means the cooking oil used in the Keys will be turned into the clean burning biodiesel used in the Keys, and with your help, eliminating excess waste.
x
Individuals can donate used cooking oil to Marathon Bio-Diesel by
dropping it off at their location at 2 Coco Plum Drive in Marathon
. If you are a business, Marathon Bio-Diesel can gladly pick up your WVO, and Sanctuary Friends can, in turn, give you a valuable tax credit from our nonprofit organization for your donation. Please click here to see how the tax credit works.
x
Anything we can do as residents and business owners living in one of the most environmentally-sensitive ecosystems in the world to reduce our carbon footprint is a major contribution to our future. Thank you for your help!
---
NewsMakers
---
Global Coral Repository: A Coral Bank for Reef Restoration
Coral reefs are one of the fastest failing ecosystems on the planet. As such, Dr. Craig Downs of the non-profit
Haereticus Environmental Laboratory
has created
The Global Coral Repository
, a seed bank for restoring coral reefs. The organization's mission is to restore degraded and destroyed reefs across the world.
x
They plan to accomplish this goal by cryo-preserving and archiving every coral species on the planet, as well as important regional and local genotypes, using award-winning technology developed specifically for this purpose. The cryo-archived samples can then be used to propagate and restore degraded coral reefs once water quality has returned to levels productive to coral sustainability. When the project is complete, organizers hope to have been able to preserve the planet's entire stock of coral biodiversity for future generations.
x
The Global Coral Repository was a formed as a partnership among Haereticus Environmental Laboratory, Zoological Society of London, and Oxford University. For more information, please visit
www.coralrepository.org
.
Coral Habitat Preserved in Broward County
More than 200 coral colonies living on a utility pipeline in Broward County will be removed and transplanted to protect vital marine life habitats while remedial work is undertaken on the pipeline's protective cover, which was damaged during recent dredging operations. This is a delicate operation as the coral colonies have been growing on the outflow pipe for more than 20 years and have matured into a vital part of the ecosystem for hundreds of fish species and marine invertebrates.
x
Scientists have developed a specific Coral Relocation, Monitoring, and Compensatory Mitigation Plan as a guide for the work to make sure that the position of each coral is accurately logged so it can be returned to the same spot from which it came. The translocation process involves the removal of a variety of coral species – including
Acropora
coral – from a 1,500-foot section of the pipeline sitting in more than 20 feet of water off the shoreline. Once removed, the coral colonies will remain in their temporary location until pipeline's protective cover has been reinforced with concrete mats. The corals will then be reattached using a cement mix developed for coral.
x
---
We want your input! If you have stories of note or just want to comment on our newsletter,
---
Sanctuary Friends Foundation of the Florida Keys
is a non-profit, 501(c)(3), tax-exempt organization
(Tax ID# 59-2443959).
We take your privacy seriously. Your email address will never be sold, rented or given away. All our emails include an easy opt-out feature. If you have activated spam filters in your email application, please add the following email to your address book:
Sanctuary_Friends_Foundation_of_@mail.vresp.com