Socioeconomics of the Sanctuary

The
FKNMS
is a center for strong local economies and has economic value reaching far beyond the water. Our natural resources have tangible "value," even if we can't put a price on them. The following are some examples: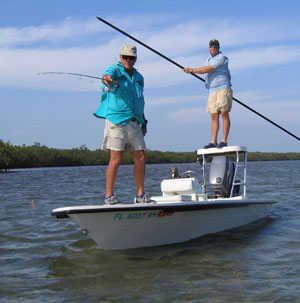 More than 33,000 jobs in the Florida Keys are supported by ocean recreation and tourism, accounting for 58 percent of the local economy and $2.3 billion in annual sales.
From 2007 to 2008, more than 400,000 visitors and residents of the Florida Keys engaged in more than 2 million person-days of recreational sports fishing. These recreational fishers spent $274 million in Monroe County, of which approximately $107.6 million was spent directly on fishing items.
Approximately 739,000 visitors and residents participated in 2.8 million days of diving in the Florida Keys between 2007 and 2008, and $54 million was spent at dive/snorkel operators. Divers spent a total of $470 million in the Florida Keys, supporting more than 7,500 jobs.
Wildlife viewing and nature study is a popular activity with more than 620,000 visitors and residents participating, resulting in almost 2.7 million days of the activity.
In 1995, fishermen received an estimated $56.5 million in harvest revenue that generated $92.2 million in sales in Monroe County, or about 4.5% of the total economy. This output generated more than $58 million in income and 4,130 jobs (8.8% of the county's employment).
National marine sanctuaries continue to build stronger communities, support local economies and maintain coastal cultures – true American treasures.
More information about the socioeconomics of marine sanctuaries worldwide.
---
White Pox and Coral Decline in the Keys

We've all heard about bird flu, swine flu, HIV, Ebola — diseases that jump species with alarming agility and wreak havoc on humanity's unprepared immune system. But have you ever stopped to consider the capacity of the human species to infect other life forms? If humans can contract bird flu, can birds get people flu?
x
While only a handful of cases of reverse zoonosis have been documented, researchers at Rollins College in Florida and the University of Georgia have identified a human pathogen that, when set loose in the Caribbean through inadequately treated human sewage, infects and kills coral with devastating efficiency.
x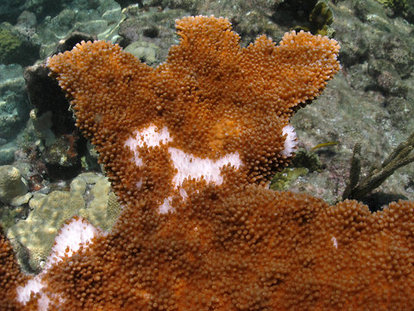 According to
new research
published online in the
Journal PLoS ONE
, the bacteria, Serratia marcescens, which can cause meningitis and pneumonia in humans, is responsible for a recent epidemic of a coral disease known as white pox. It is the first known case in which a human disease infected a marine invertebrate.
x
White pox was first documented off the Florida Keys in 1996, with virulent outbreaks observed in 2003 and 2009. The bacterium infects and kills
Elkhorn coral
at a rate of up to 10 centimeters, or nearly four inches, a day — far outpacing the coral's regrowth rate of just 10 centimeters a year. Elkhorn coral, aptly named for its broad branching antler-like structure, used to be the most common coral species in the Caribbean. Growing up to six feet tall, it provided essential habitat for fish and marine invertebrates and acted as a crucial buffer, preventing the full force of storm surges from reaching the shoreline. It was listed under the Endangered Species Act in 2006.
x
The only hope for Elkhorn coral is a radical change in wastewater management throughout the Caribbean. This movement is being led in the Florida Keys through a switch from a system of individual household septic systems, which leak sewage through the porous limestone bedrock into the ocean, to advanced waste water treatment systems. The upgrades in the Keys are projected to cost about $900 million. Water-related tourism there brings in $3 billion annually.
x
So far, 25 diseases have been known to attack coral in places around the globe. The infecting agent for only five of these diseases is understood.
Source: New York Times Green blog
---
Birthday Buoy Donated by SeaKeepers

The Sanctuary is celebrating a significant birthday this year.
Mooring buoys
are turning thirty and, to help celebrate, the
International SeaKeepers Society
has made a generous donation to
Sanctuary Friends
to help support the
FKNMS mooring buoy program
and fund the installation of a new buoy.
x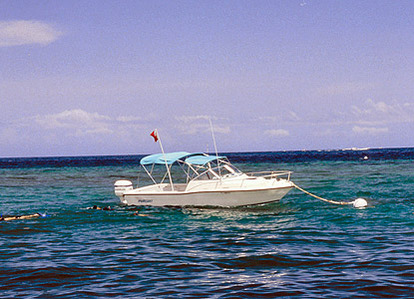 The concept of a permanent anchor embedded in the ocean bottom to secure a mooring so boaters wouldn't damage coral colonies with anchors began 30 years ago right here in the Florida Keys. In the fall of 1981, John Halas, now Sanctuary Upper Region Manager, tested his idea with six experimental mooring systems installed at French Reef in the Key Largo National Marine Sanctuary. Since then, the Sanctuary has installed
more than 400 buoys
, and the idea of environmental moorings has spread around the world.
x
The SeaKeepers' donation launches its exciting new campaign to promote the installation and use of mooring buoys for the protection of coral reefs and fragile marine ecosystems. SeaKeepers was founded in 1998 by a small group of yacht owners concerned by the deteriorating health of the seas. Today the Society continues to "Protect and Restore" (their motto) by supporting science and educational opportunities on ocean issues. SeaKeepers' close ties to the yachting community uniquely positions the organization to support the use of moorings as a best management practice in boating, and more donations are planned for popular boating areas worldwide.
x
Mark your calendars:
Sanctuary Friends
plans a big Buoy Birthday Bash on Dec. 3 in Key Largo to celebrate the 30th birthday of the mooring buoy program.
---
NewsMakers
---
Ocean Stewards Applaud NOAA Aquaculture Policy

The Ocean Stewards Institute
recently announced their robust support of
NOAA's Aquaculture Policy
, which establishes priorities for NOAA's aquaculture initiatives and provides guidance and standards for the development of sustainable aquaculture in federal waters. Under the policy, NOAA will "encourage and foster sustainable aquaculture development that provides domestic jobs, products, and services that is in harmony with healthy, productive, and resilient marine ecosystems, compatible with other uses of the marine environment, and is consistent with the National Ocean Policy."
x
Ocean Stewards was pleased to see NOAA's emphasis on a timely, science-based process for issuing aquaculture permits; however, the institute was disappointed that the policy did not include specific production goals for fostering responsible industry growth. The Ocean Stewards assert that clean, safe open ocean aquaculture (or mariculture) can reduce pressure on wild fish stocks and provide more healthful, locally-grown seafood for American consumers. A domestic mariculture industry also can help maintain working waterfronts and fits perfectly with President Obama's vision of green collar jobs for America's future.
---
blue
&
green
occasions
Celebrating the event... Honoring the earth and sea
SERVING THE FLORIDA KEYS AND KEY WEST
We invite you to hold your special celebrations, business meetings and other occasions in a meaningful way at the Florida Keys Eco-Discovery Center. We will help you celebrate in a green way, and your donations will help to give back to the "Sanctuary." Call today to reserve your date and share your celebration with the earth and sea! More information.
---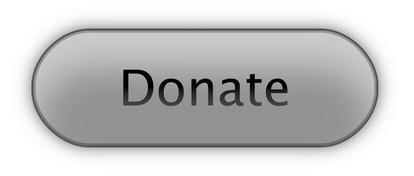 ---
Sanctuary Friends Foundation of the Florida Keys is a non-profit, 501(c)(3), tax-exempt organization (Tax ID# 59-2443959).
We take your privacy seriously. Your email address will never be sold, rented or given away. All our emails include an easy opt-out feature. If you have activated spam filters in your email application, please add the following email to your address book: Sanctuary_Friends_Foundation_of_@mail.vresp.com