Seagrass Restoration: How It's Done
When a habitat such as
seagrass
is damaged by vessels or other human-induced events, the goal of
FKNMS
is to restore the damaged area to its prior condition. The funds collected as damages from those responsible for causing the injuries are used to implement restoration projects and monitor recovery of the site.
x
Restoration
is a crucial component in reversing the effects of human environmental harm. Restoration
techniques
vary based on the type of habitat affected, the extent of damage and other factors specific to each grounding.
x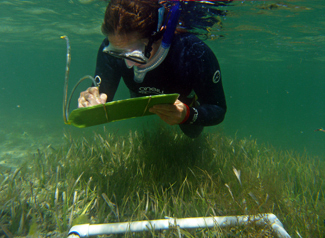 To prevent a seagrass injury from growing larger and to prepare the site for seagrass recolonization, the scar or hole is filled with crushed limestone rock, often called "pea rock." Over time, fine sediments fill the empty spaces between the pea rock, creating the desired bottom habitat for seagrasses to grow. Another fill technique is to use sediment-filled biodegradable tubes, which can hold any sediment grain size. After filling in the injury holes or scars, scientists may install bird roosting stakes throughout the site so birds will naturally fertilize the sediment below.
x
Next, scientists can determine whether surrounding seagrasses are likely to grow into the injury or whether recolonization needs to be jump-started with seagrass transplants. When appropriate, restoration biologists collect seagrass from nearby "donor sites" and transplant them in the injury. When done carefully, seagrass transplants will grow together, expanding to fill in injured areas.
x
Sanctuary biologists will continue to monitor the site years after restoration to determine the effectiveness of the project. Monitoring also provides sanctuary managers with a picture of how restorations are recovering in comparison to surrounding habitats and how restoration efforts might be affected by other influences such as storms.
---
Marine Mammal & Sea Turtle Viewing "Code of Conduct"
Spotting a dolphin, manatee or sea turtle can be an exhilarating and intoxicating experience. You may be tempted to do whatever it takes to see the animal again or close-up. However, there are important factors to consider when viewing marine animals in their natural habitat so that you don't inadvertently harm them or violate
Federal law
.
x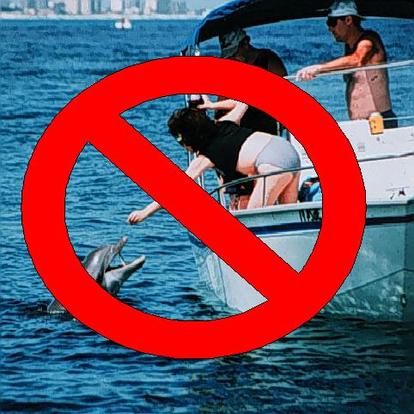 Irresponsible human behavior can disturb animals, destroy important habitats and even result in injury to animals and people. Close approaches by humans to marine mammals may cause them to lose their natural wariness and become aggressive towards people. They are also vulnerable to injury or death from entanglement in fishing gear or boat strikes.
x
To promote responsible and sustainable marine animal viewing, NOAA Fisheries has developed numerous educational programs,
viewing guidelines and regulations
, and enforcement actions, including the
Ocean Etiquette
program to more effectively promote ocean stewardship.
x
To reduce the potential for wildlife viewing that inadvertently harms marine mammals or violates Federal laws, use the following Federal guidelines:
Remain a respectful distance of at least 50 yards from marine mammals and sea turtles. Bring binoculars if you want to see them closer.
Limit your viewing time to a half hour.
Marine mammals and sea turtles should not be encircled or trapped between watercraft, or watercraft and shore.
If approached by a marine mammal or sea turtle, put your watercraft's engine in neutral and allow the animal to pass. Any vessel approach should be from the rear of the animal. Pursuit of marine mammals and sea turtles is prohibited by Federal law.
Never feed or attempt to feed marine mammals or sea turtles. Federal law prohibits feeding or attempting to feed marine mammals.
These guidelines are intended to inform the public about protection of marine mammals and sea turtles and are not a replacement for Federal legal requirements. Together we can assure marine mammal viewing will be as rewarding as it is today for many generations to come.
Download the guide to viewing wildlife in the Florida Keys.
x
ADMIRE FROM A DISTANCE … for your safety and their protection.
Never touch, swim with, feed or harm in the wild.
---
Supporting Sigsbee Marine-Education Programs
Sanctuary Friends presented a check for $1,000 to
Sigsbee Charter School
to support their Marine and Environmental Science study programs. The money will be distributed to each grade level to be used for marine-related field trips and cutting-edge educational materials.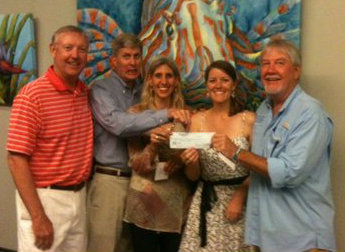 The check was presented during Sigsbee's "An Island Affair" Fundraiser at the Eco-Discovery Center in April. The event raised more than $12,000 for Sigsbee Charter School. "This was a great way for Sanctuary Friends to help reach our students who are in need with all the cutbacks," said George Neugent, Sanctuary Friends Board Chair. "Like they said at the event, the first grade students this year may be our marine biologists in the year 2030, so it is important to help in any way we can."
Part of the mission of Sanctuary Friends is to develop community support and advance public awareness through education and outreach.
x
Pictured: Key West Golf Course owner Bill Smith; Key West City Manager Jim Scholl; George Neugent; Sigsbee Principal Elisa Jannes; and Sigsbee Marine Biology Teacher Erica Baugh.
---
NewsMakers
---
Don't Throw It Away, Give It Away!
Now you can
donate your used items
to people who really need them. Whether you have old sheets and towels or a discarded computer monitor, a musical instrument your child no longer plays or a bulletin board stored in a box somewhere, there's probably a
non-profit group in the Keys
that can put it to good use. Your possessions will now be ReUsed.
x
Go to
KeysReuse.com
and look at the items listed – everything from appliances to school supplies and many things in between. Perhaps you'll see something you have that has been sitting in storage. If you click on the item, you'll find out which non-profit group needs that very thing. Then send the non-profit group an email or call to see how you can best deliver it.
x
In this way everyone wins. You dispose of something that has been cluttering up your house. The non-profit gets something it really needs. And we all keep these things from sitting in the dump for hundreds of years.
Sanctuary Seeks Public Comment on Boundaries, Zones and Regulation
FKNMS
and its
advisory council
are seeking public comment on issues related to sanctuary boundaries, marine zones,
Key West and Great White Heron National Wildlife Refuge's Backcountry Management Plan
, and associated regulations. The comments received will guide a review of the
marine zones
and
regulations
, and shape Florida Keys marine conservation for decades to come. Public comments are being accepted through June 29. Comments may be submitted electronically and via mail, and during five meetings in south Florida and the Florida Keys scheduled for June 19-27.
More information about where and how to comment.
x
During this initial public comment period, the sanctuary will "scope out" or solicit the public's views on the direction the sanctuary should take to best protect and conserve the living marine resources and submerged cultural resources of the Florida Keys. This information will help define the range of issues to be addressed during the marine zoning and regulatory review. Scoping, as defined and required by the
National Environmental Protection Act
, is "an early and open process for determining the scope of issues to be addressed and for identifying the significant issues related to a proposed action."
---
Our Mission


Sanctuary Friends Foundation of the Florida Keys supports the Florida Keys and the Florida Keys National Marine Sanctuary (FKNMS) in the preservation, restoration, and sustainable use of our coral reef ecosystem, from the uplands to the deep sea. We focus on development of community support and advancement of public awareness, education, outreach and scientific research.
---
We want your input!
If you have stories of note or just want to comment on our newsletter,
---
Sanctuary Friends Foundation of the Florida Keys
is a non-profit, 501(c)(3), tax-exempt organization
(Tax ID# 59-2443959).
We take your privacy seriously. Your email address will never be sold, rented or given away. All our emails include an easy opt-out feature. If you have activated spam filters in your email application, please add the following email to your address book:
Sanctuary_Friends_Foundation_of_@mail.vresp.com