Hurricanes: Friend or Foe to Coral Reefs?
With the Western Atlantic hurricane season in full force, the public is well aware of the damage a storm can cause on land. But did you ever stop to wonder how hurricanes affect life beneath the water?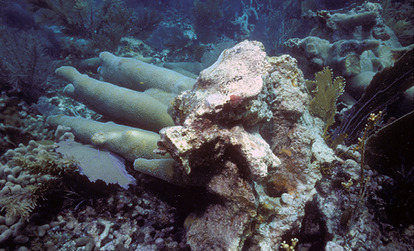 Here in the Florida Keys, storms have the ability to both help and hinder the coral reef environment. The high winds of a storm can cause powerful waves that can topple entire coral heads or shift sand, which can scour or smother coral colonies. Delicate branching corals – like
staghorn and elkhorn
– are among the most vulnerable to breakage and may be reduced to rubble during a severe storm. Yet sometimes, the breaking of coral into pieces may actually help a coral colony
reproduce
through a process called fragmentation. If conditions are favorable and coral pieces come to rest in an area where they can reattach to the seafloor, fragmentation can result in colonies flourishing in a new location. In other instances, corals that reproduce through
broadcast spawning
may get a little extra help from late summer storms by aiding in the dispersal of their larvae to new reef locations.
x
During summer months, ocean surface temperatures increase just like air temperatures. If sea surface temperatures rise beyond the coral's preferred temperature range, the coral animal can become stressed and bleached, or possibly die. However, as a storm passes over the ocean, it absorbs some of the heat from the water, cooling the sea surface and giving corals a reprieve from the heat. The winds of a storm can further reduce water temperature by causing
upwelling
, which brings deeper, cooler water to the surface. Even the clouds of a storm can help reduce heat by blocking the sunlight, and dropping water temperatures to a more comfortable level for corals.
x
One of the hottest years on record in the Northern Hemisphere since the start of reliable records was 2005. As a result of this extensive thermal stress, the corals of the Caribbean experienced widespread bleaching and death, the worst in recorded history. That summer, corals of the Florida Keys bleached like their Caribbean counterparts, but were spared widespread mortality due to the passing of several strong hurricanes that cooled Keys waters in their wakes. So, although we never want to see the destruction that hurricanes can cause, just like all of nature, they do have a purpose.
---
Pillar Corals Spawn for First Time in Florida Keys
At precisely 9:47 one night last week, corals shaped like Greek columns began spawning in shallow water off North Key Largo in a place known as Pillar Coral Forest. The cloud of milky sperm was in clear view under a nearly full moon. Six minutes later, the girl
pillar corals
did their part for reproduction of the threatened species, releasing little white eggs that looked stringy when clumped together. The three state research scientists who witnessed the event while scuba diving last Saturday night would have cheered had they not had regulators in their mouths. It was the first documented case of male and female pillar corals spawning together in Florida waters, according to the
FWC
.
x
That's good news for the state-listed threatened species — extremely rare along the Florida reef tract, which runs from Palm Beach County to the Dry Tortugas. The hope is that the eggs and sperm fuse in the water column and become larvae, and eventually settle as new corals.
x
All corals can break off a piece and re-cement themselves to the hard bottom of the ocean floor through a process known as
fragmentation
, but sexual reproduction offers more diversity in the population. The slow-growing pillar coral was never abundant in Florida waters, but its numbers greatly diminished during the 1950s and '60s when the whitish pillars were a popular target of the curio trade. While the collection of coral has been banned, all corals continue to face threats from disease, sedimentation and other factors.
x
The area known as the Pillar Coral Forest is one of the largest clumps of the species known in the Keys. Some are four to five feet tall, which means they are 40 to 50 years old. Twenty-two of the colonies were in peril after breaking off and falling into sand during Hurricane Andrew. Had the corals fallen onto hard bottom, they might have had a chance for fragmentation, but not on the sand. FKNMS resource manager Bill Goodwin and "The Reef Doctor" Harold Hudson set the fragments upright and stabilized them onto hard bottom.
x
The good news of the pillar coral spawning was tempered a bit by the lack of spawning sightings among other types of coral. Though the polyp release cannot be guaranteed to happen on an exact date, the next late summer full moons (
peak times for synchronized mass spawning rituals
) fall on Friday, Aug. 31, and Saturday, Sept. 29.
---
REEF, Fish & Friends
Free Seminars and Lectures Focused on Fish!
REEF, Fish & Friends
began in March 2009 as a way to give back to the community that has housed and supported the
Reef Environmental Education Foundation (REEF)
since its inception. The monthly seminar series is co-sponsored by REEF and
Sanctuary Friends Foundation
. It gathers snorkelers, divers, natural history buffs and armchair naturalists to learn more about fish and have some fun. The meetings include entertaining presentations by guest speakers, informal discussions, and laid-back, Keys-style fun with friends who share a passion. Learn how you can make a dive or snorkel that counts. Become a citizen scientist and meet others who share your passion for the underwater world.
x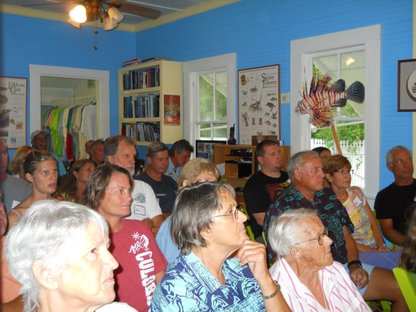 Past topics have included lionfish, spiny lobster, coral spawning, parrotfish and wrasse, underwater photography, Aquarius Reef Base, fish identification and how to do a survey. Presenters have included Lad Atkins, Martin Moe, Paul Humann, Lauri MacLaughlin and Ken Nedimyer.
x
Join us the second Tuesday of each month for this exciting series! We invite everyone to stop in and share some food, drink, good conversation, and hear a relevant topic about REEF projects or a mini fish ID seminar. Social begins at 6:30 pm and the presentation runs from 7-8 pm at the James E. Lockwood Jr. REEF Headquarters in Key Largo at MM 98.3 in the median. All REEF, Fish & Friends events are free and open to the public.
---
NewsMakers
---
Another "Great" Annual Fish Count
By Janna Nichols, REEF Outreach Coordinator
The 21st Annual
Great Annual Fish Count (GAFC)
took place in July, with many dive shops, dive clubs, and other groups organizing fish ID classes, dive /snorkel days, BBQs and more fun gatherings. The concept behind the GAFC is not only to accumulate large numbers of surveys during the month of July, but also to introduce divers and snorkelers to fishwatching and get them started doing REEF surveys. Groups from California, Oregon, Washington, British Columbia, Hawaii, Massachusetts, Maine, Hawaii, Florida, North Carolina, and new to the event in 2012 – New Brunswick – all participated! Once again, this year's largest one-day event was held in the Northeast, coordinated by the New England Dive Club. Thank you to ALL participants, and we hope you'll continue conducting
REEF
surveys on your dives year round!
"Kissimmee Basin: the Northern Everglades" Documentary Now Available
Throughout the centuries, the Everglades have inspired strong emotion and debate among soldiers and poets, politicians and citizens. Its history is as broad and sprawling as the River of Grass itself. Although many stories have been told about the Everglades – from drainage to restoration – few have been told about where it all begins: the Kissimmee River Basin. Restoration and protection of the natural values of this vast, watery landscape may well hold the key to restoration of the Greater Everglades ecosystem.
x
This new documentary film by Elam Stoltzfus invites you to take a trip up the Kissimmee Valley back through time to discover the well-reasoned, yet unforeseen, consequences of a flood-control project that turned the 103-mile long meandering river full of life, into a 52-mile long, multi-million dollar over-engineered channel that drained the surrounding wetlands, caused the disappearance of large flocks of wading birds, and a significant decline of an abundant freshwater fishery.
View the trailer here.
x
Check your local public televisions station listings for broadcast dates and times or
purchase the DVD
.
---
Our Mission


Sanctuary Friends Foundation of the Florida Keys supports the Florida Keys and the Florida Keys National Marine Sanctuary (FKNMS) in the preservation, restoration, and sustainable use of our coral reef ecosystem, from the uplands to the deep sea. We focus on development of community support and advancement of public awareness, education, outreach and scientific research.
In This Issue:
Hurricanes: Friend or Foe?
---
---
Dear Friends:
x
x
x
x
x
Judy Halas, Secretary
---
---
Please add your upcoming events to our online Florida Keys Environmental Calendar. This community-wide resource allows any organization or group to set up an account and post environmentally-related events.
xxxxxxxxxxxxxxxxxxxxxxxxxxxxxxxxxxx
Lionfish Derby
September 8, Coconuts, Key Largo
REEF hosts the third annual Florida Keys lionfish derby with more than $3,000 in cash and prizes for largest, smallest and most lionfish caught. Mandatory captains meeting the evening before the derby. Rules, registration and more information at
www.reef.org
or call 305-852-0030.
27th Annual International Coastal Cleanup
Sept. 15

Ocean Conservancy partners with organizations and individuals around the globe to clean up the world's beaches and waterways. Volunteer for a beach cleanup near you at
www.signuptocleanup.org
. If you don't see a cleanup scheduled in your area or you want to schedule one on a different date, you can
propose your own
and find out more about organizing a cleanup.
Discovery Saturday: Feathered Friends
Sept. 15, 10-11 am, Eco-Discovery Center, Key West
Kids in kindergarten through fifth grade are invited to join the free, fun-filled program. Play games and make crafts while learning about birds native to South Florida, as well as the importance of conserving natural habitats for nesting and future bird populations. Discovery Saturday is held the third Saturday of every month. For more information, call 305-809-4750.
Florida Keys Birding & Wildlife Festival
Sept. 25-30, throughout the Keys
Signature events include an excursion to Dry Tortugas National Park, guided bird and butterfly walks through state parks and federal refuge areas, wildlife photography workshops, the Florida Keys Hawkwatch, an environmental fair, and boat trips into the backcountry. The event's keynote speaker is Bill Thompson III, editor of Bird Watcher's Digest and author of several birding guides. In addition to his presentations, he will also lead several birding walks. Event details and registration form:
www.keysbirdingfest.org
. Register early because several activities have participant limits and sell out fast!
---
Welcome! Thank you for your support!
New & Returning Members ($30-$100)
Benefactors ($200+)
Long Key Ladies Club
Michael Fimiani

---

---
---
We want your input!
If you have stories of note or just want to comment on our newsletter, please email:
If you enjoyed this newsletter,
If you are not already on our mailing list,
---
Sanctuary Friends Foundation of the Florida Keys
is a non-profit, 501(c)(3), tax-exempt organization
We take your privacy seriously. Your email address will never be sold, rented or given away. All our emails include an easy opt-out feature. If you have activated spam filters in your email application, please add the following email to your address book:
Sanctuary_Friends_Foundation_of_@mail.vresp.com