Our dedicated Board of Directors, members and allies are committed to guaranteeing the future of our economically-precious treasures that are in critical danger here in the Keys. Please
join us as a member
,
renew your membership
or consider
volunteering
with us in 2012.

Results of Sanctuary Condition Report: Corals Declining
Reduced numbers of coral colonies, increasing prevalence of coral diseases and low abundance of key fish species such as grouper are among a series of problems outlined in the
"Condition Report 2011 for Florida Keys National Marine Sanctuary,"
the first report since the sanctuary was established in 1990 that outlines the health of the coral reef ecosystem and the fisheries in sanctuary waters. The report comes as the sanctuary has begun to discuss tweaking its regulations, which could lead to more rules and new or expanded no-fishing areas. It will guide the review of current sanctuary regulations and management policies and provide an important baseline on the status of sanctuary marine resources.
x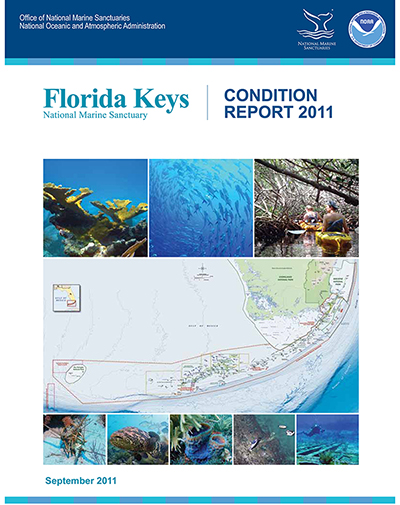 The report documents improvements in local water quality, as many Keys communities are converting to advanced wastewater systems. It also shows increases in the size and abundance of some fish species and Florida spiny lobster in large reserves within the sanctuary. Also documented are many of the ongoing problems that could make full recovery impossible for elkhorn and staghorn coral, queen conch, goliath grouper and other species that have seen sharp population declines in the past 20 to 30 years.
x
Significant coral bleaching and disease has caused substantial declines in coral cover over the past two decades, the report states. Coral cover has dropped to a point where there is less than 10 percent of living coral along the main reef tract and closer to shore, and about 25 percent live cover on deeper reefs and patch reefs, according to some estimates. Coral disease and death is tied to pollution and water quality. Traps, careless divers and other human activities have played a role in coral decline at a local level. On a larger scale, reefs are being impacted by rising sea temperatures and greater ocean acidification.
x
Coral decline leveled off in 1997, but no new coral recruitment has occurred and not much recovery has occurred in the past 14 years, the report says. Many of the areas that were once rich with coral are now covered in algae, as one of the main reef grazers, spiny urchins, experienced a massive die-off in 1983. Urchins generally clear areas of algae, which help coral recruitment.
x
To combat human impacts, the sanctuary has implemented both charter dive boat and dolphin-watching education programs for local operators, which reward them for conservation efforts. The sanctuary is working with marine biologist
Ken Nedimyer
, who is rearing coral in an offshore nursery used for research and to replace coral colonies damaged in vessel groundings.
x
The
Sanctuary Advisory Council
meets bi-monthly and has begun discussing the time frame and process for implementing rule changes, which could set up new closed areas, put in place more protections for coral and fish species and establish a mandatory boater education rule.
Read the full report here.
---
2,000 Corals Rescued Before Reconstruction of Pier

More than 2,000 coral colonies and fragments
rescued
from a sea wall reconstruction project will be used for restoration and conservation work in the Florida Keys and education programs on the mainland. The corals, which are protected by
FKNMS
, were thriving on a 425-foot section of Navy's Mole Pier slated for repairs. Sanctuary Resource Manager
Lauri MacLaughlin
spearheaded the effort and worked closely with the Navy to ensure that corals could be moved before these repairs began.
Since the new seawall will be made of vertical smooth steel, the removed coral could not be reattached, but instead will be cared for in nearby nurseries to be used in future projects such as boat grounding restoration. In phase one of the removal in October, more than 1,500 coral colonies were removed. Since then, a coalition of permitted zoos, aquariums and conservation organizations have rescued an additional 600 small corals, totaling more than 19 different coral species, which will be used for education and research efforts.
x
This is a fantastic example of sanctuaries working with their communities. The sanctuary understood the community's need to repair the pier, and worked with local partners to ensure the best outcome for the land and water populations. Like all national marine sanctuaries, Florida Keys works closely with local, state and federal agencies to ensure resources are protected while construction continues through a permit system.
x
In addition to the US Navy,
FKNMS
worked with Florida International University, Georgia Aquarium, Mote Marine Laboratory, Shedd Aquarium, The Florida Aquarium, Pittsburgh Zoo & PPG Aquarium and University of Miami.
---
Regional Climate Summit Draws Impressive Speakers
The Third Annual Southeast
Regional Climate Leadership Summit
was held at the Key Largo Government Center on Dec. 8-9. It was well attended by interested parties and supporters of sustainability throughout the region including Monroe, Dade, Broward and Palm Beach County -- collectively an area with a population of approximately six million people.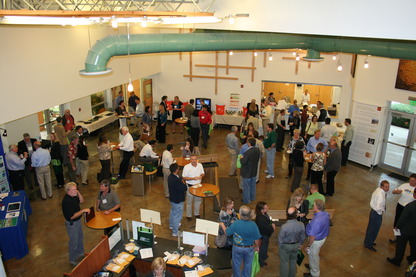 Bryan Norcross of The Weather Channel was the Keynote Speaker, with
presenters
from throughout the country, ranging from California's Francisco DeVries, former Chief of Staff of Berkeley; Boston's Dorian Dale, Energy Director of Bablyon; and Michael Bornstein and Erin Deady, who presented humorous and riveting information in their progress on sustainability in New York.
x
Locally, Monroe County Commissioner Heather Carruthers brought the group up to speed about the progress in the Keys for reaching sustainability, including changing lights at local parks to not only a more cost-effective system, but also a more environmentally-friendly one. She also talked about Monroe County streamlining the recycling program and working toward a goal of 75 percent recycled waste by 2020.
x
Other speakers included Chris Bergh, Director of Coastal and Marine Resilience at The Nature Conservancy, who touched on the impacts of sea level rise for Monroe County, including a pictorial of the different level rises in respect to Big Pine Key. Margaret Davidson, Director of NOAA Coastal Services Center, discussed how the counties involved could be a model for the nation to follow. Sanctuary Friends was represented at the Summit by
board members
Mayor David Rice and County Commissioner George Neugent. Administrative Aide Kristen Grimes was also in attendance and manned a shared booth with Nancy Diersing of
FKNMS
.
x
Sanctuary Friends will continue to take an aggressive and proactive role in the education and outreach on the issues of climate change and the impacts associated with this phenomenon, including sea level rise and ocean acidification due to greenhouse gas effects exacerbated by human impacts.
---
NewsMakers
---
Overseas Highway Named Among Top Summer Road Trips
The Florida Keys Overseas Highway recently received fun a designation as one of the top five
"Best 2011 Summer Road Trips in the United States"
by Yahoo! Travel. The editor states that "From Key Largo, ... a series of bridges and causeways means you're driving over beautiful blue waters for more than a hundred miles, until the end of the road in Key West ..."
x
But this famous stretch of road is more than just a road trip. In 2009, it was awarded one of the highest honors a roadway can receive:
"All-American Road"
by the U.S. Department of Transportation and Federal Highway Administration. To become All-American, a roadway must have very unique features and possess characteristics of national significance that make it a visitor destination in and of itself. The All-American Road designation is the highest recognition possible under the
National Scenic Byways
program. Only
30 other U.S. roadways
have earned the prestigious title.
x
In 2001, the Overseas Highway was named a Florida Scenic Highway, which paved the way for its most recent recognitions.
x
The roadway was originally completed in 1938 and incorporates 42 bridges over the waters of the Atlantic Ocean, Florida Bay and the Gulf of Mexico. They include the Seven Mile Bridge at Marathon, which stretches 6.79 miles across open water and was referred to on its completion as "the eighth wonder of the world." Millions of people travel up and down the Overseas Highway each year simply to catch a glimpse of the beautiful scenery and its historic significance.
Watch a video about the announcement.
E-Waste Recycling & HHW Disposal Dates
Saturdays 9 a.m. to 1 p.m.
January 7: County Public Works Yard, Marathon, 10600 Aviation Blvd.
January 21: Key largo Recycling Center, 300 Magnolia St. (MM 100.3)
January 28: Cudjoe Transfer Station, Blimp Rd. (MM 21.5)
x
What Can I Bring?
E-Waste: monitors, computers, televisions, telephones (cell & land), fax machines, printers/copiers, DVD/VCR players, radios & speakers, discs & cassettes.
HHW: paints, stains, preservatives, roofing compounds, resins & solvents, adhesives/caulk, corrosives/acid, cleaning products, automotive fluid, waste oil (5g max.), pesticides & fertilizers, fluorescent & CFL bulbs.
x
Sponsored by Monroe County and the City of Marathon. Free for Unincorporated Monroe County, Key West, Marathon, Key Colony Beach, Layton & Key Largo residents. Call 305-289-6037 for information about acceptable items, regular collection hours/locations for e-waste and HHW disposal, commercial fees and limitations.
In This Issue:
Sanctuary Condition Report
---
---
Dear Friends,
x
x
x
x
With Kindest Regards,
George Neugent, Chair
---
---
Please add your upcoming events to our online Florida Keys Environmental Calendar. This community-wide resource allows any organization or group to set up an account and post environmentally-related events.
xxxxxxxxxxxxxxxxxxxxxxxxxxxxxxxxxxx
Sunday Environmental Film Series
Every Sunday at 2 pm & 4 pm, Eco-Discovery Center, Key West
The 4 pm show is new each week and is repeated the following week at 2 pm. For a recorded message of upcoming films, call 305-809-4755.
Friends in Focus Lecture:
Donna Blaszcak, "Night Moves in the Florida Keys"
Jan. 5, 7:00 pm, Sail & Power Squadron Education Building, 12 Loggerhead Lane, Marathon. Social begins at 6:30 pm.
Come along with Donna as she identifies diverse and exciting marine life that live under the waves. These creatures are hidden from view during the day, but come alive after sunset.
Friends in Focus Film Series:
A Sea Change
Jan. 12, 7:00 pm, Sail & Power Squadron Education Building, 12 Loggerhead Lane, Marathon
Big Pine Nautical Flea Market
Jan. 21 & Jan. 22, 8 am – 2 pm, Lower Keys Chamber of Commerce grounds, MM31
Eighth annual event for aficionados of boating, fishing and diving to take their pick of maritime merchandise such as dive and snorkel gear, boats and motors, fishing tackle and marine merchandise of all sorts. The family-friendly, open-air event will include music throughout the day.
The Delicate Balance of Nature Lecture Series
Begins Jan. 4. Every Wednesday at 7:30 p.m. until March 28, Pennekamp State Park Visitor Center, MM 102.5.
---
Coming ...
Eco-Discovery Tours
Discover the Florida Keys through eco-friendly and historical excursions.
email
t
o request a brochure.
---
Thank you for your support!

Benefactors
Sanctuary Benefactor $1,000


Michael Fimiani
Anonymous

---

---
We want your input!
If you have stories of note or just want to comment on our newsletter,
please email:
If you enjoyed this newsletter,
---
Our Mission


Sanctuary Friends Foundation of the Florida Keys supports the Florida Keys and the Florida Keys National Marine Sanctuary (FKNMS) in the preservation, restoration, and sustainable use of our coral reef ecosystem, from the uplands to the deep sea. We focus on development of community support and advancement of public awareness, education, outreach and scientific research.
---
Sanctuary Friends Foundation of the Florida Keys
is a non-profit, 501(c)(3), tax-exempt organization
(Tax ID# 59-2443959).
We take your privacy seriously. Your email address will never be sold, rented or given away. All our emails include an easy opt-out feature. If you have activated spam filters in your email application, please add the following email to your address book:
Sanctuary_Friends_Foundation_of_@mail.vresp.com