Our dedicated Board of Directors, members and allies are committed to guaranteeing the future of our economically-precious treasures that are in critical danger here in the Keys. Please
join us as a member
,
renew your membership
or consider
volunteering
with us in 2013.

66 Coral Species May Be Listed as Endangered or Threatened
NOAA Proposes Endangered Species Act Listings
NOAA Fisheries
is proposing
Endangered Species Act (ESA)
listings for 66 coral species: 59 in the Pacific and seven in the Caribbean. In the Caribbean, five would be listed as endangered and two as threatened. In addition, two Caribbean species already listed under the ESA — elkhorn and staghorn corals — would be reclassified from threatened to endangered. The basis of the proposal comes from a 2009 petition from the
Center for Biological Diversity
.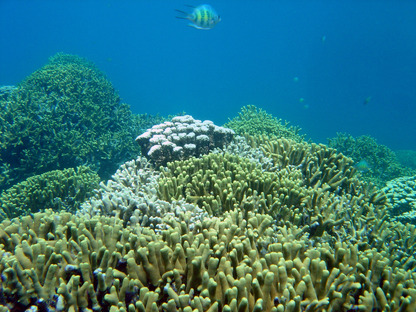 Before making a final decision, NOAA is asking for comments from all interested parties. There are several ways to participate including:
Corals are tremendously important to the biodiversity of the world's oceans and have measurable economic value for communities around the world. Reefs provide home and shelter to more than 25 percent of fish in the ocean and up to two million marine species. One independent study reported that coral reefs provide approximately $483 million in annual net benefit to the U.S. economy from tourism and recreation activities and a combined annual net benefit from all goods and services of about $1.1 billion. NOAA also estimates the annual commercial value of U.S. fisheries from coral reefs to be more than $100 million; reef-based recreational fisheries generate an additional $100 million annually.
x
Corals are facing severe threats, and it's highly likely that these threats will increase over time. NOAA identified 19 threats, including: rise in ocean temperatures, ocean acidification, disease, ecological effects of fishing, and poor land-use practices. The three major threats identified – rising ocean temperatures, ocean acidification and disease – are all directly or indirectly linked to greenhouse gas emissions and a changing climate. But, despite the broad global threats to corals, there is evidence that alleviating more local stressors can help improve resiliency for many coral species.
---
Reef Fish Respond Positively to Reserve Protection
Tortugas Ecological Reserve (TER)
, a fully-protected no-take zone, was implemented in the far western region of the
FKNMS
in 2001. To monitor changes in reef fish populations associated with these protections, scientists conducted fish surveys in one section of the reserve, Tortugas North, from 2001 through 2009. Scientists tracked changes in fish abundance by measuring biomass (the amount of living fish) at the ecotone, or transitional zone, between the coral reefs of Tortugas Banks and the soft-bottom habitat on the surrounding shelf. This ecotone falls under three different resource management regimes: the sanctuary's Tortugas North, which is closed to fishing; Dry Tortugas National Park, which until 2007 was open to recreational, but not commercial fishing; and a third area outside of the park and reserve open to both commercial and recreational fishing. In 2007, Dry Tortugas National Park's Research Natural Area was implemented, closing a portion of the park to both recreational and commercial fishing.
x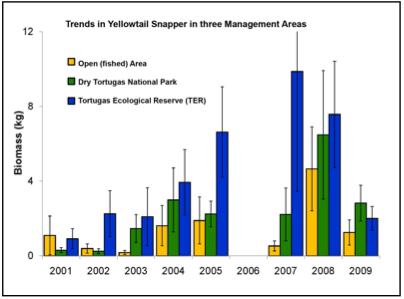 Research Results: Monitoring of reef fish populations over time showed that reef fish responded positively to the protection offered by TER. Biomass of yellowtail snapper, the dominant commercial species in the region, increased dramatically during the first six years of protection, and then leveled off. In contrast, its biomass remained low in the open fished area until 2008, when an increase was observed. The timing of this increase suggests it may have resulted from the buildup and spillover of yellowtail production into the adjacent fished area. Mutton snapper biomass increased in all three areas of the study, while hogfish biomass increased inside the TER and gray snapper biomass increased inside the national park.
---
New Environmental Calendar Website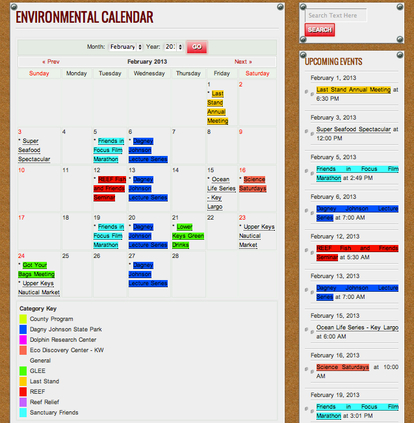 If you're interested in environmental events and activities, look no further than
Sanctuary Friends'
new
Florida Keys Environmental Calendar
, a centralized location for environmental groups to post upcoming events, lectures, movies and more. So far, the calendar has been a big hit with several organizations throughout the Keys such as
Last Stand
and
Ocean Life Lecture Series
. Both organizations have set up accounts to add all of their upcoming events to the calendar. You can also find events by GLEE, REEF Environmental Education Foundation, Dolphin Research Center, Monroe County, Green Drinks, Dagny Johnson Key Largo Hammock Botanical State Park and Eco-Discovery Center, as well as many other Florida Keys festivals, markets, movies and lectures. Not only is there a month-view of all upcoming events for an entire year, but there is also space to add press releases or pictures on the calendar's home page.
x
---
NewsMakers
---
Non-native Fish Field Guide Available for Download
Lionfish are a great poster child for non-native species, but they aren't the only unwelcome visitors to Florida waters. In December, a 15-pound humpback grouper was caught off northern Key Largo. Native to the western Pacific and Indian Ocean, there have been several isolated sightings of these grouper in Florida since 1984.
x
To learn more about non-native fish in Florida, check out the
"Field Guide to the Nonindigenous Marine Fishes of Florida,"
a "watch list" of invaders that could potentially become established. The guide provides species accounts for non-native fishes sighted in estuarine and marine waters of Florida, which are thought to be mostly aquarium fishes that either were illegally released into the ocean or escaped captivity.
x
To help prevent the establishment of non-native fishes in Florida's marine waters, NOAA, REEF and the U.S. Geological Survey (USGS) have formed a partnership to focus on early detection and rapid response of non-native marine fishes. If you spot any of these species, please report it to
USGS-NAS database
. Please provide photographs and the location where the species was sighted or collected as accurately as possible (including GPS coordinates).
x
---
We want your input!
If you have stories of note or just want to comment on our newsletter,
---
Our Mission


Sanctuary Friends Foundation of the Florida Keys supports the Florida Keys and the Florida Keys National Marine Sanctuary (FKNMS) in the preservation, restoration, and sustainable use of our coral reef ecosystem, from the uplands to the deep sea. We focus on development of community support and advancement of public awareness, education, outreach and scientific research.
In This Issue:
66 Corals Proposed Endangered
Reef Fish Respond Positively
New Environmental Calendar
---
---
Dear Friends:
The purpose of the RESTORE Act legislation, hopefully a once-in-a-lifetime situation, is to address the criminal and civil negligence of BP Oil. The legislation will bring millions of dollars to Monroe County, which is located in the
FKNMS
. It will be three years in April since Deepwater Horizon, an oil drilling operation in the Gulf of Mexico, blew out of control due to negligence by BP and Transocean, and in turn has been sacrificing the future of Florida Bay and the
FKNMS
ever since.
x
The violation of the
Clean Water Act
by these two corporations will generate billions of dollars in fines that typically would go to the Federal Treasury. But with the help of Florida Senator Bill Nelson, among others, most of those dollars will be directed to the five affected states – Louisiana, Texas, Alabama, Mississippi and Florida. RESTORE Act Legislation's designated dollars in Florida will go to the 23 Gulf Coast Counties, including Monroe. Each county will receive millions of dollars for selected RESTORE projects.
x
While you are paying attention to the local media about this issue, please feel free to visit with me as Monroe County Mayor and as Sanctuary Friends Chair, to make sure sanctuary issues are addressed with this money! Stay tuned...
x
George Neugent, Chair
---
---
Please add your upcoming events to our online Florida Keys Environmental Calendar. This community-wide resource allows any organization or group to set up an account and post environmentally-related events.
xxxxxxxxxxxxxxxxxxxxxxxxxxxxxxxxxxx
Environmental Film Series
Every Sunday, 2 pm & 4 pm,
 Eco-Discovery Center, 
Key West
Enjoy free environmentally-themed documentary films on Sundays through March. Doors open at 1 pm.; first showing at 2 pm. For more information and future movie schedule, call 305-809-4755.
REEF, Fish & Friends Seminar
Feb. 12, 7 pm, REEF Headquarters, MM 98.3, Key Largo.
Free lecture on the second Tuesday of every month. This month, Robert Glazer will present Strategies for Restoring Florida's Conch Population. Social begins at 6:30 pm.
FKNMS Sanctuary Advisory Council (SAC) Meeting
Feb. 19, 9 am, Hawk's Cay
The Council provides advice regarding management of the
FKNMS
. All meetings are open to the public and include morning and afternoon public comment periods. Selected topics this month include Adaptive Management and Permit Procedures, Water Quality Protection Program, Islamorada Water Quality Infrastructure and Boater Education Programs.
More information and agenda.
Friends in Focus Films
First & third Tuesdays of the month, 7 pm, Sail & Power Squadron Education Building, 12 Loggerhead Lane, Marathon.
Ocean Life Series: Hidden Colors of the Sea

Feb. 22, 7 pm, Nelson Government Center, MM102, Key Largo
Marine Botanist Dr. Ligia Collado-Vides will discuss the link between research results and applications in marine conservation, and her lab's partnership with the Tropical Botanic Artists to present a unique bio-art exhibit that blends science and art to engage and inspire the community. Meet & Greet begins at 6 p.m.
More information.
---
Welcome! Thank you for your support!
New & Returning Members ($30-$199)
David and Lynne Brooks
Sidney Goldman
Raymond Blazevic
Bruce Frerer
Sybil Veeder
Dynasty Marine Associates, Inc.
Joseph Albert Souto
Russell and Christine Fisher
Bill Irwin
Benefactors ($200+)
Lisa Carstarphen
Donald Swatik
Mr. & Mrs. Frank Schumway of
Ocean Reef Community Foundation
---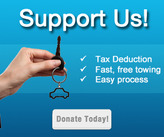 ---
Sanctuary Friends Foundation of the Florida Keys
is a non-profit, 501(c)(3), tax-exempt organization
We take your privacy seriously. Your email address will never be sold, rented or given away. All our emails include an easy opt-out feature. If you have activated spam filters in your email application, please add the following email to your address book:
Sanctuary_Friends_Foundation_of_@mail.vresp.com