Happy birthday FKNMS!
Twenty-one years ago this month,
FKNMS
was designated by Congress to protect the diverse and productive reef ecosystem of the Keys. Initial protections afforded the sanctuary included a prohibition on oil or mineral exploration and the establishment of the Water Quality Protection Program. Browse the
Florida Keys National Marine Sanctuary and Protection Act
.

Local Lionfish Invasion Program: Get Involved

Experts are in agreement that the lionfish invasion can be most effectively addressed by local action facilitated by a regional strategy encompassing the Wider Caribbean. Locally, the
Reef Environmental Education Foundation (REEF)
has been leading lionfish research, education and control efforts throughout the invaded region.
x
Since 1994, REEF has maintained an online educational section on non-native species and an
online exotic species reporting page
where divers are encouraged to submit sightings of non-native species. Beginning in 2007, REEF partnered with local dive operators to help document lionfish sightings and collect lionfish samples for NOAA and Bahamian researchers. Within seven months, more than 400 lionfish had been documented. To aid in the effort of capturing and reporting lionfish, REEF currently enlists interested divers and snorkelers to participate in organized lionfish projects. These projects include educational lectures, workshops, trainings and diving opportunities are led by REEF staff, national aquarium staff and/or scientific researchers.
x
HOW YOU CAN HELP:
---
Everglades Funding Vital to Ecology and Economy
Excerpt from an
article by Cynthia Long
(npca.org)
x
Everglades
funding has been cut by more than 75 percent over the past several years, to just $29 million compared to prior Governor Jeb Bush's annual $200 million per year budget. According to polls, Floridians overwhelmingly oppose the cuts. For them, the Everglades is a source of pride, of breathtaking beauty, and of rare and endangered birds and animals.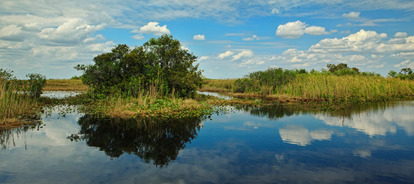 They want to protect species like the Florida panther – the rarely seen tawny cats that roam the remote forests and swamps of the Everglades. They want to protect birds like the seaside sparrow and Everglades snail kite – birds that might cease to exist within the next 20 years, never to be seen by visitors again, if water isn't restored to the Everglades.
x
But it's more than just about preserving nature. Floridians understand that defending the ecology of the Everglades means saving the economy of Florida. The Everglades supplies water to six million people – a third of the state – and clean, cheap water is what draws residents, businesses and legions of tourists to south Florida. If rapid, unchecked growth eats away at more and more of the Everglades, it will destroy the clean water the ecosystem provides.
x
"Water quality is one of the benefits of keeping checks on our growth," says Dawn Shirreffs, Everglades Restoration Program Manager for the National Parks Conservation Association. "But growth management is under attack in Tallahassee. The mantra is that regulation kills jobs, but there's no justification for that. The Everglades ecosystem and restoration projects actually create jobs and fuel the economy." A 2010 study by Mather Economics revealed that investment in Everglades restoration provides a four-to-one economic benefit for every dollar invested in restoration projects.
x
You may wonder why the Everglades needs restoration in the first place. In the late 1940s and early '50s, the Everglades was drained to build subdivisions to accommodate the post World War II boom. Overdevelopment in the region cut the Everglades in half. Meanwhile, excessive runoff from sugar farming in the central part of the state released huge amounts of phosphorous into the ecosystem, destroying large swaths and altering these vital marshes.
x
"If we don't preserve funding to Everglades restoration, we will continue to diminish our water supply, and the result will be absolutely devastating," Shirreffs says.
---
First Annual EcoSummit Makes Its Mark
By: Christi Allen, Co-producer of EcoWeek
x
Policy makers, business executives and environmentalists gathered together for the
First Annual EcoSummit
held during Florida Keys EcoWeek. The three-day event took place in Key West, November 2-4. On November 5, attendees participated in eco-related activities in the beautiful waters of the
FKNMS
.
x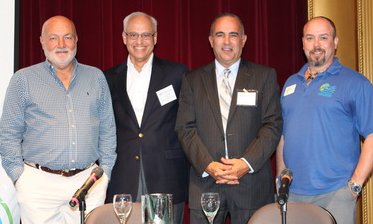 Attendees were wowed by presentations from leaders in the industry on topics such as climate change, marketing, green building and design, plastics and alternative energy. The Keynote speaker,
Claude Ouimet
, Senior VP and GM for InterfaceFLOR, was especially inspiring – talking about how businesses can change to support the environment and what his company had done. The Coastal Oil Drilling and the Legislative forums drew the highest attendance due to immediate concerns to Florida citizens and ignited lively discussions.
x
The EcoSummit is an annual forum bringing people together to address key environmental issues, the role and responsibility of implementing solutions and showcasing the economy of ecology. To review the
full agenda
and learn more about the
speakers
go to
www.EcoWeekFloridaKeys.com
.
Pictured: (Coastal Oil Drilling Forum) Ed Russo, Moderator; Dr. Jorge Pinon, Former President, Amoco Oil Latin America; Roman Gastesi, Monroe County Administrator; Dr. Patrick Rice, Dean of Marine Science, FKCC.
---
NewsMakers
---
Final Lionfish Derby Results: 1,500 Removed in 2011
Divers removed 312 invasive lionfish during the final 2011 Florida Keys
Lionfish Derby
event on Nov. 5. The latest results brought the total number of lionfish removed during three roundups to 1,518! Dive teams traveled from throughout the United States, including Chicago, Ill., Sunapee, N.H., and throughout Florida, to compete in the events. The Florida Keys Lionfish Derby series began in 2010 to raise awareness of the marine invader and engage the dive community in safe handling and collection. The three 2010 roundups removed 664 lionfish.
x
For the final event in Key West, 15 teams competed for $3,350 in cash and prizes in the categories of most, largest and smallest lionfish. Team "Bottle Buddies" from Key West netted $1,000 for most lionfish with their haul of 110 fish and took home $500 for top prize in the biggest lionfish category with a 13.5-inch fish. Team "Austin Assassins" hailing from Austin, Texas, won $500 for the smallest lionfish at 3.14 inches.
x
The Upper Keys Derby on Aug. 20 netted 675 lionfish by 19 teams and the Middle Keys Derby on May 14 totaled 531 lionfish by 10 teams.
Complete results
from all lionfish derbies are available online.
2011 Sanctuary Condition Report
The
"Condition Report 2011 for Florida Keys National Marine Sanctuary"
has been released and is available online. This important scientific document, the first of its kind for
FKNMS
, provides a baseline on the status of resources and will guide the comprehensive review of the sanctuary's regulations and management plan.
x
The report examines the status of water quality, habitats, marine life and cultural resources. It also outlines the various threats to resource health, and highlights management actions taken to address those pressures. The current conditions of the sanctuary are the result of more than a century of pressures, including a history of discharges, coastal development, habitat loss and over-exploitation of large fish and keystone species. Conditions are also influenced by factors that occur outside sanctuary boundaries, such as regional impacts to water quality and global climate change.
x
Sanctuary management actions, including the prohibition of pollution discharges and the designation of highly protected zones, have helped improve water quality, increase the size and abundance of certain fish species and spiny lobster, and document the return of some historic fish spawning aggregations. Human actions — such as poaching, vessel groundings and discharging of marine debris — continue to negatively affect the habitat and living resources of the sanctuary, but they may be improved with long-term management efforts, regulatory compliance and community involvement.
NASA'S NEEMO Mission Ends Early Due to Hurricane Rina
Based on the predicted path of Hurricane Rina, the 15th NASA Extreme Environment Mission Operations, or
NEEMO
, ended earlier than planned. NOAA, which operates the
Aquarius Undersea Laboratory
, determined Rina posed a risk to the safety of the mission taking place near Key Largo.
x
The six aquanauts of the NEEMO crew left the facility, where they lived for five days, and returned to the surface of the FKNMS. The NEEMO crew conducted six underwater spacewalks and one day of scientific research inside the Aquarius habitat. They also completed four days of scientific asteroid exploration analog operations using the deep worker submersibles that stood in for the Space Exploration Vehicle. This year's mission was the first NEEMO to focus on operational concepts that would be used in human exploration of an asteroid.
x
"Despite the length, we accomplished a significant amount of research," said NEEMO Project Manager Bill Todd. "We're already learning lessons from working in this environment."
From the Board
Lionfish Invasion Program

Everglades Funding

EcoSummit Recap

---
---
Dear Friends:
x
x
x
x
x
Sincerely,
George Neugent, Chair
---
Buttered Lionfish, Grill Style
Place butter, Lionfish filet, sliced onion, squash, zucchini, carrots and a squeeze of lime in a piece of aluminum foil. Place over a fire for 6 to 8 minutes. Serve with bread (so you can dip it in the sauce).
---
---
Please add your upcoming events to our online Florida Keys Environmental Calendar. This community-wide resource allows any organization or group to set up an account and post environmentally-related events.
xxxxxxxxxxxxxxxxxxxxxxxxxxxxxxxxxxx
Climate Leadership Summit


Dec. 8-9, Key Largo, MM102
The 3rd Annual SE Florida Regional event will be held at the Monroe County Government Center. Elected officials, businesses, local governments and individuals interested in climate change impacts, extreme weather and hazards, economic sustainability and energy financing are invited to attend. Please visit Monroe County's website for registration and details.
Lighted Boat Parades


Dec. 10
No matter what part of the keys you are in, there is a holiday boat parade near you!
The History of Hyperbaric Medicine


Dec. 21, 7 pm, History of Diving Museum, MM 83, Islamorada
Dennis Holstein will present this month's free seminar. Series continues every third Wednesday.
---
Coming ...
Eco-Discovery Tours
Discover the Florida Keys through eco-friendly and historical excursions.
email
t
o request a brochure.
---
Thank you for your support!

Benefactors
Sanctuary Benefactor $1,000


Michael Fimiani
Anonymous

---
---
We want your input!
If you have stories of note or just want to comment on our newsletter,
please email:
If you enjoyed this newsletter,
If you are not already on our mailing list, please sign up for our monthly e-newsletter
.
x


---
Our Mission


Sanctuary Friends Foundation of the Florida Keys supports the Florida Keys and the Florida Keys National Marine Sanctuary (FKNMS) in the preservation, restoration, and sustainable use of our coral reef ecosystem, from the uplands to the deep sea. We focus on development of community support and advancement of public awareness, education, outreach and scientific research.
---
Sanctuary Friends Foundation of the Florida Keys
is a non-profit, 501(c)(3), tax-exempt organization
(Tax ID# 59-2443959).
We take your privacy seriously. Your email address will never be sold, rented or given away. All our emails include an easy opt-out feature. If you have activated spam filters in your email application, please add the following email to your address book:
Sanctuary_Friends_Foundation_of_@mail.vresp.com