Our dedicated Board of Directors, members and allies are committed to guaranteeing the future of our economically-precious treasures that are in critical danger here in the Keys. Please
join us as a member
,
renew your membership
or consider
volunteering
with us in 2012.

2010 Cold Spell Caused "Catastrophic" Damage to Patch Reefs
Rob Ruzicka, Coral Research Administrator of the Fish and Wildlife Research Institute in St. Petersburg, recently passed along the results from the extreme cold spell the Florida Keys endured for a 12-day period in January 2010. The drop in temperature – the coldest and longest on record – led to major fish and marine life kill-offs and damage to the fragile reef ecosystem.
x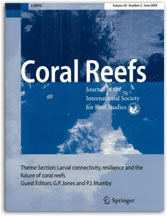 Monitoring since 2009, the researchers found that 93 percent of the patch reefs they studied were affected by the 2010 cold spell. According to the article, "The level of coral mortality on patch reefs is of particular concern because corals in these habitats had previously demonstrated resistance against stressors (e.g., disease and warm-water bleaching) that had negatively affected corals in other habitats in the Florida Keys during recent decades." The article concludes that, when compared with previous cold weather of the past, the 2010 event is likely the worst on record for Florida Keys coral reefs.
x
The research results are published in Coral Reefs journal and also can be downloaded here, courtesy of co-author Ruzicka, who would like to acknowledge the support of the EPA Water Quality Protection Program whose continued support of the Coral Reef Evaluation and Monitoring Project enables the completion of special studies like these.
---
New Ocean Acidification Monitoring Buoy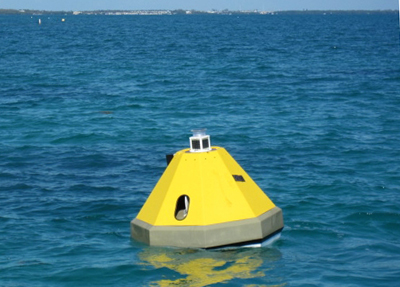 A new monitoring buoy located 1.5 miles off Upper Matecumbe Key in the FKNMS will help scientists track the impact of rising carbon dioxide levels on coral reefs. NOAA deployed the large yellow 'MApCO2' buoy in December near the Cheeca Rocks patch reef, where it sits roughly three feet above the waterline and, along with subsurface instruments, simultaneously measures the concentrations of carbon dioxide in the atmosphere and ocean. NOAA scientists will then use the data to study ocean acidification -- changes in ocean chemistry resulting from rising levels of carbon dioxide in the atmosphere then absorbed by the ocean.
x
Sanctuary officials say the buoy will be an important tool in their effort to preserve and understand the Keys coral reefs. Understanding how coral reef communities interact with the surrounding chemical environment is critical towards improving understanding of how ocean acidification unfolds within local ecosystems. Divers and boaters are asked to keep clear of the buoy.
---
Everglades Water Supply Summit
Sanctuary Friends board members
had the opportunity to attend the
Everglades Water Supply Summit
in Tallahassee last month. "What can I say other than, WOW! The Everglades Foundation knows how to make your toes tingle and put on a Summit," said George Neugent, Board Chair. Neugent, along with David Rice (Sanctuary Friends Board Member and Monroe County Mayor) and Commissioner Howard Kessler from Wakulla County, presented a $5,000 check from Sanctuary Friends to
The Everglades Foundation
.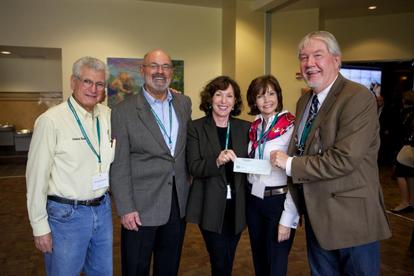 x
Jeff Atwater, Chief Financial Officer of Florida
, made the opening presentation to kick off the summit. "It was powerful," said Neugent.
Senator Bob Graham
spoke next, detailing the importance of Everglades restoration while pointing out the State''s responsibility. "He hit a grand slam homerun on the topic and was given a standing ovation," Neugent commented. "It was also greatly encouraging to see the Governor and two Cabinet members attend this important meeting." Adam Putnam, Florida's Commissioner of Agriculture and former Congressional Leader, indicated he feels the state should take ownership of the Everglades Restoration Project and see this National Treasure restored with or without help from the Federal Government.
x
Also in attendance were Board Member Emeritus Alison DeFoor and Board Member Ex-Officio Billy Causey (
NMSF
Regional Director). Causey, along with 20 teams of 4-6 participants, lobbied for Everglades funding for restoration projects. "At the top of our 'asks' was for the legislature to support the $40 million Governor Scott has put in his budget for Everglades restoration," Causey said. "In addition, the Everglades Foundation has completed a survey of Florida voters and they overwhelmingly support restoration of the Everglades." During Causey's visits with the legislators, he was wearing two hats – one as a board member for the
Florida Wildlife Federation
and one as a Resource Manager for
NOAA
, whose concern is getting the water right in the Everglades. "Out of my group's seven visits, we had 100 percent support from the representatives and senators," he said.
---
NewsMakers
---
"Waterways" Back on the Air
After a nearly four-year hiatus, the "Waterways" television series has returned with two brand new episodes highlighting invasive exotic species and education programs promoting responsible recreation. The first new episode, "Invasive Exotics of South Florida," is airing this month. Next month, "Promoting Responsible Recreation" focuses on three voluntary education programs: Eco-Mariner, Blue Star and Dolphin SMART. Both episodes can be viewed on public and government channels throughout the state of Florida. In the Keys, they will be shown on Monroe County TV channel 76 on Saturday mornings. You can also
watch the episodes on YouTube
.
x
A major emphasis of Waterways is to draw attention to south Florida''s conservation stories and the steps taken by agencies, scientists and community members to celebrate and better protect native wildlife and their habitats. More than 200 episodes of Waterways have aired since 1993. The series is a joint endeavor between Everglades National Park,
FKNMS
, the National Park Service and the
EPA
.
Diving Deeper Podcast Features Team OCEAN
Sanctuary Honors Diersing
Nancy Diersing, a science interpreter with the
FKNMS
, was recently named employee of the month by Florida''s Coastal and Aquatic Managed Areas (
CAMA
) program. She has worked for the sanctuary and CAMA for more than a decade and represents the sanctuary on numerous committees, including the Water Quality Protection Program and Scenic Highway Committee. Diersing was selected from among the staff at Florida''s 41 aquatic preserves, three national estuarine research reserves and one national marine sanctuary.
---

---
Our Mission


Sanctuary Friends Foundation of the Florida Keys supports the Florida Keys and the Florida Keys National Marine Sanctuary (FKNMS) in the preservation, restoration, and sustainable use of our coral reef ecosystem, from the uplands to the deep sea. We focus on development of community support and advancement of public awareness, education, outreach and scientific research.
---
We want your input! If you have stories of note or just want to comment on our newsletter,
---
Sanctuary Friends Foundation of the Florida Keys
is a non-profit, 501(c)(3), tax-exempt organization
(Tax ID# 59-2443959).
We take your privacy seriously. Your email address will never be sold, rented or given away. All our emails include an easy opt-out feature. If you have activated spam filters in your email application, please add the following email to your address book:
Sanctuary_Friends_Foundation_of_@mail.vresp.com
In This Issue:
Impacts of 2010 Cold Spell
Water Supply Summit Recap
---
---
Dear Friends,
x
x
x
x
Thank you for your participation and for caring about the coral reefs of the Keys.
x
Warm Regards,
---
---
Please add your upcoming events to our online Florida Keys Environmental Calendar. This community-wide resource allows any organization or group to set up an account and post environmentally-related events.
xxxxxxxxxxxxxxxxxxxxxxxxxxxxxxxxxxx
Friends in Focus Lecture:
"Lionfish Tasting"
March 1, 7:00 pm, Sail & Power Squadron Education Building, 12 Loggerhead Lane, Marathon. Social begins at 6:30 pm.
Lad Atkins will be explaining how to catch, clean and cook lionfish!
Florida Bay Forever
March 4, 3-7 pm, Green Turtle Hammock
Join us for great food and drinks as you learn about how Everglades restoration improves life in and on Florida Bay. $50/person. For
more information
or to RSVP, call 305-251-001.
Friends in Focus Film:
"
Blue Gold Water Wars
"
March 8, 7 pm, Sail & Power Squadron Education Building, 12 Loggerhead Lane, Marathon. Social begins at 6:30 pm.
Did you know approximately 40% of the world''s fresh water is owned by private companies? Come watch this film to find out how it happened. Part of a monthly film series sponsored by
Sanctuary Friends
and the
Marathon Sail & Power Squadron
.
REEF, Fish & Friends Seminar
March 13, 7 pm, REEF Headquarters, MM 98.3, Key Largo. Social begins at 6:30 pm.
Free lectures about fish on the second Tuesday of the month sponsored by
REEF
and
Sanctuary Friends
. Topic TBA.
Florida Keys Ocean Festival
March 24, 12 noon–6 pm, Eco-Discovery Center, Key West
Bring the family and friends to spend a few hours celebrating our treasured Keys waters and environment! Free admission, free parking, food and drinks, kids activities, exhibits, shopping, silent auction and live music all day. Donations and proceeds benefit
Mote Marine Laboratory
's Coral Reef Restoration and Research Programs.
More information.
Environmental Film Series
The 4 pm show is new each week and is repeated the following week at 2 pm. For a recorded message of upcoming films, call 305-809-4755.
The Delicate Balance of Nature Lecture Series
---
Welcome & thank you for your support!

x
New & Renewing Members ($30-$100)
Billy & Laura Causey
Jim Reynolds
Benefactors ($200+)
Richard S. Worthington
Robert Quill
Bruce Frerer
Matthew Forelli
Mr. and Mrs. Frank Shumway
Charles Causey
Michael Fimiani