FWC Considers Limiting Commercial Sea Cucumber Harvest
The Florida Fish and Wildlife Commission (FWC)
is considering tighter restrictions on sea cucumber harvesting in the Florida Keys. The
proposal
is to limit the daily commercial harvest to 200 per vessel per day to ensure that Florida's harvest of sea cucumbers continues to be sustainable. Florida's recreational collectors of sea cucumbers are subject to a daily trip limit, but commercial fishermen with a basic saltwater products license can currently harvest as many as they want.
x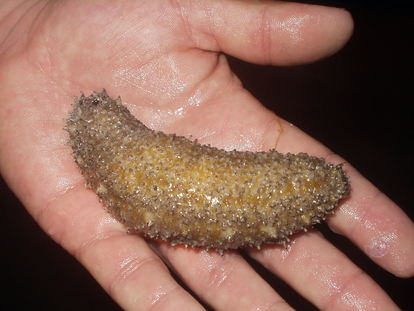 Commercial sea cucumber landings have increased substantially over the past year, in part due to the development of an export market for dried sea cucumbers. There are roughly 160 commercial sea cucumber harvesters from the Keys to Palm Beach County with a majority of the collecting occurring in the Keys, according to FWC data. Several of the collectors sell to the
Florida Sea Cucumber Corporation
on Ramrod Key. Owner Erik Lee has a permit with the Florida Department of Agriculture to harvest and export sea cucumbers to Asian markets. Lee started his operation 18 months ago after moving back to the Keys from China, where people eat sea cucumbers in stir fry concoctions, or grind them into a powder and take them as a medicinal supplement for joint pain or other health purposes. They are also viewed as an aphrodisiac in China, Lee said.
x
Sea cucumbers are sedentary marine invertebrates that live in shallow water areas such as seagrass beds, lagoons and nearshore reefs. They are vulnerable to overfishing due to their visible and sedentary nature, which makes them easy to locate and collect. Many of the fisheries that have developed throughout the world in recent decades have been characterized by rapid expansion, unsustainable harvest rates and fishery collapse.
x
Sea cucumbers are broadcast spawners, meaning they release their sperm and eggs into the water column. This spawning behavior also contributes to slow recovery times once the population becomes depleted. In the case of sea cucumbers, recovery can take decades.
x
The FWC Commission was originally set to vote on the proposal at its
February meeting
, but commissioners then tabled action and instructed staff to consider "other potential options" for managing sea cucumbers. The issue likely will be back on the
agenda in April or June
. Until then, current law on the echinoderms (invertebrates similar to starfish) remains in effect.
---
Ecosystem Protection Working Group Meetings Scheduled
The
FKNMS
uses a strategy of
marine zoning
to protect and preserve sensitive parts of the marine ecosystem, while allowing activities compatible with resource protection. The Sanctuary's
Condition Report
and
scoping comments
identified a significant need to review current marine zones and decide what changes must be undertaken to meet the
goals and objectives
identified by the
Advisory Council
. While certain zones were established to allow areas of high ecological importance to evolve with minimal human influence, and others were set aside to reduce user conflict, additional areas may need to be considered to ensure long term protection of the natural resources.
x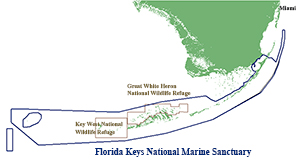 ---
Cuba Slideshow & Discussion March 18
Larry Benvenuti Presents "Friends in Focus" Lecture
One of our most popular
"Friends in Focus"
Lectures comes from Marathon's own photographer and Cuba enthusiast
Larry Benvenuti
. Larry's first trip to Cuba was in October 1993, when he accompanied members of Basta, a humanitarian organization based in Key West, to the island. Since that first mission, Larry has made 14 other licensed journeys to Cuba. His primary purpose is humanitarian -- to deliver food and supplies to people and places that need it. Larry has not been satisfied in only helping the people of Havana, Santiago de Cuba and other large cities; he has also traveled to rural areas, mountains and swamps to find people in need.
x
Join us for Larry's all new Cuba slideshow and travel discussion on Tuesday, March 18 at 6:30 p.m. at the
Marathon Sail & Power Squadron
Education Building, 12 Loggerhead Lane at 52nd Street Gulfside in Marathon. Free popcorn!
---
NewsMakers
---
Applications for Sanctuary Advisory Council due March 31
FKNMS
is seeking applicants for two seats on its
advisory council
. The open seats are: member and alternate representing Citizen-at-large, Middle Keys. The council ensures public participation in sanctuary management and provides advice to the sanctuary superintendent. It
consists of 40 primary and alternate members representing a variety of public interest groups and 11 government agencies.
x
Candidates are selected based on their expertise and experience in relation to the seat for which they are applying, community and professional affiliations and views regarding the protection and management of marine resources. Applicants who are chosen as members should expect to serve a three-year term, pursuant to the council's charter.
x
---
Our Mission
Sanctuary Friends Foundation of the Florida Keys supports the Florida Keys and the Florida Keys National Marine Sanctuary (FKNMS) in the preservation, restoration, and sustainable use of our coral reef ecosystem, from the uplands to the deep sea. We focus on development of community support and advancement of public awareness, education, outreach and scientific research.
---
---
Sanctuary Friends Foundation of the Florida Keys
is a non-profit, 501(c)(3), tax-exempt organization
(Tax ID# 59-2443959).
We take your privacy seriously. Your email address will never be sold, rented or given away. All our emails include an easy opt-out feature. If you have activated spam filters in your email application, please add the following email to your address book:
Sanctuary_Friends_Foundation_of_@mail.vresp.com