Our dedicated Board of Directors, members and allies are committed to guaranteeing the future of our economically-precious treasures that are in critical danger here in the Keys. Please
join us as a member
,
renew your membership
or consider
volunteering
with us.

UN Warns of Shift from Fish to Jellyfish
A jump in jellyfish populations following overfishing is one reason fish in the Mediterranean and Black seas are declining, finds a new
United Nations
report that advocates factoring jellyfish "blooms" into fisheries management strategies.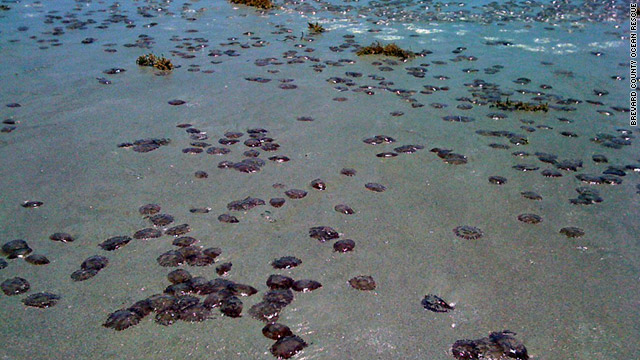 Overfishing removes top predators from the sea, helping to create ideal conditions for jellyfish blooms. An increased number of jellyfish in the waters creates a "vicious cycle" where jellyfish increasingly prey on fish eggs and larvae and compete for the same food source as the fish populations already depleted by overfishing. If the trend continues, jellyfish could supplant fish in the world's oceans causing "a global regime shift from a fish to a jellyfish ocean."
x
Two other factors are: the impact of global warming, which enables the species that thrive at tropical latitudes to increase their range; and the prevalent use of sea walls built to prevent coastal erosion, which are ideal habitats for some jellyfish species.
x
The life cycles of gelatinous plankters (true jellyfish, comb jellies and salps) are conducive to bloom events, with huge populations that are occasionally built up when conditions are favorable. Such events have been known since ancient times and are part of the normal functioning of the oceans. In the last decade, however, the media have reported an increasingly high number of these blooms.
x
Among other measures to prevent or cope with jellyfish blooms, the report suggests using jellyfish products for food and medicine. China is among the first countries to process jellyfish for human consumption and is developing a multi-million-dollar seafood business based on jellyfish. Other jellyfish exhibit promise in the field of human aging prevention.
---
Poop Happens! Seagrass Restoration Methods
If you've ever seen a group of birds roosting on poles in the shallows of the Florida Keys, you've seen one of the
seagrass restoration methods
employed by the
FKNMS
. Bird stakes are sometimes placed at injury sites to encourage birds to congregate. In this restoration technique, birds "fertilize" the shallow waters to promote seagrass growth in the scarred area.
x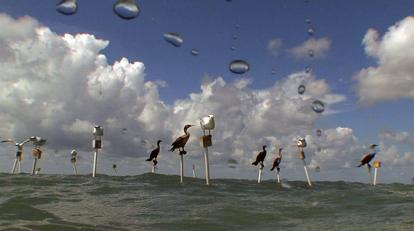 But it's not as simple as all that. Restoration techniques vary based on the type of habitat affected, the extent of the damage, and other factors specific to each case. The goal of restoration is to aid in the recovery of a damaged area to the condition it was before it was injured.
x
The first step is to prepare the site for seagrass recolonization and to prevent a seagrass injury from growing larger. The hole or scar is filled with crushed limestone rock, often called "pea rock." Over time, fine sediments fill the empty spaces between the pea rock, creating the desired bottom habitat where seagrasses can grow. Another fill technique is the use of sediment-filled, biodegradable tubes that can hold any desired sediment grain size.
x
The next step is installing the bird roosting stakes and waiting for fertilization to take place. Scientists then determine whether surrounding seagrasses are likely to grow into the injury, or whether recolonization needs to be jump-started with seagrass transplants. When appropriate, restoration biologists collect seagrass from nearby "donor sites" and transplant them in the injury. When done carefully, seagrass transplants will grow together, expanding to fill in injured areas.
x
Ongoing monitoring of seagrass restoration sites within the sanctuary tracks the success of these restored areas and help sanctuary managers determine if additional restoration efforts are necessary.
---
Sanctuary Golf Tournament Recap & Winners
Sanctuary Friends
successfully hosted its inaugural Sanctuary 27-Hole Golf Tournament on June 22 at Florida Keys Country Club. We had a great turnout, a fun day on the greens and a lot of money raised for some upcoming projects in the works, like a coral reef nursery in partnership with
MOTE Marine Laboratory
and
Pigeon Key Foundation
. We also had the drawing of the graciously donated two-night stay at
Little Palm Island
.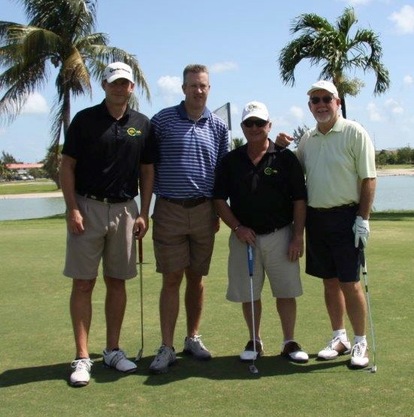 x
The 27-hole tournament consisted of three nine-hole events. The first, a nine-hole scramble, was won by Chris Gratton, John Keller, Mike Trujillo and Mike Puto. The second event was a nine-hole "best ball" won by Waste Management's John Albert, Tim Hawkins, Steve Williams and Sanctuary Friends Chair George Neugent (pictured, L to R). The final event was a mystery. Join us next year to find out for yourself how it works!
x
Thank you to all our sponsors, volunteers and participants for a successful and fun inaugural event.
x
---
NewsMakers
---
New "Waterways" Episode
A new episode of "Waterways" is now airing on public and government channels throughout Florida and the
WaterwaysTVShow YouTube channel
. The latest episode of the long-running documentary TV series highlights threats of pharmaceuticals and plastics in our oceans and streams, as well as recovery efforts of the endangered Florida panther.
x
In the "Pharmaceuticals in Our Waters" segment, scientists from Florida International University and the U.S. EPA discuss how plastics in our waterways may be disrupting the reproductive systems of fish and other marine life. In the "Panther Populations Rebound" segment, Everglades National Park biologists monitor the endangered Florida panther, showing conservation efforts that are helping rebuild severely depleted numbers and the major threats to their survival.
x
Great Annual Fish Count 2013
By Janna Nichols, REEF Outreach Coordinator
The 22nd annual
Great Annual Fish Count (GAFC)
is going on now! Are you participating? We encourage local shops, dive clubs, and other groups to organize an activity anytime during the month of July. You can view events already scheduled, and add your own, by visiting
www.fishcount.org
.
x
The concept behind the GAFC is to not only to accumulate large numbers of surveys during the month of July, but to introduce divers and snorkelers to Fishwatching and conducting
REEF
surveys. Interested groups can offer free fish ID classes, organize dive/snorkel days and turn them into fun gatherings! To find out more, email
gafc@reef.org
.
---
Our Mission


Sanctuary Friends Foundation of the Florida Keys supports the Florida Keys and the Florida Keys National Marine Sanctuary (FKNMS) in the preservation, restoration, and sustainable use of our coral reef ecosystem, from the uplands to the deep sea. We focus on development of community support and advancement of public awareness, education, outreach and scientific research.
---
Sanctuary Friends Foundation of the Florida Keys
is a non-profit, 501(c)(3), tax-exempt organization
(Tax ID# 59-2443959).
We take your privacy seriously. Your email address will never be sold, rented or given away. All our emails include an easy opt-out feature. If you have activated spam filters in your email application, please add the following email to your address book:
Sanctuary_Friends_Foundation_of_@mail.vresp.com
In This Issue:
Seagrass Restoration Methods
Sanctuary Golf Tournament Recap
---
---
Please add your upcoming events to our online Florida Keys Environmental Calendar. This community-wide resource allows any organization or group to set up an account and post environmentally-related events.
xxxxxxxxxxxxxxxxxxxxxxxxxxxxxxxxxxx
REEF Lionfish Safe Collecting & Handling Workshop
July 10, 6:30 p.m.,
REEF
Headquarters, 98300 Overseas Highway, 
Key Largo
Training workshops
are free and cover the history of the lionfish invasion, ecological impacts, and recommended collection, handling and filleting techniques. Completion of a sanctuary-endorsed training is a required to apply for a permit to remove lionfish from
Sanctuary Preservation Areas
with handnets.
Register online
for a training workshop.
Lower Keys Green Drinks
July 18, 5:30-7:30 pm, The Wharf Bar & Grill, MM 35.5, Summerland Key
Every third Thursday! Social hour begins at 5:30 with a different topic and speaker each month beginning at 6:30. Bring a business card and be entered to win a FREE green prize!
"Green Drinks"
is part of a larger international effort of informal gatherings that draw a lively mixture of people from non-profits, business, government and the citizenry at large. It's a great way to catch up with people you know and make new contacts in your community. Whether you want to socialize or mobilize,
GLEE
's Green Drinks are for you!
REEF Fest
Aug. 8-11, Key Largo
Join
REEF
in celebrating 20 years of marine conservation success. Four days of diving, learning, and parties. Free seminars and social events plus diving, snorkeling, kayaking and paddleboarding adventures. All REEF Fest events are open to the public, but pre-registration is requested for social events and seminars.
Schedule, online registration and more information.
---
Welcome! Thank you for your support!
New & Returning Members ($30-$199)
John & Michelle Ludwig
Charlene Grimes
Daniel & Liz Samess
Jeanine Christensen
Christina Hager
Pete Worthington
Gail Cortelyou
Terri Colonna
Mike Puto
Elaine Yaquinto
Chris & Christy Johnson
Benefactors ($200+)
George and Suzie Neugent
Joe and Patricia Ivey
John and Arlene Mirabella
John Albert
Richard Worthington
Lisa Carstarphen
Mr. & Mrs. Frank Schumway of
Ocean Reef Community Foundation
Key Colony Beach Community Association
Ruth Hindelang
Martin Moe
---
SPONSORS
Please support the companies that support the FKNMS and Sanctuary Friends.
Platinum:
Waste Management
Marathon Garbage Service
Keys Sanitary
Sunbelt Rentals
Little Palm Island Resort
Cressi International
Centennial Bank
Gold:
The Weekly Newspapers
Hawks Cay Resort
Marathon Jet Center
Keys Acoustics Insulation
Tranquility Bay Resort
Silver:
Meacham Electric
Marathon Boat Yard
Grader Mike Construction
First State Bank
Stephen Frink Photography
Marathon Chamber of Commerce
A Deep Blue Dive Center
Christina's Boutique
Paver Dave
Keys Contracting Services
Florida Keys Contractor's Association
CSA Coral Restoration
Bee Brothers
---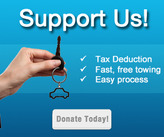 ---
We want your input!
If you have stories of note or just want to comment on our newsletter, please email:
If you enjoyed this newsletter,
If you are not already on our mailing list,