Marathon Lionfish Tournament Results
Despite the weather conditions, 40 lionfish hunters took to the water for the inaugural
Marathon Lionfish Tournament
on July 21-22. By the end of the weekend, 387 invasive lionfish were removed from Keys waters.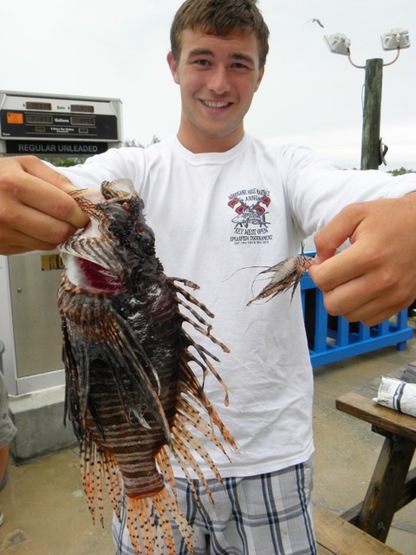 x
Bob and Keynan Elkins, Team Bottle Buddies from Key West, came in with more than 200 fish, including the biggest and smallest lionfish – 40.5 cm and 8.5 cm, respectfully. Team SpearCrazy was the runner up in most and biggest lionfish, and the Abyss Magicians found the second smallest lionfish. First place and runners up received cash prizes. Team Bottle Buddies also walked with a Cressi Spear package, including lionfish hunting spear guns, dive masks, gloves, booties and a $50 gift card to Divers Direct. Runners up received gift cards to Florida Keys restaurants. All participating teams that brought in lionfish also received prizes.
x
The lionfish tasting at Sparky's Landing was a hit, with partakers getting to try the freshly caught lionfish three different ways – grilled, blackened and fried. Tasters compared it's taste to hogfish snapper, a highly sought after fish in the Florida Keys. Sanctuary Friends also held the raffle for a Riffe spear gun and dive knife and a one-year membership to SeaTow. All in all, a successful first-time event.
Watch the video recap.
---
Lobster Mini-Season Ten Year Assessment
Lobster Mini-Season (also known as Lobster Sport Season) has been a much-anticipated and well-attended annual event throughout the state of Florida since its inception in 1987. The annual two-day event occurs on the last consecutive Wednesday and Thursday of July, just prior to the onset of the regular recreational and commercial lobster season. The Sport Season is designed to give recreational fishers (who harvest lobsters primarily by hand while either free diving or SCUBA diving) an opportunity to harvest lobsters before commercial fishers (who rely primarily on traps). Commercial fishers can soak their traps on August 1, five days before the full recreational lobster season begins. The Lobster Mini-Season, as well as the regular lobster season, is managed by
FWC
.
x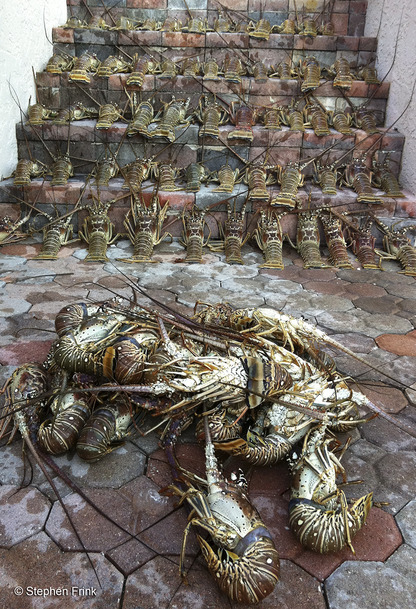 In South Florida, as elsewhere, this two-day event is acknowledged to support the local economy through increased tourism, as well as increased business to the local boating and diving industries. For example, in Monroe County it has been estimated that recreational lobstering activity during the two-day Mini-Season accounts for 25% of total annual recreational lobstering effort. Statewide, recreational lobstering in general has been estimated to account for 22% of total annual harvest.
x
Biscayne National Park
collected data on lobster harvest around the park during the Sport Lobster Season for 10 years (2002-2011). Park staff members interviewed park visitors upon their return to one of the local county marinas. Demographic data and data on the quantity, species, and gender of the lobster harvest were collected.
x
A declining trend in catch-per-unit-effort was observed over the study period, suggesting that the local lobster population could possibly be declining. Male lobsters tended to be harvested in higher abundance and had larger average sizes than their female counterparts. The increased occurrence of male lobsters compared to female lobsters may be indicative of a variety of factors, including: true population demographics, gender-specific differences in behavior and/or habitat selection that could make males more susceptible to capture, and/or restrictions on harvesting egg-bearing females. Compliance with lobster harvest regulations was observed to be very high for all ten years analyzed. Such high compliance may be attributed to increased outreach and education during the highly publicized Mini-Season, a healthy supply of lobsters which made it possible for most harvesters to find plentiful harvest in compliance with the regulations, and/or the increased presence of law enforcement during the two-day event that may have served to deter regulation violations.
x
The
full report
was released in March and is not intended to be a fisheries stock assessment of the
Caribbean spiny lobster
. Information such as the condition of the stock and estimates of population size cannot and should not be inferred from the information.
---
Saving Seagrass Could Help Slow Climate Change
Seagrass meadows can store up to twice as much carbon as the world's temperate and tropical forests, making them a vital part of the solution to climate change, according to a new international study published in the journal
Nature Geoscience
.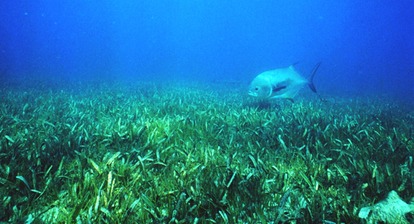 The paper is the first global analysis of carbon stored in
seagrasses
, and it demonstrates that coastal seagrass beds can store up to 83,000 metric tons of carbon per square kilometer, mostly in the soils below them. For comparison, a typical terrestrial forest stores around 30,000 metric tons per square kilometer, most of which is in the form of wood. The researchers also estimate that, although seagrass meadows occupy less than 0.2 percent of the world's oceans, they are responsible for more than 10 percent of all carbon buried annually in the ocean. The study emphasizes that conserving and restoring seagrass meadows may reduce greenhouse gas emissions and increase carbon stores, while also delivering key ecosystem services to coastal communities.
x
"One remarkable thing about seagrass meadows is that, if restored, they can effectively and rapidly capture carbon dioxide from the atmosphere, possibly helping to slow climate change," says Karen McGlathery, one of the study's authors. "Our research over the last decade shows the importance of protecting and reestablishing these habitats."
x
Seagrasses are among the world's most threatened ecosystems. Roughly 29 percent of all historic seagrass meadows have been destroyed, mainly due to dredging and degradation of water quality, and at least 1.5 percent of seagrass meadows are lost every year. This study estimates that the destruction of seagrass meadows can potentially cause the release of up to 25 percent as much carbon as from terrestrial deforestation. Seagrasses have long been recognized for their many ecosystem benefits: they filter sediment from the oceans, protect coastlines against floods and storms and serve as vital habitats for fisheries production.
---
NewsMakers
---
Spotlight on: Island Dolphin Care
Island Dolphin Care
(IDC) is a non-profit organization in Key Largo that provides dolphin-assisted therapy to children from all over the world who have critical illnesses, disabilities and/or special needs. The program provides unique educational experiences for these children, and the dolphins are catalysts that provide unconditional love and support. IDC believes that children with special challenges can and should enjoy the full range of activities that life can offer, and that every child deserves the opportunity to play, giggle and have fun!
x
Visitors may tour the facility and hear an explanation of the programs, history and mission every Monday through Friday from 8 a.m. to 5 p.m. Additionally, you can observe the dolphins and in-water therapy sessions, explore aquariums and interactive marine science exhibits, participate in a touch tank program, relax in the sensory garden and more. All visitors are asked for a tax-deductible donation to assist in maintaining the facility and programs.
---
Our Mission


Sanctuary Friends Foundation of the Florida Keys supports the Florida Keys and the Florida Keys National Marine Sanctuary (FKNMS) in the preservation, restoration, and sustainable use of our coral reef ecosystem, from the uplands to the deep sea. We focus on development of community support and advancement of public awareness, education, outreach and scientific research.
---
Sanctuary Friends Foundation of the Florida Keys
is a non-profit, 501(c)(3), tax-exempt organization
(Tax ID# 59-2443959).
We take your privacy seriously. Your email address will never be sold, rented or given away. All our emails include an easy opt-out feature. If you have activated spam filters in your email application, please add the following email to your address book:
Sanctuary_Friends_Foundation_of_@mail.vresp.com
In This Issue:
Lionfish Tournament Results
Lobster Mini-Season Review
---
---
Dear Friends:
This past weekend was rough on the water, but that didn't stop 40 lionfish hunters from toughing it out for the first annual
Marathon Lionfish Tournament
. Almost 400 lionfish later, the reef, a couple docks and a few deepwater wrecks have a lot less lionfish to worry about!
x
We are very lucky to be a part of such an ocean-minded community. Months ago, Sanctuary Friends decided to try out a lionfish tournament after hearing a lecture from
REEF
's Martha Klitzkie. An e-mail was sent out to local dive shops, and within a week eight shops were on board, as well as many restaurants and resorts to help create the tournament and bring more awareness to the invasive lionfish issue.
x
For example, 93 lionfish were pulled off one wreck in a matter of minutes by four people. This shows what a problem lionfish have become, considering two years ago lionfish were non-existent in our Keys waters. Each lionfish out of our waters helps alleviate a small part of this big problem.
x
While you are out hunting lobster in the months to come, please be mindful of the fragile ecosystem you are diving and snorkeling in, but also be aware of lionfish, and try and take a couple of them out on your way – they are delicious!
x
Kristen Livengood, Administrative Aide
Sanctuary Friends Foundation
---
---
Please add your upcoming events to our online Florida Keys Environmental Calendar. This community-wide resource allows any organization or group to set up an account and post environmentally-related events.
xxxxxxxxxxxxxxxxxxxxxxxxxxxxxxxxxxx
Lobster Mini-Season
July 25-26
Green Drinks
July 26, 6-8 pm, Burdine's, Marathon
Aug. 1, 6-8 pm, Taster's Grille & Market, MM 91, Tavernier
Aug. 8, 6-8 pm, Finnegan's Wake, Key West
Aug. 16, 6-8 pm, The Wharf Bar & Grill, MM 25.5, Summerland Key
Interested in connecting with other sustainably-minded folks in your community?
GLEE
has just the place for you!
"Green Drinks"
is part of a larger international effort of informal gatherings that draw a lively mixture of people from non-profits, business, government and the citizenry at large. It's a great way to catch up with people you know and make new contacts in your community. Whether you want to socialize or mobilize, GLEE's Green Drinks are for you!
Sanctuary Advisory Council (SAC) Applications Due
July 31
Get involved in the management of our Sanctuary as an
SAC
member!
FKNMS
is seeking one primary member and one alternate on its advisory council, which ensures public participation in sanctuary management and provides advice to the sanctuary superintendent. Candidates are selected based on their expertise and experience in relation to the seat for which they are applying, community and professional affiliations, and views regarding the protection and management of marine resources. Selected applicants serve three-year terms and meet six times a year.
View the application package.
Regular Spiny Lobster Season
Aug. 6 - March 31
Bag limit: 6 per person per day. Must be larger than 3" carapace, measured in the water. A reminder that possession and use of a measuring device is required at all times and a recreational saltwater license and a crawfish permit are needed.
Download the updated regulations brochure
before you go!
FKNMS Sanctuary Advisory Council (SAC) Meeting
Aug. 21, 9 am, location & agenda TBA
The Council provides advice regarding management of the FKNMS. All meetings are open to the public and include morning and afternoon public comment periods.
More information and agenda
(when available).
---
Welcome! Thank you for your support!
Benefactors ($200+)
Long Key Ladies Club
Richard S. Worthington
Robert Quill
Bruce Frerer
Matthew Forelli
Mr. and Mrs. Frank Shumway
Charles Causey
Michael Fimiani

---

---
---
We want your input!
If you have stories of note or just want to comment on our newsletter, please email:
If you enjoyed this newsletter,
If you are not already on our mailing list,