Happy New Year from Friends!
We'd like to take this time to thank our readers and members for your support all year long. We wish you peace and success in the new year.
Renew or become a member
today at $30+ and receive a Sanctuary Friends embroidered visor ($15 value).
(Offer expires January 31, 2016.)


Tagging Studies Reveal Secrets of Lionfish Movement
Starting in the 1980s,
Indo-pacific Red Lionfish
were introduced to the Atlantic Ocean. Since then, they have expanded exponentially due to their reproductive capacities, voracious appetites and lack of predators. Due to this rapid expansion in the western Atlantic and Caribbean, it has become increasingly important to understand how individuals move during various life history stages, as this may have critical implications for population control and management.
x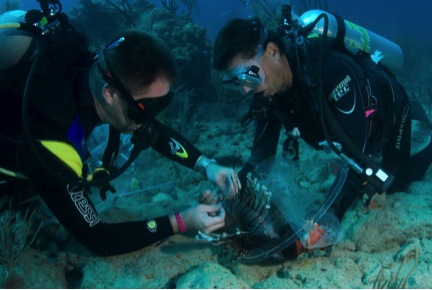 Information on fish movement and growth is primarily obtained through the marking and tracking of lionfish with
external tags
. Using data from various studies of tagged lionfish, researchers have found that:
Lionfish have high site fidelity, sometimes staying on the same coral heads for months.

Lionfish appear to spawn in the late evening hours.

Lionfish show movements up and down reef walls from as shallow as 18m to over 50m in a single day.

Some lionfish do move.
This information helps determine where and when removal efforts are likely to be successful. For example, in systems where lionfish exhibit extremely high site fidelity and small maximum ranges, localized population control may be feasible since lionfish removed from a given habitat would be replaced largely through larval recruitment rather than migration of older individuals. However, since lionfish grow extremely rapidly (averaging 0.46 mm/day, but reaching as high as 0.78 mm/day), localized control efforts would need to be carried out frequently in order to maintain a younger, smaller population.
Further tagging studies will only enhance our knowledge of invasive lionfish and how to manage them. Upcoming projects include utilizing a closely arranged array to continuously track lionfish and determine home range, daily activity routines, feeding and spawning activity and drivers of movement.
---
What is a Coral Reef?
Often referred to as
"rainforests of the sea,"
coral reefs support approximately 25 percent of all known marine species.
Reefs
provide homes for more than 4,000 species of fish, 700 species of coral, and thousands of other plants and animals.
x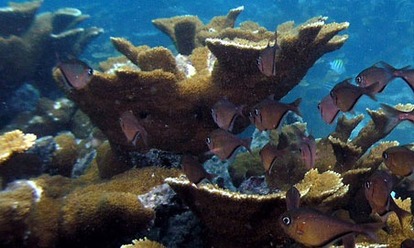 The architects of coral reefs are hard corals, which -- unlike soft corals -- have stony skeletons made out of limestone that is produced by
coral polyps
. When polyps die, their skeletons are left behind and used as foundations for new polyps. An actual coral branch or mound is composed of layer upon layer of skeletons covered by a thin layer of living polyps.
If you think of a coral reef as a bustling city, then each coral colony is like a single apartment building with many rooms and hallways that house different marine species.
x
---
Sanctuary Seminar Begins Tuesday
FKNMS
you to a series of lectures to learn about the wildlife, ecology and history of the Sanctuary and
Florida Keys National Wildlife Refuges
.
x
Become enlightened about Loggerhead Key Lighthouse and explore an undersea lab in the upcoming
Sanctuary Science Lecture Series
, which also features talks on lobsters, canal restoration efforts and the status of Florida Bay. Hear it straight from the experts in this non-credit, six-week course offered by the
FKCC
and hosted by
FKNMS
.
Sessions are held in the theatre at Florida Keys Eco-Discovery Center in Key West on Tuesday evenings from 6:30 to 8:00 p.m., January 19 to February 23.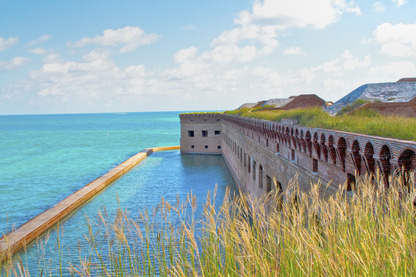 As a special treat,
Dry Tortugas National Park
experts will share plans to relight historic Loggerhead Key Lighthouse and stabilize Civil-War era Fort Jefferson. 2016 is the is the year of the National Park Service's 100th anniversary.
Click here for a list of all session topics.
x
To register, contact the FKCC Community Education Department at 305-809-3185. Tuition fee is $20 for all six lectures, and the course number is 20945.
---
NewsMakers
200,000th Volunteer Fish Survey Conducted
We are very excited to announce that
REEF
just celebrated the addition of its 200,000th survey to the
Volunteer Fish Survey Project
database. The lucky 200k survey was conducted by long-time REEF expert surveyor, Kreg Martin on Oct. 15, 2015 at Cape Kri in Dampier Strait, Raja Ampat, Indonesia. He reported 208 species in 68 minutes!
x
Started in 1990,
REEF's Volunteer Fish Survey Project
is now the largest marine citizen science project in the world. With more than 15,000 divers participating and more than 3,600 fish species tallied at thousands of sites, this program is shaping our understanding of our ocean worldwide. REEF is grateful for the contributions of all volunteer divers to preserve the "blue" environment by providing much-needed information about what happens below the ocean's surface.
---
Our Mission
Sanctuary Friends Foundation of the Florida Keys supports the Florida Keys and the Florida Keys National Marine Sanctuary (FKNMS) in the preservation, restoration, and sustainable use of our coral reef ecosystem, from the uplands to the deep sea. We focus on development of community support and advancement of public awareness, education, outreach and scientific research.
---
Sanctuary Friends Foundation of the Florida Keys
is a non-profit, 501(c)(3), tax-exempt organization
(Tax ID# 59-2443959).
We take your privacy seriously. Your email address will never be sold, rented or given away. All our emails include an easy opt-out feature. If you have activated spam filters in your email application, please add the following email to your address book:
Sanctuary_Friends_Foundation_of_@mail.vresp.com
In This Issue:
Lionfish Tagging Reveals Secrets
Sanctuary Seminar Starts Tuesday
---
---
Please add your upcoming events to our online Florida Keys Environmental Calendar. This community-wide resource allows any organization or group to set up an account and post environmentally-related events.
xxxxxxxxxxxxxxxxxxxxxxxxxxxxxxxxxxx
Ocean Life Series: Exploration as Discipline
Jan. 15, 7 pm, Nelson Government Center, MM102, Key Largo
Dr. Keene Haywood, Director, will give an overview of the University of Miami's Exploration Science Program. Meet & Greet begins at 6 p.m.
More information.
Boating Skills & Seamanship Class
Jan. 19-Feb. 4 (three week course on Tuesdays & Thursdays), 7-9:30 pm, Venture Out Ship's Store, second floor, 701 Spanish Main Dr., Cudjoe Key
Fish ID Classes
Beginning Jan. 28, 7 pm, REEF Headquarters, MM98.3, Key Largo
Become a citizen scientist by learning how to ID Caribbean fish species. Classes are held on the last Thursday of each month through June. Different species are reviewed each month to build your ID skills. Visit
www.100fishid.com
to learn more.
---
December 2015/January 2016
Welcome! Thank you for your support!
New & Returning Members ($30-$199)
Mike Descoteaux
Robert Gerzoff
Robert Eichholtz
Marcel Damiecki
Nancy Gold
Benefactors
($200+)
Mike Klayman
Shirley Shumway
Ocean Reef Foundation
Charles Woldenberg
Anonymous
Robert Eichholtz, Jr.
---
SPONSORS
Please support the companies that support the FKNMS and Sanctuary Friends.
Platinum:
Waste Management
Marathon Garbage Service
Keys Sanitary
Sunbelt Rentals
Cressi International
Gold:
Island Home Builders
Marathon Jet Center
Centennial Bank
First State Bank
Little Palm Island Resort
The Weekly Newspapers
Conch Color
Papa's Pilar Rum
Ocean Reef Club
Ocean Reef Community Foundation
Diver's Direct
Silver:
Marathon Boat Yard
Grader Mike Construction
Marathon Chamber of Commerce
A Deep Blue Dive Center
Paver Dave
Keys Contracting Services
Florida Keys Contractor's Association
Key West Butterfly & Nature Conservatory
Hard Rock Cafe
Hyatt Key West Resort & Spa
SHOR Restaurant
Westin's Bistro 245
Key West Express
FURY Water Adventures
Dunkin' Donuts
JSA Promotions
Budweiser
---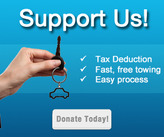 ---
We want your input!
If you have stories of note or just want to comment on our newsletter, please email:
If you enjoyed this newsletter,
If you are not already on our mailing list,